Turnaround Artists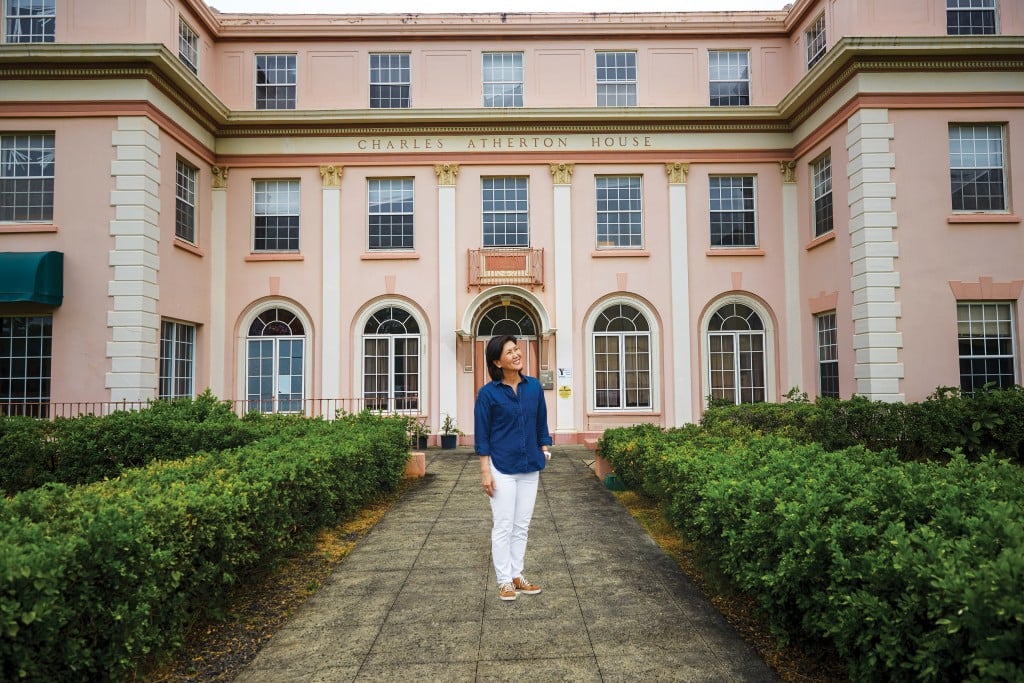 There are legendary stories about change agents rescuing local businesses from failure or bankruptcy: John Dean rescued Central Pacific Bank; Mark Dunkerley saved Hawaiian Airlines; Wesley Park helped give new life to the St. Francis Healthcare System, Liliuokalani Trust and Hawaii Dental Service. John Komeiji, who will step into the presidency at Hawaiian Telcom once the merger with Cincinnati Bell is complete, calls Park a wizard at bringing businesses back from the brink."He understands organizations," says Komeiji, who worked with Park on several projects. "For all his informal way of addressing things, he has a keen understanding of organizational structure and how structure leads to certain results. He would spend time and create all these organizational charts and show how one structure would be more beneficial than another." Change agents like Park have to be stubborn, resilient and committed to the goal, despite potential opposition and rejection, Komeiji says. "You have to have the intuition, empathy, or the ability to understand where the people opposing you are coming from to craft a solution as well as trying to accommodate at least some of their concerns."
Some change agents are effective but unsung, says UH Shidler College of Business professor John Butler. The best known ones are usually associated with crises, but Butler says leaders and companies ought to be thinking in a transformational way every day as a matter of course.
"Good organizations are constantly saying to themselves, 'Is there a better way to do this, improve the product or enhance employee communication?' The ones doing that, we don't hear about because they don't end up in crisis mode and don't need heroic efforts."
Butler, chair of Shidler's management department and the Harold and Sandy Noborikawa Chair of Entrepreneurship, says that in many ways a change agent has to be a consummate salesman, able to energize people and convince them of the issue and the solution.
"Yes, they have to have a good idea but just telling people to do something doesn't always get the results you want. A lot of managers don't recognize the need to get inclusive buy-in and provide the logic about why it needs to be done."
It's a much easier sell, he admits, when things are bad and everyone is worried about their job and future. "It's easy to get cooperation when everyone recognizes we're in trouble."
That said, adds Butler, change agents also have to persuade the staff that they're there to learn from them, and that they need as much information about the organization as possible, with the primary goal of restoring profitability. You don't want your best employees leaving, Butler says, so you want to communicate that it has to be a group effort AND you believe it can be done.
"You also have to be perceived as someone who is putting in long hours and hard work because that is what you'll expect of everyone," he says.
Butler believes change agents must be willing to try something, recognize if it's not working and move quickly to an alternative. "I don't think it's good to assume that the first thing you come up with is always going to work. Some things will and some won't. A good change agent recognizes they'll have a certain percentage of things that work well, and some that are bad choices. The key is to get rid of the bad choices as quickly as possible, and move on to something with a better outcome."
Dean couldn't agree more.
"Paralysis is the kiss of death," says the man who has turned around four banks during his career, with Central Pacific the most recent.
"To not make a decision is worse than the wrong decision," continues Dean. "You need to have a willingness to make decisions quickly with imperfect information, knowing you're going to be wrong on a number of them, and, if you're wrong, being willing to go back and fix it."
Dean also believes change agents need to be comfortable working in chaos or uncertainty. "A very structured, sequential and overly disciplined person would often struggle in these situations," he says.
Butler says change agents are all over town, from small family firms to larger organizations. "Everyone has managerial styles that work for them," and change agents also have a diversity of styles. But, adds Butler, you can't be an effective change agent locked in your office shooting out emails to your staff.
"You have to sell the organization on what needs to be done."
Dean seconds that idea.
Today, Everyone Has to be a Change Agent
Susan Yamada had no publishing experience, but she was put in charge of saving a magazine.
"There is nothing like being close to bankruptcy to get everybody to focus," says Susan Yamada.
Yamada, the director of UH Ventures, cut her business teeth as a turnaround agent in Silicon Valley for a startup technology magazine called "Upside" that was about to go down the tubes.
She was an operations consultant in the health care industry; she had never been in the publishing business, and that was a good thing. In fact, says Yamada, when she was hired as publisher of the failing magazine, she was not expected to win. That was a powerful tool.
"Frankly, I had nothing to lose," says Yamada, "so you're not constantly protecting your backside if you have that attitude."
"You have to commit to a plan and go all out for it. You cannot afford hesitation or indecisiveness."

-Susan Yamada, Director of UH Ventures, which shepherds innovation at the university
With just six months of funding left in the bank, Yamada couldn't waste time. The company had been pared down to just essential workers – only half were left – so she couldn't trim jobs.
Her first step was figuring out why the company was in such a precarious situation, a typical starting point in turning around any company. To do that, she says, "you need to come in and talk to the employees who have been there, because they have the most vested interest."
She also had to talk with investors and others who have relationships with the company. "The first thing is to understand why they're not succeeding. Perhaps you're in an industry that's going to fail because there's no market for it anymore. It's like selling Sony Walkmans, where you've missed your market or miscalculated. Or you might have great customers and a great product but maybe people don't understand that. So you need to find your strengths and weaknesses as a company and exploit the strengths."
Once you understand where the problems are, focus on coming up with a new plan that capitalizes on the company strengths. "It's best to get the help of the team and find a strategy that people can buy into," says Yamada. "One person can't do it themselves."
But be careful: "In a failing business people are trying so many different things to find something that works, and that's not the best way to do it because resources are spread thinner."
Rather, says Yamada: "Do your work and find a plan that you think will be best and put together a model that you think makes sense and you can execute on. Then, based on that plan, you'll have a budget – and watch it like a hawk. And get buy-in so you have everyone in the canoe paddling in the same direction."
For the magazine, what was missing was an audit of the subscriber base, an expensive proposition, but one that would determine ad rates and whether companies would pay to advertise, which is how the magazine was financed.
"We didn't have an audit so advertisers were skeptical. So we spent a ton of money on getting the audit for our subscriber base. If we said we had 200,000 executives in the technology industry, we had to be right, because that's what advertisers buy."
Yamada says they spent a month in planning, got the audit and then within five months saw things begin to change.
"After the audit, we started picking up traction. We started picking up sales, but we were still running out of money. But, at that point, it's the trend. If you can show the investors that you're trending in the right direction then they feel better about giving additional funds. We went back to them and got another couple of hundred thousand. But it came right down to the line.
"In seven months we went from breaking even, to making more money, to having the best (magazine) issue ever. It's just a matter of trending in the right direction, because the investors didn't want to lose all of their investment. But they weren't going to put in any more money if we couldn't bring it around."
Several things made a difference, says Yamada, including bringing in someone with new eyes.
"You don't necessarily need someone who has been in publishing all their lives to come in and save the company. They typically have one way of looking at solutions. But in small business, I think it's (preferable) to build a hybrid of many different (business) plans. I feel entrepreneurs who have a varied skill set in different industries are more effective in creating a unique business plan because generally the tried and true has not worked."
It also takes certain management skills and styles.
"You have to recognize if you thrive in that chaotic environment of uncertainty – or … dread it when it arrives," says Yamada. "If that's not something that excites you … you won't be successful.
"Everybody is scared – not knowing if they should be looking for another job. If your vision and your confidence is not sufficient to overcome all of the anxiety your team has, you'll start losing them."
As things begin to turn around, it's important to tell the staff about the good news. "You have to share that information. It keeps people inspired," she says. "It's uncertainty and doubt that are going to be killers."
Today, Yamada notes, being a change agent in any business has to be a daily reality.
"You always have to be a change agent, not just when you're trying to turn around a losing business. Business, the world, our lives, are changing so quickly. You always have to be looking at how technology is changing your world.
"You have to be comfortable being uncomfortable."
"You look for the most positive thing to communicate," he says. "The glass is always one-half full, one-third full, one-tenth full. … You need people to help you and you have to communicate confidence that 'if we work together, we can accomplish anything.' "
What Yamada's Up to Now
Susan Yamada was the director of the Pacific Asian Center for Entrepreneurship at UH Manoa's Shidler College of Business. Today she is the director of UH Ventures and in charge of renovating the Atherton YMCA on University Avenue (pictured above with Yamada), which was purchased by the UH Foundation and is being turned into the Innovation Hub for the university.
Yamada describes the hub as an integrated live/learn/work facility for UH students from different disciplines and departments who are committed to innovation, entrepreneurship and creativity.
Back From Financial Disaster
Jerry Correa and his team brought the community together to transform St. Francis and find a new way to serve Hawaii's people
On a Saturday morning it's not unusual to find the CEO of St. Francis Healthcare System sitting in on a class of volunteers taking hospice training. Jerry Correa enjoys getting to know the people who share his passion for St. Francis.
In the recent past, the 91-year-old nonprofit struggled through multiple financial challenges to find new ways to serve the community. Throughout those tumultuous years, Correa has been a steady helmsman and a leading change agent.
His door is always open. He often stops to talk with employees, caregivers and clients. And he's willing to change direction – occasionally to the point of frustrating his staff – when new or better ideas emerge.
That's how Correa interprets his job as president and CEO in the midst of a transformation in the way St. Francis serves Hawaii's health needs.
St. Francis' all-inclusive Kupuna Village, which will bring together a spectrum of services for seniors, including adult day care, will be fully functional late this year on the Liliha campus, in the spot that used to be known as St. Francis Medical Center. Within another two or three years, there will be a further $30 million in facilities and resources for the elder community with renovations to create an assisted living facility, as well as additional services such as outpatient rehabilitation, and private duty nursing.
But that's getting ahead of the story – a story that traces the innovative path taken by Correa and his team to rebuild and re-envision St. Francis' care with both current and future needs in mind.
This is how they did it.
In January 2012, Correa was promoted to CEO of St. Francis just as it was getting back the two hospitals the Sisters of St. Francis had sold to Hawaii Medical Center five years earlier. HMC had gone bankrupt and court proceedings failed to finalize a new sale of the hospitals in Ewa Beach and on Liliha Street.
"It was awful," Correa remembers. "For the next several months we were doing garage sales, selling a lot of the file cabinets, getting rid of the furniture and cleaning up. At the Liliha campus I was actually there when we had to board it up. I remember the sisters with tears in their eyes because in their lifetimes they had never seen those doors closed. I teared up."
That was the beginning of Jerry Correa, change agent. Don't call him a man with a mission – it's the Sisters of St. Francis who have the mission that inspires him daily. But how to make change happen? Six years ago that was the question.
St. Francis has a long history of facing health care challenges and initiating many of Hawaii's lifesaving programs, including the first organ transplant, the first hospice, the first home health care and the first dialysis treatment. Now the Sisters needed to find another initiative and they knew the best way to do it was to reach out to the whole community for ideas.
"There were a lot of firsts," says Correa. "And it's not unusual for us to start going through another transformation and, in this case, it's our seniors. Our kūpuna. And this is awesome, to be able to create something the community needs, and not just services when people are sick, but services like active aging so we can improve this and keep our seniors out of the hospital and educate caregivers in how to take care of their loved ones."
Correa's personal experience played an important role early in this transition. His father was discharged from a skilled nursing facility on Kaua'i and he and his brother and sister living on the island faced difficult decisions. " 'What are we going to do? Who is going to help Mom on Friday? Who is taking off? Who is going to drive mom to a doctor's appointment? Who is doing what?' All of that starts because of the family dynamics, but every family is different."
So one St. Francis goal was to respond to the needs of Hawaii's growing senior population and their aging caregivers.
But the first step was recognizing that West Oahu also needed an acute care facility and emergency room, so the board instructed Correa to look for another organization to run the Ewa Beach hospital. The team entered negotiations with The Queen's Health Systems, which purchased and upgraded that campus.
The next step was visioning a future for the Liliha campus and that former hospital. The board and Correa brought in Group 70 – now G70 – as a consulting organization and reached out in a multitude of ways to the people who would ultimately be served – seniors and their caregivers – as well as myriad community groups.
"We got input from the community, other hospitals, other health care providers, the business community, geriatric physicians, board members, and looked to the mission of the Sisters," he says.
They heard personal stories, including that of a woman who retired early to care for her parents and disabled brother, and then had a stroke because of the stress.
"We had caregivers saying 'I don't know where the services are, I don't know who to call,' " Correa says. "So when we started to put things together, we heard people say, 'Oh, you're creating a one-stop shop for caregivers and seniors,' and we liked that. Even in the caregiver classes we have today, we're actually asking participants in the class, 'What do you guys want next?' Then we'll find the expert in the community and we'll arrange it."
Phase I involved a $10 million gutting and renovation of the top three floors of the Sullivan Building – one of the former hospital buildings at Liliha – to create 119 upgraded beds, including 70 private rooms, for skilled nursing care and short-term rehabilitation. Named the Clarence T.C. Ching Villas, those newly renovated suites opened in April 2015 and are run by Ohana Pacific Management.
Phase II envisioned a $15 million expansion that includes construction of a new courtyard and a new multipurpose senior community center by the Mother Marianne Wing. It will also include infrastructure expansion, plus a bistro, adult day care, caregiver training and education, senior fitness and wellness programs, and pavilions that could be used by different caregiver groups that do not have permanent homes, Correa says. The target completion date is November 2018.
"When we started Phase II we were talking to the seniors to see what they need and when we were doing that we found ourselves talking to seniors AND their caregivers, and that's when we really started seeing the impact on the caregiver population. Everyone sees the statistics on senior aging. But the caregiver population is also increasing in the same direction. Now it's not unusual to have an 85-year-old being taken care of by their 65-year-old child."
Phase III, with a $30 million price tag, is expected to include an assisted living fa cility created by renovating more of the current facilities, but funding will be borrowed. "Once we get financing," Correa says, "it will probably be a 12-month build-out."
Not all of the planned services are on campus. "We've got to be mobile," Correa says. "The majority of our patients are at home so we have services off campus. For instance, for hospice patients, the ideal solution is to have it available at home as well as at a facility." The St. Francis system also operates adult day care centers in Manoa and Ewa, and is building one in Liliha.
Correa considers building a leadership team a "huge" part of transformation. And he did just that from 2014 to 2016.
"A lot of individuals are new to the organization and come with a new set of eyes and a whole bunch of passion and excitement," he says.
The path forward has also included a willingness to partner with other community providers. "We can't do all of this ourselves," says Correa. "I use this term loosely, but I consider the neighborhood board, the government agencies, our lease arrangements, all as partners. If a certain line on our campus is not our core business, it's OK to partner with somebody. And we've really been fortunate to meet really good people as partners. Whether they're providers or government agencies, we've all been working well together."
Turnaround Is a Team Effort
The Hawaii Symphony Orchestra arose from the ashes of its predecessor with financial support and new ideas, like a broader repertoire and concerts in creative new places
It was 5 p.m. on a Wednesday and the downtown corner of King and Bishop streets was full of people rushing to catch buses, heading to parking garages or waiting for rides home. The sun was shining and no rain clouds were in sight.
It was the perfect moment for a pop-up concert by the Hawaii Symphony Orchestra, figured executive director Jonathan Parrish. In the Bank of Hawaii plaza, 65 musicians began playing music from the "Harry Potter" and "Pirates of the Caribbean" films, as well as pop culture favorites like "Stairway to Heaven."
The 150 or so seats quickly filled and another 200 people stood listening to the concert that lasted an hour and a half, ending just before dark.
"It turned out to be perfect," says Parrish. "It's a little tricky. If we're not under shelter, we have to be sure we're not in direct sunlight or getting rained on. We have in excess of a million dollars worth of instruments, and some can be damaged irreparably with even a little mist."
That pop-up concert – sponsored by Bank of Hawaii and announced just days before – is all about coming back from financial disaster and building a new and lasting audience for music once considered only for the white-haired set.
The Hawaii Symphony Orchestra is a phoenix that has risen from the bankrupt ashes of the Honolulu Symphony. While Parrish has led the efforts for six years, the turnaround required many change agents, a lot of financial support, new strategies including business sponsorships, a vastly expanded repertoire and many new aspirations.
"We're always making efforts to build and expand our audience and develop the next generation, which is why we do the variety of programming," says Parrish.
"If we can get 4,000 people to a 'Harry Potter' concert, maybe 50 of them will become Masterworks patrons."
"Maybe some fraction will become regulars at our classical concerts. In the business world, it's considered a conversion – converting people from one product to another."
Those efforts are showing promise. When the orchestra does a 'Potter' concert twice in two days – simultaneously showing a movie with all the sound except music, while the orchestra plays the score – it fills the 2,000-seat Blaisdell Concert Hall each time.
"I hope the new programming we're offering encourages people to want to support it again, to see that we're relevant," says Parrish, "not just putting on classical concerts in an ivory tower."
Relevance is important to a symphony's transformation. To that end, the orchestra has vastly expanded the types of music it offers. In addition to its Masterworks series and pop-up concerts, it's offering a pops series, education outreach series, rock concerts, concerts on the Neighbor Islands with the state Legislature's support and a broadcast series on Hawaii Public Radio of its Masterworks concerts.
The first free concert, in May 2014, drew almost 1,000 people to Kailua District Park and was sponsored by A&B. Now that free Kailua concert is an annual event and the continuing sponsorship by A&B covers most out-of-pocket expenses, says Parrish.
"It gives a lot of people access to the symphony with no barriers – no cost barrier and no geographical barrier for people in Kailua."
Now Parrish is cooking up a new product: a weekly performance under a huge concert canopy in the former Kodak Hula Show venue in the shadow of Diamond Head. It would be marketed both to a local audience and tourists and take advantage of the symphony's library of Hawaiian music.
"One thing we're developing now is an educational and entertainment show with Hawaiian music as the content and we're taking it to the Hawaii Tourism Authority," says Parrish. "This music is a real treasure trove – a lot of the arrangements are (old and) in pencil – and this could be relevant to the biggest industry in Hawaii."
Parrish arrived in Honolulu in 1998 to join the former symphony as a French horn player. He had played in orchestras on the East Coast, including for operas and ballets at the Kennedy Center in Washington, D.C.
He was elected by the other musicians as their representative on the symphony board, and then as a spokesman for the musicians, and continued that important role through the bankruptcy of the Honolulu Symphony.
Looking back, he believes musician leadership was an important piece for creating successful change. Parrish understood the contract structure, and the stresses and strains musicians undergo. He also understood what it takes to turn around an arts organization: In the early 2000s he led Chamber Music Hawaii, another group in crisis that was successfully revived with musician leadership.
It became a template for reviving the symphony.
"Around 2001 the chamber music organization was at a low and the budget had been cut down to $40,000 a year," remembers Parrish. "There were 14 musicians and they were paid per performance. We were struggling, and attendance was low. I looked at it and thought, 'These are really good performances and excellent ensembles and there's much more potential here.' And I thought, 'If I'm going to play in it I'd like it to be successful.' "
At the time, the group played in a small church in Kailua with a typical audience of about 20. The tickets were $15, so low Parrish feared they were sending the message that it wasn't a very good product.
Parrish argued for double the number of concerts on the Windward side, higher ticket prices and a bigger venue. By chance, Palikū Theatre at Windward Community College was just being completed. "We need to be in Palikū," he told the organization's board.
"Suddenly our audience more than doubled. These are the things you wouldn't expect. It seems to be antithetical. When you're struggling, you think you should reduce expenses. But there was nothing to cut. We didn't have an office or a website. So we took the opposite approach. The idea was, 'If you're offering a more consistent experience, people will take advantage of it. But if it's just four months a year, people will forget about you.' "
The strategy worked.
"Once we were getting more attendance," says Parrish, "we launched an endowment process to raise $300,000 to $400,000 in new money in the mid- to late-2000s. And we exceeded the goal. And today the endowment stands at nearly $700,000."
As executive director of the symphony, Parrish has used the same turnaround methods. The new orchestra also had many angels and their substantial investments, along with the initial direction of Steven Monder, the former president of the Cincinnati Symphony who stepped in for 2½ years to get the new orchestra launched. The Kosasa Foundation spent $210,000 to purchase instruments and equipment and former Hawaii first lady Vicky Cayetano headed a fundraising effort.
"What I learned through the whole chamber music process is No. 1, cutting is not always the answer. In fact, it's rarely the answer," says Parrish. "And the arts probably have such controlled expenses that you can't cut. So you invest in the product, put out the best programs you can, and market them to the best of your ability.
"Some of the things we've done with the symphony are to expand our geographic reach to different demographics through programming. The things people talk about in arts organizations is you need to be relevant and in order to be relevant you need to be playing a variety of music. Not everyone will buy tickets to hear the same thing."
To that end, Parrish has scheduled recent concerts of Led Zeppelin music for the 1970s generation and Journey for 1980s folks. "The purpose is not that if they come to hear Led Zeppelin then they'll come back next week and hear Bernstein – it would be wonderful if they do – but the idea is we have another product to play to many people. So we're all about expanding our product offerings. And that's the business idea. If you have three or four products, you have a bigger market."
The new symphony has 64 core musicians and another 20 per-service musicians. The annual budget is now $4.2 million, with about 40 percent coming from ticket sales and much of the rest through fundraising and corporate support; about $400,000 comes from the endowment run by the Honolulu Symphony Foundation, which has around $12 million.
"We hope to grow that," says Parrish. "We would really like to see it around $20 million. With a 5 percent draw annually, it would generate $1 million for the symphony a year and that would give us a little bit of breathing room."