A UH Incubator Aims to Take Ideas to Market
HITIDE helps faculty, staff and students commercialize their research and innovations. How about a $5,000 space satellite?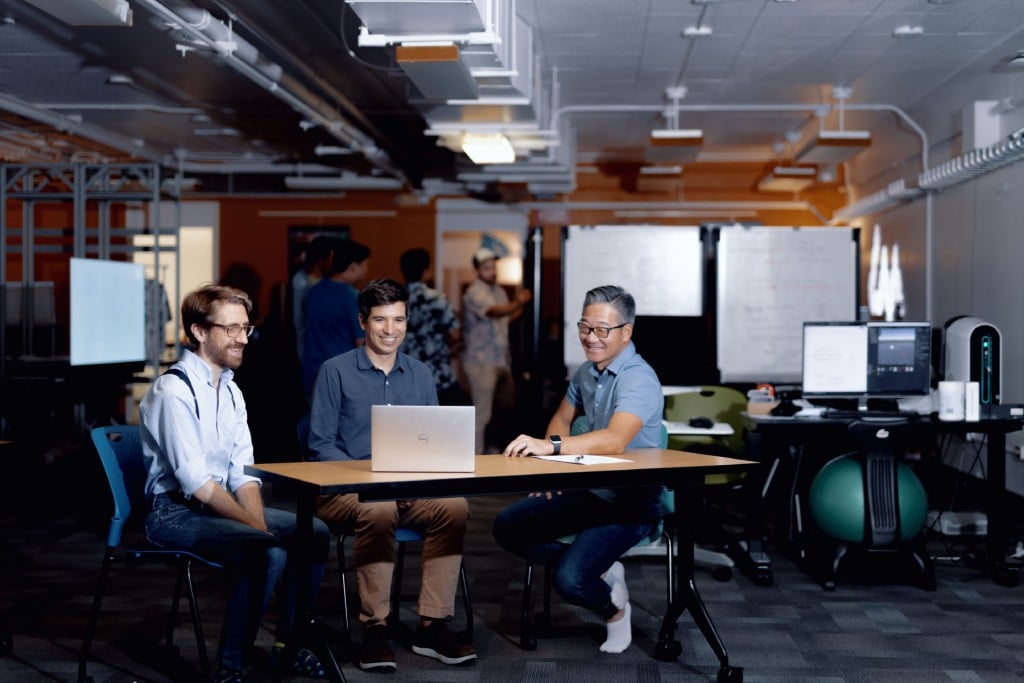 The Hawai'i Space Flight Laboratory wants to make satellites cheaper than the typical 20-year old used car.
Low-cost cubesat kits usually cost around $50,000 to $500,000, but Amber Imai-Hong, a HSFL avionics engineer and program director for the project, says the team wants to sell its version for less than $5,000.
The package would include a basic power system, onboard computer, communication system to connect with the ground, an infrared camera plus an online course and textbook. The goal is to make aerospace education more accessible and affordable for students.
Imai-Hong says the project received a $500,000 grant to develop the kit and curriculum from NASA's Artemis Student Challenge. And this fall, Artemis CubeSat joined HITIDE, the new incubator run by UH's Office of Innovation and Commercialization.
The team hopes to learn about the business side of running a tech company. "We've never started our own business before and we're very interested to see if this is something that could be a viable product and be very marketable," she says.
Here's the confirmed list of fall 2022 cohort members:
Artemis CubeSat Kit

Team from Hawai'i Space Flight Laboratory at UH Mānoa: Dr. Frankie Zhu, Amber Imai-Hong, Luke Clements

HYPERxSNAP

Team from UH Mānoa's Institute for Astronomy: Haosheng Lin, Morgan Bonnet
HYPERxSNAP is creating new technology in the field of hyperspectral imaging, a technique that captures and processes an image at a large number of wavelengths. The company hopes to expand its knowledge in spectroscopy "beyond astronomical observations" by providing advanced snapshot hyperspectral imaging capabilities to other industries.

XRCore

Team from UH Mānoa's John A. Burns School of Medicine: Jesse Thompson, Dr. Scott Lozanoff

XRCore offers image processing and 3D printing using artificial intelligence segmentation to improve pre-surgical planning and clinical training for current and future clinicians.

Generative Design Software

Team from UH Mānoa's College of Engineering: Marcelo Kobayashi

Kobayashi is using emerging, computer-aided, artificial intelligence engineering technologies and an advanced algorithm to pull different forms of data to improve engineering design. He hopes it can reduce costs and the number of development cycles to prototyping in aerospace, automotive and building industries.

Automatic Identification System Heads Up Display

Team from the Applied Research Laboratory at UH: Baseem Missaghi

Missaghi is creating technology that could advance maritime safety by giving more accurate positioning of maritime vessels, even beyond the horizon. The technology combines automatic identification system data with visualization configurations to provide 3D information in Augmented Reality that allows anyone with a single-board computer or smartphone to scan the horizon and identify maritime vessels.

Interstel Technologies

Team from Hawai'i Space Flight Laboratory at UH Mānoa: Trevor Sorensen

Interstel Technologies' mission is to develop operations capabilities for the future of aerospace exploration. Its software iCOSMOS is a fully responsive mission operations system for the robust, coordinated operation of mobile agent swarms, such as satellites, UAVs, and other vehicles in dynamic environments.
Commercializing Research
HITIDE stands for Hawai'i Technology Innovation Development Ecosystem. The Office of Innovation and Commercialization launched it this year to give faculty, staff and students insights into how to commercialize and spread their innovation and research.
Programs run by most accelerators and incubators last a few months to a year, says George Yarbrough, OIC's director of innovation and entrepreneurship programs.
But HITIDE focuses on long-term growth versus short-term investment, and its cohorts provide customized education, guidance and support over a period of 12 to 24 months.
"We think that every researcher or academic entrepreneur coming in our program is going to have different needs, so you can't just blanket them with a curriculum," says Yarbrough.
The longer program benefits academic entrepreneurs who have fulltime jobs or are full-time students – as opposed to the full-time entrepreneurs who take advantage of traditional incubators and accelerators.
HITIDE's inaugural cohort started in the spring and features three startups in renewable energy. Yarbrough says the curriculum part of the program is completed and OIC is pairing members with aligned mentors and further supporting the three companies, which are:
• Hawai'i Innovation Lab: Developing advanced reflective coating to lower manufacturing costs of solar power mirrors.
• Nimbus AI: Using artificial intelligence systems to improve weather forecasting.
• Edge Energy: Designing adaptable smart devices that monitor and optimize electric grid performance.
Hawai'i Innovation Lab
HIL's mission is to engineer "disruptive solutions to tackle high-tech challenges," says Arif Rahman, the co-founder and CEO of the company, who was formerly a post-doctoral fellow at UH.
One of those solutions is creating an advanced reflective coating to reduce manufacturing costs. The reflective coating would replace traditional mirror film used in solar thermal technologies such as concentrated solar power, known as CSP.
Rahman says CSP produces electricity more efficiently than photovoltaic because it can make and store thermal energy, which enables power generation during cloud cover and after the sun sets.
But CSP requires large capital investment and costs more than PV. Rahman says that if HIL can successfully commercialize its product, it could reduce the capital cost of CSP mirror film by 50% to 60%. Learn more at tinyurl.com/hawaiiinnovationlab.
Nimbus AI
Nimbus AI is creating artificial intelligence technology that predicts short-term cloud movements and forecasts longer term solar trends using historical data, real-time satellite data and machine learning.
Improved forecasting helps utility operators estimate how much solar power will be produced based on factors such as cloud cover and other weather-related events, according to Giuseppe Torri, Nimbus AI's science lead and assistant professor of atmospheric science at UH Mānoa.
"(It can) help reduce the unpredictability of solar energy production," which could lower energy costs in Hawai'i, says Peter Sadowski, the company's AI lead and an assistant professor of computer science. Learn more at tinyurl.com/nimbusai.
Edge Energy
Edge Energy is creating smart devices to monitor and improve electric grid performance.
Founder Kevin Davies, an assistant researcher at the Hawai'i Natural Energy Institute, a research unit of UH's School of Ocean and Earth Science and Technology, says transitioning to rooftop PV and home electric vehicle charging stresses the grid.
"Utilities are challenged with accepting a large demand for residential PV and EVs while avoiding expensive infrastructure upgrades that ultimately increase electricity costs," Davies says.
That's why he says he is developing technology that provides real-time data, analytics and controls to optimize the use of renewable energy in smart appliances, electric vehicles, home battery systems and more. Learn more at tinyurl.com/edge-energy.
Business Skills and Connections
Leaders of all three spring cohort companies say they learned valuable skills to run their businesses and established personal connections in the energy industry. They also valued the longer-than-normal incubator experience.
Davies says a lot of the incubator and accelerator programs he considered joining were "very much like a sprint," sometimes lasting just two to three months. He called it "very destructive," especially for someone like him, with a science and engineering background who likes to "think deeply and slowly and methodically" when developing technology.
That's why HITIDE intrigued him. "(UH) really understood what we were up against as faculty members and as entrepreneurs of technology."
Rahman says the connections he made are invaluable. "The journey of entrepreneurship is kind of lonely," but now, he says, he has mentors he can rely on for advice when challenges arise.
Vassilis Syrmos, UH vice president for research and innovation, says developing "deep technology" takes time.
He says that when he started at the university more than 30 years ago, "it was very difficult for faculty to actually commercialize their research." Now, through improvements, support and investment by UH, it has "become a much more robust innovation ecosystem."
Syrmos says UH brings in hundreds of millions of dollars in federal funding every year that lets faculty and staff do cutting-edge research in science and technology.
"How we successfully commercialize the technology and translate it into real-life products that will benefit society is an art that we're trying to improve upon and master," he says.
Diversifying the Local Economy
Syrmos says programs such as HITIDE align with the university's strategic plan. One of UH's four imperatives is helping to diversify the state's economy through research and innovation.
"Part of our DNA and mission is to take some of that public funding that has been invested in us mostly from the federal government and turn it into products that actually can help other people," he says.
UH received a $2.7 million CARES Act grant to start HITIDE. Another $1.8 million will be invested in UH tech startups through the incubator over the next three years, with seed funding provided through OIC's UH Ventures LLC.