Keeping Connected: How to Engage Employees During the Crisis and Beyond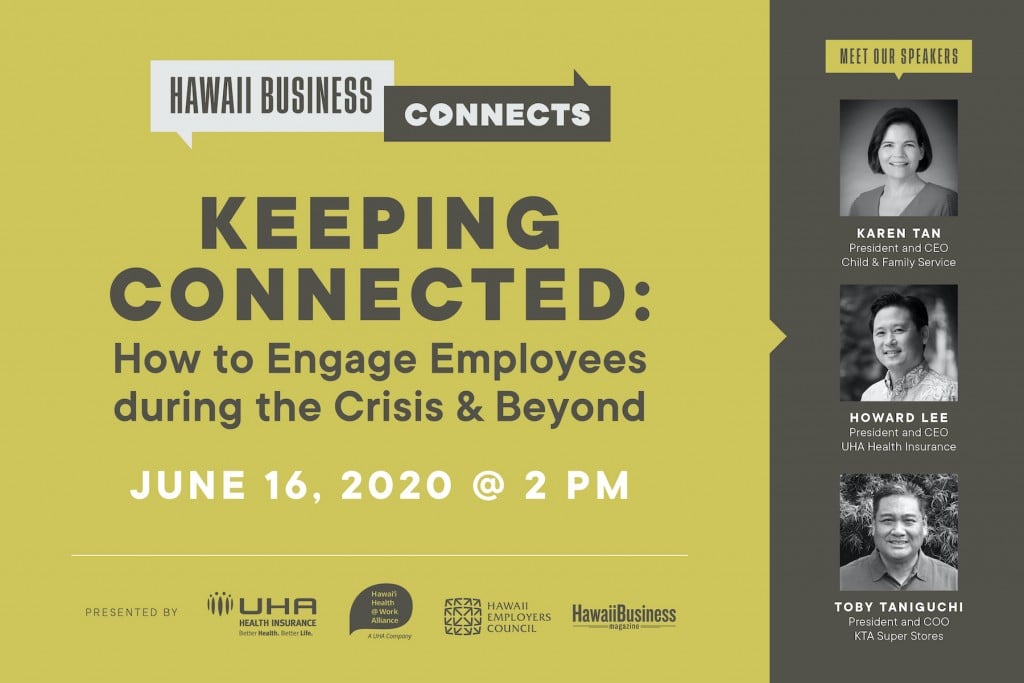 HEC Webinar: In partnership with UHA Health Insurance/HH@WA and HEC
Date: June 16, Thursday at 2 – 3 pm
Format: Go-To Meeting Webinar
Moderator: Steve Petranik, Hawaii Business

Join us in this partnership webinar to learn how local leaders are keeping connected by engaging employees during the COVID-19 Pandemic.
The chaos of ever-changing laws, evolving stay-at-home orders, the need to home school children while working, and dealing with the uncertain future have left many stressed out and anxious. Some local leaders, however, have fully embraced their leadership position and have admirably led their organizations with hope and compassion. They have found a way to nurture their staff's connection with the company, their respective departments, and each other.
In this one-hour webinar, you will meet inspirational leaders – Howard Lee (UHA Health Insurance), Toby Taniguchi (KTA Super Stores) and Karen Tan (Child and Family Service) – who will share their stories of keeping employees connected and engaged.
We have all been affected by COVID-19 in some way or another. Embracing our position to create an environment that's compassionate, allowing for connection and leadership, will determine the outlook of our future.