Ukulele Boom Generates Global Sales for Hawaii Companies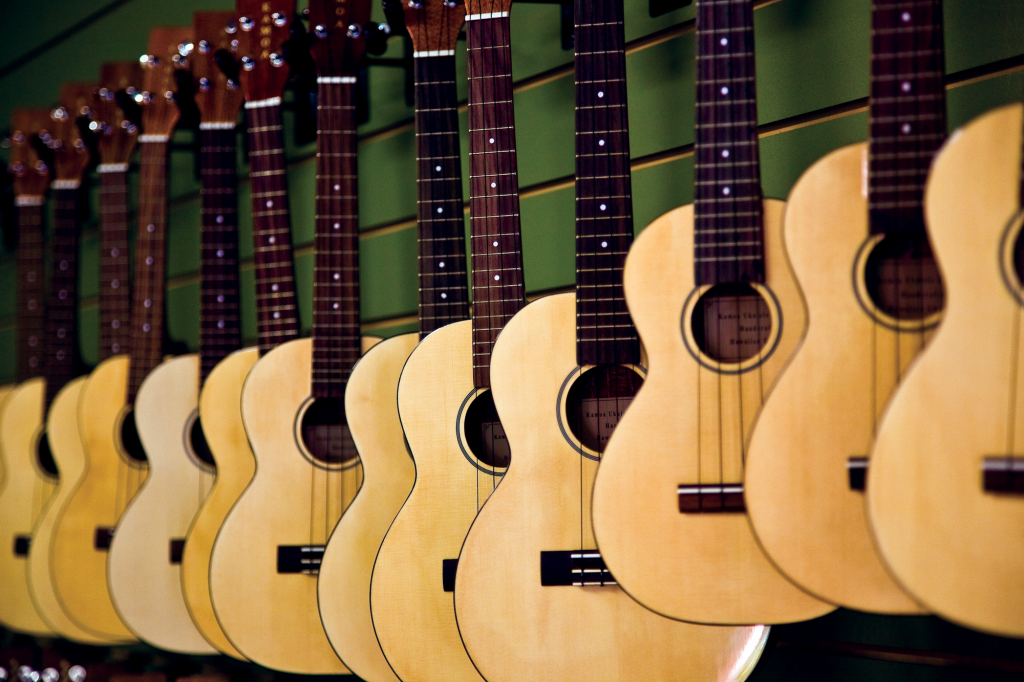 Four or five times a year, Mike Upton closes the door in Petaluma, Calif., and flies to China to check an operation that's making several hundred-thousand Hawaii-inspired ukuleles a year.
Originally based in Hawaii, Upton moved to California but maintains a distribution center in Honolulu for his Kala Ukulele brand. The company has grown in six years into a multimillion-dollar business that produces 120 different models, and ships them to 20 countries.
"We have big markets in Europe and England, Australia, Japan, Hong Kong … all over the world," Upton says by phone from Petaluma. "It's probably grown five or six times over – 500 or 600 percent. That aloha spirit definitely translates well in any country."
Ukulele sales are growing so rapidly that NAMM – the 9,000-member National Association of Music Merchants – started tracking domestic sales two years ago as part of its global sales report. U.S. sales jumped 16 percent in 2010 over the previous year and the organization expects a similar increase this year.
"Ukuleles are a hot ticket right now," says NAMM marketing and communications director Scott Robertson. "The popularity of the instrument continues to surge. There are quite a few popular artists including ukuleles in their music and people are responding to that. Plus it's a less intimidating instrument, very portable, and easy to get started and play your troubles away."
The humble "jumping flea" instrument migrated from Portugal to Hawaii in the 19th century and has since become identified worldwide with the Islands' musical heritage. Long-time Hawaii manufacturers, such as the prestigious Kamaka Hawaii Inc., continue to build only in Hawaii, but many other brands have outsourced some of their production to China, Indonesia and elsewhere.
Koolau Guitar & Ukulele, a respected 20-year-old Hawaii producer, added a line of imported instruments five years ago. Shop manager Noa Bonk says the company tries to use wood that is grown in the country where the instruments are made but also imports other types of wood.
"In China, we use maple. In Indonesia, we use mahogany, which grows there, and acacia, which is a form of koa. The Koolaus we build here we have koa from Oahu and the Big Island, and then we use maple from Washington and myrtlewood from Oregon. It's almost like ordering a custom guitar."
Ukulele sales have been so robust that many manufacturers haven't been hurt by the economic downturn.
"We didn't really see a recession," Upton says. "As a matter of fact, it got more popular the worse the economy got. It could be that people are spending less money on expensive toys and more on inexpensive hobbies, and doing things that are more engaging and less costly. It doesn't cost much to play the ukulele."
Even with overseas operations, manufacturers struggle to keep up with demand. Upton says he can't get enough instruments for his distributors. "It's now going into Russia, the Middle East, Africa, Israel. … And it keeps growing," he says. "It's gone way beyond what everybody thought it was limited to."
Another respected local brand, the Kanilea, has expanded some of its production to China to meet demand, and is constantly looking for new production sources, says owner Joe Souza. He says he hopes to make contact with manufacturers from Thailand and Korea during a fall trade show in China.
Currently, Souza says, standard orders to distributors have a five- or six-month wait, and maybe three months for custom orders. "We know we could sell 10,000 a month if we could get them."
Hawaii companies face language and communication challenges with their manufacturers abroad, particularly in China and Indonesia, but one advantage is that both countries have woodworking traditions, partly because classical instruments, such as violins and cellos, have been made there for years.
"It was hard with communication, distance and quality, so, every couple of months, you're flying over there," says Bonk of Koolau. "Basically, they copy what I build here. I give the blueprints and show how braces, top and body should be carved and built.
"We use all solid wood, no laminates. Then we do the final setup here, putting the strings on, adjusting the action. Everything gets checked out once it gets here."
Kala's distribution center in Hawaii welcomes a container load of instruments for the Hawaii market every couple of weeks and each ukulele is checked before it is sent to retailers.
Other containers head to California for distribution across the mainland. Still others find their way to Singapore and Hong Kong for the Asian and Middle Eastern markets, and England and Germany for Europe.
"We're looking for ways to produce more," Upton says. "That's a challenge. It takes a lot of skill to make them to our standard. All our sizes seem to be popular, but the tenors especially. It's next to the largest and seems to be the one people want."
Prices run the gamut from just under $40 to custom pieces that cost thousands of dollars. Kala's most popular range is from $120 to $650.
"The ukulele shops in Waikiki are for tourists and a lot of them want to purchase one in Hawaii," says Upton. "That's a big market for sure. But so is the local market."
At Easy Music Center on South King Street, an entire wall of gleaming ukuleles offers something for every taste.
"We see a wide variety of customers, from people just starting out to people who have been playing awhile, to tourists," says Will Evrard, who will be manager of the new Easy Music Center in Kapolei.
"The tourists who come from Japan or Australia will buy the Kamakas and Kanileas. But people just starting out, looking for their first instrument, or buying for a little 8-year-old, we definitely don't suggest a $700 Kamaka. We recommend the $50 Kala. We have some that start at $37 and they're not toys. Everything we sell here is actually a playable instrument."
Easy Music Center's owner and manager, Peter Dods, credits ukulele sales with his store's booming business and his ability to expand from one store to three in just a few years.
"Ukulele is my No. 1 gross-profit producer," says Dods. His expansion to Kapolei is an attempt to capture the new tourist market being created by the Disney resort and other sites in Ko Olina.
Kamaka, now in its 95th year, cornered the market years ago in high-end koa ukulele. Kamaka – which continues to make everything by hand in the Islands – can't keep up with today's demand.
"There's huge popularity all over the world," says Alice Kaahanui, office manager for Kamaka. "We're basically getting orders from every country. Our stores are still on a six-to-eight-week back order and individual orders are about three to five weeks on back order. We especially have a lot of inquiries from Thailand and just opened an authorized dealer there."
Starting about a decade ago, Kaahanui and others say, entertainers began driving the worldwide interest in ukulele.
Those musicians have included local ukulele star Jake Shimabukuro and Eddie Vedder, singer and guitarist with the rock band Pearl Jam, who released a solo album called "Ukulele Songs."
The main impetus came from Israel Kamakawiwoole and his version of "Over the Rainbow," which is backed by Iz's gentle ukulele strumming. First released in 1993, the song has been played in countless movies and TV shows, and is now familiar from Toronto to Timbuktu.
"We've seen kids at school playing them in mainland China," says Kala's Upton. "It's a real community instrument. That backyard jam thing is translatable in every culture. Ukuleles are always played in groups and at gatherings and there are ukulele clubs happening all over the planet."
Kanilea's Souza doesn't expect the ukulele boom to end soon. He's recently back from Rome, where he took part in a two-day ukulele festival that gathered players from around the world, including Hawaii.
He loves that dedicated players keep adding to their collections, knowing that each instrument offers a slightly different sound or feel.
"They're coming down with a symptom I call UAS," chuckles Souza, "Ukulele Acquisition Syndrome. They want more than one. They may want a tenor or a bass or one with an inlay of mother of pearl with honu designs, or the family crest, or any number of designs. The ukulele basically can be a blank canvas."
Souza believes the time is right for the ukulele boom to keep going.
"The last big boom time was the Depression," he says. "America was going through some harder times when the ukulele was embraced. With the direction the world is going now I hope the ukulele boom will prevail and continue to reach new markets. I can see the joy and mood it creates when people play. People ask me what I do at the end of the day and I share this – I go home and play ukulele."
U.S. Ukulele Sales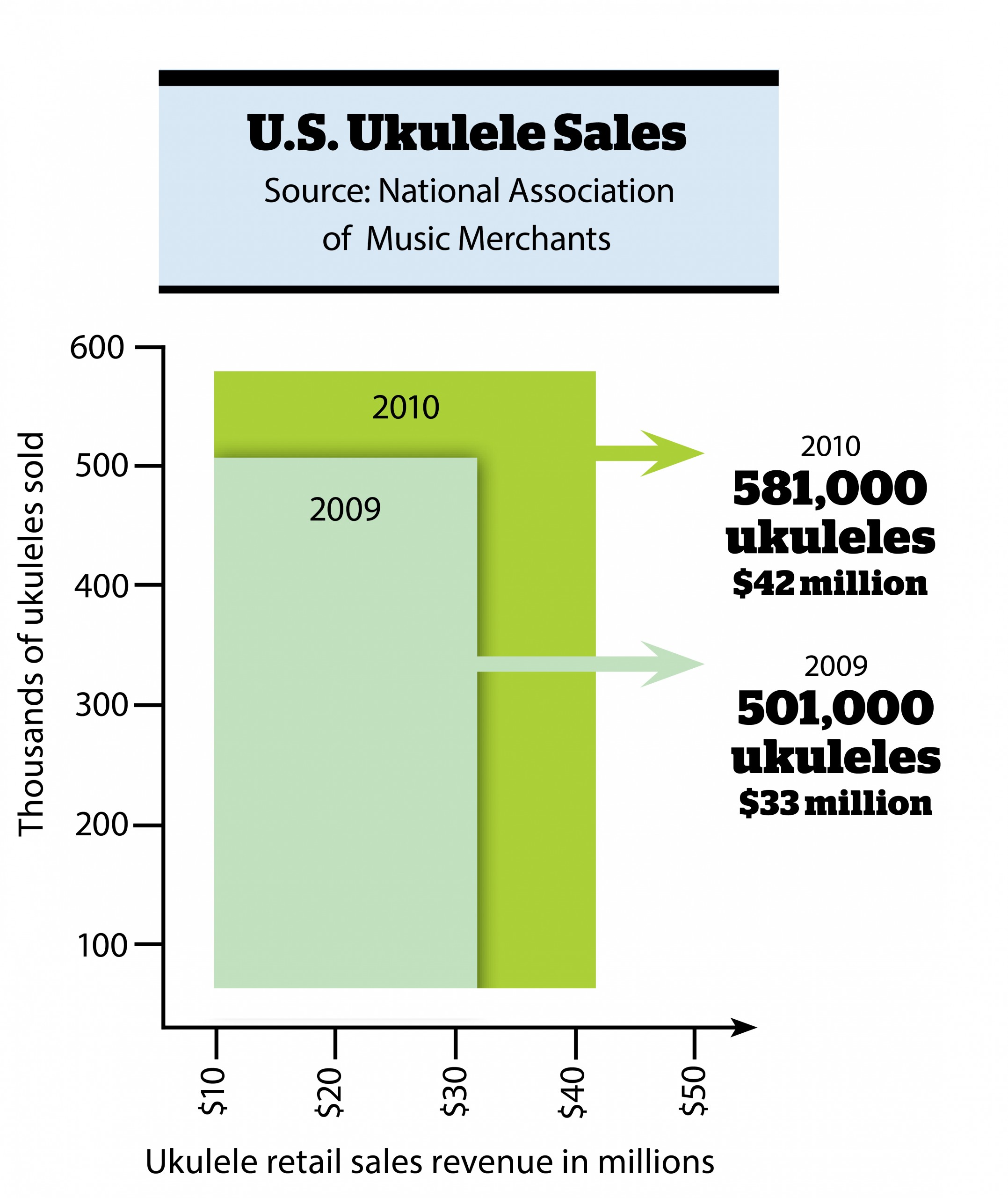 A Brief Global History of a Small Hawaiian Instrument
1879
More than 400 Portuguese men arrived in Honolulu aboard the ship Ravencrag and at least one brought a popular folk instrument called the machete. It was quickly adopted by Hawaiians, who renamed it the ukulele or "jumping flea," possibly because of the way it was played with flying fingers.
1915
The Panama Pacific International Exposition in San Francisco, where the Hawaii pavilion was a hit, spurred national popularity of the ukulele. By the 1920s, no self-respecting college kid would be seen without one. Tin Pan Alley began churning out Hawaiian and hapa-haole songs and respected national guitar makers began making ukulele. Sheet music of the era's most popular songs were printed with easy-to-play ukulele tablature.
1950s
Arthur Godfrey, who was fond of Hawaii, played the ukulele on his popular TV show.
1960s
The nationwide popularity of the ukelele was in decline, as everyone wanted to be a guitar hero. Gimmick entertainer Tiny Tim used the ukulele, adding to its uncool reputation.
1971
The ukulele never went out of fashion in Hawaii. Maestro Roy Sakuma started his Ukulele Festival in 1971 and it's still going strong.
Mid-1970s
Hawaiian music enjoyed a renaissance, with popular groups such as Sunday Manoa and the Makaha Sons of Niihau featuring the ukulele.
1985
As it regained national and global popularity, the ukulele showed up in unexpected places. The Ukulele Orchestra of Great Britain, founded in 1985, met with critical and popular acclaim. Around the same time, former Beatle George Harrison, a part-time Hawaii resident, began playing the ukulele almost to the exclusion of his guitar and other instruments.
2000s
With the new millennium, a wave of virtuoso players emerged, including local musician Jake Shimabukuro. Other popular artists are including the ukulele in their recordings and performances, and legions of amateurs are following along, playing this happy instrument in their homes, in informal ukulele clubs and bringing it wherever they go.
Sources: Lanikai Ukulele website, "Hawaiian Music and Musicians" by George Kanahele
U.S. Sales of Fretted Instruments, 2010
Sales totaled 2.38 million units, $839 million retail
Clubs All Over
Peter Thomas had no trouble launching an ukulele club in Santa Cruz, Calif. Originally, aficionados would meet in his living room, but the gatherings quickly outgrew his home.
Now, the Ukulele Club of Santa Cruz – one of the mainland's largest – meets regularly at restaurants, drawing up to 200 strumming players at a time. The club has spawned a number of knock-off groups and regularly responds to requests for information and advice from fans around the world.
Thomas says that, once people get hooked, they begin buying ukulele for various styles and themes. Some people are even making their own.
"Music you play by yourself is happiness," he says.