My Job as an Animal Trainer for the Big and Small Screens
Playing with the animals is only a small part of the job.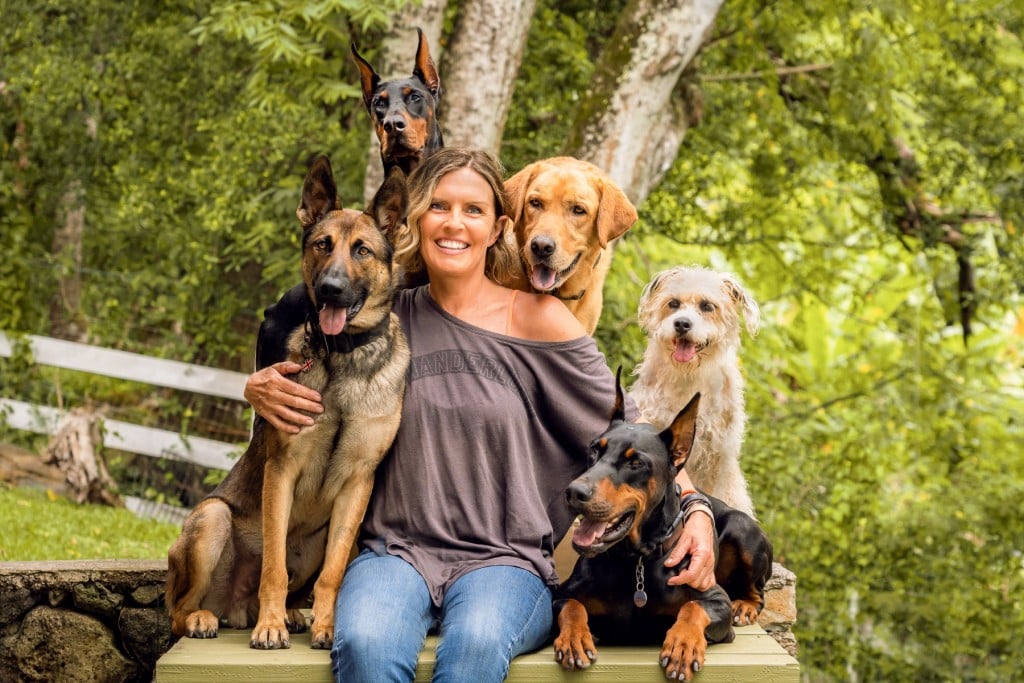 Name: Sue Chipperton
Job: Animal Trainer and Owner of Check The Gate
BEGINNINGS: "Growing up in England, I was always bringing home stray dogs I'd find on the street. I was a nanny for an English family in England and they would come over to Florida on vacations. Then I got a job at a marine park in Fort Lauderdale.
"Whenever you work in a zoo or marine park, you're not doing it for money, you're doing it because you love it. We had a couple of trainers who came out and they were telling me about their friends who were training animals for movies and television. I packed up all my stuff­ and drove cross-country to Los Angeles, made the rounds to all the di­fferent animal companies and eventually I got hired by Studio Animal Services."
A REAL ZOO: "I worked there for 21 years. At the height of our busy, crazy time, we had about 100 dogs, 80 cats and squirrels and rats and birds and ducks."
STARTED WITH SEVEN PIGS: "I moved here with no animals. I was just going to take each production as it came along to see what they wanted. 'Jurassic World' needed pigs, which had to be trained from scratch anyway. We had seven pigs and then we ended up flying four of them to New Orleans to finish shooting there.
"Then I met the producers of 'Hawaii Five-0.' They would give me a script a month in advance if it had animals in it. I just put out little casting calls and everybody I met was a potential dog that I could use at some point. One of the first jobs we did on 'Hawaii Five-0' was with a Siberian husky that had to bark on cue. I met five huskies and picked one and it was a great dog. Then I got my Labrador, Eddie, and the first job he did was a Hawaiian Telcom ad. Eventually, he got cast on 'Hawaii Five-0' as Steve McGarrett's dog.
"Now I have seven dogs," including the two Dobermans in "Magnum P.I."
WHAT IT TAKES: "A lot of patience and you need to be consistent in what you're doing. You have to stay motivated to train and take care of the animals when you're not collecting a paycheck."
IT'S NOT JUST "STAY": "They still have to learn all the basics, like sit and down. If somebody is thinking, 'Oh, sure, I can get my dog to come in and stay.' Well, if your dog is in front of you and you have it come in a straight line toward you and tell it to stay (it just might). But what about when you're in the corner, your dog has to come in from behind you and then land somewhere and not be looking at you? I have to verbally tell them what to do because they can't see me right in front of 50 people in a new place, 25 times in a row."
MAIN MISCONCEPTION: "You get to play with puppies all day. Yes, it's fun and we do play with our animals, but that is just a small portion of it.
"It's a lot of specialized training and not just pet training. So, when everybody wraps in February and goes on vacation or takes the summer off , they put their wardrobe in the shipping containers and their cameras in their containers, lock the doors and walk away. I don't, I still have to take care of all the animals that I have and maintain their training."
DON'T SAY HI: "When we started with Eddie on 'Hawaii Five-0,' there was an embargo on anybody coming near him or touching him because he's a Lab, he wants to say hi to everyone. I tell actors, if my dog comes over to you in the middle of the scene, don't pat him because you're rewarding him. They cannot not touch him. Every single time, Eddie would run over to one of the other cast members and be like, 'I haven't seen you in weeks.' They would be like, 'Hey, Eddie!' and petting him and I would be going 'Oh, gosh no!' "
DON'T ASK HER TO TRAIN: "Spiders. I will put you in touch with a guy, but I won't be there, anywhere near."
PAY RANGE: It's based on a union contract. "You make an average middle-class salary of someone who works full-time, but I work about a third of the year."
This interview has been edited for clarity and conciseness.