Uniting Families Under One Roof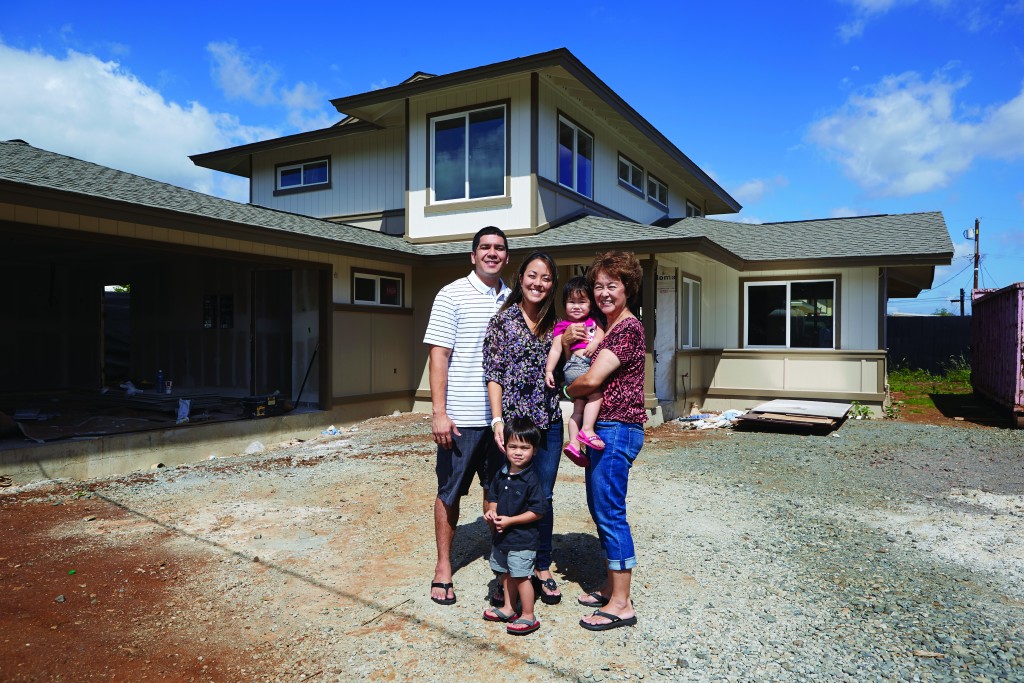 Chances are good that when additions or a major overhaul are made to a Hawaii home, the goal is to accommodate multiple generations on the same property.
Sometimes the reasons are economic: Grown children with their own kids can't afford a big enough home, so they move in with Mom and Dad. Sometimes quality of life drives the decision: The older generation wants to live at home, but needs care or wants to babysit the grandchildren, so everyone lives together. Whatever the reason, local builders are serving the need.
"As builders, we have focused our basic design platform to start with the concepts of family living with three or even four generations," says  Marshall Hickox, president and chief administrative officer of HomeWorks Construction Inc. "Our job is to design and create homes with independent spaces to allow privacy for all the residents, but include common areas to share and create a symbiotic household."
Christin Sumida is a young mother, teacher at Aiea Elementary School and wife of a Hawaiian Airlines flight attendant. Her family is temporarily renting a home across the street from the property where her grandparents lived for many years. When her grandmother died, Sumida and her parents bought the property outright from Sumida's mother's siblings.
The 70-year-old plantation-style home in Aiea was razed and Graham Builders is now building a new home where Sumida's family will live with her parents – parents downstairs and her family upstairs. One common area is a big kitchen on the ground floor and another is the broad driveway, where Sumida's father wants to entertain.
"It is nearly impossible to qualify for your own house here in Hawaii, especially for our generation," Sumida says. Multigenerational living has no stigma attached to it anymore and it's an option she recommends.
"We are all about asking each other for help. It's a local tradition. My grandma raised us while my mom and dad worked, now my mom is helping us raise our son and is helping raise my niece. Multigenerational living in Hawaii ensures everyone will be OK, everyone will be comfortable and that you will always have family around. Plus, this takes a big financial stress off our shoulders."
To do multigenerational homes properly, Graham Builders president Evan Fujimoto and other company employees have been certified by the National Association of Home Builders as aging-in-place specialists. Fujimoto says that means they've learned the importance of many factors, including:
Contrasting colors for floors and counters in kitchens and bathrooms so seniors don't miss when they set down the sugar bowl or shaving cream.
Avoiding floor transition strips between rooms because even a quarter-inch bump can snag a walker or trip a senior.
Accessible bathrooms and lighting that illuminates dark halls at night.
"A strong indoor-outdoor relationship," such as a home that opens onto a bright lanai or safe and relaxing yard, which enhances the quality of life for seniors and everyone else.
HomeWorks is remodeling an East Oahu home bought by W. Yamamoto and his wife 14 years ago with the intention of eventually converting it to a multigenerational home that was technologically up to date and energy efficient. They started the project in 2013 because the timing was right: His parents were transitioning into retirement, he and his wife were ready to have children and interest rates were low.
"We spent quite some time working with the design team at HomeWorks to achieve a house with privacy for the different generations while at the same time having comfortable communal areas, such as along our pool and the shared lanais," Yamamoto says. "Each of us would feel like it was a home for everyone that had areas of privacy, too."
Some ideas were reconsidered as the Yamamotos' plans progressed, delaying the completion a bit. That happens, Hickox says, and his team helps customers make the right choices along the way.
"For example, a breakfast nook that you will enjoy every morning with your family or a large dining room that you might use twice a year. If the budget allows for only one, it's our job to help them make an educated decision," Hickox says. "The ultimate goal is to always raise the standard of daily living through a properly thought-out functional design. Form should then follow."
Interestingly, there are signs that the recession and weak economy have persuaded families to scale back their multigenerational homes.
Multigenerational homes are usually considered and planned years in advance as families coordinate their lives and then construction takes some time to complete. Fujimoto says projects completed by Graham Builders from 2009 to 2011 averaged 3,361 square feet for two-story homes. But from 2012 to 2014, after the effects of the recession and the consequent weak economy were clear, Graham Builders' projects averaged 2,822 square feet for two-story homes.
"Increased construction costs and slightly higher interest rates are keeping house sizes in check," Fujimoto says. "The decision to tear down, rebuild or remodel has to do with budget and what you plan to do. If you have a substandard home with extensive termite damage, it might make more sense to rebuild. That might mean you'll spend more dollars, but the new home will have new features, new appliances, solar water heating, and fully insulated ceilings and walls, all made with new materials. Ultimately, you get way more for your money and it's all new and built to current code."