Virtually There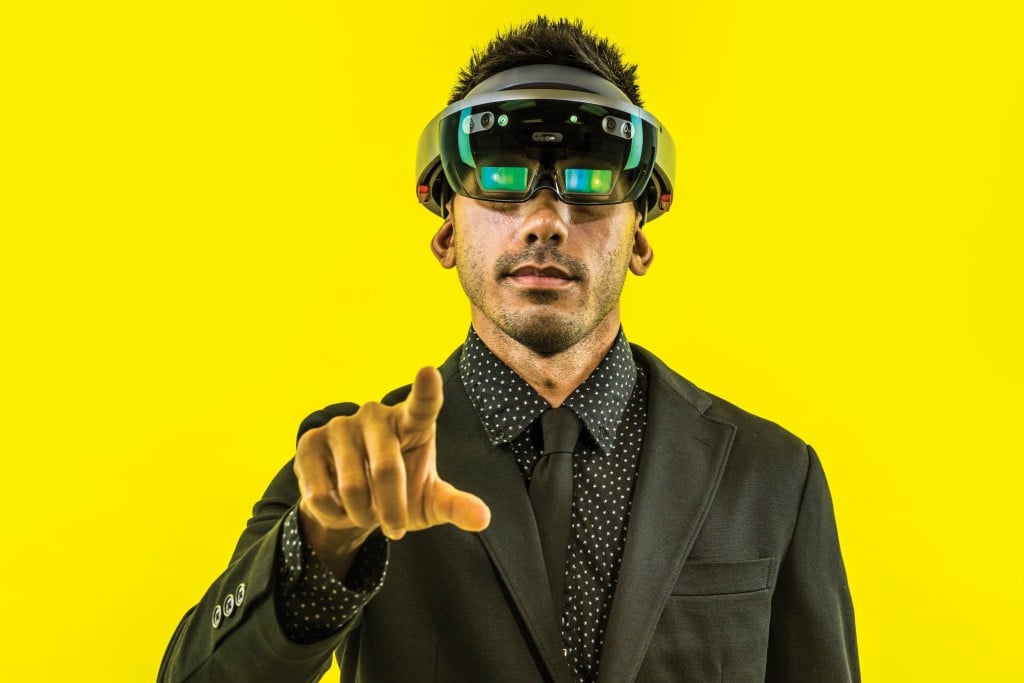 Hawaii Life Real Estate Brokers bought a new camera in July. Nothing special in that; Realtors have long used pictures to entice prospective buyers to visit houses for sale.
But this purchase was special: a $4,500 Matterport Pro 3D, an automated, high dynamic range camera that creates virtual reality tours of homes, inside and out.
"It's hard to understand a house or a condo from a bunch of two-dimensional images," says Realtor broker Liam Ball. "You see nice picture of the kitchen, you see a nice picture of the view, of the bedroom and the bathrooms, but you really have no idea how it all fits together. Video was the next step … but VR is the ultimate way to get the information across."
The real estate industry is just one arena in which VR is being used in Hawaii. Innovators in local tourism and education say VR is not just part of the future, but useful right now – especially with digitally native Millennials.
Ball says some house-hunters don't have time to check out a home in person or they physically can't visit, which is often the case for foreign buyers interested in Hawaii's luxury homes. So VR tours are the next best option, he says.
Users can walk through each room and look outside windows using a mobile device or computer. Ball says his company has even mailed VR headsets to clients. For users short on time, Ball says, Realtors can create a pre-programmed tour of a home or condo. Matterport software even has a dollhouse view, giving viewers a 3D moveable model of the house, and a VR floor plan view.
To date, about 40 Hawaii Life homes and condos have been scanned with the Matterport camera and uploaded on the company's website, www.hawaiilife.com, including listings on Maui, Oahu, Kauai and Hawaii Island. Ball says he recently spent about 45 minutes scanning a two-bedroom condo in Wailea that is listed for $749,000.
As of press time, no homes with VR tours had sold. But, Ball says, Hawaii Life has received positive feedback about the added service, and he feels confident about its usefulness. "If we have House A and House B and they're in the same neighborhood, by the same developer and both are for sale and one of them has this 3D tour, I feel it's going to sell first. And selling first is selling better."
ON VACATION, VIRTUALLY
Armchair travel is one of the best, and most entertaining, ways that VR technology is being used. In 2015, Hawaiian Airlines announced its new first-class reclining seats via Oculus Rift. For a three-month trial in early 2015, Qantas offered first-class passengers Samsung VR headsets to virtually promote the airline's destinations. Marriott Hotels also experimented with virtual reality in 2015 with its "VRoom Service" program in which guests at select hotels could order a VR headset to virtually sightsee, without leaving their room.
This past September, the Hawaii Tourism Authority unveiled its free Hawaii VR mobile app at the annual Hawaii Tourism Conference. The app is available for iPhone and Android users and compatible with VR headsets; HTA even hands out branded cardboard viewers at conferences and trade shows.
Upon opening Hawaii VR, you become a paraglider hovering above the Islands, before floating down onto Oahu, Maui, Kauai or Hawaii Island to "explore Hawaii with a local." On the app, musician Kimie Miner performs atop Kilauea with a hula halau, Kepa Kruse strums an ukulele on a catamaran off the Na Pali Coast, waterwoman Jenny Van Gieson surfs in Waikiki and Hokulea apprentice navigator Austin Kino swims beneath a waterfall near Hana.
"Right now, in the tourism industry, (virtual reality) is the future, because it allows you to do lots of things," says Leslie Dance, HTA's VP of marketing and product development.
Just in time for December's 75th anniversary of the Pearl Harbor attack, the managing nonprofit called Pacific Historic Parks partnered with the National Park Service to launch the Pearl Harbor VR Tours mobile app. The $2.99 app offers users three VR experiences at the World War II Valor in the Pacific National Monument: the three decks of the pre-attack USS Arizona, the Dec. 7, 1941, attack on Battleship Row and the USS Arizona Memorial. The nonprofit also sold cardboard viewers for $9.95.
The mobile app took one year to develop and cost $340,000, says Tom Gerrish, Pacific Historic Parks' director of information and digital technology. "Our goal is to educate and we want to make that experience fun. Virtual reality removes you from your existing surroundings. … As it gets more fine tuned, the experience will be even more as if you're there."
Gerrish says the park service provided historical photos for the first two VR experiences. Users learn about Arizona crewmembers as they "walk" the decks, and then see aerial photos of the attack, including information about the Japanese aircrafts and Battleship Row subs. The park organizations contracted with Omaha-headquartered company HDR to shoot 360-degree video of the Arizona Memorial for the third VR experience. Gerrish says proceeds from the app support the memorial, and that the nonprofit is already brainstorming additional VR experiences.
HTA's Dance says the goal of both VR apps is to inspire the "travelers of tomorrow" – referring to Millennials, a demographic now more numerous than Baby Boomers.
"What we want is the Millennial generation to be engaged with World War II," Gerrish says. "It's such an important part of history that has molded where we are today. We think it's important that the younger generation understands that and leveraging the VR is a way to make that happen."
Both Dance and Gerrish say it's too soon to know whether the VR apps have attracted new visitors, young or otherwise. Neither had numbers on how many times the apps had been downloaded, or the number of active users. They both hope the VR experiences are enough of a taste of Hawaii that users will put the headset down, and book an airline ticket.
"For people who have never been to Hawaii and experienced it, the movie they play in their head is quite different than the reality," says Dance. "I think the virtual reality acts as kind of the middle part, where it starts to engage you a bit more and educate you a bit more about what the destination is and what each island offers."
"Nothing beats coming (here)," adds Gerrish. "But, if you can't come here, the second best thing is the virtual reality."
RISK-FREE MEDICAL TRAINING
At the SimTiki Simulation Center in the UH John A. Burns School of Medicine in Kakaako, sits hundreds of thousands of dollars' worth of specialized equipment, including VR surgical simulators, six life-size computerized mannequins and dozens of body parts, including arms and legs on which to practice finding arteries and placing IVs. Opened in 2006, the center's staff not only help train the next generation of doctors and nurses, but also help current professionals improve their skills.
"We call it the bridge between the book and the bedside," says Benjamin Berg, the director of simulation and professor of critical care medicine. "At some point people have to start working with real patients … Simulation allows them to practice and do things many times before they actually have to get involved with doing procedures with patients in real life."
The SimTiki Center is also home to the Fundamentals of Laparoscopic Surgery program, sponsored by the Society of American Gastrointestinal and Endoscopic Surgeons. A VR simulator for the program was invented in 2004 and mimics the feel of actual procedures as medical students and surgical fellows and residents learn hand-eye coordination, dexterity and precision. Watching a computer screen with VR anatomical graphics, trainees maneuver two graspers –which imitate surgical devices – to dissect, suture, biopsy and more.
"We're not just here for the university, but for the community," says chief simulation specialist Kris Hara. "Even high school students visit the simulation center."
Hara says all Hawaii surgical students intending to perform laparoscopic surgery must take the VR simulation course and pass the exam before being certified to practice. She says about 15 students take the course each year. According to the American College of Surgeons, since the inception of the FLS program, more than 9,000 surgical residents, fellows and practicing physicians have successfully completed the program.
Berg says working with the mannequins and VR surgery simulators improves students' accuracy and speed, and gives them confidence. Plus, if a student makes a mistake diagnosing Martin the mannequin, or during a laparoscopic surgery, no one gets harmed.
DIGITAL LEARNING FOR DIGITAL NATIVES
Dozens of Iolani high school students visited Baltimore for their U.S. history class this school year. After walking past a row of cannons, they stood inside the pentagon-shaped fortress of Fort McHenry. They discussed the fort's role in the War of 1812, and how its fluttering flag was the inspiration for a poem by Francis Scott Key, which later became the national anthem, "The Star-Spangled Banner."
But the teenagers didn't spend months fundraising for airfare or to buy heavy coats for the trip. All they needed was an iPhone and a $15 piece of folded cardboard.
"This is the beauty of virtual reality," says Michael Fricano II, an educational technology integration specialist and maker-ed teacher at Iolani School. Fricano supplied the U.S. history classes with VR headset viewers called Google Cardboard. The students plugged in their earbuds, placed their smartphones into the headsets, and then "traveled" to Fort McHenry via the Google Street View mobile app.
"It connects students to places all over the world where they're probably never going to be able to go physically in their lifetime. Especially here in Hawaii, some of our students have never left the Island … Because of that, VR is one great way to virtually get kids off the Island and allow them to explore the world around them."
Local innovators like Fricano are helping get the tech into classrooms, offices and households by demonstrating its potential to teachers, business leaders and consumers. He helped incorporate the technology at Iolani about two years ago. This year, students also created their own VR projects, thanks to the school's purchase of two $350 Ricoh Theta S cameras, which capture 360-degree video, and VR video editing apps. He most recently worked with two high school teachers – in history and Mandarin – and two fourth-grade teachers.
"When new technology comes out, you find a couple of those teachers who are pioneers and are willing to experiment and explore new tools," he says. "Other teachers around the school then see it and they get interested and it sort of organically grows."
For one teacher's three Mandarin classes, students shot videos of their favorite places on campus: the cafeteria, the senior benches, under a tree, the Mandarin classroom. Then they edited the videos on their school-issued iPads with a free VR editing app, ThingLink, and uploaded audio describing the location in Mandarin. The classes had access to each other's VR projects on the ThingLink website, and could also view the locations on their phones with a Google Cardboard viewer.
"Before (the teacher) might have just had her students do an iMovie project, or a Power Point presentation," says Fricano. "This is a much more unique perspective, especially when you view it on your mobile device. The kids really enjoyed it."
Dozens of fourth graders also made their own VR projects during field trips to Manoa Stream and the Lyon Arboretum. Half the class went to the stream, while the rest visited the garden. But because the pupils made VR videos, every student was able to visit both locations and learn about Manoa's unique ecosystems.
Fricano says creativity and collaboration are two big benefits to letting students use VR, and teachers are finding it useful across subjects. Iolani students are also looking to collaborate outside of campus.
"We live in such an amazing place," he says. "For example, we can take kids physically to (Kilauea), but other students who study volcanoes around the world aren't as close to a volcano and just learn about it through books, pictures and videos. So we've been exploring creating those virtual field trips so other students around the world can take advantage of that."
Iolani isn't Oahu's only private school utilizing virtual reality. Mid-Pacific Institute has an HTC Vive and offers classes built around VR for its middle schoolers. This past October, Maryknoll School received a grant to purchase VR computers for students to learn how to virtually build and repair airplanes.
Fricano also helps kickstart VR in classrooms across the state in his side gig as a consultant for the Janus Group, an educational tech organization comprising five public and private school teachers. In summer 2015, the Janus Group held eight, three-hour VR workshops for 82 teachers. Each teacher also received a class set of Google cardboards. Fricano says the organization has donated VR headsets to the Nanakuli-Waianae school complex and has launched a used smartphone donation drive for the area. In total, he says, the group has donated about 5,000 Google Cardboards to Hawaii schools.
"Virtual reality is super easy to use," says Fricano. "It didn't take a lot for students, and teachers, to learn how to use it, which is great … These kids are digital natives, they're growing up in a world where it's all they know. They can probably learn it faster than I can teach it to them."
---