Talk Story: Jeff Wagoner, CEO, President, Outrigger Hotels and Resorts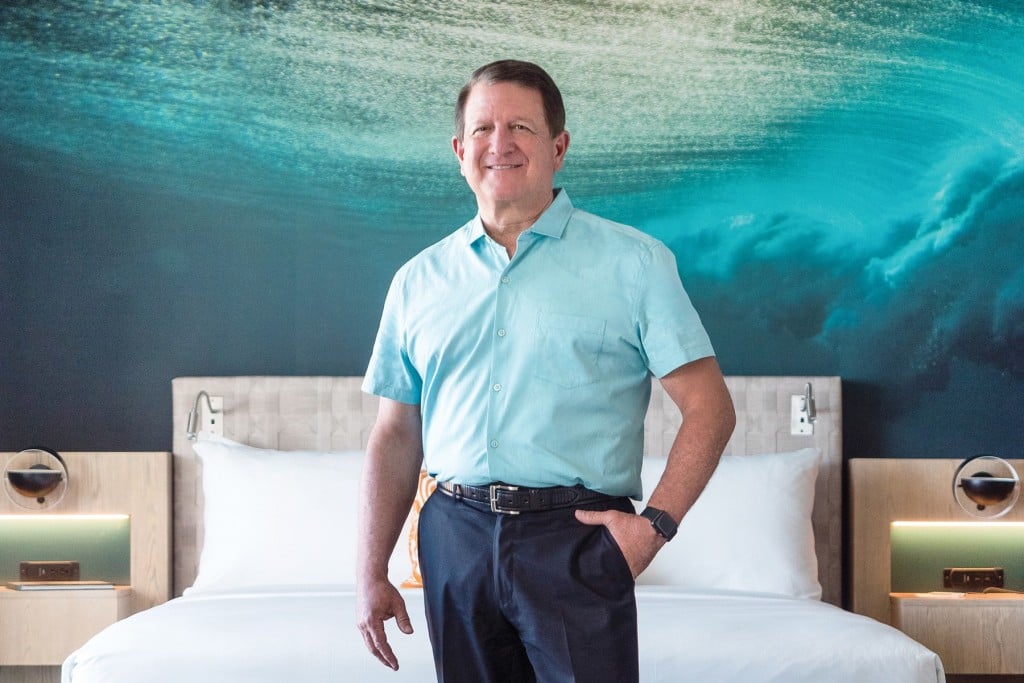 Outrigger is changing with the arrival in April of Wagoner as CEO and an infusion of $310 million from the strategic sale of six Asia-Pacific hotels.
Wagoner – who hails from New York City and has an extensive background in operations – plans to expand the company's global footprint, revitalize properties and adopt new technologies. He says, however, No. 1 on his agenda is preserving Outrigger's hospitality values and intercultural authenticity.
Q: One reason the Kelley family sold Outrigger was so KSL Capital Partners could take it "to the next level." What will that look like?
Wagoner: First and foremost, this company has a storied history of 70 years as an amazing resort brand. And now you have KSL, which only invests in travel and leisure brands, so they understand how to be good caretakers and how to create future success.
One thing we will work on is modernizing some hotels. We are undertaking a $35 million renovation of the Beachcomber, which was formerly a Holiday Inn that had probably reached a ceiling on its potential. So, by taking the Holiday Inn name off and transforming that hotel into a lifestyle property, we are moving it into the future. 
We will do a similar extensive renovation at the Outrigger Reef and spend about $80 million, starting in late 2019. These renovations can transform the look and feel of the company.
On top of that is technology, which has evolved significantly: technologies that makes employees' jobs easier, that help us communicate with guests easier and that help drive additional revenues.
Q: Outrigger's traditional focus has been the Asia-Pacific region. Will you tap new areas?
Wagoner: I see us continuing to expand in Asia and Hawaii. But we will also grow in other areas, like the Mainland. California would be great and the west coast of Mexico. We've had an opportunity come up in the Caribbean. We were looking at a couple properties in Australia as well.
Q: Outrigger is a lifestyle brand. How would you transfer that beyond Asia-Pacific?
Wagoner: We look at where a property is located to create a unique style and experience. In Hawaii we say aloha, but it wouldn't be right for us to push aloha across the globe because local cultures have their own versions of aloha. In Fiji, they say bula. We have aloha shirts here, but they have bula shirts. So we celebrate that culture and make sure it is authentic to that location. 
Q: What is your strategy for the Neighbor Islands?
Wagoner: Outrigger has a condo division with 16 properties. The latest acquisition was Honua Kai on Maui, with 600 luxurious one-, two- and three-bedroom suites. We would love to add more properties and have a couple on our radar. 
Q: How does Outrigger compete against the big global brands?
Wagoner: Probably 40 percent of our customers come from the Asia-Pacific region and some 50-plus percent from the Mainland. So, clearly, the company already has a strong brand in other areas of the world. Plus, today, there are so many channels of distribution to drive business to our properties, like the Expedias and wholesale businesses of this world.
Q: What impact are vacation rentals, many illegal, having on Outrigger?
Wagoner: There are all kinds of legislation in the U.S. today to deal with this, and I think it will all play out in time. What's important for us in the hospitality industry is that things are fair. So consumers who choose those properties pay the same taxes traditional hotel guests pay. 
Q: Record numbers of tourists are good for business, but they add congestion and hurt the environment. What role is Outrigger playing to ensure tourism grows responsibly?
Wagoner: There's no doubt tourism is incredibly important; it creates jobs and economic growth. But we need to be thoughtful about the community and the place we live.
We have a program called Ozone, which differs depending on the location. For instance, here we do a lot of work with the Waikiki Aquarium and other things that are more directly related to Honolulu. In Fiji we offer sessions with customers on the beach where they actually help restore and regrow coral. On one of our properties in Fiji, a kindergarten was built for the local community. 
We take community and sustainability very seriously, but we don't box ourselves into just one cause because we try to determine what's important in each place.
Q: Tourists' tastes are constantly evolving. What is Outrigger doing to stay ahead of the curve? 
Wagoner: When customers come to our properties, it's important they really feel the destination they're in. 
We have a property in Fiji where there is a gentleman at the gates who literally says "bula, bula, bula" to welcome you. When you land at our Castaway Island property in Fiji, they come out with guitars and sing this incredible welcome song. And when you leave they sing a departure song for you. That's authentic and that's what we want for our properties. 
This interview has been edited for conciseness and clarity.