Waterman Since Boyhood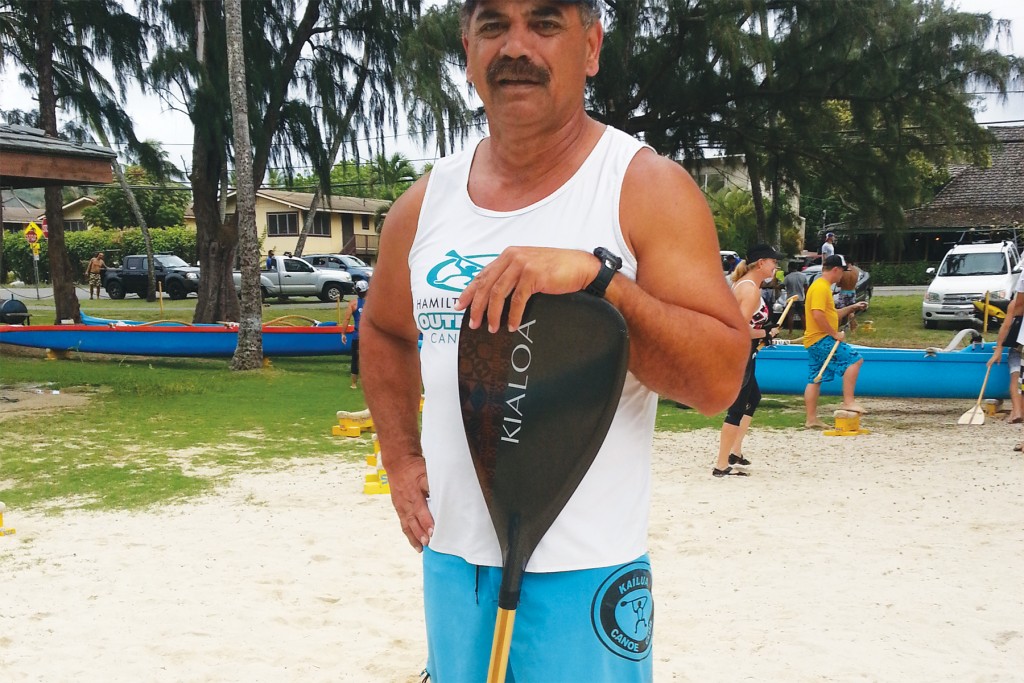 Corbett Kalama sits in his one-man outrigger canoe six miles off Kailua Bay, surrounded by porpoises dancing on their tails.
For most people, it's a fantasy, but, for Kalama, it really happens.
"At a young age, my father showed me how to interact with the dolphins in a special way," he says. "If you're out there on the ocean and run into a pod, the bull porpoise will usually dart at your canoe from a distance at full speed to scare you off. When they do this, my father told me to start chasing them. Before you know it, they're surrounding you and playing."
Kailua Bay was Kalama's boyhood playground. He knows it intimately. For instance, over the years, he has watched a pod of whales on the backside of Moku Manu grow from two to more than 15 and he says it's common for newborn calves to approach his canoe like curious children.
"You just keep paddling. It's very humbling when their mother swims under your canoe and everything turns dark. When she looks up at you, you see this huge eye. It's like looking back in time. A total stress reliever."
Kalama is equally adept on a surfboard, kayak, surf ski or stand-up paddleboard, but outrigger canoe paddling is his passion. As a youngster, he crafted his first canoe by bartering opae (Hawaiian freshwater shrimp) for a piece of tin at a nearby Filipino labor camp.
"We would bend the tin and put a 2-by-4 on each end. Then cut some hau tree branches for the iako and ama and tie it on. A piece of wood down the middle would be your seat. If you could find a hose, we'd cut it up for trim, so we wouldn't get cut by the sharp edges of the tin. Patches of tar would wash up on the beach from the ships that would pass by and we used it to plug our boats. We were paddling 'one man' before it was a big deal."
Kalama was racing competitively by the age of 8. Today, at 57, he still competes for and coaches the Kailua Canoe Club here and abroad. He has crossed the Kaiwi Channel 39 times in the annual Molokai Hoe race.
Paddling is more than a sport for him, it is a part of Hawaiian culture.
"Although my mother wasn't a paddler, she taught me about Hawaiian culture and how it's an extension of everything we do."
He understands that part of his role as a coach is to connect paddlers to Hawaiian culture. "I tell new coaches that it's not enough to talk about paddling. You've got to understand what it is. Our culture is much broader than knowledge of the canoe," he says. "I'll tell our paddlers stories and teach them proper names of the islands in Kailua and explain to them the reasons and process of naming our canoes."
Kalama says paddling also reinforces skills that have helped him succeed in his career. "You remain humble to the fact that you're in an ocean that's so powerful. You have to be aware, sharp and respectful. It's no different than with people or business."