What Would It Cost to Provide Government Services in English and Hawaiian?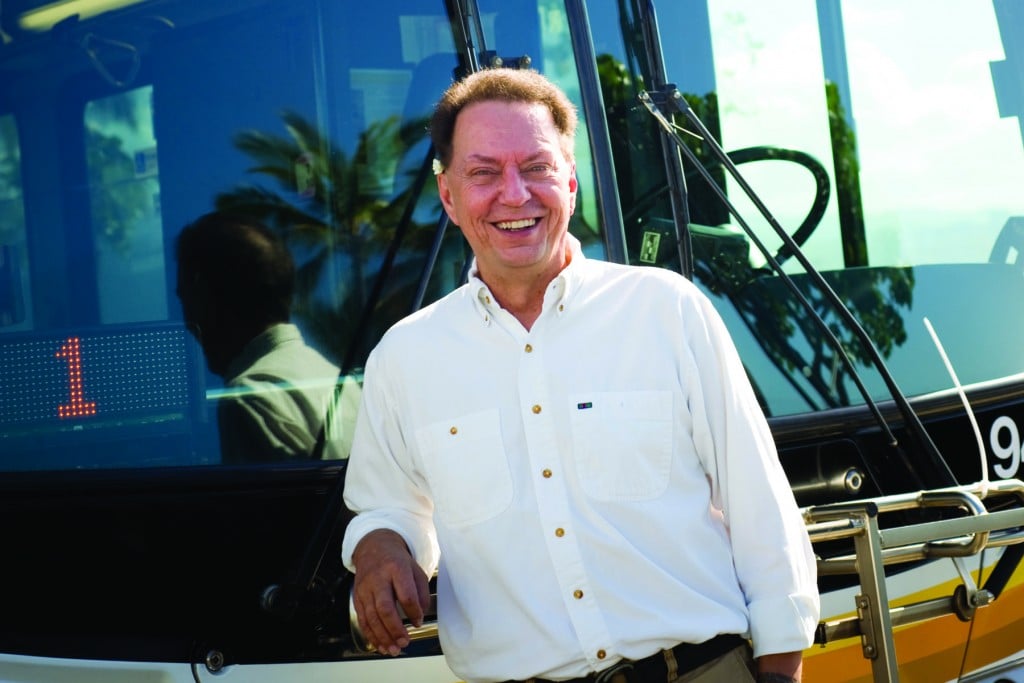 Hawaiian and English are both official languages of Hawaii, but most government services are available just in English. We tried to find out what it would cost for the state to provide most of its services in both languages.
Hawaiian was made an official state language by an amendment to the state constitution in 1978, but, 36 years later, very few state government services are offered in Hawaiian.
However, the governor's office says it is looking into forming an informal group that would consider how to transition to offering more state services in Hawaiian and what that would cost. Hawaii Business talked with several Hawaiian language experts and no one was able to estimate the cost of widely offering state services in Hawaiian.
One of the few state services that is currently offered in Hawaiian is the driver's license exam, according to Caroline Sluyter, public information officer for the state Department of Transportation. The Hawaiian language exam has only been available since March; the state also has said it planned to make the exam available in 11 foreign languages for the convenience of immigrants.
Only about 1 percent of Hawaii's population speaks Hawaiian, according to 2010 data from the Office of Hawaiian Affairs.
Justin Fujioka, press secretary for the governor's office, says there have been discussions on using the Hawaiian language throughout the state government.
"Being the language of the original people of these Islands, it is appropriate that Hawaiian is an official state language recognized in the constitution," he says. "The governor's office has started informal discussions to create a working group to address language transition, including potential costs to the state."
Kingdom Was Bilingual
Puakea Nogelmeier, a Hawaiian language professor at UH-Manoa, thinks this language transition would be workable.
"It certainly is feasible. A kingdom ran on Hawaiian language and functioned with everything running bilingually (Hawaiian and English), and, sometimes, trilingually," Nogelmeier says.
He thinks it would be a 10-year transition, noting that state agencies should have someone on staff that could say what needs Hawaiian-language expertise and what doesn't.
"In 10 years, if there was a real move toward something like that, all of the government could be totally bilingual where it needed to be," he says. "… It's just a matter of putting the pieces in place. It doesn't mean everyone on the street has to speak Hawaiian, but it has to be accessible."
Hawaii's Language Access Law requires state-funded agencies to take reasonable steps to ensure they provide meaningful access to people with limited proficiency in the English language.
Rebecca Gardner, a legal analyst for the Office of Language Access, says Hawaiian is not one of the languages in high demand for oral interpreter services.
There have been requests in the courts for Hawaiian-English interpreters. Hawaii Businesscontacted two state government agencies that have a lot of contact with the public, the Department of Labor and Industrial Relations and the Department of Human Services. Spokespersons for both agencies said they had never had requests for Hawaiian interpretation services under the Language Access Law.
The costs for services can vary, depending on the person interpreting. Nani Samler, coordinator for the Pacific Gateway Center's Hawaii Language Bank, which has provided language services to the state government, says Hawaiian interpretation services can cost an agency $40 an hour for a minimum of one hour. The language bank also offers English-to-Hawaiian translation services for written documents, but prices vary by case.
Hawaii's Judiciary maintains a Court Registry of Interpreters, according to Debi Tulang-De Silva, program director for the state Office on Equality and Access to the Courts. The registry includes the names of interpreters for various foreign languages and each interpreter's tier designation, or what requirements the interpreter has fulfilled in the court's certification program, which determines how much the interpreter will be paid. But the registry contains no Hawaiian-language interpreters, so rates must be negotiated with qualified interpreters for each case, says Tulang-De Silva.
Nogelmeier, who is occasionally hired for his interpretation and translation services, says he sometimes charges hundreds of dollars an hour.
He says that translating a written document from English into Hawaiian is challenging and costly. He says he often writes his own work in both English and Hawaiian, which is easy for him, but, "If you took all my stuff and made somebody translate it, that would be a very expensive and time-consuming effort."
Public Schools
In 1987, the state Department of Education established its Hawaiian language immersion program, called Ka Papahana Kaiapuni Hawaii, which now has programs at 20 public schools, according to its website. Children in the program are taught all or most subjects in Hawaiian. The program currently has 2,408 students, according to Donalyn Dela Cruz, director of the DOE's communications office.
Hawaiian language is also offered as elective courses in public schools throughout the state, including 94 percent of high schools.
In 2012-13, UH-Manoa's Hawaiinuiakea College of Hawaiian Studies graduated 56 students with bachelor's degrees in Hawaiian Studies or Hawaiian language, both of which require language courses, according to UH's institutional research office.
In spring 2013, UH-Hilo's Ka Haka Ula O Keelikolani College of Hawaiian Language graduated 17 students with either a bachelor's degree in Hawaiian Studies, or a certificate in Hawaiian culture or Hawaiian language, all of which require Hawaiian language courses, according to Donnette Kapono, an administrative assistant to the college's director.
Nogelmeier says a B.A. in Hawaiian language shows workable proficiency in hearing, speaking, writing and reading – which should allow the graduate to function in government offices using Hawaiian.
Language Transition
Over the years, Sen. J. Kalani English has introduced bills that would require Hawaiian to be used on all new emblems, letterheads and symbols representative of the state, but the bills have not been passed by the state Legislature. "Because the constitution mandates that we have two languages, we should actually do it," he says.
Suzanne Zeng, community liaison for the Center for Interpretation and Translation Studies at UH-Manoa, says she's not sure there's sufficient demand for Hawaiian language to have it be implemented in government services. "There's actually just not enough need to invest in training, interpreters, translators and in retaining," she says.
However, Sterling Wong, public policy manager for OHA, says the government doesn't offer enough services in Hawaiian.
By making Hawaiian an official state language, he says, "the people of Hawaii made a clear statement that the revitalization of the Hawaiian language is not only an integral component of our unique indigenous heritage but a critical part of the thriving culture of our state."
But, this revitalization will not be full and meaningful until speakers can live in Hawaiian, he says.
"The commitment to the perpetuation of a living Hawaiian language requires translation of the most fundamental public services and documents into the Hawaiian language as a necessary component, as well as support for increased and regular use of Olelo Hawaii in the media and government," he says.
---
Canada's Example
There is no jurisdiction that serves as the perfect guide to how much a bilingual state government would cost Hawaii. Knowing that limitation, we found one place with a population similar in size to Hawaii that offers services in two languages.
Canada provides, to a large extent, government services nationwide in both English and French, its two official languages. And, within Canada, Manitoba has a good reputation among Canadian provinces for supplying government services to its small French-speaking minority. Manitoba's population of 1.15 million in 2006 (the year covered by a language-cost study) makes it roughly comparable to the latest estimate of Hawaii's population, 1.4 million people.
Manitoba's French Language Services Policy aims to provide services "to the extent possible, in both official languages in areas where the French-speaking population is concentrated." In Manitoba, the total cost of public French-language programs and services in the fiscal year 2006-07 was $16 million Canadian – about $14 per provincial resident or $410 per French-speaking resident – according to a study by Canada's Fraser Institute released in 2012. (At press time, the Canadian dollar was worth 92 cents U.S.) Half of this spending by the Manitoba government went to French-language education and the rest to general government services.
However, Manitoba is very different from Hawaii, both geographically and in the government services offered. Also, French and English are European languages with many shared roots, while Hawaiian and English have very distinct origins; that should make English-French translations and interpretations much easier than English-Hawaiian translations and interpretations.
Manitoba could also save money by drawing on English-French materials created elsewhere in Canada or in the world; Hawaii has few such outside resources to draw on. That, too, would indicate that Hawaii's costs would be higher than Manitoba's.
For those and other reasons, Manitoba's spending on bilingualism may provide only minimal guidance for Hawaii.
– Steve Petranik