Who Will Control The Manoa Innovation Center?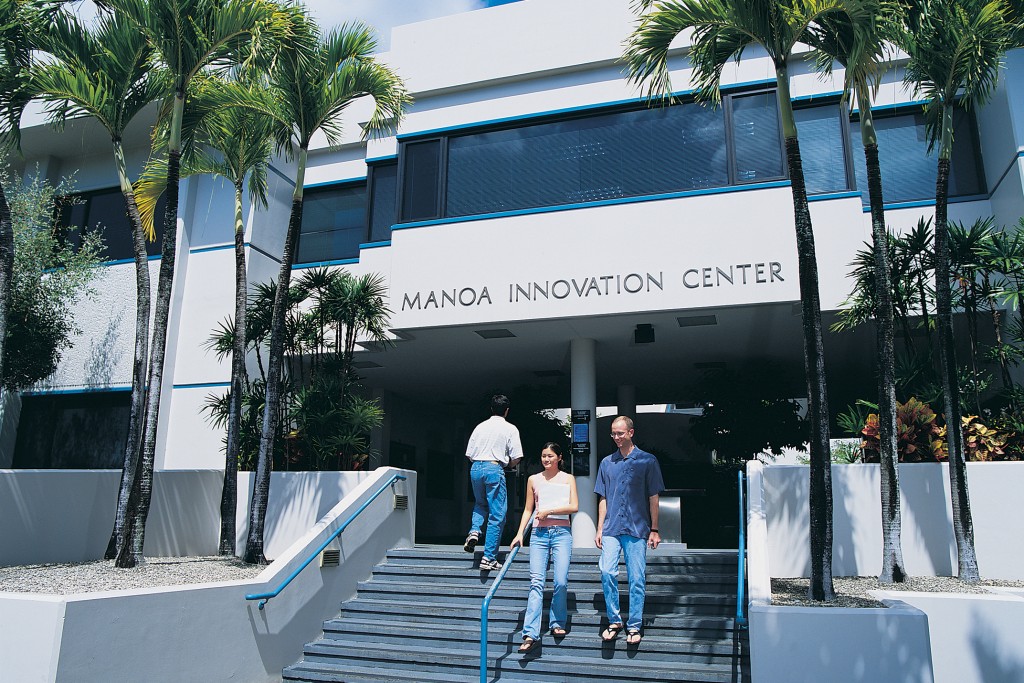 The Manoa Innovation Center – home to many small, high-tech startups – must find a new location by the time its lease with the University of Hawaii expires in April 2015. UH wants the space for its own programs, but bills have been introduced in the state Legislature to keep the center in its existing space.
A state agency, the High Technology Development Corp., depends on rent paid by tenants at the facility to fund its business incubator programs and services at the center and statewide. HTDC built and operates the two-story, 40,000-square-foot building on land mauka the UH-Manoa campus secured through a 25-year land lease with UH.
"The agency does not get sufficient state funding to do our mission. Most of our operating expenditures come from our rent revenues," says HTDC CEO Yuka Nagashima. Without that money, programs will have to be terminated, she says.
UH officials have told legislators that the university wants the facility for its own use. "Ironically, UH is already the largest tenant at MIC, paying substantial rent," says UH spokeswoman Lynne Waters. UH tenants include the VP for research, the Small Business Development Center and the Research Corp. of UH.
"We have enjoyed a positive and fruitful relationship with HTDC over these many years, and are now simply expecting that the state will honor the terms of the lease agreed to by all parties," says UH President M.R.C. Greenwood. "The university has doubled our research productivity over the last 10 years and is now embarking on a plan to double it again over the next 10 years. Honoring the lease agreement will provide desperately needed space so that the university can play our role in addressing Hawaii's problems and advancing Hawaii's economy."
Many well-known Hawaii high tech companies started at MIC, including Hoku Scientific, Sopogy, Pacific Biodiesel Technologies, Blue Lava Wireless, Kai Medical and Cardax Pharmaceuticals.
Nagashima says state lawmakers have authorized $3 million to plan for relocation or expansion. Options include modifying existing state or private buildings, building on state or private land, or pursuing a public-private partnership. The governor has requested an additional $54.8 million in capital improvement funds this year for renovation or construction and moving HTDC .
Meanwhile, SB447, a bill introduced by state Sens. Glenn Wakai, Suzanne Chun Oakland and Clarence Nishihara, would transfer title to the Manoa land to HTDC. Another bill, HB71, introduced by Rep. Isaac Choy, would extend the existing lease by an additional 25 years. Both bills passed first reading.
Inaugural HTDC Executive Director William Bass said the original lease was a hedge "to ensure UH retained the land should an agency with no track record failed in its mission."
Some consider Manoa a uniquely inspiring place.
"For dot-coms, the MIC is the primary center of innovation in the Hawaiian Islands," Sprout mobile app platform developer Kevin Hughes wrote in a 2011 post on TechHui.com. "Without such a facility, coupled with the inspiring beauty and mix of resources in and around Manoa, the startup landscape in the Islands would be significantly impacted."
High Technology Development Corp.
>>Origin: Created by the state Legislature in 1983 to help develop high-technology companies.
>>Facilities: Manoa Innovation Center and Maui Research and Technology Center in Kihei.
>>Services: Office space, advice and help for tech startups.
>>Staff: 19
>>Revenue sources: state General Fund (14 percent); HTDC Special Fund and rent income (31 percent); federal funds (55 percent)
>>Annual spending:
$8.8 million
Source: HTDC 2012 Annual Report
Manoa Innovation Center
>>Occupancy: 92.5 percent (30 clients)
>>Average tenure: 2.8 years
>>Rent: 75 percent of market rate in first year, 90 percent in second and increasing as clients become established
>>Success: 75 percent of clients are still in business after five years
Source: HTDC 2012 annual report