With Columbia Inn Gone, Where is THE Meeting Place for Hawaii's Power Brokers?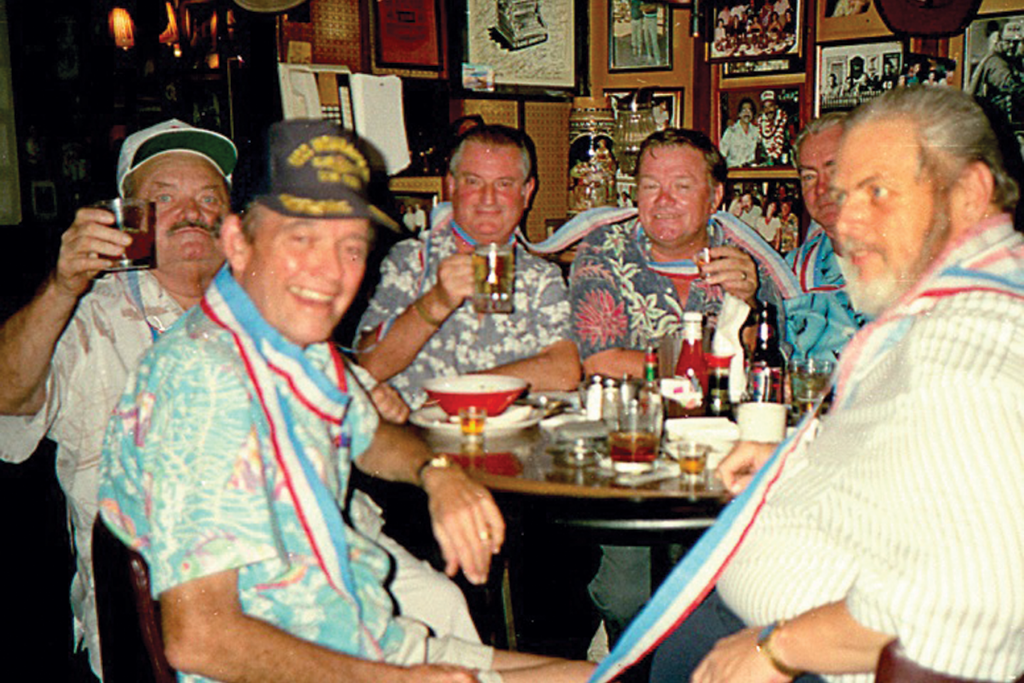 Where is THE meeting place? It used to be the Columbia Inn's bar, but times – and people – have changed, and the "in-the-know" gathering places are now quieter and more sober.
You used to be able to find one in any big city: The joint that was a magnet for politicians, business insiders, the press, sports and showbiz stars, shady dealmakers and all the others who found it necessary to get together and tell a tall tale or two.
In San Francisco, you could say it was the Washington Square Bar and Grill, known affectionately as the "Washbag." In New York, for a time, it was the legendary Toots Shor's Restaurant. In Chicago, proximity to the news media plus cheap hamburgers and beer pushed the Billy Goat Tavern to the forefront.
In Honolulu, until it closed in 2001, the place to go was the bar of the Columbia Inn on Kapiolani Boulevard, where now stands the used-car showroom for Servco Lexus of Honolulu.
"We had gangsters, union bosses, sports figures, businesspeople, politicians, newspaper people, you name it," says former Honolulu Star-Bulletin business reporter Russ Lynch. "Lawyers were always there because their clients were there – crooks and their counsel."
Located next door to the newsrooms of Honolulu's then two major daily newspapers, the Columbia Inn's vitality came from the mix of people who found it necessary to drop in regularly, says Lynch, who is contemplating a book on the bar and its cast of characters.
"It was a great place to actually run into people and catch up on the news. Where else would I have met that cross section of society that was so connected to whatever their field was? I can remember pushing deadlines and looking for an answer to something and I could go next door and always find someone who had that answer."
Where does that crowd hang today? The answer is, no particular place. Politicians are far more abstemious than they used to be. The media crowd is severely diminished by consolidations and closings. And to get their messages out, public relations people are more likely to rely on e-mail, Twitter or Facebook than a soggy, bended elbow over a beer.
Still, it is human nature to want to gather at, for want of a better phrase, the "watering hole." So we asked politicians, lobbyists and journalists where we are most likely to find a downtown businessman, legislator, lobbyist or reporter in nose-to-nose conversation.
In Hilo, they say, the place to find someone is Ken's House of Pancakes, an old-fashioned full-service restaurant that feels a bit like the old Columbia Inn. In Honolulu, after the Columbia Inn closed, you were likely to find someone of note at the Flamingo, just down Kapiolani. That, too, is gone.
People now say Honolulu's top gathering places are:
• Side Street Inn, mainly the original Hopaka Street location, but also the newer Kapahulu Avenue version on "Da Strip";
• Hukilau restaurant on Bishop Street;
• Epic Restaurant and Duc's Bistro in Chinatown;
• Gordon Biersch at Aloha Tower Marketplace; and
• Zippy's – in particular, the one on King Street near Piikoi Street, which was a favorite of former Senate President Colleen Hanabusa, and the branch on Vineyard Boulevard, where Dan Inouye sometimes holds court.
While the Columbia Inn (a patriotic name generated after World War II) was a popular family restaurant run by the Kaneshiro family, its place in the pantheon was earned by the bar and, most particularly, the famed "Round Table" where the stories were best and the tall tales most flamboyant.
What was said around the Round Table often made it into the papers or into speeches on the floor of the Legislature the next day.
All off the record, of course.
Lynch remembers the Round Table fondly, but doubts that particular dynamic will ever be repeated. "I think that it is a way of life that has faded now," Lynch says. "They don't have three-martini lunches anymore."
Today, with e-mail, texting and instant communication of all kinds, there is less of a felt need to meet face to face. "But I don't think the communication is better for it," Lynch says.
While the Columbia Inn tended to celebrate its regulars with plaques, photos and the like, the current trend seems to be toward anonymity. That's surely one of the reasons – beyond good food – that Duc's is popular.
"For me, I don't recognize them," says Duc Nguyen, who has operated the bistro for 19 years. "Where they come from, who they are, I leave them alone. I respect the privacy of everybody."
Generally, people don't go out as much as they did in years past, says lobbyist Bob Toyofuku. "A lot of people just don't do that any more," he says. "They are just working too hard.
"Maybe they hang out in their office."
Frankly, hanging out at "the office" was always part of the mix. In earlier times, lawmakers and lobbyists (and a few newsmen) knew that, if they needed to catch a leader after hours, a likely hot spot was the office of Senate Clerk Seichi "Shadow" Hirai. After the sun passed over the yardarm, Hirai would host a genteel cocktail hour, at which partisan differences and political fights were dropped and serious work was conducted in a light-hearted manner.
Similarly, a few years later, legislators and other hangers-on might find themselves drawn to "Bob's Bar," the office of 16-year Maui legislator Robert Nakasone, where drinks would be served and courtesy was expected of all who attended.
Some of that continues today, but far less often. Toyofuku, echoing Lynch, says something has been lost in the era of electronic communication. People, he suggests, are in touch, but are they truly communicating?
"We don't sit down and just talk about things as much."
Maui Rep. Joe Souki, first elected to the State House in 1982, remembers the Columbia Inn fondly. Neighbor Island legislators, particularly, needed a place to go since they didn't have the time to fly home during the workweek, Souki says. For Souki, and many others, that place was the Columbia Inn.
"I practically lived there," he laughs. "I would go there for breakfast and, in the evenings, I would end up there.
"But as far as I know, there is no place like that," he says. "Possibly Duc's, in Chinatown. Sometimes you see a few lobbyists there, a legislator or two. The whole mentality has changed. The newer younger representatives are not like the old ones. They usually stay in their rooms."
Veteran lobbyist John Radcliffe agrees that the days represented by the Columbia Inn are no more.
"Nothing like the old Columbia Inn exists," he says. "Duc's Bistro gets some action, but times have changed. People just don't gather in bars and be convivial as much anymore, thanks to laws regulating smoking and drinking and so forth.
"You want to have a good time today?" Radcliffe asks. "Go to a gym, shape up. Join a choir. Take a hike. Get a nice, healthy hobby."