Women at Work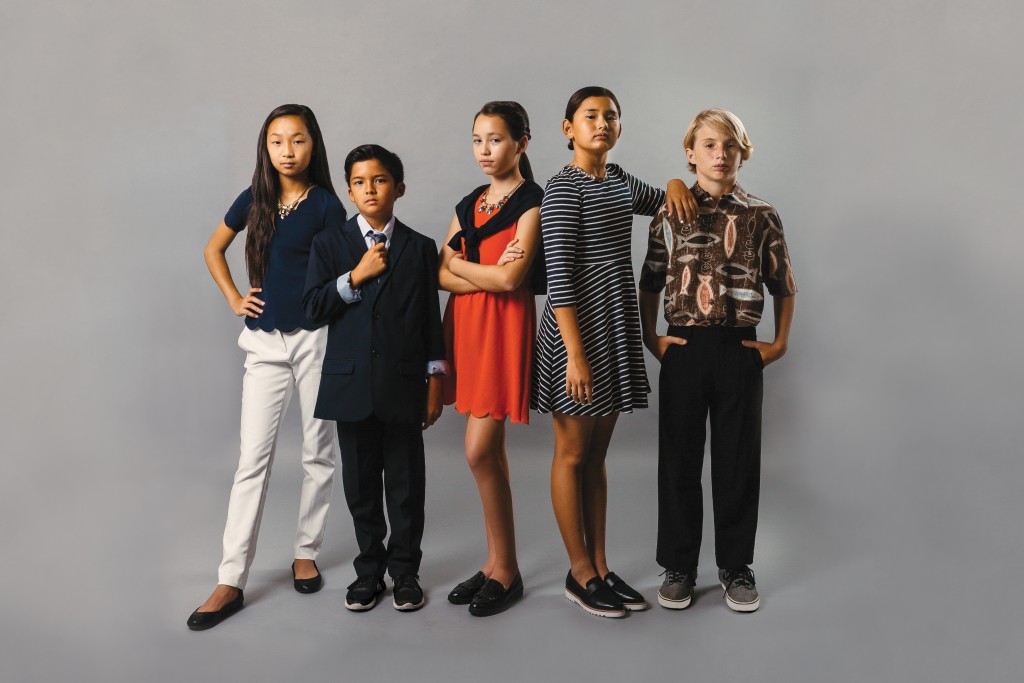 Why are there so few women at the top? Just 5.8 percent of CEOs at Fortune 500 companies are women. Globally, women hold around 15 percent of corporate board seats; in the U.S., it's just 11 to 12 percent.
---
There are plenty of reasons for this gender disparity, and most have nothing to do with women wanting to opt out. The following pages contain a few reasons you may not have considered, and they add up to a subtle but constant friction women often face in the workplace, which can slow or stop their momentum. But the friction is almost invisible, unless you're experiencing it or looking for it.
We gathered five accomplished Hawaii women to talk about experiences that women often don't discuss, even with each other. These selections from our conversation are taken from our roundtable podcast.
Comments have been edited for conciseness and clarity.
---
PART I: WHAT MEN SHOULD KNOW ABOUT WOMEN IN THE WORKPLACE

1. IT STARTS EARLY: WOMEN ARE DISCOURAGED FROM CHALLENGES AND NOT ALWAYS VALUED EQUALLY FOR EXCELLENCE.

Chang: When my daughter, who is an engineer, was one of only two women studying for a computer science degree at her college, her dean told her that, as a double major, she should drop out, because she was doing better in the other major. My daughter was upset. She called me, saying, "What do I do, mom?" And I said, "First of all, she's not paying your tuition. So, you do what you want to do. If you have the passion for computer science and you want to become an engineer, you stick with that." She did.
And I sent a Wall Street Journal article to the dean that said if we don't get more females in engineering, computer science and other sciences, it's going to be a weird world. Three months before she graduated, she was offered a job with the largest government contractor in the world and has been doing that ever since. It shows that even before they venture out, women are already being attacked. "You shouldn't do this, or maybe you shouldn't do that."
Topping: Last year, my daughters had a surf meet. One daughter won first place in her division. My other daughter won third place in her division. The daughter who took first place won a used surfboard. My other daughter, who got third place, won some cool stuff. But every boy in every division who made it to the finals got a custom-made surfboard. How did that happen? In the car, one daughter said: "I got third place, that boy got sixth place. I got a T-shirt, and he gets a custom-made board." My other daughter said, "I got first place. And I got a used 6-foot-2-inch that I'll never be able to use, because it's way too long for me, and every boy that even made it near the finals gets a brand-new, custom-made board." What am I supposed to tell them?
2. WE'LL NEVER BE OLD BOYS — THE "WAY WE'VE ALWAYS DONE THINGS" IS STACKED AGAINST CAREER ADVANCEMENT FOR WOMEN.
Chang: I have been up against the "old boys network" my entire career. It is very prevalent in Hawaii. I counsel younger women that there is no "good old girls" network, so they have to deal with things differently. When I worked in hospitality, there was one fairly high-up executive who was let go from every major hospitality company, but he would still end up at the next one and the next. We're all asking, "How can this happen? The person is obviously not qualified." But it didn't matter, because the "good old boys" always protected him. You don't have that, with women.
Heyd: I come from the tech/venture world, where women are drastically underrepresented. The "old boys club" in that context is all the things that happen outside the office that affect what happens in the office, and some relationships that help you in the office. You have the relationships, and that loyalty – and that loyalty will take care of you. And you also have information.
It comes up at happy hour, or it comes up somewhere outside the office, where the friendships are really flourishing. If women aren't a part of that, it puts them at a severe disadvantage because they don't have time to act on the information, to cement those relationships or get access to executive-level jobs. Those aren't posted online. It's not like you can apply for an executive-level job; it's really the "old boys network." If you don't have access to that, you don't get those referrals. You don't even know they are hiring.
Topping: I once worked somewhere where there were only six executives, and I was the only woman. Every couple of weeks, I'd come in to work and everybody would be talking about last night, when they all went out. I said, "Oh, you guys went out last night? What about me?" And they said, "Oh, you have kids." I said, "So do you. Our kids are the same age." That always drove me crazy. They were all on a different page than me by the time they came back.
I remember at Boeing, we had a company-wide HR conference. There were thousands of us. We were all in a room, and on the floor it was all women, many of us women of color. All the executives were sitting up at a table, and they were all white men. I thought, "How the [deleted] did they get up there, when none of them are sitting down here?" That's that good old boys network. I remember a feeling of powerlessness. Of just looking at that and thinking, "I'm never going to get there. There's no way."
Burkett: There's a complete blind spot among a lot of leadership on these issues. I think the fact that we focus so much on building relationships in Hawaii makes it even more important that we break down that requirement around extracurricular relationship building. Because if it's all about relationships and you're not invited to the events where those relationships are built … It's about trust, it's about longevity, it's about shared history, but also about shared vision for the future. If we could focus more on the shared vision for the future, that would be a more inclusive process.
3. OFF-COLOR COMMENTS — THAT SEXIST JOKE MADE TO A MOSTLY MALE GROUP? WE MAY NOT HAVE SAID ANYTHING, BUT WE HEARD IT. AND WE REMEMBER IT, TOO.
Topping: It's happened to me many times, not only being female, but being local and Hawaiian. I've gotten better about handling it. When I was younger and earlier in my career, I just kind of sat there and laughed along. And then I just couldn't stomach laughing along. Now, I'm much more confident. I'll say, "Hello, woman in the room."
4. CATCH-22 ON EXPECTATIONS — EXPECTATIONS FOR WOMEN CAN BE LOWER, AND EXPECTATIONS MATTER.
Corby Noguchi: When I was paying my way through college, the men were the bartenders, and the bartenders made the most money. The women were the cocktail servers. Even when women started to be promoted to management, they were still serving in a much more office-management capacity. There were these conversations around, "No, you can't tend bar, we don't want you to get hurt." I thought, "You're not going to get hurt working the bar." I think we have come a long way in the past five to seven years in that sector.
Heyd: I re-read "The Happiness Advantage" by Shawn Achor recently: When you insinuate that people are not going to succeed at a particular task, they don't succeed at that task.
5. LEVEL PLAYING FIELD: STILL WAITING

Chang: I took four young girls as delegates to the United Nations Global Commission on the Status of Women. One topic that came up was that the United States is in the mid-30s when ranked with other countries as far as women in leadership. One lady stood up and said, "Isn't that discrimination (against men), because there is a legislative mandate for so many positions filled by females in their countries?" The person leading the discussion turned to her and said, "You're assuming that there's a level playing field. But there's not, and that's the problem. Until you get to a level playing field, you can't sit there and use that as the guideline of who is better qualified. You've got to get to that level playing field first."
Topping: We're a long way from that level playing field. It doesn't mean 50/50. What it means is equal opportunity, equal access.
6. WHY YOU SHOULD CARE
Burkett: It's intuitive that you get more out of the conversation, out of the true friction and conflict, that may occur as diversity at work increases. You actually get a better product at the end.
Topping: A company is only as good as its team. Being able to recruit fully, and being able to attract people from all backgrounds, you're getting a fuller talent base. Having diverse perspectives in the executive suite is important, because they're setting the example and the tone for the whole company: That we include everybody. Without women at the table, what you're missing is just other good employees.
Listen to the Women at Work Part 1 Podcast: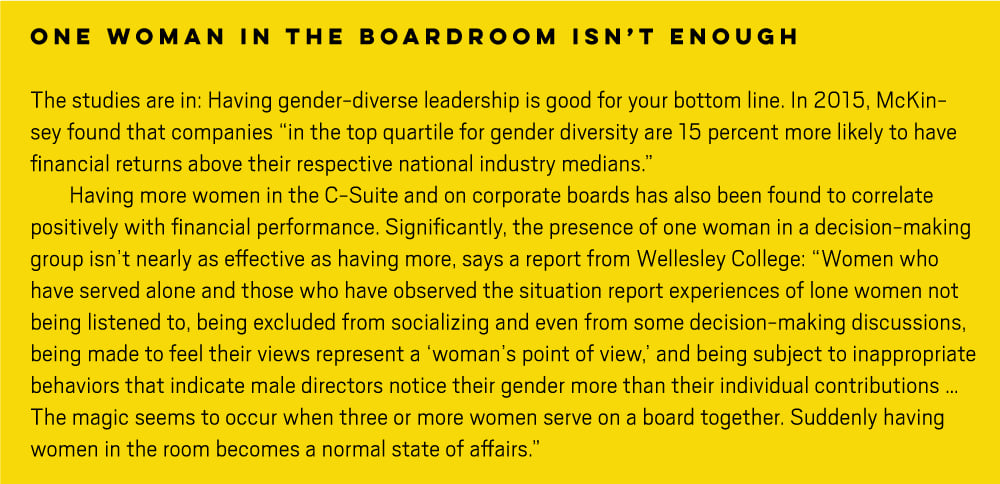 ---
PART II: APPROPRIATE BEHAVIOR ON THE JOB
We opened up the roundtable conversation to questions from readers. We kept both questions and answers anonymous for a more freewheeling conversation.
QUESTION 1: WHEN I'M GREETING A WOMAN IN A PROFESSIONAL CAPACITY, HOW DO I TELL WHEN TO KISS OR HUG HER, AND WHEN TO SHAKE HANDS?
"When someone's open for a hug, they kind of lean in, arms open, big smile – or they stick their hand out and back up. I think you have to read the signs, whether it's a woman or a man, and don't just assume everyone's as into you as you are into them."
"My default these days for both men and women is the handshake, and then the honi. I feel like the handshake is a sign of respect in a Westernized society, which is what we're in. You can stop there, if you see that's where they are stopping. But I like to go in for the honi, too. It's like, 'I respect you; you respect me.' And then there's the kiss on the cheek, and we can be friends, too.
"Don't kiss on the lips."
When in doubt, just shake hands: "Don't do something you're uncomfortable with to try to be appropriate; your discomfort will be felt."
QUESTION 2: IS IT EVER OK TO PAY A WOMAN ANY KIND OF COMPLIMENT IN THE WORKPLACE — I.E. ON HER HAIR, CLOTHES, OR PERFORMANCE?
"Performance, definitely. Dress, no."
"Rule of thumb, nothing physical."
"What would you say to your buddy? We're not a rare, exotic species. If you think it's appropriate to say to your male counterpart, it's probably OK."
QUESTION 3: HOW CAN I MENTOR OR PROMOTE THE CAREER OF A WOMAN WITHOUT HER OR OTHERS WONDERING WHETHER I'M INTERESTED IN HER?
"I have had great male mentors in my life. I was out to dinner with one of them a couple of years ago. One of his friends, who I knew, came up from behind me and saw him. He looked at my face, and said to his male friend, 'Oh, I thought you were having an affair.' The immediate assumption is that any time alone between a man and a woman is sexual or romantic. I find that extremely problematic, because when you're in a situation in which 5 percent of CEOs are women and 95 percent are men, those men are mentoring you. And if they feel uncomfortable doing so, you're never going to get that mentorship you need to advance."
One of our panelists brought up Vice President Mike Pence's quoted policy of never dining alone with women: "When I expressed my shock at this to my husband, he said, 'Wow, until you said that, I've never thought there was anything wrong with men not wanting to be alone with female colleagues.' He said, 'It didn't even occur to me that would be a problem.' It is important to make people aware that mentorship is important for the development of women leaders. An awareness that these relationships should be promoted and accepted is important to consider."
"That's what I was thinking: Mentor women more."
"Let's normalize it, and not only normalize it, but let's make sure that we do it with good intention. I've learned, in my time on this planet, that if you do things with good intentions, then typically they are received with good intentions. So if you're doing it for the right reasons, I think it will be seen as such."
QUESTION 4: HOW CAN I TELL WHEN I'M MANSPLAINING, VERSUS JUST EXPLAINING?
"I feel like it happens sometimes in a room where a woman is in mid-explanation, and a man says, 'What she is trying to say is … ' And I'm like, 'I'm still here, actually, and I'm still saying what I was saying.' Sometimes I think they mean well, and sometimes they do not."
"Another way that happens is when the smart comment is attributed to a man instead of a woman. We've all been there. I've seen it. One example I remember was just so blatant. There were 100 people in the room; they all saw it. There were two of us giving a speech, back to back. And afterward, the man who was wrapping up the whole thing attributed the comment: 'This was such an important point, and thank goodness Ben said it.' And I was like, 'Ben did not say that.' "

QUESTION 5: WHY DO WOMEN HAVE A DIFFICULT TIME WORKING WITH OTHER WOMEN?
"I don't believe this to be true."
"My answer is that they don't. All caps."
"I do think we are tokenized. If you have to meet your perceived quota, and if you have to have one woman on that board, you are setting up a situation in which people are vying for very few spots. I've had people say to me, 'That's why they like black women, because it's a two-fer.' I'm not an idiot, I'm not here to be your two-fer. Those are the types of things that you have to establish when you walk into a room, because the assumption is that they're letting you in, and there's only one seat at the table for you.
"I don't want us to ignore that there's tension, or the fact that, if you're just one of a couple of women, you're constantly being compared by others. That, I think, is real."
QUESTION 6: HOW TO I HOLLA (EXPRESS SEXUAL INTEREST) AND STILL STAY PROFESSIONAL?
"You can't be professional and express sexual interest. They are mutually exclusive."
"Think of the worst breakup you've ever had. How anxious would you be to see that person every day at work? And to function next to them?"
QUESTION 7: HOW DO I GIVE A WOMAN CONSTRUCTIVE WORK FEEDBACK, OR DISAGREE WITH HER, WITHOUT WORRYING SHE WILL START CRYING?
"Do it in private."
"Take it off-site. That's with anyone (male or female)." "The answer to this question is very simple: Don't worry about it. Give the feedback. If she cries, she cries. The only part you can control is, one, you need to give the feedback, and, two, you can either worry about it or not worry about it. But give the feedback."
"Feedback is one of the most important things in the workplace, and everyone needs to be comfortable giving it."
"You can always follow up and say, 'I just want you to know that I really appreciate' and then give them a few things that you appreciate about them. It's like what I do with my 3-year-old: 'Honey, I love your passion for this. However, this is not a choice right now. This is not a choice, and this is the reason this is not a choice. But, I really like these things about you.' You've got to give them a little bit of both."
"Give feedback often. I schedule check-ins with my staff once a month, just so they get used to it. If you give it often, people will get really used to receiving it, and also, someday, to giving it as well. You get better at it by doing it."
"In order to adequately receive feedback, you need to trust the relationship with the person who's giving it. Developing the cross-sex relationship is really important from the get-go."
"She might not be crying to make you feel bad, and she might not be crying to get out of trouble. The few times I have cried in a professional setting, it was because I felt like I was completely misunderstood, but I was at a point where I was not able to share what had actually happened."

Listen to the Women at Work Part 2 Podcast:
---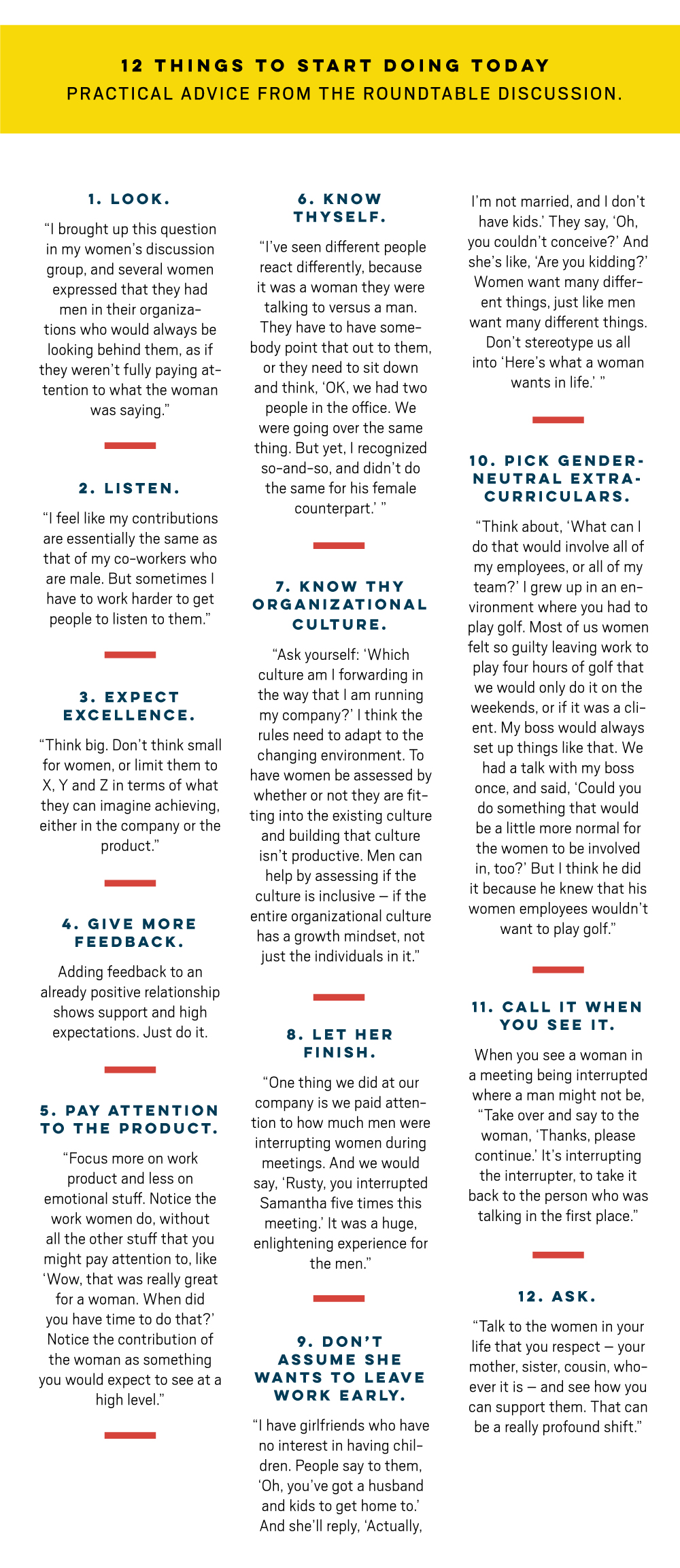 ---
IT'S BETTER THAN IT USED TO BE
There's a long way to go – but, baby, we have come a long way. The following quote had to stay anonymous, but when the topic turned to employee hazing, one panelist told this story about a past job:
"I was the only senior executive female. I was called in by the president of the company – and my boss was in there with a stripper. I won't tell you what they were doing. I realized that they just wanted to see my reaction, so I turned around and walked back to my desk, and started working. I thought, 'You son-of-a-guns, you thought you were going to rile me that way. Not going to happen.' Nowadays, they wouldn't get away with it, but, back then, that happened a lot. I think they thought, 'She's a tough person, but she's also a woman, so this is really going to shock her.' Nowadays, I would just confront them directly, but back then, it was kind of hard to do. Because you were the only one there."
In reply, another panelist shared a story about working for a powerful woman, but finding out that she had decided to play entirely by men's rules: "It was an exciting opportunity, but that experience helped me realize that a lot of women, in another generation, were forced to become gentlemen at work. I'm hoping that we're at an inflection point, where we can say, "We are creating the workspace together, and in order to move forward, we don't have to essentially become gentlemen and say, 'I'm not going to be phased by this hazing process.' Are we at the point where we can really restructure the rules and frame this space differently, so that we don't have to go through those humiliations? They don't just read as hazing, but as a reinforcing of all the very real, soft violence that women have to experience in a lot of cross-gender spaces – which has to stop."