Your Business Grows Here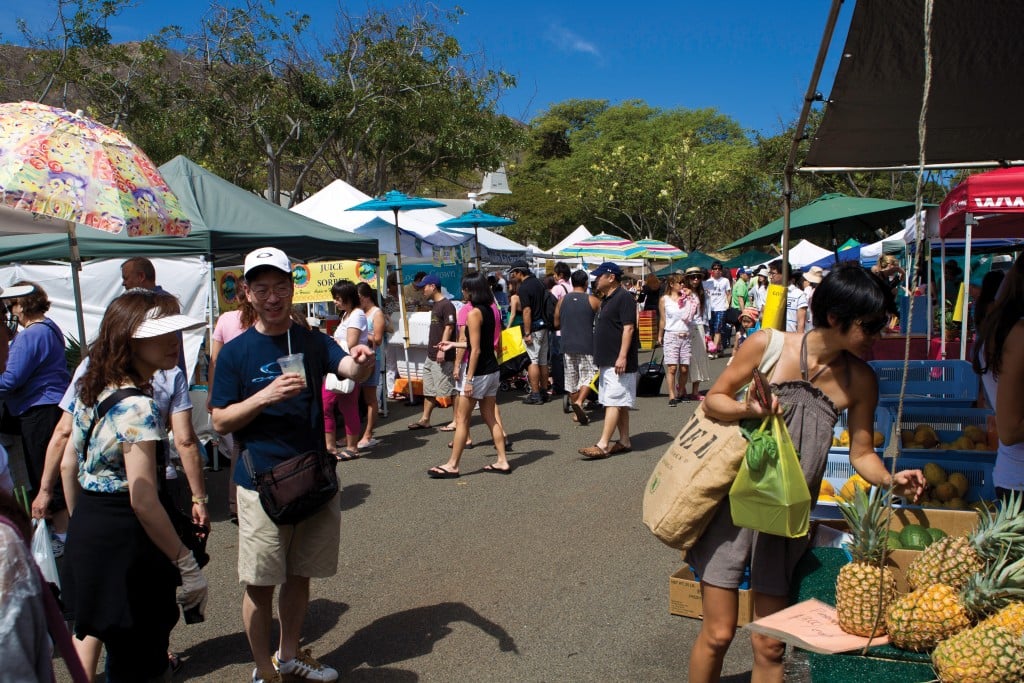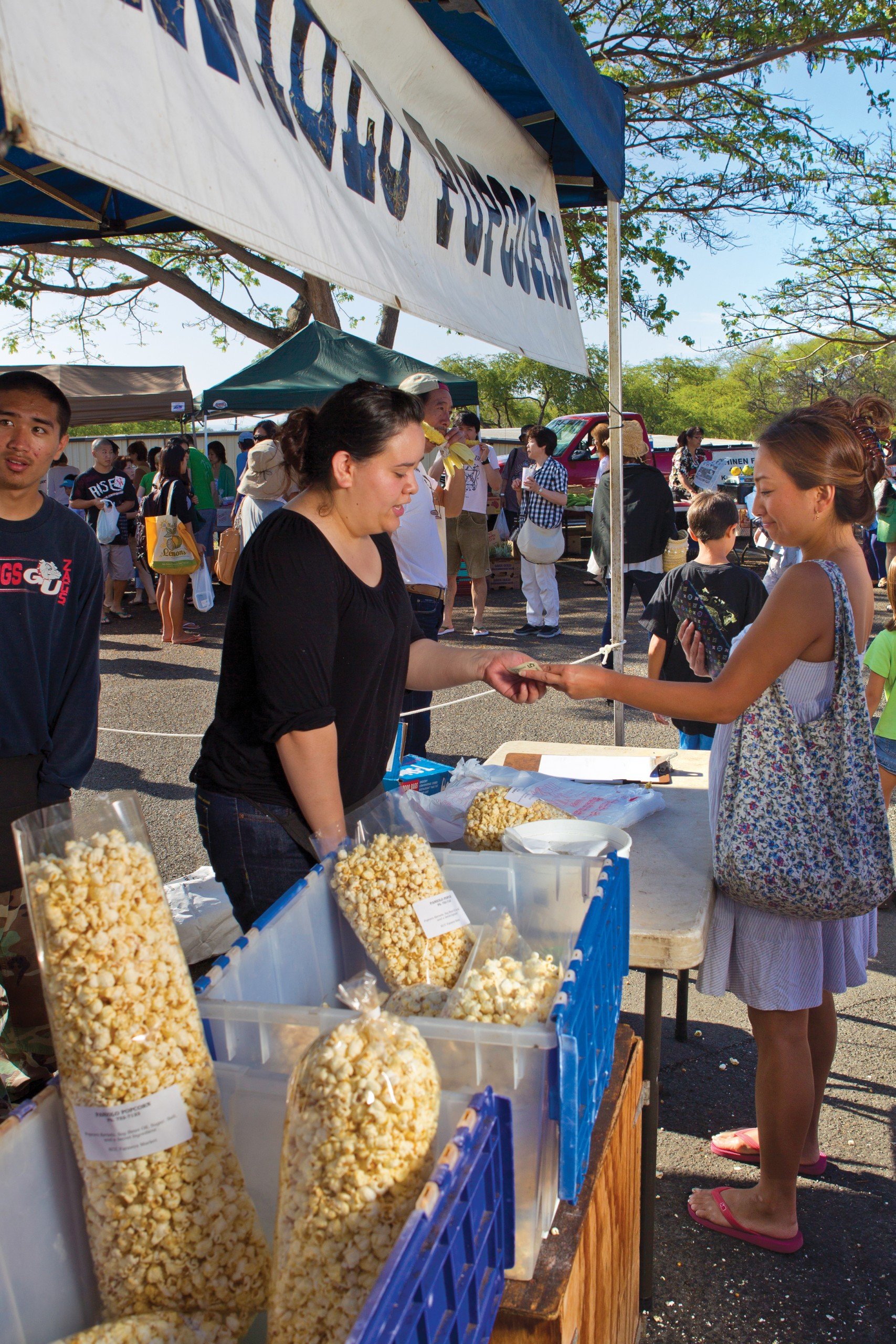 Al Medeiros tilts back on a folding chair in the shade of his panel truck as the crowds line up at his Paniolo Popcorn booth, lured by the smell of warm butterscotch. The sun is climbing high, but business is still bustling for the 60 vendors at the farmers market in the shady Kapiolani Community College parking lot behind Diamond Head.
Japanese tourists hunting omiyage mingle with locals in shorts and slippers toting fruit and greens in canvas sacks. Some arrived in predawn darkness – armed with flashlights – hoping for the first pick of Penny's orchids or Bale breads still warm from the oven.
"It's a good place to launch," declares Medeiros of the KCC farmers market, which draws 7,500 people every Saturday morning and has helped keep his kettle corn a top seller in the Islands. "For us, it's a niche."
They're all here: flower farmers and lettuce growers; those specializing in arugula, papaya and bananas, or beet greens and sea asparagus, or fresh herbs; cake makers and jam merchants; coffee farmers and abalone producers; and even a North Shore rancher with pasture-finished beef. All are independent entrepreneurs betting on a dream – and using farmers markets like this one to make it happen.
"This creates another marketplace," says food writer Joan Namkoong, market co-founder with the Hawaii Farm Bureau Federation, a 2,000-member nonprofit that supports farmers. "Farmers get to sell their products at retail rather than wholesale, so their margins are a little higher, which helps them make a living in farming. It also brings new products to market."
The results are impressive: Farmers markets statewide give consumers more choices and let small businesses strengthen at a time when many are struggling. The city of Honolulu has sponsored open markets across Oahu since 1973, but the farm bureau markets have added scope and appeal. "The farm bureau markets are the only ones where all the products are grown or produced in Hawaii," says agriculture specialist Jim Hollyer from the University of Hawaii's College of Tropical Agriculture and Human Resources.
While some farmers keep costs down by only selling at the markets, others use the markets as a springboard to launch stores.
"I'm looking for a good space," says Shingo Ochi, sales manager for Big Island Abalone, which sells about 400 plates each week at KCC. Eighty percent of his sales are exported to Japan, but he's introducing his product to Honolulu residents at the farmers market until he finds a store.
"Because of the farmers market, many restaurants know about us," says Ochi.
Jimmy Chan launched his Hawaiian Chip Co. at the market and now the chips are everywhere, including Costco. "When KCC started out, he would joke that 'This is my storefront,' " remembers Lucy Hiraoka, another early vendor. "That's where he got started."
Thanks to those early days at the market, Chan has quadrupled his business through wholesale accounts, bought a warehouse and opened his own kitchen. He wouldn't mind getting back into the market again – to introduce his newKilauea Fire BBQ Sauce – but the waiting line is so long.
"I was one of the first vendors," he says. "I just really needed those market sales to make it through. It wasn't just promoting and introducing my product, but I was using those sales to keep my business afloat."
But some farmers, like Hiraoka, whose Waimanalo family farm produces roses, gardenias and gourmet vegetables, say they have as much success at the markets as they could ever hope to make with a bricks-and-mortar location that carries so many extra costs. In fact, farmers markets have served many different purposes, depending on the scope of each farming operation, and how it hopes to grow.
"It really saved our business," says Don Akiyama, president of Made in Hawaii, which makes 40 jams and jellies from Hawaii fruit and now does 30 percent of its business at the farmers markets. "We wouldn't have survived without it.
"When it was starting up, we had just had a fire destroy our original store so we relocated to a warehouse on Moanalua Road. But our retail store, which is part of the factory, would not have been able to gross the kind of revenue we needed to keep the business afloat, so coming here was perfect timing."
The story is similar for Maunawili Greens farmers Kara and Darrell Carlyle, whose organic backyard lettuce was an immediate hit when they first started selling at the market. "That's definitely the whole reason we're still in business today," says Darrell. That early success prompted the Carlyles to sell their home a year ago and move to an acre of farmland in Kahaluu to expand their operation.
"We always knew we had a market – and that was all based on our sales at KCC. We were able to bring in everything we grew and sell it quickly."
Half-a-million-dollars worth of business flows through the KCC market each month, estimates Nalo Farms owner Dean Okimoto, president of the Hawaii Farm Bureau Federation, but on leave to work on Mufi Hannemann's campaign for governor. Nalo Farms was one of the first vendors.
"We just took a count and the number of people going through the market has increased 700 just in a few months, going from about 6,800 (every Saturday) in December to about 7,500 now. And it's still growing."
There are downsides. Parking is now hard to find. And the dramatic increase in tourists is driving some residents away.
"I hear a lot of comments from the locals that, 'We don't go anymore, we can't find parking,' " says Okimoto. "But I also notice, too, that a lot more people are coming by bus now. We see city buses arriving with standing room only."
With the KCC location bursting at the seams, the farm bureau is negotiating with KCC to add Sunday as a second day. But the bureau is also looking at other sites to expand.
"We're looking at other locations for Sunday and possibly Monday or Tuesday night," says Okimoto. "We'd like to build the Blaisdell market out to something substantial. So if a new vendor really wants to get in, they'll go over there first."
The farm bureau launched the first market in the KCC parking lot in 2003, and Namkoong helped line up the first 16 vendors. Gradually it has added three more locations on Oahu (Kailua, Blaisdell and Mililani) and three on Neighbor Islands. Today, there's a long list of new vendors who wait months for an opening. Some may never get in, says Okimoto.
"Farmers have first preference," he says, "or someone promoting a product that is very different. The Big Island veal got into the market very quickly because we didn't have that kind of product. It was also a product we wanted to introduce to the public to make sure they knew this was available."
For many of the farmers, getting a space in the market has inspired expansion. For others, it's been a test engine for new products, or a way to introduce themselves to local chefs and high-end restaurants. For Greg Yee, of Blue Lotus organic farms in Hauula, it's been a chance to get his free-range eggs and chickens directly to consumers – at a reasonable cost. "The consumer is really making out and I still make a living," he says.
"The market is sincere in trying to help the farmer get their product out," agrees Wenhao Sun, president of Olakai Hawaii, which produces sea asparagus, a crunchy vegetable that works both cooked or raw and is finding its way onto family tables and restaurant menus.
"We have it in the supermarket," says Sun, "but the farmers market becomes a very efficient way to find a new customer. This is an important window for new products and allows you to introduce them naturally. I always give samples. They're surprised at them and then they buy."
For Kylie Matsuda, of Kahuku Farms, the markets provide instant feedback on new products. "We're getting into vanilla now," says Matsuda, whose farm grows apple bananas, papaya, long eggplant and luau leaves. "You can grow a crop you're thinking of growing on a small scale and test it out and get feedback right then and there."
Okimoto sees top Hawaii chefs haunting the market, hunting for new products, taste-testing here and there, buying both for their restaurants and themselves.
"Hilton Hawaiian's executive chef Jeff Vigilla and Halekulani executive chef Vikram Garg always come and look at what's new and what's being grown. Some of Alan's (Wong) people come. Michelle (Karr, the pastry chef) comes every week just to pick up bananas and strawberries and things like that."
For Owen O'Callaghan, owner of Happy Cakes, once marketed by Kemoo Farms, the markets are helping launch his business in Japan and expand locally.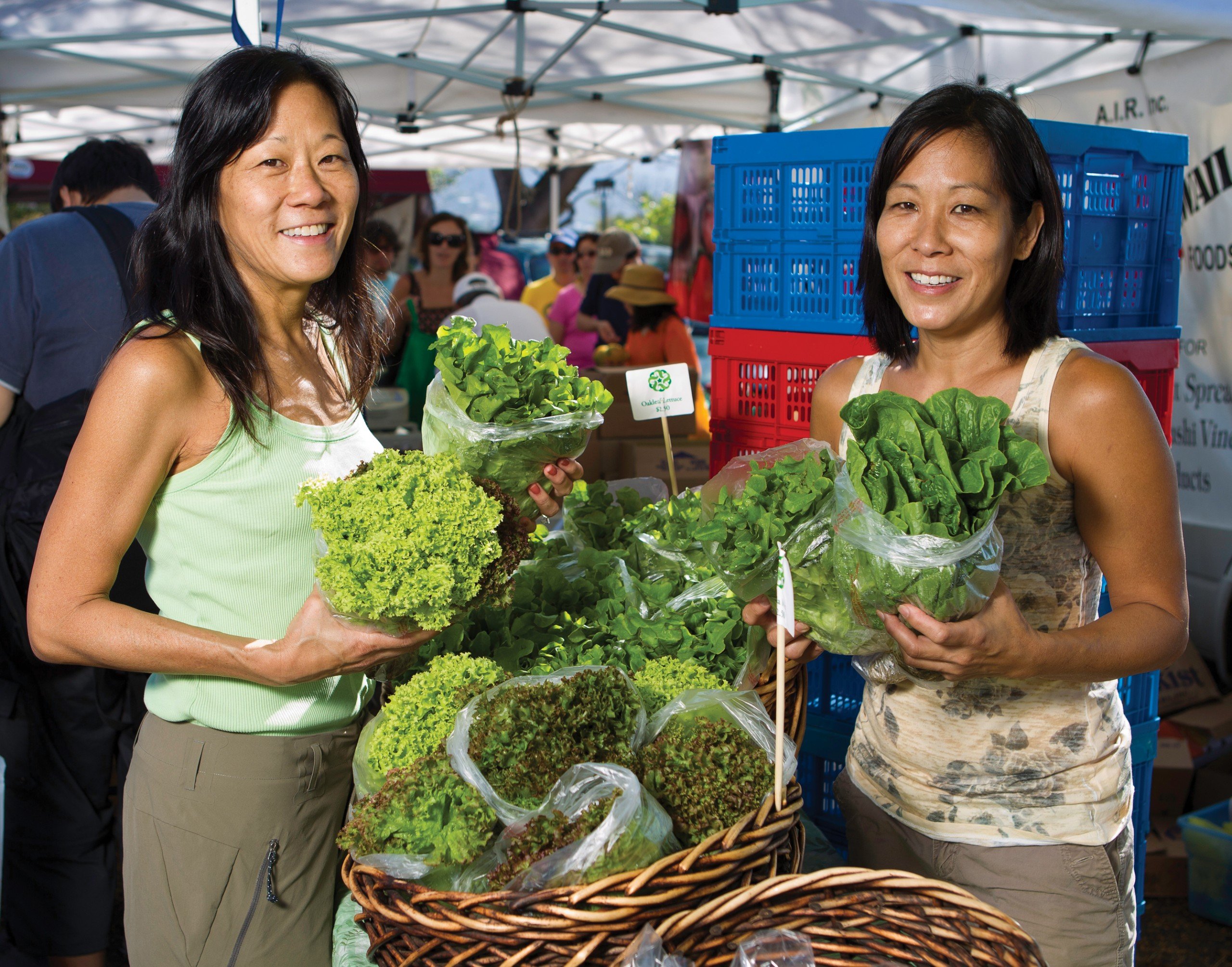 "The farmers market is touted in Japanese travel magazines as a very exciting thing to do, so now you have tour packages coming here," says O'Callaghan. "They do the Diamond Head Sunrise Walk and the second stop is KCC. … The original intention of the farmers market was to sell to local people, but the wonderful side benefit is that the Japanese tourists come and now there's marketing to that customer. Most booths have a Japanese speaker and it proves they want to tap that market."
O'Callaghan's Happy Cakes have been written up in Japanese travel magazines and on Japanese blogs – the best way to get word out about a cool Hawaii product and potential omiyage, he says.
"The farmers market helps drive that growth. What you want to do with a product that's new to the Japanese tourist is to create a buzz and then build on that buzz. People at the market are actually changing their packaging to suit the desire for omiyage and the 'cute' effect – kawaii – that's so important to the Japanese."
O'Callaghan has seen phenomenal growth thanks to the farmers market. "Our sales there have grown by 100 percent a year and we're reaching a consumer we otherwise wouldn't reach. The market was our first direct foray into retailing – before we had only wholesaled to big stores and on the Internet – and now we sell a lot in our store.
"Because of the positive response, the market gave us confidence that we could sell our own product ourselves. It gave me the confidence to say, 'Hey, let's take this up a level or two,' and that's when we opened the store."
Hot Off the Press 
to Your Kitchen
"Hawaii Farmers Market Cookbook Volume 2: The Chefs' Guide to Fresh Island Foods" comes out this month, featuring 18 of Hawaii's most famous chefs cooking simple local dishes using local ingredients, especially from the farmers markets.
Each chef was assigned four products – two vegetables, a protein and something else – and asked to concoct simple but delicious dishes for the home chef. For each recipe, they could only use five ingredients, not including salt, pepper and oil.
"When you look at what's happening in the food scene and people's commitments to buying local products, it really starts with the chefs," says editor Joan Namkoong. "They're leading the charge in supporting farmers and they live the sustainability goals."
The book, published by Watermark Publishing (a sister company of Hawaii Business) and sponsored by the Hawaii Farm Bureau Federation, will be sold in bookstores and at farmers markets.
Hawaii's Farmers Markets
Here are locations and times for Hawaii Farm Bureau Federation markets, co-sponsored by the Hawaii State Department of Agriculture.
Oahu:
Kapiolani Community College: Saturdays, 7:30 to 11 a.m.
Kailua: Thursdays, 5 to 7:30 p.m., behind Longs.
Mililani High School: Sundays, 8 to 11 a.m.
Blaisdell Center: Wednesdays, 4 to 7 p.m.
Neighbor Islands
Kona: Keauhou Shopping Center, Saturdays, 8 a.m. to noon
Hilo: Kinoole Farmers Market, Saturdays, 7 a.m. to noon
Kauai Community College: 
Saturdays, 10 a.m. to 1 p.m.
Questions?
Call the farm bureau at 848-2074.
City-sponsored morning 
markets on Oahu
• Urban Honolulu: Mondays
• Leeward/Central Oahu: Tuesdays
• Urban Honolulu: Wednesdays
• Windward Oahu: Thursdays
• Leeward Oahu: Fridays
• Central and East Honolulu (continues to the afternoon): Saturdays
Click here for more information
Certifying Farms
The Hawaii Farm Bureau
Federation wants farmers selling produce at its markets to be certified by the Hawaii Department of Agriculture, an auditing process that ensures they adhere to good agricultural practices (GAP).
The good practices include:
• Toilets cleaned regularly;
• Hand-washing facilities and supplies;
• Chemical-application records, to ensure the right product is used and used safely;
• Keeping animals out of production fields and packing sheds;
• Using fully composted animal manures and having records to prove pathogen inactivity;
• Sanitized harvest baskets that are kept off the ground, and sanitized harvesting tools;
• Pathogen-free produce wash water;
• Pest management for rodents;
• Field-level product traceability.
This month, the bureau expects its vendors to be certified or show they are in the process, says president Dean Okimoto, now on temporary leave.
Jim Hollyer, at the College of Tropical Agriculture and Human Resources (CTAHR) at the University of Hawaii, helps farmers make changes to get certified.
"Getting farmers ready to pass an audit is a two-part process — coaching and auditing," says Hollyer, in an email. The coaches, all CTAHR employees, work one-on-one with farmers to show them exactly what to do to pass an audit conducted by an employee of the Agriculture Department.
"A motivated farmer with a pretty clean farm can be ready for an audit in two weeks," Hollyer says. "Others, however, have dragged it out for years."
More than 60 farms have been certified. See the list at www.HIFarmSafe.org
For Hollyer's help, reach him at hollyer@hawaii.edu.