Your Credit Card Partner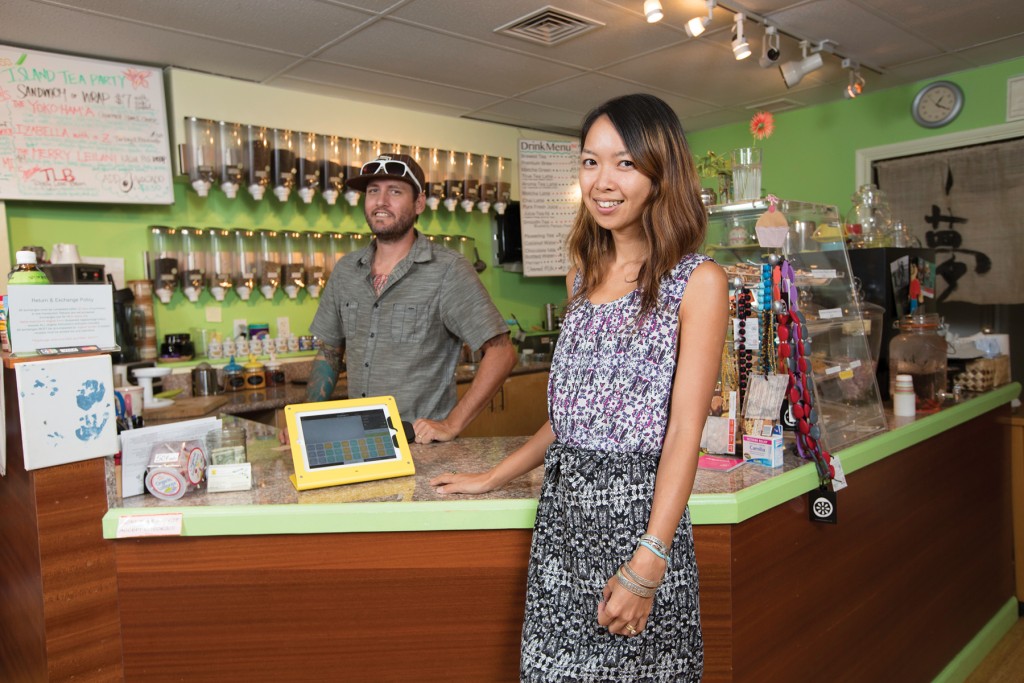 Credit cards are no longer an "if" question for most businesses, but "what" and "who" questions. "What technology should I use to process credit card payments and who will be my partner?" Answer those questions well, and you will take a big step toward increased sales and success. Here's a guide to making the right choices and picking the best merchant-services provider for your business.
A Few Holdouts
A few local businesses still offer goods and services for cash only and, if survival, not growth, is your only goal, you might not want to change, says Nicholas Theuriet, an independent Hawaii-based product and process management consultant, who worked for many years at Bank of America. "If you're not trying to generate or expand growth, you don't necessarily need an alternative payment like a credit card service."
But, if your goal is to increase sales, credit cards are essential, says Michael Forsythe, First Hawaiian Bank's VP for business services sales. "I think the No. 1 reason a merchant might be hesitant about accepting credit cards is the concern of costs. [But] when they do start accepting credit cards, they see their average purchase increase, which offsets the cost. If merchants don't take credit cards, purchases are limited to the cash in their customer's wallet."
Reinforcing that assertion is a 2014 report from Javelin Strategy & Research, a company that studies merchants and customer and mobile transactions. The report showed cash was responsible for only 27 percent of point-of-sale purchases. The report predicted that figure will drop to 23 percent in the next three years.
Credit cards also minimize time spent resolving bounced checks while satisfying customers' desires for convenience and speed. Keith Nagata, First Hawaiian Bank's senior VP and manager for the business services division, says merchants "get guaranteed funds by accepting credit cards. Once a card is properly authorized, they don't have to worry about chasing after bad payments."
Choosing a Provider
Banks and Independent Sales Organizations (ISOs) both offer merchant services. To help you decide which is right for you, first determine what's most critical to your business.
If you're looking for a comprehensive, wraparound service with lots of support, banks are a smart option. They may cost more upfront, but once you establish a relationship, they could save you lots of money over time. "It's always better to go with a bank processor or bank acquirer," says Theuriet. "The reason I say this is because banks are typically going to have more longevity and better services all around for the customer. When you can leverage your relationship with your bank, you can take advantage of a lot of good things," such as gift cards, loyalty programs that reward your customers for repeat purchases and other value-added services. Those services can more than make up for the extra costs of using a bank.
Nikolaus Daubert, Hawaii National Bank's electronic banking manager, echoes the sentiment. "By going through a bank, we can look at the entire relationship. What can we do to help your business grow, not only from the credit card side, but how can (we help) you become more efficient with payroll, online-payment banking and bill pay?"
Regardless of which provider you choose, the company should help you find the best products and services for your business's specific needs. That could mean switching to a virtual terminal – which allows you to use your computer to process payments by logging into a secure site – or updating your system to accept chip credit cards. "A good merchant-services rep is going to really dig in and work with you on how to do the programs. A good rep will follow up every few months to see if anything has changed with the business and look for additional opportunities to provide more services," Theuriet says.
As far as processing goes, the differences are negligible, Theuriet says. "It all comes down to service," he says. "How well does your representative advocate for your business and work with you to understand how to optimize your payment processing? Having really good people to support and service you is ultimately the key differentiator."
Brian Nelson is a co-founder and chairman of BNC Co. Ltd., a business that provides a payments and promotions service in Japan called SIDO (Secure ID Online). He says that, in addition to being secure, merchant services "should also benefit the merchant by providing more customers, and higher frequency of repeat customers."
Going Mobile
For merchants on the go, a mobile point of sale system is worth considering: The credit card reader attaches to a smartphone or tablet, it's portable, and allows merchants the flexibility to accept credit cards whether they're at events or in their stores. This is crucial for Baby Awearness and Island Tea Party, a family lifestyle store in Manoa, which uses a national mobile POS service called ShopKeep. Co-owner Maria Price says, "Mamas here can't move with baby in lap." With ShopKeep, she says, "We can move (our credit card processor) to be able to support our customers best."
Along with ease of use, low cost is a key reason Stacey Nomura of Southshore Paperie, a Honolulu stationery studio and boutique, says she chose Square, another national mobile POS service. "We decided to switch to Square to simplify things and because it was very low cost."
How do mobile systems stack up against the cost of a merchant processor? Nathan Higashi, a merchant-service associate for Hawaii National Bank, states, "Mobile is a good product if you rarely use it, because (the providers) don't have monthly recurring fees."
It's a financially feasible option for small businesses that are looking for the bare necessities, don't need a lot of support and consistently have small transactions. Square, for example, charges 2.75 percent per transaction versus the industry average charged by banks, including markup, of about 57 cents per transaction.
"If a merchant's sole concern is cost and it is processing less than $100,000 a year, has a low average ticket and low overall dollar volume, Square is definitely a better solution. Once the processing volume picks up and gets large enough, it should start looking at changing to a full-service provider like a bank," says Theuriet.
Mobile systems also offer flexibility to merchants such as Ohana Daze, a store for new parents that started in 1998 at craft fairs. Since 2001, it has had a brick and mortar in Mililani, but owner Scott Miyagi says it continues to "participate in promotional fairs (and) craft fairs, to show off new products or build brand awareness. When we are doing shows outside of the store, having a mobile credit card system helps us a lot. Square has also been convenient for us … as a backup," he says.
Price touts ShopKeep's versatility. "We needed something for both retail and food services," she says. The mobile system allows her to categorize and input about 200 different products with a function of a full POS system, but, she says, it is a lot easier to use.
Nomura appreciates another advantage of mobile: "It takes up a much smaller space on our counter so there's room for more merchandise," she says.
Interested in signing up with a mobile service? Nelson warns merchants to do their homework before they commit. "There are so many available. They should take their time to learn more about the pros and cons of each. Mobile systems are not all the same. Some are less secure than others. Merchants should ask the service providers to help them navigate the options available to them," he says.
The convenience must be weighed against the disadvantages of mobile systems, which include minimal customer service, flimsy readers and security issues (some companies don't encrypt data at the point of swipe).
Owning Versus Renting
If you're using more conventional terminals, you need to decide whether to buy or rent. On one hand, local banks often offer incentives to rent, such as providing free supplies and replacing outdated, damaged and defective equipment. Purchasing, however, is often cheaper. Think about owning versus leasing a car and you'll understand the difference. It's why Miyagi opted for the former. "We own our terminal. In the long run, it's been a lot more cost efficient versus paying a continual rental fee for it," he says.
If they are going to buy a terminal, Theuriet advises merchants "to make sure whatever they purchase is going to be EMV capable and in compliance with the EMV mandate."
Next-Generation Cards
A lot of business owners are worried about the big change in credit cards scheduled for October 2015. That's when they – not the credit card companies – will be liable for fraudulent purchases unless they upgrade to the new equipment that processes EMV credit cards, also known as chip cards because of the tiny computer chip embedded in them.
"Not all merchants are aware of the liability shift next year," Nagata says. "Financial losses in that particular situation are still extremely low. However, the liability shift is being used to help encourage merchants to migrate to chip-readable equipment." That mandate from MasterCard and Visa requires merchants to be ready to accept EMV (EuroPay, MasterCard and Visa) capable cards by October 2015 or face a liability shift, explains Theuriet. Starting in October, if there is fraud, the loss will be paid by the retailer (if it doesn't have the required chip-card equipment) or the credit-card issuing bank (if it issues cards without chips).
"All of a sudden you've got millions of merchants nationwide that have to invest in the technology capable of reading these things," says Theuriet. Upgrading your system may require some cost and effort, but, he says, it's worth it. "EMV chip cards are inherently more secure because it's much more difficult to reproduce one of these cards. Chip and pin means that every transaction is being authenticated by the person who is supposed to have the card."
If you are working with a merchant-services representative, the adjustment may be minimal. John Kubo, the customer-services manager for First Hawaiian Bank, says its merchant representatives "will actually visit them in person and swap the terminal and conduct training, too." It's the same reason Hawaii National Bank's Higashi says the changes won't significantly affect his bank's merchants. "Because we've already been transitioning to terminals with chip and pin, they're going to be familiar with it. The process is swipe the card and go," he says.