Your Friendly Neighborhood Drugstore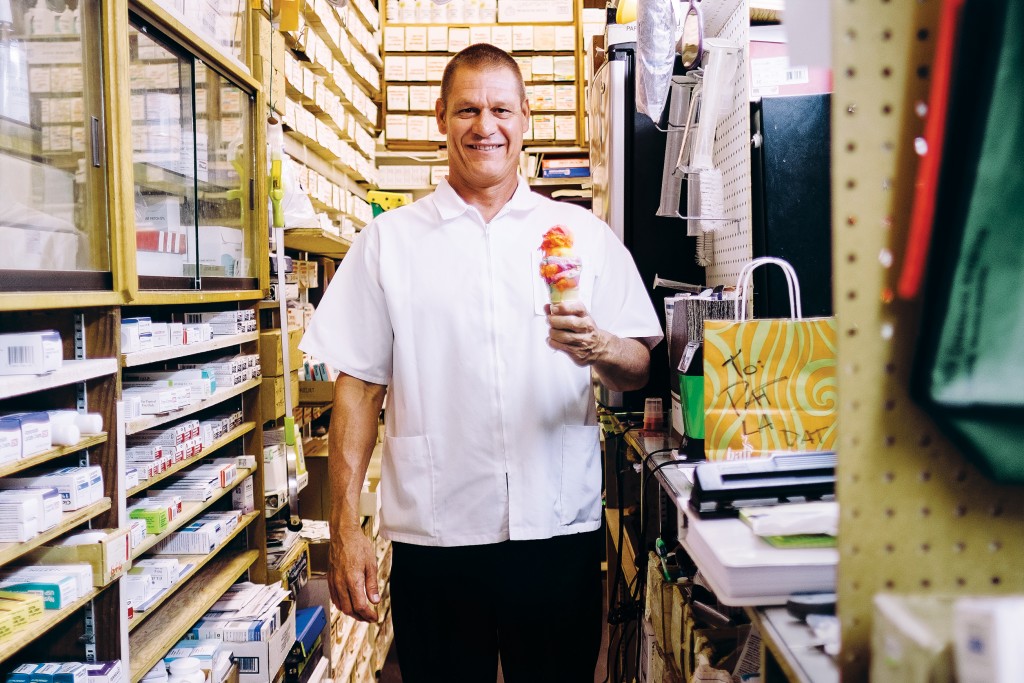 "It's really like walking into someone's home that you've been going to for a long time. Not like some other places where they just stare at you," says Lester Peetz, a customer of The Pillbox Pharmacy for 24 years.
"It's like a 1940s drugstore, complete with jazz music and ice cream. They're extremely friendly, extremely efficient. The best pharmacy in town, bar none."
Indeed, The Pillbox seems to have everything you need, just like in the old days. Floor to ceiling, it's stacked with medicines and creams of all sorts, bandages and supports, Hawaiian history and culture books, greeting cards, gift wrap, slippahs, beach towels and mats, good-luck cat figurines, sunglasses, books in Pidgin, keepsake boxes and even li hing gummy worms.
The Pillbox is still at the 11th Avenue location in Kaimuki where James McElhaney founded it 42 years ago. Known as "Dr. Mac" or "The Head Pill" to old-timers, McElhaney came from a poor Irish family on Chicago's South Side and served two years in the Korean War as an assistant battalion surgeon.
"My dad was an alpha-male deluxe," remembers current owner Stuart, 52, who's been helping at the pharmacy since age 11. "He was strict and scary. You would be told when you were not doing something right."
McElhaney credits his father for always putting patients first and never being too busy to talk to them.
"My dad came from Chicago, where there was always an emergency pharmacy open, seven days a week. But when he came to Hawaii, no one was doing that here. He kept our store open seven days a week, so there would always be a pharmacist for someone to talk to. And, at night, the phone would ring at home for emergency prescriptions." The store still opens seven days a week, but with more limited hours now.
He also says his father was ahead of his time in developing such useful consumer tools as patient profiles and drug-education information.
Though the younger McElhaney practically grew up at The Pillbox, he didn't intend to become a pharmacist like his dad. "Since there was no pharmacy program here, that meant I'd have to leave Hawaii and I didn't want to leave the surf," he grins. "But, my grades weren't good enough to get into medical school, so I ended up at pharmacy school instead."
After getting a degree at UH, he received his doctorate in pharmacy from the University of the Pacific in Stockton, California, in 1990, then returned home to work for his dad, who immediately turned over management of the store's employees to him. James McElhaney died of leukemia in 2007 at age 79.
McElhaney, his family and about five part-time employees keep the legacy of personable service alive. The family team includes Stuart McElhaney's older sister, Kathy (a home-care nurse), his younger brother, Michael (a bar owner and handyman), his uncle, Andreas Pirl (also a pharmacist), and his mother, Rosemary Pirl McElhaney (a part-time instructor at Kapiolani Community College, who helps keep all the store's books).
However, McElhaney says, it's increasingly difficult for small, independent providers such as The Pillbox to get adequate reimbursement for drugs to cover their overhead. McElhaney says The Pillbox is now essentially operating at a small loss.
"I have to pay to be open," he says painfully, "but I don't want to let the community down. It's time to give back. I had the privilege of growing up in this community and knowing the people for decades.
"We're an option for those who don't want to wait in long lines. We'll also provide pharmaceutical consultations for free, regardless of where you got your prescription."
McElhaney says it's not the money that counts most. "I get paid by my relationships and interactions with my patients."
The family has plans to turn the business around this year. "Our focus will be changed to the other side of the counter for cash flow. We're going to try to attract tourism to see how an old-fashioned pharmacy was in the past. In our display cases outside the store, we'll have an exhibit of the history of pharmacy in Hawaii and natural Hawaiian healing information.
"Then there'll be photos on the walls honoring local surfers and other prominent people."
McElhaney wants to expand the store's ice cream selection and bring back specialty sodas. And brother Michael plans to create an outdoor seating area where customers can eat ice cream.
"We look forward to changing direction in the future and creating more store traffic," McElhaney says optimistically. "I see a bright future despite the difficulties for independent health-care providers."
The Pillbox Pharmacy
1133 11th Ave.
737-1777
pillbox1@hawaiiantel.net
---
Pillbox Picks
Cascade Glacier Ice Cream from Oregon: "It's the best ice cream in town," boasts McElhaney. With exotic flavors such as Huckleberry Heaven, Death by Chocolate, Moose Tracks and Cotton Candy, how can you go wrong?
Penaten Creme: "My mom used to use it on us when we were kids, so I know it works on all sorts of rashes and chaffing." Imported from Germany via New Jersey.
Grandma's Pure Lye Soap: An old-fashioned, all-natural soap with no detergents or fragrances to irritate sensitive skin. Leaves you feeling "squeaky clean."
---
Each month, Local-Kine Biz tells the story behind a Hawaii small business. If you know a business we should cover, email localkinebiz@gmail.com.