Your Next Step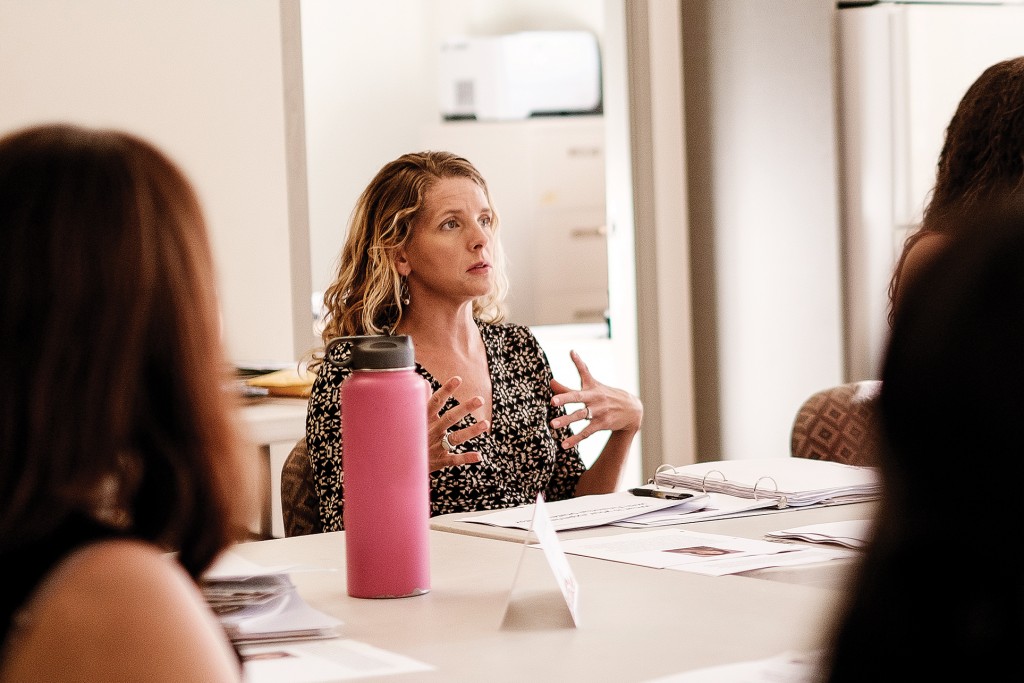 Women don't always get the most important career advice: How to be an effective leader.
One solution from the Mink Center for Business & Leadership is a new initiative called the Patsy T. Mink Leadership Alliance, which helps women improve their management and leadership skills.
Board members at the center knew local companies wanted training for emerging women leaders, says Susan Utsugi, senior VP at Central Pacific Bank and chair of the leadership committee of the Mink Center's advisory board. "It's not always economical to have an in-house program, so we recognized there was a market for this."
In September, the alliance's first cohort of 14 women began meeting monthly with business professionals at the YWCA on Richards Street in downtown Honolulu. Topics range from how to lead a collaborative team, strategic planning and financial business acumen to networking, conflict management, negotiation and "innovation magic." The program ends with a graduation in March.
The women entering the program are all exceptional, Utsugi says. "They know what they want to develop in terms of personal leadership, so we were very intentional in the topics we offered. Diversity was important so we looked at a broad range of profit and nonprofit industries statewide. In addition, all the applicants wanted to serve the community."
Cohort member Jessica Munoz, the president and founder of Hoola Na Pua, a nonprofit that works to rehabilitate sexually trafficked girls in Hawaii, started her organization four years ago with one other volunteer. Today, Hoola Na Pua employs several paid staff and is raising funds for a residential campus.
Munoz, who works full time as a nurse practitioner at Pali Momi Medical Center, is especially interested in strategic planning and sustainability. "The residential program we're planning is like a small hospital and it takes a lot of layers of development to get there," she says.
She hopes also to connect with other women in the business world to garner more support for exploited children. "Within the cohort there are women from both for-profit and nonprofit organizations and there is a lot we can learn from each other," she says. "Many of us are going after the same funding at the same sources so we need to create better, more sustainable business models. This program, I felt, would build my skills and help my organization achieve its goals."
Runjini Murthy, a database marketing manager at the Howard Hughes Corp., entered the program hoping to build her resume toward a more senior management position.
"I like the concept of playing to our strengths, of being deliberate, and knowing how to negotiate varying interests in a complex business organization," she says.
Speaking out is an issue for many women, says Sherri Okinaga, VP in human resources at First Hawaiian Bank and a member of the leadership committee of the Mink Center's advisory board.
"On a national level, research indicates that women need to get more comfortable with self-promotion in order to advance," she says. "When a promotional job opportunity arises, men jump in … they say, 'I got this,' even if they're not always prepared for the entire job description. Women are more perplexed, they worry if they are unsure of doing the whole thing, and tend not to step forward."
In Hawaii, Okinaga says, that gender challenge comes on top of the cultural challenge, where women value an essence of humility, and where self-promotion goes against local values. "Don't be afraid to raise your hand and step forward," she advises the women. "Frame your abilities in the context of being able to build influence and galvanize change."
"Gallup research also shows women to have an 'engagement advantage,' " Okinaga adds. "Not only are women more engaged at work, they also lead more engaged teams than their male manager counterparts. That's because women are more inclined to demonstrate empathy, collaborate inclusively and build relationships with co-workers."
At a recent session on "Strategic Planning," speakers Shelee Kimura, VP for corporate planning and business development at Hawaiian Electric Co. and Kathleen Morimoto, VP for Strategic Planning at The Queen's Medical Center, talked about their career paths, practical ways for women to emerge as leaders, and how to keep teams on message with an organization's long-term goals.
"Being a woman brings together a lot of strengths, so let's capitalize on that," Morimoto says. "Don't look at what people do but why. Help to build bridges within an organization, identify the problem you want to solve and be creative in finding solutions around it."
---
LEARN MORE
For more information or to apply for the 2017-18 Patsy  T. Mink Leadership Alliance, which begins in September, call 695-2635, visit mcbl-hawaii.org or email mcbl@ywcaoahu.org.