20 for the Next 20: People to Watch 2013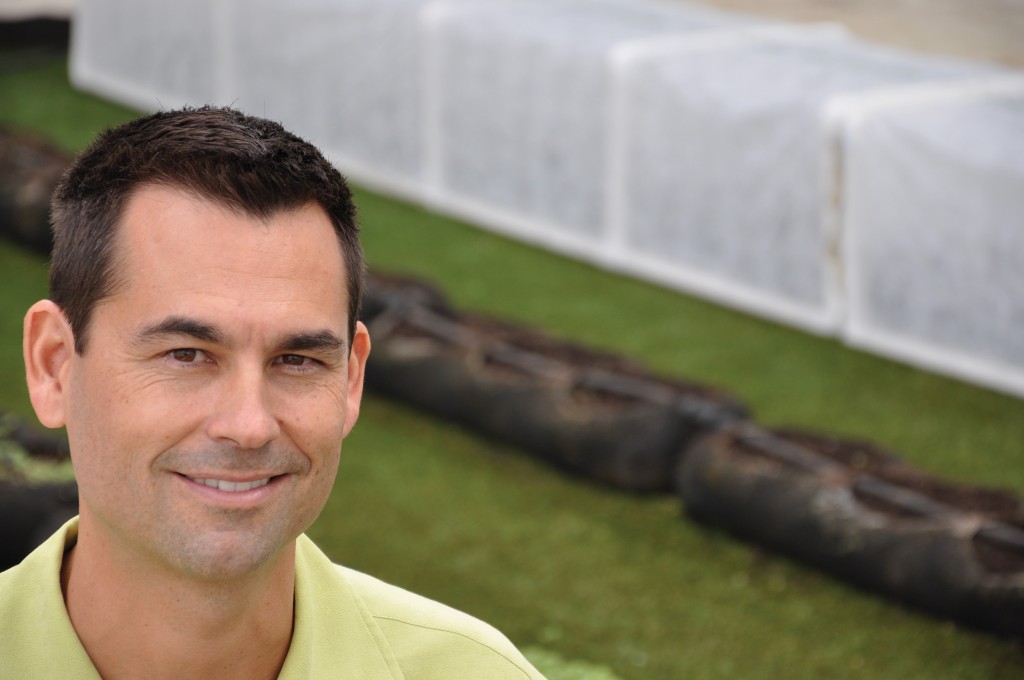 Each year, Hawaii Business selects 20 emerging leaders who have already made big contributions to Hawaii and are expected to have an even greater impact over the next two decades. Let us introduce you to the Class of 2013.
Alan Joaquin
President: Farm Roof
Age: 38
Alan Joaquin traces his entrepreneurial spirit to his days at Kaiser High School, when he borrowed $1,457 to buy a weed wacker, leaf blower and hedge trimmer.
"I started my own business mowing lawns in Waimanalo," he says. "Soon I got bigger projects leading to a contract to maintain the grounds at the Ihilani Spa & Resort."
His business grew, as did his interest in environmental protection, hydro mulching and erosion control.  At age 20, Joaquin installed the vegetation at the Hualalai Four Seasons Resort golf course on Hawaii Island, and soon became a large commercial contractor earning $4 million a year in contracts. By the time he was 30, he employed 40 people and the company was unionized.
"At that point, I decided I was going to do what I wanted to do since childhood," says the son of a U.S. Secret Service agent. "I switched gears and became a pilot." He took off to flight school in Arizona and landed a job with Aloha Airlines.
Oddly, that career led him back to landscaping. As a Hawaiian Airlines pilot, a job he still holds today, he had a revelation.
"It dawned on me one day looking down over all these roofs I'm flying over every day," he says. "I thought, 'Why don't we do urban agriculture on rooftops?' " He began researching the idea, inspired by a recent addition in his life.
"Alan got involved because of his newborn son. He wanted to ensure his children would have good food to eat," says state Board of Agriculture chairman Russell Kokubun, who met him through their work on a recently installed rooftop farm at Castle Medical Center. "There are new opportunities now to grow our own food in an urban setting, and what Alan is doing really sets the pace."
Joaquin says Farm Roof has a commercial focus since the company, technology and concept hasn't hit the economy of scale to enter the residential market yet. He's interested in establishing community farms on rooftops in Kakaako and will be working with Kokubun on a proposed project at the State Capitol.
His dream is to someday fly over the Islands and see many rooftop farms.
"I know it won't happen overnight, but the biggest thing that rooftop farming brings is people get engaged and say, 'Wow! Let's use a rooftop to grow food.' There's so much potential for positive change," he says.
Claus Hansen
Owner, Moanalua Mortuary
Co-owner/Managing Member, Affordable Casket
Age: 48
Growing up in Denmark,  Claus Hansen never dreamed of owning a mortuary.
His future undertakings began when he and a friend decided to offer a service scattering remains over Hawaii from an airplane.
He promoted the idea at mainland mortician conventions and met others in the industry. A casket exhibitor asked how to get his products to Hawaii. Hansen saw an opportunity and gradually went from casket distributor to retailer. Soon clients asked what else he could do for them, so Moanalua Mortuary was born.
"I analyzed the industry and realized there was a portion of it that was unfulfilled. There was no discount funeral home here and average prices were significantly higher than the national averages," he explains.
Dying isn't cheap, Hansen admits, but he has lower prices because his profit margins are smaller and his business is lean. He also purchased the old Granny Goose warehouse in Mapunapuna for his large inventory of caskets and supplies.
"I'm able to order big quantities and source from the manufacturer, so I don't need to rely on distributors to get me products," he says.
Hansen became a change agent for the local industry, according to his banker and long-time friend, Paul Lemcke, CEO at NAVFAC Federal Credit Union.
"Claus forced the 14 Oahu funeral homes to re-think their pricing strategy, ultimately creating better choices. From a business standpoint, it's revolutionary when one man can come along and affect an industry that critically," says Lemcke. "But there's more to him than that. He has integrity and intelligence, and he chooses to use it to better our community."
In particular, Hansen has reached out to the Micronesian community, which he says has cultural needs not served by other funeral homes.
"Their funerals are a little different. They like to have all family members and friends come to visit the family of the deceased for several evenings in a row. We're talking about a tight-knit community, so there can be 200 to 600 people coming to visit the family when they live in a small apartment. That can become quite a disturbance for their neighbors, so we help out by offering our facility to them."
Kulia Pacheco Boerstler
Associate, Baldridge & Associates
Age: 37
Kulia Pacheco Boerstler thrives on challenges and won't take "no" for an answer.
That she started training for triathlons the week after being diagnosed with stage 3 colorectal cancer is a testament to her self-described "hard-headedness."
"I was diagnosed on a Thursday and the Great Aloha Run was the following Monday," she recalls about that day two years ago. "My doctor told me if I felt OK, I could run. Since I'd been training, I decided to do it." Ten months later, while undergoing chemoradiation treatments, Boerstler finished her first triathlon, which she had signed up to do as a relay with two co-workers.
"I got to the race and found out they weren't going to do it since one had the flu and the other had a cold," she says. "I thought, 'I signed up for this,' so I did (all three events) by myself."
Years earlier, that same fighting spirit got her through college against the odds. She had always aspired to become an engineer, had a 3.8 GPA at Kailua High School, but her SAT scores were low. After struggling at UH-Manoa, she enrolled at Honolulu Community College and worked her way into the University of Colorado at Boulder, earning her bachelor's and master's degrees in engineering.
"The moment I left Hawaii, the intention was to come home," she says. "I got a lot of experience working for a company in Denver, but once the work dried out, it made more sense to come back. I wanted my daughter to grow up like I did and be with family." Boerstler landed a job with Baldridge & Associates and returned to the Islands with her husband and toddler.
Her boss, Steve Baldridge, president of Baldridge & Associates, says Boerstler isn't afraid to get her hands dirty.
"We were shorthanded one day in our concrete-testing laboratory and Kulia volunteered to step in and help break concrete test cylinders," says Baldridge. "No job or project is beneath her if it is in the best interests of our clients or the office."
Boerstler continued working and training during cancer treatments, as she didn't want the disease to impact her work.
"Work helps me through and doing things that you enjoy takes the pain away," she says. "Through my treatment, I made sure I kept in contact with clients and co-workers. In the end, it all made me more resilient."
Her projects include the construction administration of the Pacifica Honolulu condominium on Kapiolani Boulevard and serving as project manager for Plaza at Moanalua, an assisted-living facility near Kaiser Moanalua.
"My ultimate goal is to be able to look at the Honolulu skyline and say, 'I had a part in that.'"
Editor's note: In the print edition of this story, Kulia Pacheco Boerstler's title is misidentified as a Senior Structural Engineer, and the Plaza at Moanalua was incorrectly named as the Project Moanalua. Hawaii Business regrets the errors.
Wei Fang
Co-Founder, Interisland Terminal
Age: 36
It was at the prestigious Catlin Gabel School in Portland, Ore., that Wei Fang's Hawaii connection began.
Fang was a student under headmaster Jim Scott, a Punahou School graduate who would later become Punahou's president.
"Jim helped me get into a program called Summer Bridge and there used to be a site in Honolulu," recalls Fang. "They hired young people to teach enrichment courses to middle school students, so, in the summers of my junior and senior years, I worked for Summer Bridge. My parents were working abroad, so Hawaii became my home base."
With a dual interest in the arts and education, Fang went off to college, studying art at Brown and business at Columbia University. After graduation, she took a job in London as a business manager for an auction company, traveling to Hong Kong and Shanghai.
Then the market crashed, the company was sold and everything changed.
"I took a break and went back to New York to try to figure out what to do with my life," says Fang. "Hawaii kept pulling me back."
Fang returned to the Islands and connected with a group of like-minded creative people committed to the community and founded the nonprofit Interisland Terminal, which presents community programs and exhibits around contemporary art, design and film. One of its programs, R&D in Kakaako, has been IT's main focus, offering a creative work space for collaboration.
"Her vision for R&D has transcended itself from a creative inspirational incubation center to that of a resonating symbol for the advancement and evolution of Kakaako as a vibrant, gentrifying, metropolitan epicenter," says Peter Shaindlin, Halekulani Corp.'s COO.
Last summer, Fang and Kilikina Mahi co-founded an online business called Makana. The company offers monthly care-package subscriptions of Hawaii-made products, keeping the focus on advancing homegrown businesses, developing communities and supporting Hawaii's creative artists.
"Working in the arts is difficult anywhere, but especially hard in Hawaii," says Fang, who has a passion for art but does not consider herself an artist. "I would like to make some big marks in our ability as a community and to recognize the value of good design and what really good art is. I want to work to make art less of a luxury or a second thought."
Susan Hippensteele
Professor and Strategic Planning Coordinator,UH-Manoa
Age: 50
Susan Hippensteele has lost track of the number of years she has been a part of the UH-Manoa campus, but she thinks it has been about 27. One thing she does know is that she is in love with the place.
"There's a way in which students are grounded here that is very special. Often, faculty members can become quite frustrated by quiet classes or classes where students are sort of reticent or hesitant to challenge, so they fill the pauses," she says. "But because I've been a student here, I know that those pauses are indications of reflection. There's skepticism of the person lecturing in front of them. But there's a potential for richness and interaction because of this."
Hippensteele earned her law degree and Ph.D. in psychology at UH. She was hired as the university's first victims' advocate, later joined the Women's Studies faculty and co-founded the Hawaii Women's Law Center in Chinatown.
While serving as chair of the Manoa Faculty Senate, she coordinated development of UH's strategic plan. Now as a strategic planning coordinator in the chancellor's office, she oversaw the writing of accreditation reports that, in 2011, resulted in 10 years of accreditation, the most possible, by the Western Association of Schools and Colleges.
UH-Manoa Chancellor Tom Apple says she has tackled some of the most important issues at the campus. "I'm surprised at the speed with which she has been able to build consensus on major initiatives," he says. "Her work is having a big, positive impact on our students and faculty."
Hippensteele wants more faculty to develop connections with individuals, groups and neighborhoods to link professors' scholarly knowledge with community needs and resources.  She says it will make the university even better.
"For many years, I've had a sense that there is a lack of understanding about UH. It's our fault at Manoa," she admits. "There's a lack of understanding of how really wonderful an education students can obtain here, but we can't say that for every department. I would like to see every single department at UH be stellar and for the entire state to know it."
Kim Gennaula
President/Chief Professional Officer, Aloha United Way
Age: 48
Kim Gennaula spent a lot of her 15 years as a TV news reporter covering the bad side of life.
"It's really great to be engaged on the good side of people helping each other," says Gennaula, now leading AUW. "It's deeply humbling and satisfying to know we're actually helping people's quality of life."
Gennaula took the helm of AUW in June 2011 and has virtually turned the organization around, according to John Dean, president and CEO of Central Pacific Bank. Dean, who served as chair of the 2012 AUW Campaign, says Gennaula effectively brought together key business, union and community leaders and gained their support and collaboration for AUW's revitalization.
"Kim also served as a change agent for a struggling organization by streamlining its operations, reenergizing its staff and creating a new level of excitement," says Dean.
Gennaula's first brush with AUW was more than 20 years ago, when she worked as a communications director for Liberty House.
"I was selected to run the AUW campaign for the company and there was 100-percent participation back then," she recalls. "There were huge thermometers set up around town to keep track of the goal. I wanted to bring that level of excitement back and that's what lured me and motivated me to take on the task."
She conducted more than 50 meetings with Hawaii CEOs, asking what AUW needed to do to encourage their participation.
"I was very nervous in taking on the job," she recalls. "It was a great opportunity, but a huge responsibility. If AUW somehow went down under my watch, I didn't want that to be my legacy to the community."
After spending her first year getting the organization's internal health in order, lowering overhead and streamlining operations, her focus is now on how AUW can be a win-win for all businesses. Once again, she is going to companies to see how AUW can best partner with them, add value to their participation and look to the future.
And the future is where it's at for Gennaula, although she has fond memories of her TV career.
"When something really big happens, I miss not being able to be there to share the story," she says. "My job in news was fantastic. It was a dream job to me, but all consuming, and didn't fit in with family life. Now I can tuck my kids in at night."
Jason Fujimoto
Sr. VP/CFO, HPM Building Supply
Age: 32
Bobby Fujimoto once told his grandson, Jason, "Be a steward for your customers and your employees. Always start with them first, then success will come naturally."
Jason Fujimoto says that's the best advice he's ever received, which says a lot about this Hilo boy, who earned his business degree at the prestigious Wharton School at the University of Pennsylvania.
Following graduation in 2002, Fujimoto worked as an analyst at J.P. Morgan, then returned to Hawaii with some Wall Street friends to serve as consultants to HPM, his family's business.
With a one-year contract to focus on operational efficiency and improvement of the now 91-year-old business, it was never his plan to stay.
"My buddies went back after the contract was up, but I found that helping people be successful in their jobs gave me a lot of gratification. I discovered that this was my place. I came full circle," says Fujimoto.
He is the fifth generation to work in the business started by his great-great grandfather, Kametaro Fujimoto. Although he admits the business was always his family's focus while growing up, he says he was never pressured to make it his destiny.
Fujimoto has been home for nine years now and, with a wife and two children, he's here to stay.
"Although he has an impressive Ivy League education and has worked for a big Wall Street investment bank, his career success is largely attributable to his great interpersonal skills and the fact he's a great communicator," says Warren Haruki, chairman and CEO of Maui Land & Pineapple, and president and CEO of Grove Farm.
Fujimoto says he feels fortunate to be part of a succession plan that will allow him to take over for his father someday as HPM's president and CEO.
"As we look to the future, we continue to focus on our customers and enabling them to be successful in their businesses. I also want to bring that success back to our owners/employees."
HPM is 100-percent employee owned thanks to his grandfather, who started the employee ownership program.
"Even though the company was founded by the family, our employees live and breathe as owners," says Fujimoto.
David Striph
Sr. VP Hawaii, Howard Hughes Corp.
Age: 54
David Striph isn't comfortable talking about himself. He prefers to listen, and that's what makes him the perfect person to lead Howard Hughes Corp.'s development of 60 acres in Kakaako.
"The whole team I'm working with spends a lot of time talking to people, listening and learning. We're humbled and grateful with what we have here and, because it's such an important piece of land, we're trying to bring that history back again," says the former CPA. "We spend a lot of time studying the culture. We know how important that is."
Born just outside of Detroit, Striph's career has taken him to Chicago, Southern California and Dallas. A frequent visitor to Hawaii, he landed in the Islands a little more than two years ago and immediately began building relationships, something he strongly advocates.
"The value of relationships goes a long way. It's true in Hawaii and it's true everywhere," says Striph.
In fact, relationships are how he ended up in Hawaii.
"I'd been in real estate for about 25 years and at one point made a loan to (HHC's CEO) David Weinreb and (HHC president) Grant Herlitz. We became friends and would have lunch or dinner every few months," explains Striph. "So when they had the opportunity to run the company, they called me up with a job offer."
Immediately after arriving in Hawaii, Striph got involved with the community through the YMCA of Honolulu and Child & Family Services.
"David immediately became one of our most enthusiastic fundraisers and is one of our most successful philanthropists," says YMCA CEO Michael Broderick. "I've spoken to people who gave money for him and they say it's because he had inspired them. He's stepped up for our community in a really short time."
Striph says Kakaako's largest private landowner wants to bring the history and legacy of Victoria Ward to life through its development plans.
"We're creating a real special neighborhood. We're going to pull buildings away from Ala Moana boulevard," so they integrate better with Ala Moana Beach Park and the ocean, he explains. "We want to provide large public gathering places, pedestrian-friendly streets and green design for a truly walkable neighborhood."
Sean Tadaki
Managing Partner, Commercial Asset Advisors
Age: 37
The ponytail is a sign that Sean Tadaki is not your average commercial real estate broker.
"I studied biology and environmental science at Boston University," says Tadaki. "I was a Birkenstock-wearing, granola-eating tree hugger. But not anymore." He says science didn't give him the personal interaction he craved and that's what drew him to real estate.
Born in Washington, D.C., to Hawaii-born parents, Tadaki spent his childhood in Boston and Tokyo, where his parents were U.S. government employees.
After college, he dived into a booming Boston real estate market and found himself burning out. His parents had moved back to Hawaii a few years earlier and asked him to help them take care of family matters.
"The timing was perfect, since the market tanked in mid-2000," recalls Tadaki.
He planned to stay in Hawaii for a year, but, now, with a wife, an infant son and his own commercial real estate firm, it's home.
"I came from a large brokerage firm and I was out there getting accounts. We would bring in the accounts and have the team service them," says Tadaki. "Now, when my partners and I go out, we don't pass it off to the team. We do the work and handhold our clients. It's not smoke and mirrors. I roll up my sleeves and do all my own paperwork. It's a service business."
Robert Nobriga, executive VP and CFO of Hawaii National Bank, experienced Tadaki's work ethic first-hand. The two met more than 12 years ago when Nobriga was CFO at the UH Medical School and Tadaki offered his expertise to the school as it underwent its off-campus expansion.
"The thing I appreciated most about Sean is that I never got the sense he was focused solely on the transaction," says Nobriga. "I quickly realized that, not only was he extremely effective at what he did for a living, but he cared about the community, he had integrity and he was a genuinely good person."
Tadaki's community involvement is reflected in his work on behalf of the homeless, as he serves on the boards of the Institute for Human Services and Mental Health Kokua.
"My skill set is really as a strong connector. I enjoy matching the right people to get things done. That manifests in both business and nonprofits. I'm never the smartest guy in the room, but I'm usually the most outgoing."
Dina Shek
Legal Director, Medical-Legal Partnership for Children
Age: 42
Dina Shek aspired to be a cellist while studying at the New England Conservatory of Music, but family history and life experiences led her elsewhere.
"My mother was born in Lodi, Calif., just a few weeks before the attack on Pearl Harbor," says Shek, whose mother is of Japanese ancestry. "As an infant, she was interned in internment camps, along with my grandparents and uncles, in Rowher, Ark., and later at Tule Lake, Calif."
As a college student, Shek studied that period of history and served as the graduate intern for the Civil Liberties Public Education Fund, which was the education arm of the Japanese-American redress, officially called the Civil Liberties Act of 1988.
Shek worked with civil rights hero Fred Korematsu and his attorneys, including UH law professor Eric Yamamoto.
"Through this work, I was instilled with the 'never again' mantra, that this kind of injustice should never happen again to any vulnerable communities," says Shek. "I think that is why I feel so connected to the Micronesian community in Hawaii. I see parallels of how discriminatory policies and racist media imagery feed off each other, creating distorted images of the community."
Shek decided to apply to law school at UH. She graduated in 2006 and launched the Medical-Legal Partnership for Children at the Kokua Kalihi Valley Health Center in 2009, forging a partnership between the community health clinic and the school of law.
Avi Soifer, dean at the law school, says Shek has skillfully combined her skills as both lawyer and community organizer.
"Dina has a sense of people, is keen, analytic, with a strategic sense, and an abiding concern to serve the most vulnerable in the community," he says.  "There are very few like her who are able to do this and accomplish so much in a low-key way."
Shek's agency integrates legal assistance and health care, a model created in Boston.
"A doctor at that Boston clinic was seeing a child with chronic asthma. The mom kept bringing the child in and she had to miss work," explains Shek. "It turned out to be a housing problem with a leaky roof causing the health problem. The doctor wrote a letter and it was ignored. A lawyer wrote a letter and people listened. The model was that families shouldn't have to go to 10 different agencies to seek help. Everything can be done at the health clinic."
Jeanne Skog
President/CEO, Maui Economic Development Board
Age: 62
Jeanne Skog has fond memories of growing up in Haiku when pineapple was king.
"My dad had quite a bit of acreage and we had the freedom to roam the fields and enjoy that smell of pineapple," recalls Skog.
Today, as head of MEDB, she has made it her life's work to diversify Maui's economy beyond agriculture.
"When I was growing up, it was all about agriculture and tourism. It was a given that if you wanted to do something else, you would have to move somewhere. But now there's really a sense here that there are other options," she says.
One option is technology and, particularly, the Maui Research and Technology Park in Kihei, which employs about 400 people at more than 20 companies.
Maui Mayor Alan Arakawa says Skog's leadership has been instrumental in the Valley Isle's move toward diversification. "She set the direction and has made the MEDB a very vibrant organization that has been able to promote Maui in a large way as a tech center," he says.
Skog attributes the tech park's success to key leaders coming together and persevering.
"Looking back and seeing how they thought ahead about strategy and process, it's pretty amazing to see how it unfolded," she adds.
Skog's leadership style is to bring people together. It's something she learned from Don Malcolm, the first MEDB president, who died in 2007. He hired her as his executive assistant when the agency was new in 1984. She rose through the ranks as board secretary, VP and, now, president.
"I was fortunate to have him as my mentor. We had long talks about how he was seeing our path forward," says Skog. "He had a way of gently explaining and bringing people to the table. There may be people who don't agree where you're initially headed, but you still have to bring them to the table. In the end, you'll have to deal with these points of view so it's better to deal with them up front, so no one feels left out in the initial step. It's not easy, but I've come to see that reaching out to people is the most effective way to move forward."
Forest Frizzell
Chief Information Officer, Hawaii Community Foundation
Age: 38
Forest Frizzell's hanai uncle once told him he was born in the wrong place.
The kid from Walton, Ore., population 250, grew up poor but became the first in his family to attend college. That choice led to Hawaii. "At Portland State, I met a Hawaiian kid named Hoala Greevy, who invited me home for the summer. I fell in love with Hawaii," says Frizzell.
Greevy's mother, Haaheo Mansfield, says Frizzell fit in immediately.
"When it was time to go back to school at the end of summer, Forest said, 'Aunty, I want to stay here. May I stay with you and your family?' " recalls Mansfield, who is senior VP of programs at the nonprofit Parents and Children Together. "I said, 'Yes,' and he enrolled at the University of Hawaii."
Mansfield says Frizzell has strong values and a great work ethic.
"I learned from a young age, if I wanted money, I had to work for it," says Frizzell. "When I was 10 or 11, I helped this guy build a barn. We hand mixed concrete in a wheelbarrow."
With his degree in communications at UH-Manoa, Frizzell went to Silicon Valley during the dot-com era. After a year and a half, he returned to Hawaii.
He was working for Integrated Security Technologies when the city's IT director, Gordon Bruce, offered him the job of deputy director. "It was an exciting time," Frizzell says. "Mayor Carlisle's goal was to get citizens more involved and engaged in government. He wanted to bring a transparency that hadn't existed before."
That transparency included putting all budgets and financial disclosure statements online.
Bruce says that, in 2012, through Frizzell's work and leadership, Honolulu received a grant to develop a mobile phone application to make the city more open, efficient and user-friendly.
Honolulu was also recognized as the top large "Digital City in America" in 2011 by the Center for Digital Government, a national research institute on IT best practices in state and local government.
Frizzell's role with the city included public outreach and he says working with people suits him perfectly. He has taken that skill into his new role as CIO of the Hawaii Community Foundation.
"I'm a community member first, before I'm a technologist," he says. "I like to connect people, open up opportunities and solve problems."
Poni Askew
Founder, StreetGrindz
Age: 39
Poni Askew has always followed her heart.
The Leilehua High School graduate spent a few years at UH-Manoa, and then decided she needed a change of scenery. She moved with some musician friends to Nashville.
"Other than a few vacations here and there growing up, I had never left the island. It was a fun adventure," she recalls. That "adventure" turned into 15 years working in music's road-management. She started working part-time for coffee shops and eventually full-time for Starbucks. In 2007, she was offered the job of Hawaii district manager of license stores, the ticket home for her, her husband and their 6-week-old baby.
Once again, she followed her heart, though she missed the boat with her first entrepreneurial idea. On the mainland, she had tasted Mexican paletas, ice pops made from fresh fruit, and planned a gourmet ice-pop business in Hawaii.
"I worked on product development for two years," she recalls. "Then Ono Pops launched and beat me to it."
Plan B was the mobile food industry. Askew got a Twitter handle, @streetgrindz, to connect with food truck vendors. That led to the first "Eat the Street" at a parking lot in 2011.
"We've had street vendors in Hawaii since the manapua-man days. It feels good to know that I'm not only carrying on this legacy, but I'm also supporting the people who do that. If I can provide a platform where they're able to sell their product, it's almost like a stepping stone, where someday they're elated to open a brick and mortar," says Askew.
Wendy Awai-Dakroub, co-owner of two food trucks, Xtreme Tacos and Fairy Cakes, is grateful for Askew's support.
"Poni really cares about small businesses. She's really instrumental in helping all of us and finding opportunities for us," says Awai-Dakroub.
Last fall, Askew launched the Honolulu Night Market in Kakaako to provide a new platform for local artisans and chefs. She says finding the right financial balance is her biggest challenge.
"We need to be able to afford to produce these events and also make sure we're mindful of our fees and costs to our vendors. My commitment is not to gouge. I try to keep our prices low. This is not a get-rich quick scheme," she adds.
Elizabeth Churchill
Senior VP Sales & Marketing, Aqua Hotels and Resorts
Age: 45
Aqua Hotels & Resorts founder and director Mike Paulin told Elizabeth Churchill that if she slept on the job before all else, everything would fall into place.
She did, and it has.
"Beth spent many days and nights experiencing Aqua's service delivery as a 'secret shopper,' so she came on board well prepared for the task of generating broad brand recognition," says Paulin. "It led to an unprecedented expansion of inventory during Hawaii's deepest tourism decline on record."
Paulin says Churchill's leadership resulted in a complete rebranding of his hotel group, tripling the number of rooms it oversees, multiplying Aqua's earnings many times and creating job security for 1,500 employees.
Churchill feels fortunate to have had the chance to revamp the hotel's brand.
"Not a lot of people have the opportunity to create a brand in the their lifetime," she says. "When I started at Aqua in 2005, I ran both marketing and guest services. Very few companies have ever combined the two like that. It's a fantastic combination because it's the full cycle of service from start to finish."
Paulin says Churchill's accomplishments include renaming The Edition as The Modern Honolulu, transforming the former W hotel into the Aqua Lotus at Diamond Head with better returns, rescuing the iconic Ilikai and transitioning Wailea's failed Diamond Resort into the hip Hotel Wailea.
For the first three years, Churchill says, she worked six days a week and never took a day of vacation. She sees the team she created as key to her success.
"I'm not a micro-manager. I really love and appreciate smart, creative people," she says. "I try to find people with the same sense of fulfillment."
Paulin says Churchill's team came mainly from outside the hotel industry, which lets Aqua provide a leading-edge e-commerce commitment to its hotel owners.
"In the process, several of Aqua's ownership groups have made multiple hotel purchases, leveraging the expertise and real-time results of Beth's team," he says.
Ben Ancheta
Strategic Accounts Officer, ProService Hawaii
Age: 40
Ben Ancheta surfed with a longboard way before it was considered cool.
"As a surfer, you don't use a longboard until you can no longer shortboard," says Dustin Sellers, Ancheta's surfing buddy and co-owner of ProService Hawaii. "But Ben used a longboard when he was 26 years old. He was very comfortable with that. It says a lot about his sense of self."
Born and raised in Waipahu and a Kamehameha Schools graduate, Ancheta has always been true to himself, while building his life on personal integrity and the value of relationships.
"I really try to connect people. Not for personal gain, but I really like seeing other people doing well. I especially like helping people find new careers and bringing them back from the mainland," says Ancheta.
Sellers met Ancheta on the job at a consulting firm in Los Angeles and struck up a friendship. Later, when Sellers and Ben Godsey bought ProService, Sellers called Ancheta, who was working on the East Coast in his wife's family's business. "When Dustin called me, I wasn't looking to come back," says Ancheta.
"Hawaii is a very difficult place to make a career, but it found me and now I'm here to stay."
Sellers originally hired Ancheta as COO, but Ancheta says he realized it wasn't a good fit.
"I always thought of myself as an operations guy, but came to the painful realization what I wanted to be was not who I was," he explains. "I found that I am really a relationship person. So in my new role in the last two years, I've been able to work directly with clients and directly with the CEO on HR issues and set up special programs. It's been fun."
Sellers is glad Ancheta found his niche.
"To be a change agent in Hawaii, you have to be creative in the way you build consensus," says Sellers. "… He has this unique ability to make people like him and trust his vision. He comes from a very pragmatic and strategic view. We need more of that."
Scott Mercer
Co-founder/CEO, Volta Industries
Age: 26
Chenoa Farnsworth thinks back on her first contact with Scott Mercer and laughs.
"He sent me a business plan, thinking that was how to get funded," says the managing director of Hawaii Angels. "It was a naïve thing to do, but I was intrigued and set up a meeting with him and Chris (Volta co-founder Chris Ching). When they showed up, I thought, 'My goodness, you guys look like you're 12 or 13 years old!' "
But Mercer's honest approach worked, and Volta received a $200,000 investment from Hawaii Angels in September.
A Colorado native, Mercer's affinity for all things wheeled began when he started trading Hot Wheels at the age of 4. After working his way through Cal Poly San Luis Obispo restoring vintage sports cars, he sought a job with electric vehicle maker Tesla Motors. That didn't pan out, so he and a friend, Hawaii-born Chris Ching, searched for the best place to launch a business built around electric car-charging stations and found that Hawaii had the best legislation.
"Every business with at least 100 parking spots must have an electric car-charging station," explains Mercer. "We're the only state that has that law."
Volta has become one of the two largest providers of EV charging equipment in the state.
Ching has moved to the mainland to bring Volta to other cities, while Mercer remains here to run the Hawaii operation. "We try to build the stations in places where people can spend an hour or two, so they can do something else while their car is charging," says Mercer. "That's why the stations are set up at shopping malls."
Mercer said charging up at Volta's stations is free, with billboard advertising paying the bills.
"We're not just trying to appeal to those that are driving around in electric cars now, but those that will be driving one in the future," he says.
And what's his daily drive? "An electric dirt bike," says Mercer. "I really wanted an electric car, but you can't buy a brand new car and start a company at the same time."
Suzie Woolway
Co-founder/Co-owner, Kauai Ocean Recreation Experience (KORE)/Ohana Sports Medicine
Age: 53
Suzie Woolway is a speech pathologist by trade. But there's much more to this self-described Navy brat who grew up in Rhode Island and San Diego, fell in love with Kauai on her honeymoon and made it her home.
"Suzie's a passionate advocate for those with speech and physical disabilities," says former state House representative Roland Sagum, now a community planner for the Pacific Missile Range Facility. "My brother survived a stroke and Suzie has done so much to help those with brain injuries. She is involved in so many things to help the disabled. Kauai is very lucky to have her."
Seven years ago, Woolway and her husband, Dan Schaal, a physical therapist, opened an outpatient rehabilitation clinic serving the west side of Kauai. Because patients also asked the clinic for other services, Woolway began thinking of how to meet the community's needs.
"I was at an Oahu trauma conference when I saw an ad for 'Access Surf' on Oahu. It's a program that enriches the lives of people with disabilities by introducing them to surfing," explains Woolway. "So I called (Access Surf CEO) Mark Marble, who told me it was a coincidence because he ran into a Kauai firefighter, Kurt Leong, who wanted to start a similar program on Kauai."
Woolway and Leong created KORE and, today, more than 300 volunteers and participants take part in KORE beach days, making the ocean accessible to those with disabilities and special needs.
"Once a month, we host a beach day for everyone from quadriplegics to kids with autism," says Woolway. "The ocean has a healing effect and it's a positive thing for our participants and their families."
Woolway has other projects aimed at helping the disabled. "Ready, Able and Willing" is a program she is developing with clinical neuropsychologist Dr. Louanne Lisk to make programs at Kauai Community College accessible to survivors of brain or spinal cord injuries.
She has also launched Ohana Home Health, which serves homebound patients who need outpatient care.
"I want to be able to provide services for everyone who calls me," says Woolway. "All the things I'm working on need to be community-driven. I like to believe Kauai could be a microcosm of what the world could be like."
Michele Carbone
Director, UH Cancer Research Center
Age: 52
Michele Carbone says friends and colleagues in Chicago told him he would stay in Hawaii for only two years.
"I said, 'OK, then I will get sick of the place and stay for two years.' But look, I'm still here and I'm not sick of the place," he says, three years later. Far from being sick of Hawaii, he loves the beaches, which remind him of those in his native Calabria in southern Italy, and believes Hawaii is the ideal place for cancer research.
"The middle of the ocean should be used to our advantage," he says. "Hawaii is the perfect place to bring scientists from the mainland and Asia to collaborate to exchange information. Everybody wants to come here."
In three years as head of the University of Hawaii Cancer Research Center, Carbone has made his mark. The new facility was completed in late November and the National Cancer Institute awarded the center a five-year renewal of NCI status. That's as good as it gets, since most renewals are for three years.
"But that doesn't mean we cannot improve," he says. "The simple plan is we need to make a difference. The reason we are doing cancer research is to find a way to improve treatment. We have to do more so cancer patients do not have to travel to the mainland."
Jackie Young, chief staff officer of the American Cancer Society Hawaii Pacific, says Carbone has put the center on the map and brought the local healthcare community together with a common goal.
"Now, the UHCC is a member of a respected network of researchers in NCI centers throughout the country," says Young, and she emphasizes Carbone's role. Local healthcare leaders didn't initially accept the model for the cancer center, she says, but Carbone earned their confidence and the confidence of lawmakers and other members of the community.
Bringing people together wasn't easy.
"It's impossible to make any change without creating conflict and without brushing people the wrong way," says Carbone. "But the other option is to do nothing. I made a lot of change and worked to get the community, healthcare leaders, the Legislature and UH behind the mission. We're all working toward the same goal for the good of cancer patients and for cancer research here in Hawaii."
Linda Schatz
Development Director, Kamehameha Schools
Age: 38
Linda Schatz's 8-year-old son, Tyler, once asked her, "Mom, do I have to go to college? If I do, can I come home after that and buy a house and live next to you?"
"Of course," she replied, but admits to worrying whether Hawaii will be affordable for future generations. That drives her in her role at Kamehameha Schools, as she works to create a vibrant, affordable community for the future.
Schatz, whose focus is on master-planning efforts for KSBE's 14 blocks in Kakaako, comes to the job armed with a degree in architecture and an architecture doctorate concentrating on transit-oriented development in low-income neighborhoods. Born and raised in Kaimuki, where her Chinese immigrant parents owned Kwok's Chop Suey, she interned for Kamehameha Schools while obtaining her doctorate from UH-Manoa. That turned into a full-time job.
"I wanted to focus on areas with a lot of potential for people to have a good mix of housing," she says.
Though her husband, former Lt. Gov. and now U.S. Senator Brian Schatz, will be living in Washington for much of the year, she and their children will continue to live in Honolulu.
Paul Quintiliani, senior director for Kamehameha School's commercial real estate division, says Schatz's passion is urban Honolulu.
"She really cares about this city. She really cares about what's going on in the physical environment and what it takes to make people's lives better," he says.
Quintiliani says the work Schatz did with the home she owns with her husband exemplifies who she is.
"They bought this old house in Pauoa and she redesigned the whole thing," he explains. "Linda used reclaimed materials and found unique ways to bring this house to life while keeping its integrity as an old house."
Schatz brings those values to her work.
"Change is good, but not just for the sake of change," she says. "The change being done in Kakaako can often be scary, but we need to ensure that we listen to everybody and learn from the past. We don't want to leave anyone behind."
Manu Boyd
Cultural Director, Royal Hawaiian Center at Helumoa
Age: 50
Manu Boyd believes in honoring the old, but embracing the new.
"There's no reason why things Hawaiian can't be cutting edge," says Boyd. "We need to remind our people we have to be mindful of who we are and where we come from. My way of doing this is more in the social sense to make it a fun, lifestyle thing. Embracing culture doesn't always have to be academic or museumlike."
That's the approach Boyd has taken over the past five years as cultural director of Waikiki's Royal Hawaiian Center at Helumoa.
The shopping center, owned by Kamehameha Schools, is on the site of Helumoa, home from the late 15th century of Oahu's alii. It has historical significance as a gathering place and the center of government where decisions were made.
Boyd's job has been to develop strategies to support and ensure the accuracy of this cultural significance at the heart of the center's activities.
"Our programming in performing arts is geared toward kamaaina, and not malahini," he explains. "This is our party, if you will, and the reaction of visitors who come to enjoy it can best be described as: They don't know what hit them."
Boyd had led the Hawaiian musical group Hookena since 1986, but recently left after 25 years to pursue his own songwriting career. The 1980 Kamehameha Schools graduate was raised in Aina Haina and developed a keen interest in his Hawaiian culture at an early age.
"I began dancing with Robert Cazimero's Halau Na Kamalei and, for 30 years, I have been a student of his in hula, music and life," says Boyd.
Cazimero refers to Boyd as a "torch bearer" of the Hawaiian culture.
"Manu holds steadfast to the torch while his stance holds strong with perseverance, respect and pride," says Cazimero. "He honors all people with his wit, intelligence and honesty, defining his humanity in praise of others, in his unselfish teachings and trust in the ike, the intuition of the people he loves and admires."
Boyd says, in general, he looks at Hawaii as kulaiwi or "ancestral homeland," and along with this ownership comes responsibility.
"People today claim everything is 'mine, mine, mine,' without a sense of giving back or contributing," he explains. "Whether it's honoring or contributing to the richness of our heritage or promoting a clean environment, we need to remind our people to be mindful of who we are and where we came from."