21 Century Internships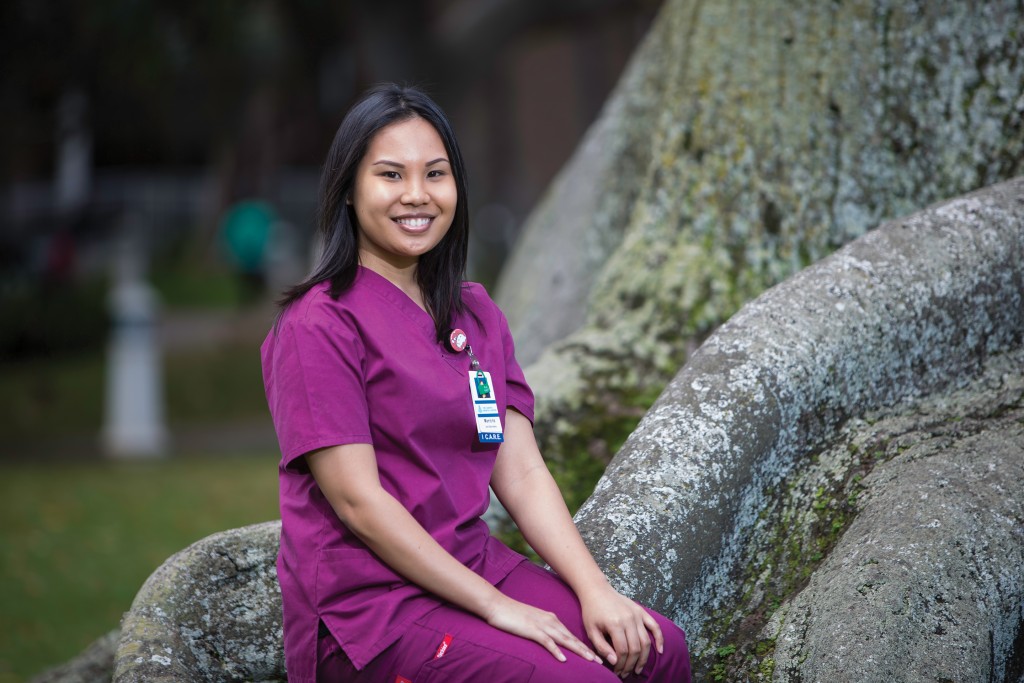 Mericris Neyra knew she wanted to be a nurse  back when she was at Farrington High School, so she enrolled in nursing at UH Manoa. But as she neared graduation in December 2014, the 22-year-old faced a saturated nursing-job market in Hawaii. She knew her high GPA and degree might not be enough to distinguish her as employers waded through a sea of resumes from recent nursing graduates. What she needed to stand out was relevant work experience, and the most likely way to get that was landing a coveted internship.
"It puts you on top compared to the other nursing students," she says.
Good internships are symbiotic. Students gain meaningful work experiences, which enhance a greenhorn resume and often lead to a permanent job; in fact, a relevant internship is almost required for the best entry-level positions. At the same time, quality internships give employers a first look at upcoming talent, while providing the company with temporary help and an injection of new thinking and fresh perspectives.
Intern Bridge, a national research organization, reports that about half of all internships are unpaid. But, in a 2013 report based on a national survey of students, Intern Bridge found that 64.1 percent of students "would have to work a second job if they accepted an unpaid internship. While that may be possible in the summer, it's difficult during the academic year."
This percentage of unpaid internships may start to decline, in part due to the success of several class-action lawsuits, in which high-profile national companies such as NBC, Viacom, Charlie Rose Inc. and Condé Nast paid as much as millions of dollars in settlements covering former unpaid interns. Such lawsuits haven't arisen in the Islands, however. "We have not seen to date any major unpaid (intern) class action lawsuits," says labor and employment attorney Darin Leong, a partner at Marr Jones & Wang.
However, those settlements have spooked some national and local companies into turning their unpaid internships into paid internships, while other companies simply eliminated their internship programs altogether or tightened the rules so unpaid internships must always be done for college course credit.
Here's a look at the changes in internship programs and the impacts those changes are having on Hawaii's students and their present and future employers.
Job Offers for Class of 2014
The National Association of Colleges and Employers  found this out from its survey of students from the college graduating class of 2014 of Colleges and Employers:
•   61 percent of graduating seniors had an internship or co-op experience.
•   52 percent of those graduates receiving job offers before graduation held internships.
•   46.5 of internships were unpaid.
•   42 percent of paid internships (with for-profit organizations) received a full-time offer.
•   Graduates who came from a paid internship and received a full-time job offer generally commanded a higher starting salary than did graduates from an unpaid internship who received full-time job offers.
Source: Based on a survey of 43,864 students at 696 NACE-member institutions, including 10,210 seniors earning bachelor's degrees.
Internship Evolution
More than a decade ago, the UH Manoa Career Center took a firm stance: it would only work with businesses that offered paid internships. "It became a fair-labor question. Our bottom line is so many of our students need supplemental income to cover tuition," says Arleen Fujimoto-Ikuma, the center's director of community development, cooperative education and internships. While Millennials comprise the most educated American generation, they are also the most loaded with student debt.
"(Paid internships) level the playing field," adds center director Wendy Sora, "and increase the applicant pool."
Sora and Fujimoto-Ikuma sit in one of the center's spacious conference rooms on campus. It's where the two say they and their colleagues help about 4,000 undergraduate and graduate students each year with job and internship searches, help proof resumes and cover letters, and conduct mock interviews to prepare students for the real thing. Both women explain that, when employers pay interns at least minimum wage, working students aren't forced to choose between a paying noneducational job and an educational internship in their field. (Hawaii's minimum wage is $7.75 an hour and going up to $8.50 on Jan. 1, 2016.)
On average, paid internships are better career launchers than unpaid internships. The National Association of Colleges and Employers surveyed 2013 college graduates and found that 63 percent of students who had a paid internship landed at least one job offer before graduation. That's compared to 37 percent of former unpaid interns –only 1.8 percentage points higher than students who had never interned.
For industries facing an imminent wave of retirees, a competitive, paid internship spurs new talent. That's why First Insurance Co. of Hawaii launched its own internship program last year after previously participating in a cooperative internship program with other Hawaii companies. "We wanted to truly expose students to career opportunities within our industry, to make sure the insurance industry has these jobs available for the next generation," says Terri Stephens, FICOH's learning and development manager. "Most of us didn't wake up one morning and think, "I want to go into insurance."  We sort of fell into it."
Stephens says the company partners with UH-Manoa's Shidler College of Business and accepts two business students each fall and spring semester. Students are paid $10 an hour, but it's more than just a temporary job.
"We pick several key departments and the interns go through rotations," she says, adding that each department has an intern mentor. Interns also observe customer interactions during ride-alongs with the claims and risk-safety management departments. "It truly let's them see the vast number of job opportunities that exist (in insurance). They just don't realize; that's the one comment I get from students. They picture the slick insurance sales person," she says, with a laugh.
Neyra can vouch for the value of an educational, paid internship. She spent two semesters in a cooperative education internship at The Queen's Medical Center and then graduated; she soon returned as a full-time unit secretary in Queen's neuroscience medical surgical and telemetry unit, the place where she interned. Neyra organizes admission and discharge information packages for patients and works with the on-call nurses.
Neyra says her internship "made a huge difference" in getting a job right out of school. She recently passed her board exam and, once her RN license is processed, she feels confident she'll get a nursing job at the hospital. "Through the co-op, I got to interact with pretty much everyone in the unit," she says. "They got to see my work ethic."
Course Credit Instead
Few college students have experiences similar to Neyra's. "Most internships in Hawaii are unpaid, especially those that are not major specific," says Ryan Tin Loy, a career counselor at Hawaii Pacific University's Career Services Center. For example, he says, many of Hawaii's hospitality internships are unpaid and a variety of college majors can apply, including students studying marketing, the travel industry or business management.
Another possibility for college students is an internship for course credit, which Fujimoto-Ikuma calls a "workaround." It's common practice, but employers need to beware. According to the federal Fair Labor Standards Act, unpaid internships are not simply free labor; in fact, unpaid internships are legal only if they satisfy six criteria, such as the internship has as an educational purpose (often satisfied by the college credit), the program benefits the student and the employer does not "receive immediate advantage from the intern's performance." (See chart on opposite page for details.)
Loy advises HPU students to start looking for internships early in college – such as during sophomore year – instead of waiting until the semester before they graduate. Fujimoto-Ikuma encourages UH students to use social media to conduct their due diligence on companies. "I tell them to Google organizations," she says. "Do they have a web presence? A LinkedIn? I want them to go to the interview with a purpose, not 'I just want any internship.' "  She says that while many companies distort facts to meet their legal mandates, there are organizations whose unpaid internships honestly fulfill the federal description.
Loy says one unpaid internship program that meets the legal requirements is the Transformation Internship Program. In January 2013, the state Office of Information Management and Technology and state Department of Human Resources Development launched the internships in which students receive college credit for their work in state government.
Leila Kagawa, the IT program management officer, says the internship program works with students from Hawaii's major universities and involves several state departments, including health, taxation, education, land and natural resources, as well as others. The internship has a broad focus, attracting computer science majors as well as those studying law, engineering, business and public administration to work on projects such as video access systems for the public, designing a document checkout database for the State Archives office, and gathering and analyzing customer feedback at the Department of Health.
"We form small project teams and they are assigned to a project initiative that a department employee comes up with; there's a lot of flexibility," she says. "We try to maximize (the interns') values and allow them to collaborate."
"We're looking at different options in the future for paid internships,"
Experience Trumps Pay
Neyra says she underwent a rigorous application process for her internship – Queen's only accepts 10 candidates each year. During her 360 hours in the internship, she says, the best aspects were the mentorship she received and the skills she learned. "I thought it was great that we got paid, but even if we didn't, I'd still have wanted to be a part of this program," she says. "I think a lot of my classmates felt the same way."
As a college intern "is the only time in their life when they can jump from company to company and not be penalized."

—Rick Varley, Shidler College of Business
The cooperative education program, a 23-year-old partnership between the UH School of Nursing and Queen's, is a win-win program, says Mimi Harris, Queen's director of patient care consulting services. Harris says there are now more new nursing grads than positions available, so Queen's motivation is not simply to find new recruits. "We continue to be committed to this program at this point for one primary reason and that is to give back to the nursing profession," she says. "This opportunity is so beneficial for (students) in their professional growth and development." Harris says the hospital ends up hiring about 60 percent of its co-op interns.
Neyra says the program gave her experience that her textbooks couldn't. "In nursing school, you're lucky if you can (practice) tube feeding on a patient or hang IV medication," she says. "With the co-op, we'd work just like a nurse, 12-hour shifts three times a week."
The internship also confirmed she had made the right career decision. "I have enjoyed all my clinical experiences in nursing school and, because of the co-op, I know that nursing is the career for me."
Many students are willing to forgo pay for the right internship experience. Kagawa says several students have repeated their internships with the IT-focused Transformation Internship Program, while five former students are now state employees. "It seems to be representative of the interest and that there are a lot of opportunities to work with the state," she says. "It gives them exposure to government."
For 20-year-old UH junior Marilyn Bui, who is studying economics and psychology, her seven-month internship with the Honolulu mayor's Office of Economic Development added depth to the concepts she learned in college, while giving her a deeper insight into government. Bui is paid $10 an hour for roughly 12 hours per week. It's less than what she makes at her part-time, on-campus job, but, "For me, it wasn't the financial incentive, it was the experience," that drew her in, she says. "I'm hoping to understand more about the city. I get to see a lot of what Honolulu does to help promote tourism."
Bui is one of the city and county's Pookela Fellows, started in 2008 by then-Mayor Mufi Hannemann. This year, the city extended the internship, based on student feedback, says Debby Nishimura, program coordinator and HR specialist for the city. "It can be difficult for students to find work right away," she says, "so we can give them work experience for a longer term and allow them to gain more experience."
Bui interns in the department that secures and prepares grants for city events, plans them and meets with visiting delegates alongside Mayor Kirk Caldwell.
"I work a lot on reviewing the grants and drafting contracts and measuring the success of the events," Bui says. "Every day it's something different."
That's how Rick Varley, the director of internships and career development at the Shidler College of Business, wants his students to view the internship experience: absorbing new skills with a multifaceted approach. He says it's not uncommon for many of the college's students to have multiple internships, though that's not a requirement to graduate. "In reality, in the classroom they're not learning what all these career paths feel like," he says. "It's the only time in their life when they can jump from company to company and not be penalized."
Each semester, Varley's office helps place about 200 students in internship programs; it currently partners with 120 companies, 95 percent of which are in Hawaii, he says. For example, First Insurance, one of the college's established business partners, has a $100,000 scholarship endowment and, in 2007, helped establish a distinguished professorship for risk management faculty.
"The business community is relatively small here," says Varley. "We expect our students when they graduate to find quality work, so in order to do so they need legitimate, quality experiences."
Internships Critical for Budding Careers
Students know the value of internships – paid or unpaid. "I feel like now it's so competitive" to land a good job, Bui says. "Everyone has a college degree, a lot of people do well in school, and so the only thing that can differentiate you and make you stand out from others is internships and those experiences."
Sora says the quality of an internship makes a big difference. "I think students from this generation get a lot of messages from parents and families, from the media and the university of the importance of internships," she says. Instead, she feels that students should focus on the quality of internships rather than on how many they secure.
Stephens says she encourages the interns at First Insurance to savor their experience and take on multiple internships, if the fit is right.
"Internships are priceless. It provides direct insight into the company culture and the type of people who make up an organization," she says. "During the internship, they should be assessing if the career is a fit and if it's the type of place where they'd want to put their roots down."
The Federal Rules
The federal Labor Department issued these six criteria on unpaid interns based on a U.S. Supreme Court ruling. Here is the exact wording:
•   The internship, even though it includes actual operation of the facilities of the employer, is similar to training which would be given in an educational environment;
•    The internship experience is for the benefit of the intern;
•   The intern does not displace regular employees, but works under close supervision of existing staff;
•   The employer that provides the training derives no immediate advantage from the activities of the intern; and on occasion its operations may actually be impeded;
•   The intern is not necessarily entitled to a job at the conclusion of the internship; and
•    The employer and the intern understand that the intern is not entitled to wages for the time spent in the internship.