5 Reasons to be Optimistic About Hawaii's Clean Energy Future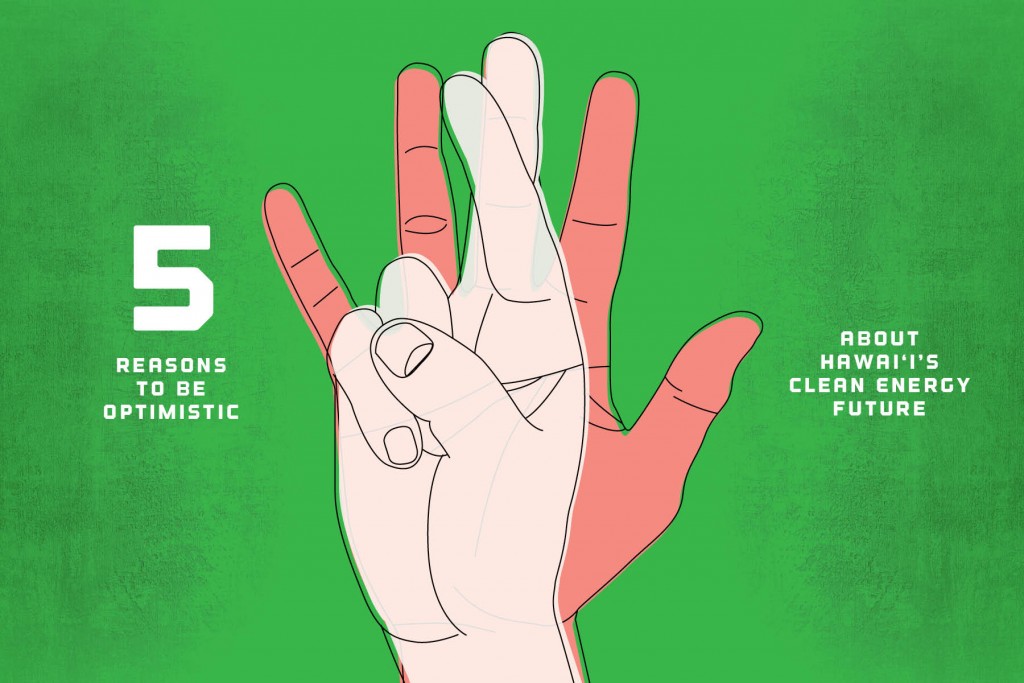 Part II: The Challenges
Nobody said getting to clean energy was going to be easy.
Hawaii is the first state in the U.S. to set a mandate for 100 percent renewable electricity, and it doesn't have any examples to follow, says Kimura of Hawaiian Electric.
"A lot of the challenges we face as we integrate more renewables, some of them we don't even know we're going to face the challenge until the time it happens," she says. "But even if we do know, we can't look to other places to say 'Well, how do you solve this problem, how have you guys done it?' We need to be figuring it out."
Clean energy advocates say some of those challenges include changing the utility's business model to one that aligns with this future and making sure that everyone is included.
Even with those challenges, Kimura says, people have to recognize that getting to 100 percent renewables is not going to be a straight line: "When you're pioneering and you're innovating you have to try things, you have to be willing to fail and then learn from that and then get back on and try it again."
1: Utilities Have to Change Their Business Models
As more renewables are brought online, customers are not just users of electricity but also generators. That means changes will need to be made to the ways the utilities are incentivized, how electricity is regulated and how the utilities do business, says Trevor Houser, a partner with Rhodium Group, the research firm that co-authored the "Transcending Oil" report.
"That is the No. 1 challenge and it is absolutely clear that they have to be a source of encouragement for the people of Hawaii in achieving the green energy future that they deserve and not a source of discouragement with any policies or practices that see more alignment with shareholders than with citizens," says Karsner, the former assistant secretary at the U.S. Department of Energy.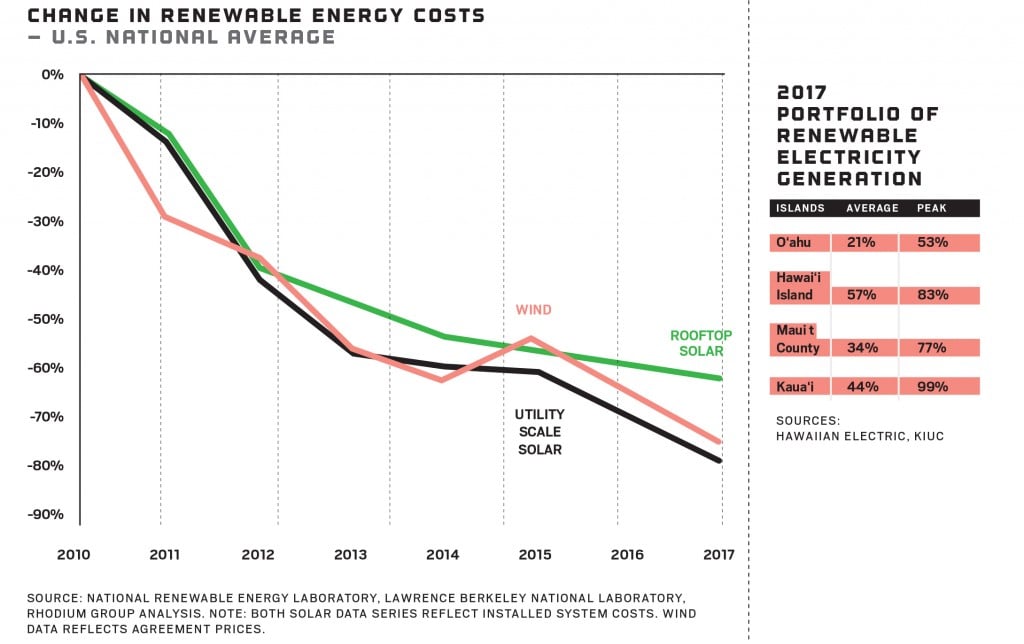 Over the summer, Gov. David Ige signed into law the Hawaii Ratepayer Protection Act, a measure that establishes performance metrics. The state Public Utilities Commission will consider these metrics while creating performance incentives and penalty mechanisms for the electric utilities. State Sen. Stanley Chang, who introduced the act, says some of those metrics include bringing renewable power sources online, being innovative, being efficient and customer satisfaction – aligning the incentives of the utility with the needs of consumers.
2: Markets Will be Disrupted
"We will in this transition, to get to 100 percent renewable future, disrupt other markets," says Frederick Redell, Maui County's energy commissioner. "And those disruptions are not going to be easy to manage, and we haven't really seen it become a problem yet, but maybe we will."
He cites the example of Molokai, an island where a gallon of gasoline is typically $1 or $1.50 more expensive than on Maui. Molokai is also expected to be the first island to reach 100 percent renewable electricity. As more renewables are incorporated, the market for gasoline becomes smaller, and the burden is then placed on fewer people – likely those who can't afford to get a new electric car.
Kimura says Hawaii needs to keep the entire society in mind as the state pursues its transition: "We need the policies and the regulation and the networks within the energy ecosystem to coalesce and align better to ensure that we move forward to 100 percent in a manner that takes into consideration that big picture societal view."
"(Hawaii is not doing enough) given the specter of climate change. We really have to double down our efforts."
Jeff Mikulina, Executive director, Blue Planet Foundation
In July, Hawaiian Electric launched its community solar program. Kimura calls it a game changer because it'll allow anyone in the community, not just homeowners, to have access to and benefit from solar power by receiving credits on their electricity bills for the solar power that is produced. The program is already a hit: Capacity for projects on Oahu and the Big Island filled up within 10 days of launching the program. Each island has a limit for how much solar can be generated under the program. Qualified organizations build and operate community solar facilities, and residential and commercial customers then pay for a project on their island and receive credits on their electricity bills.
3: More Work to Do
Hawaii is not planning its future well enough, says Mikulina, "not given the specter of climate change. We really have to double down our efforts."
What's still needed, he and other clean energy advocates say, are the right policies that will help the state reach its goal. That could mean policies that better incentivize a utility to transition to renewables in the most cost-effective way, a zero-emissions vehicle mandate or requiring that all new developments be ready to install electric vehicle charging stations. Currently, public use lots with at least 100 parking spaces are required to set aside at least one parking space for electric vehicles and be equipped with a charging system.
In addition, some clarification is needed in Hawaii's 100 percent renewables mandate. The requirement is that 100 percent of electricity sales have to come from renewable power, but, Mikulina says, using sales instead of generation double counts the amount of distributed renewable energy, overstating the state's progress.
In addition, gas utilities are not included in the renewable energy mandate; attempts were made to clarify this at the Legislature, but Mikulina says everyone is in agreement that Hawaii will get to 100 percent renewables.
Kealoha says everyone wants to participate in the state's shift to clean energy, but the challenge is that people are busy with their everyday lives.
"It's getting beyond being just a financial return on investment and how do we encourage businesses and families to see the overall importance of this not being just an energy thing but it's our economy, it's the Islands that we love and need to protect. It's much broader than clean energy," he says.
"There's really a momentum, I think, building out there and it's how do we get that to a level where it's a real groundswell?"