A Case for Brain Sports in School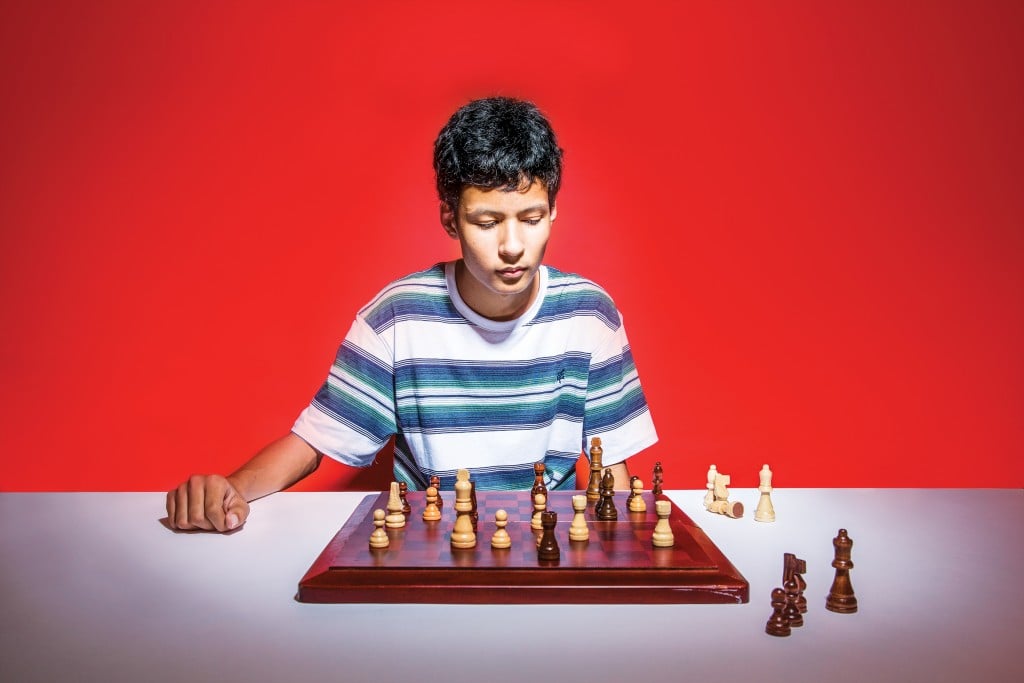 ROBOTICS
To prepare for Kalani High School's Robotics 3008, members of Team Magma spend as many as 30 hours a week on everything from building robots as tall as five feet to fundraising for future competitions. The team has received multiple awards, including the acclaimed Regional Chairman's Award at the 2015 Australia First Robotics Competition.
Teacher and robotics adviser Bryan Silver confesses that, while winning is nice, "I believe the students get a great sense of responsibility. They have to think through their problems, strategize and work throughout the year to develop the program. It's not just about robots, but a real life-skill builder."
Senior Sara Nakagaki says the robotics team has brought "confidence in leadership and opened my eyes to opportunities in both business and engineering. Through robotics I've traveled internationally, won national awards and practiced my entrepreneurship skills."
MATH TEAM

Iolani math teacher and team coach Michael Park says all the practice leading up to the Oahu Math League is like preparing for a marathon. While the club also participates in national competitions, this island- wide mathematics competition is the primary focus. About 30 schools compete in areas such as algebra and trigonometry.
To warm up for the mental challenge, Iolani students work daily on practice problems. Park says the day before the event, also known as "the marathon," students tackle difficult math problems for three hours.
Iolani's math team has had a phenomenal run, winning the last 24 competitions in a row. But, he says, "I'm really proud that the students are not only interested in it but willing to work at it to get better. It's not just a competition. It's the beauty of mathematics and how it fits together."
MODEL UNITED NATIONS

Few teens get the opportunity to voice their opinions on real world issues. "Model UN gives students the ability to understand how valued they are and how powerful they can be," says Suzanne Acord, team advisor at Mid-Pacific Institute.
At Model UN, students take the roles of delegates to United Nations conferences. These "diplomats" discuss issues, get their resolutions passed and listen to guest speakers. When Mid-Pac hosted a conference last year, a Peace Corp recruiter was brought in to increase multicultural understanding.
Students learn about contemporary problems such as refugees and human trafficking, Acord says. "You have the opportunity to put yourself in the shoes of a citizen of another country. Model UN allows students to hone their empathy and understanding of international issues. They are more culturally sensitive and better understand how local politics work. It's life changing."



SCIENCE CLUB



"What do we have for kids who don't play sports? Do they fall through the cracks?" asks Erron Yoshioka, science teacher at Moanalua High School.
Creating a safe, fun space for non-athletes is why he's worked as science club advisor for 22 years, engaging the 120 to 250 students who come to the club's activities. One to three times a month, they clean beaches, plant trees, visit museums, go camping or do other activities. About three times a year they interact with students from other high schools in a program called "High School Hikers" to promote environmental advocacy and protection.
A lot of work is involved and resources are limited, but Yoshioka says extracurricular activities are necessary. The club helps "kids understand what they do makes a difference," he says.
APP DEVELOPMENT CLUB

While most teens are busy downloading apps to their phones, a group of Punahou students are busy building them. In 2010, student Michael Kelly and local licensed psychologist Robert Oliver created The Divorce App to help kids deal with divorce. Kelly was one of a growing number of students interested in programming and app development.
Two years ago, computer science teacher Douglas Kiang decided to create a "space for building and playing with code," and started the App Development club with club president Aliya Petranik.* "We wanted to get across that anyone can create apps," Kiang says.
About 20 to 30 students, from grades 9 through 12, work on individual projects or "just come for the love of creating," he says. "Every kid is walking around with an incredible tool to create positive change that can help other people."
CHESS CLUB

Mililani High School student Travis Afuso says he started the club with friend Charles Hugo so students could "learn more and play with their peers. It is very enjoyable to
see people improve as they play against more experienced opponents … and learn to love chess."
About 10 students meet twice a week for about 45 minutes
to compete and develop their strategies. English teacher and club advisor Donald Leong says it "builds a sense of camaraderie with students who are very supportive, not just competitive, and share a common interest. They are all friends."
One of Leong and Afuso's goals is to extend the chess club to the community. In June, the high school collaborated with Mililani Public Library in its first chess tournament. "We had a good turnout … everyone involved truly enjoyed the event and left with greater enthusiasm for chess," says Afuso.
CYBERLANCERS
Sacred Hearts Academy students are learning how to protect themselves and others from cyber threats. Math department chair, teacher and advisor Deborah Kula says members of the computer security team club "learn how to protect computer networks from hackers, viruses and make them more secure."
CyberLancers' main focus is preparing for the National Youth Cyber Defense Competition, at which students manage a computer network and identify potential threats over six hours. Back at school, they use their knowledge to develop lunchtime informational sessions and posters to educate their classmates and community on cyber security.
Kula says the club cultivates confidence and can open the door to careers in computer programming, cyber security and related fields. "They learn to persevere and have successes that are really exciting. I get really excited for them!"
BIO-CHEM CLUB

McKinley High School's Bio-Chem Club aims to make science accessible to students. 2015-16 was the club's first year and students learned to reduce waste by donating instead of throwing away things.
Science teacher and club advisor Osamu Ono hopes the club's future activities include tutoring in biology and chemistry, learning about marine life and observing UH medical school students.
"My ultimate goal is for students to have fun with science and, if they can't be confident about it, at least be comfortable with it. I think statewide both math and science students struggle here. I think a lot of it has to do with how they feel about themselves in that topic. If they feel they can do it, they can expand their horizons. If the club could eventually solve problems here, that would be really great!"