A Zest for Life – And Bonsai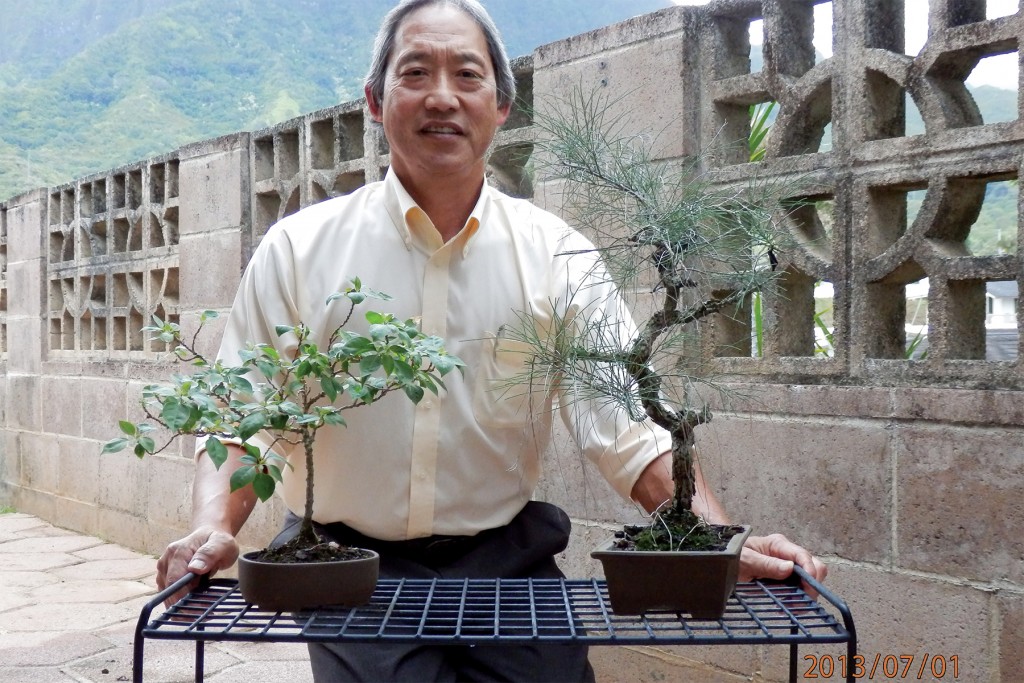 Once a month on a Saturday morning, Francis Imada flips on radio station 105.1, and heads to his backyard, where 20 miniature trees await his gentle care. Then, with Hawaiian music playing in the background, the CFO of Clinical Laboratories of Hawaii spends two hours snipping, pruning and weeding, or carefully bending tiny, delicate branches to achieve something close to shibui, the Japanese concept of perfection personified in a bonsai garden.
It's one way Imada likes to relax and take his mind off work.
"Maybe five, seven years ago," he says, "I took a class at Windward Community College taught by this old Chinese man, Walter Liew, who has a nursery up in Waimanalo.
"He says you've got to massage the branch, and manipulate it and twist it the way you want. If you snap it, you've got to get a new tree."
Imada has gradually collected or created almost two dozen tiny pine and banyan trees that soothe his soul. "My favorite is the pine tree. It's pretty and it's actually the easiest to take care of." But this is only one of his new passions. For 21 years, he and three buddies have met once a month for lunch – always in a different restaurant – to talk story and add to their bucket lists. Friends since high school days at Kalani, they're all now around 60, though one died a couple of years ago.
"We're taking cooking classes now," Imada chuckles. "We don't know how to cook so we signed up for Kapiolani Community College's cooking classes. It's called 'Five Ingredients.' I'm wondering what zest is? I thought it was soap. …"
"We add to the bucket list every year," he continues. "Everybody puts in what they'd like to add. One guy put in fishing. One guy likes golfing. On one of our trips, we went up to see a UCLA basketball game. We add and knock 'em off every year."