Ahead of the Vaccine Rollout on Lāna'i
How Lāna'i Community Health Center swiftly moved to protect its residents from COVID-19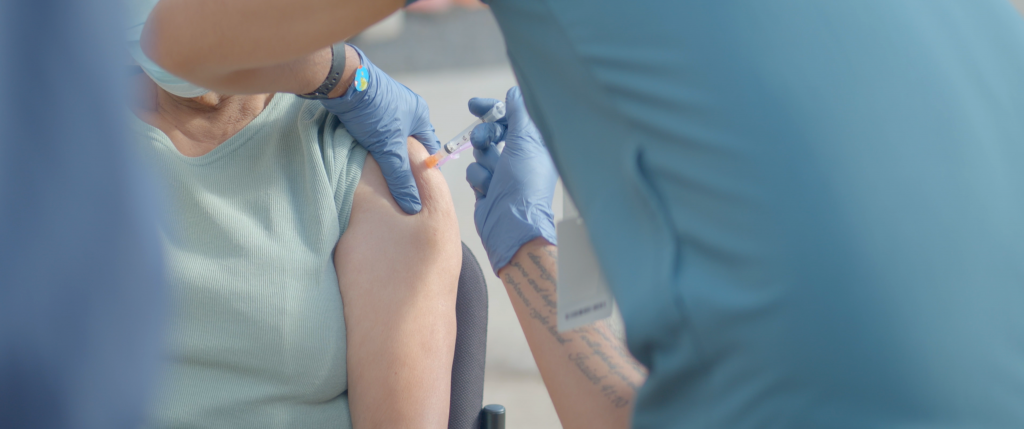 It wasn't long before Jared Medeiros realized Lāna'i would need a more bespoke vaccine distribution plan to best serve its unique island community. With a population of about 3,100, Lāna'i residents live in close proximity to each other and often in multigenerational homes.
Starting in January with the first vaccine rollout, Medeiros—who is the associate medical director at Lāna'i Community Health Center (LCHC), the only federally qualified health center (FQHC) on the island—and his team quickly worked through the tiers of vaccine-eligible patients. With each vial containing 10 shots that must be used within six hours of opening, finding enough qualified patients so the doses don't go to waste became a tricky juggling act and last-minute scramble.
"I made the call to vaccinate everybody who wanted to be vaccinated," says Medeiros. "As an FQHC, we work to vaccinate our vulnerable populations and on Lāna'i, everybody's vulnerable since we have no intensive care unit beds here." Soon after, DOH agreed that Lāna'i and Moloka'i, with their smaller populations and more limited resources, should have more autonomy in their vaccine distribution.
In early March, LCHC announced the COVID-19 Moderna vaccine would be available to residents aged 18 and older. Meanwhile the state technically remained in phase 1b, offering the vaccination to those 75 and older and essential workers.
Once a week, LCHC transforms its back parking lot into a vaccination clinic. Up to 100 Lāna'i residents can be vaccinated in a day's work.
"During the pandemic and even before, we've been consistent in showing up for the community from all angles and proving that we're going to be there through thick and thin," says Olivia Pascual, clinical operations officer at LCHC. As job insecurity persists through the pandemic, LCHC has helped Lāna'i residents sign up for the Supplemental Nutrition Assistance Program and Medicaid.
To reach herd immunity on Lāna'i, LCHC is focusing on vaccine outreach and education efforts, such as creating short PSA videos with trusted community leaders and incentivizing people with grocery vouchers at vaccine drives. The more people get vaccinated, the less people get COVID-19, and the less chances the virus has to replicate into a new variant.
This is especially important for Lāna'i, where there are no major hospitals or intensive care units. Contracting COVID-19 on Lāna'i could mean a reality as complicated as being transported to another island, like O'ahu or Maui, while critically ill for treatment and then having to quarantine upon returning home.
Last October, LCHC witnessed what a COVID-19 outbreak could do to Lāna'i's community. The island was virus-free for the first seven months of the pandemic and then in a less than a week, positive cases jumped from zero to 79. The island experienced a total of 109 cases. At one point, LCHC was administering more than 100 COVID tests a day. After a strict island-wide shut down, the outbreak was declared to be contained at the beginning of November.
"Our team rallied together and climbed that mountain to meet the community," says Medeiros. "Now we're doing something similar, only instead of testing, it's vaccines. And we're happy to be on that side of the spectrum."
---
Did you know?
LCHC received funding from the Hawai'i Community Foundation to support its COVID-19 testing and vaccination work. To learn more about HCF's COVID-19 response and donate to the Hawai'i Resilience Fund, please visit hawaiicommunityfoundation.org/coronavirus
To learn more about the Lāna'i Community Health Center, please visit its website at lanaihealth.org