20 for the Next 20: Amy Miller Marvin, Hawai'i Foodbank
The new president and CEO of one of the state's major food distributors is on a mission to end hunger in Hawai'i.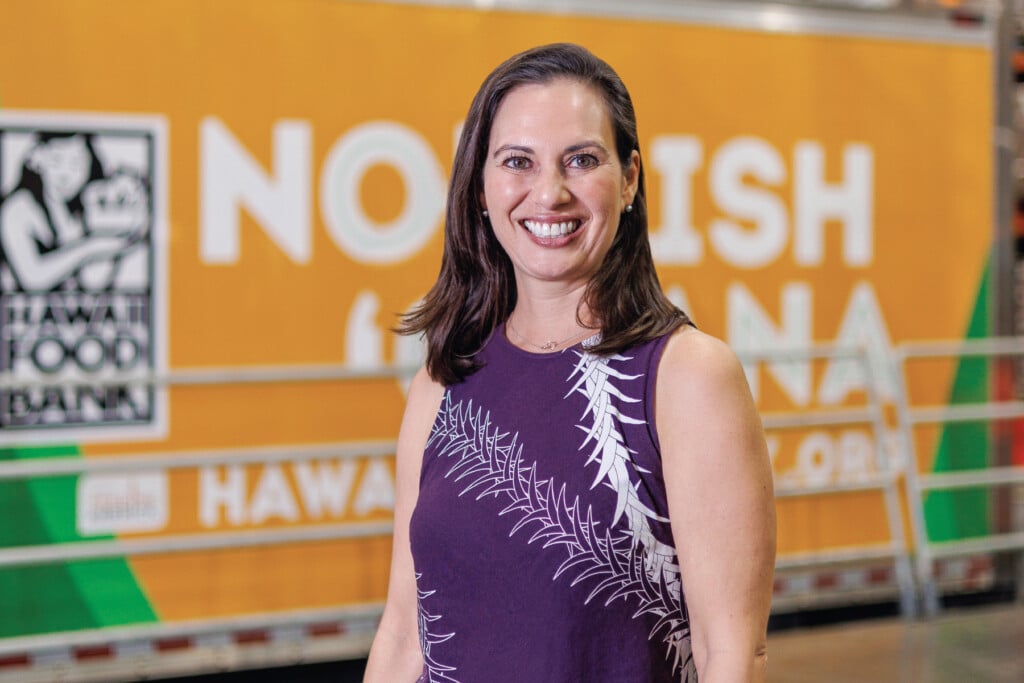 Amy Miller Marvin

President and CEO, Hawai'i Foodbank
Armed with a background in environmental science, public policy and fundraising, Amy Miller Marvin is on a mission to help end hunger in Hawai'i, where an estimated 1 in 6 residents lack consistent access to food. Even more alarming, 1 in 4 keiki are food insecure – the second-highest rate in the country.
"Probably the biggest driver for me is making sure that our kids – and I mean our kids collectively, our kids here in Hawai'i – have everything they need," says the president and CEO of Hawai'i Foodbank, herself a mom of two daughters.
Marvin took charge of the nonprofit in 2021, a little over a year into the pandemic. She had just helped Bishop Museum create and implement a business plan to stabilize its finances, and worked with the museum's CEO to keep staff employed at full pay during a three-month closure.
But she realized she wanted to directly assist more people in need. As a 2018-19 Omidyar Fellow, she was inspired by other alums who were helping the community recover. The Hawai'i Foodbank was a perfect fit.
Established 40 years ago, the food bank's staff of 68 now serves about 50% more people than before the pandemic, and works with 200 partner distribution agencies. "Our job is to make sure that if you don't have access to safe and healthy food, that one of our partners will be there for you. And there should be no shame in asking for help," she says.
David Herndon, executive VP and chief business officer at HMSA and chairman of the food bank's board, says Marvin is team-oriented and puts her whole heart into whatever she's doing. She makes sure staff members earn living wages, he says, so the organization doesn't contribute to food insecurity.
"She's an amazing person who continues to just push, push and push, and when she sees that need, she really wants to fill it. She has a passion for those that need our support," he says.
Marvin grew up in Seattle and received a bachelor's degree from Harvard University and a master's from UH Mānoa. A job at The Dolphin Institute & Kewalo Basin Marine Mammal Lab sparked her career in fundraising and development. She later worked as VP of institutional advancement at Bishop Museum, where she oversaw the Hawaiian Hall renovation campaign, and at the former Academy of Natural Sciences of Philadelphia, where she helped the country's oldest natural history museum become a subsidiary of Drexel University.
---
Recommended: Hawai'i Foodbank Has a New Model for Feeding 120,000 People a Month
---