At Honolulu's Airport, Only a Few Lei Stands Open Each Day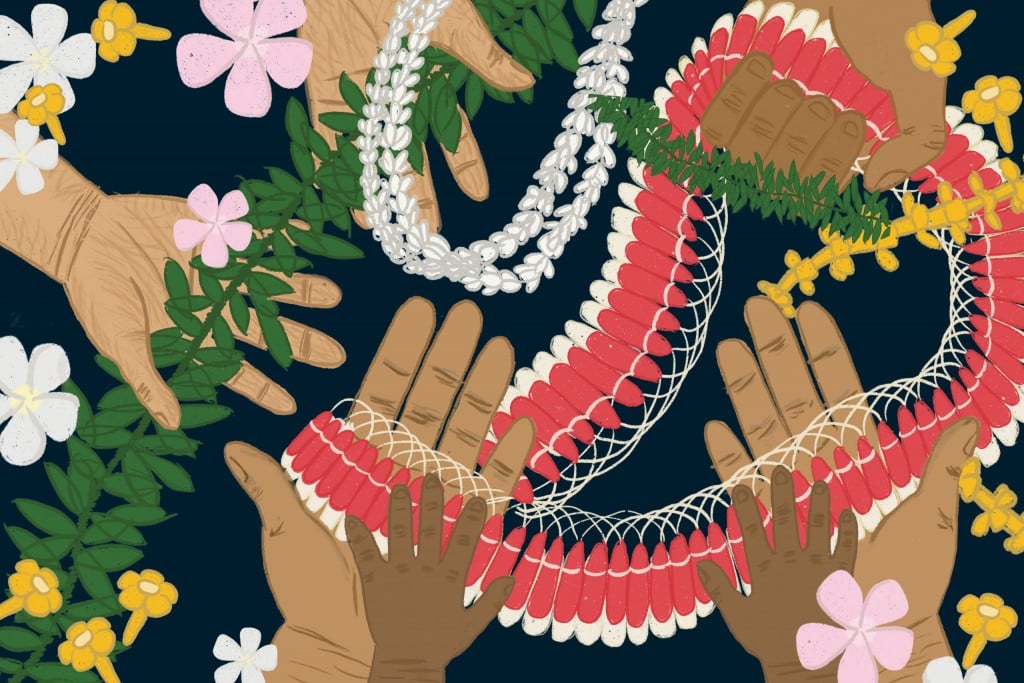 If there is an epicenter
for business hardship in Hawai'i's flower industry, it may be at the lei stands at Honolulu's Inouye International Airport.
"I cried when we shut down in March and April. I couldn't stand seeing this place when no one was here," says Bonnie Groendyke, whose family has operated the booth named Gladys' for three generations.
Groendyke grew up at the airport lei stand with her family working around her.
"Day and night, this is where we were. Flower boxes were my bed when I was little," she says, gesturing to a flat cardboard carton filled with pristine white orchid lei.
"This is what we did. This was my family."
On this particular day in August, there are only a few cars parked in front of the row of 12 lei stands at the airport. Only eight currently have tenants and one of those eight is not even open this day. On some days, only four or five stands will open, according to one vendor.
At Gladys' booth, today's big job has nothing to do with the airport. Half a dozen long white orchid lei are laid elegantly on the table while Groendyke holds a half-dozen more, all destined for a family friend's wedding. That order is helping keep them in business.
Two stands away at the stand named Martha's, Milan Chun is stringing fragrant plumeria. It's early afternoon and she's been here since 8 a.m. – and has yet to sell a lei.
"I didn't even have a customer yet today," she says, threading another yellow plumeria on a long thin needle. "It's almost nothing. Sometimes nothing."
Martha was Martha Akui, Chun's grandmother, but now Chun is herself a grandmother and 80 years old. Her son tells her she doesn't have to do this.
"I say 'I don't want to quit,' " she says. "This is for the Hawaiians. After all these years we have to have something. What we do here is so important for our tourism. This is what Hawai'i is."
At a booth named Harriet's, worker Teresa Cajalne shakes her head at the question of, "How's business?"
"It's really slow," she says. "Every day it's different. But at the end of the week it's a little bit better because of church. They buy lei."
In normal times, says Cajalne, she would sell anywhere from 50 to 75 lei a day. Now it's only about a third of that.
Lei makers and sellers have been a welcoming part of Hawai'i's tourism economy since the start of Boat Days at Aloha Tower in the 1920s. When Honolulu's airport reopened to civilian flights in the 1940s after World War II, lei sellers opened on Lagoon Drive, then the access road to the airport.
One of the sellers now fears the state will shut them down. But Timothy Sakahara, public information officer for the state Department of Transportation, says that despite interruptions caused by airport renovations and rail construction, the lei stands will stay where they are.
"There are no plans that I am aware of to move the lei stands," Sakahara writes in an email.
He says the lei sellers continue to have generous leases from the state.
"The monthly rent is $100 or 10% of the gross receipts for the month, whichever is greater," writes Sakahara. "Anyone is able to apply for a permit to be a lei vendor. Vendors have to be approved by the HDOT Airports Division."
Still, Stacy Farias is worried that the lei stands will be forced to move. She runs Sophia's, the lei stand started 70 years ago by her grandmother, Sophia Ventura.
"With rail we don't know where we're going to be," Farias says.
Farias says her grandmother was one of the first sellers at the airport – maybe the first – after she'd been selling downtown to Boat Days visitors.
Lei selling to tourists has had a turbulent history – a few sellers even landed in jail back in the 1950s, according to a story in Paradise of the Pacific, forerunner of today's HONOLULU Magazine.
"The waterfront women have a chance to sell leis only on boat days," the 1960 story notes. "The airport lei sellers can sell every day, 24 hours a day, and when they would arrive at the piers on boat days, accusations of territory-infringement were inevitable.
"Several clashes ended in cooling-off periods in the pokey!"
The airport lei stand vendors have good reason to fear they will be moved because it has happened repeatedly in the past, according to a Civil Beat story published five years ago, during a previous scare about lei stand relocations.
In that story, Mike Onaga Jr., president of the Airport Lei Sellers Association, told reporter Denby Fawcett that sellers had been moved three times since 1945. Back then they were selling out of the backs of trucks, before being moved in 1952 to thatched huts along Lagoon Drive, which was then the access road to the airport. In 1962 they moved to a new location at the renovated airport, before landing where they are now in the early 1990s.
Farias prides herself on the 80 or so lei she and her workers make each day, many of them unique personal designs. But she worries about her neighbors at the other lei stands.
"On any given day, of the eight, maybe only four or five of us are open," she says.
Farias says her long list of regular customers plus large institutional clients like Hawaiian Airlines and Kamehameha Schools help keep her going these days.
"I'm here every day. My flowers delivered are all local."
Those local wholesale suppliers are also hurting because sellers won't buy from them if they fear they can't sell the lei.
"If we don't buy, they can't sell," says Groendyke. "It's been really, really hard for us. … My dad lives off his Social Security, and I have to buy flowers."
Despite all the challenges, none of the sellers say they're giving up.
"We're still making it," declares Groendyke, now sounding firm, even though each day brings new issues, especially since school started. Now she also helps her 8-year-old with distance learning inside the cluttered lei shop.
Early in the pandemic she says she tried to get a small-business loan but was denied five times, and she says there was never a good, clear reason why. It has been friends and family pitching in with orders and help that has made it possible to keep going.
In good times the family made $15,000 a month in sales at the lei stand, says Groendyke. That's now down to around $2,000 a month, 10% of which goes for rent to the state Department of Transportation.
"My older daughter works here," she explains. "It's all in the family. We can't hire out because we can't afford to hire anybody."
---
Read Part I on how other flower shops and floral businesses are coping during the pandemic.