Best Places to Work 2017
Every boss wants employees who put in extra effort to help the company succeed. That's what the 72 organizations on this year's Best Places to Work list enjoy.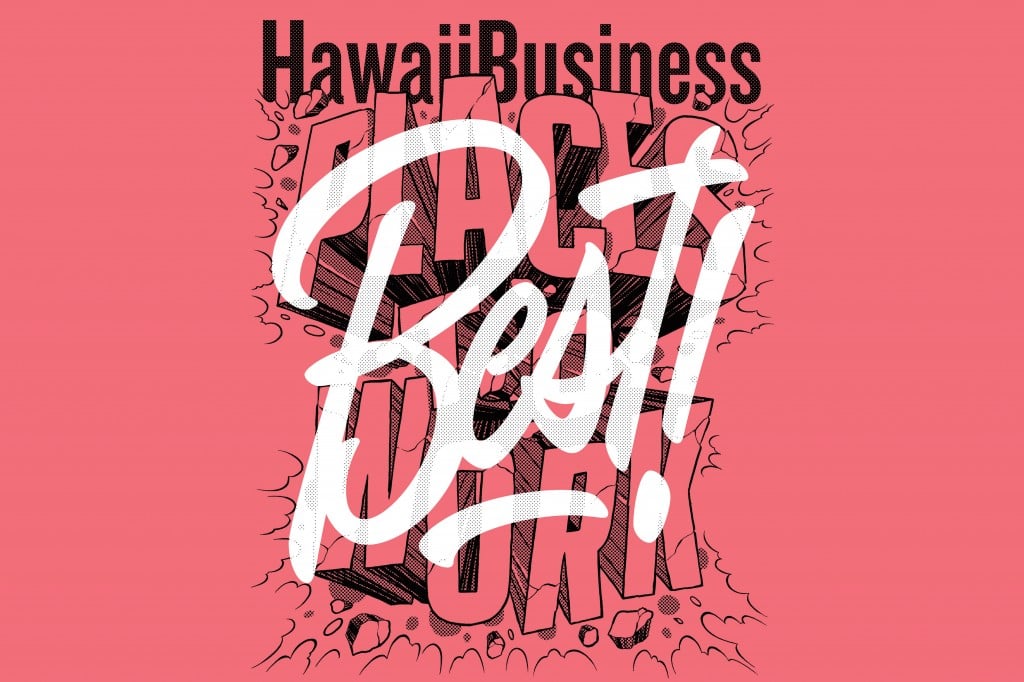 TOP 3 MEDIUM COMPANIES
(50 TO 249 HAWAII EMPLOYEES)
No. 1 – Edward Jones

Headquarters: St. Louis
Employees: 115 HI/ 39,118 US
www.edwardjones.com
No. 6 on Fortune magazine's Best Companies to Work For in 2015 as well as No. 10 on its list of Best Workplaces for Millennials, the company shares 24 percent of its net profits annually with employees. Financial advisors set their own work schedules around child care, and incentives include trips to the Super Bowl and global destinations.
No. 2 – Hawaii Diagnostic Radiology Services

Headquarters: Honolulu
Employees: 80
www.hawaiidrs.com
The company encourages self-development of skills that help employees excel at their positions and improve their well-being. They are reimbursed for learning a second language, joining a fitness/wellness program of their choice and attending conferences (airfare, meals, hotel, etc. are covered), classes and seminars. After one year, employees are eligible for 30 personal days.
No. 3 – Swinerton Builders

Headquarters: San Francisco
Employees: 108 HI / 1,478 US
www.swinerton.com
Swinerton is an employee-owned construction company offering cash bonuses, stock options and all-expense-paid trips for employee training. The company also holds quarterly employee-owner meetings and a holiday get-together, and pays employee tuition for construction management classes to advance from being an administrative employee to an engineer.
MEDIUM COMPANIES
(Listed Alphabetically)
Aloha Pacific Federal Credit Union
Headquarters: Honolulu
Employees: 141 HI / 147 US
www.alohapacific.com
The company offers a 200 percent match on the first 5 percent of employees' 401k contributions and a parking subsidy or reimbursement. Aloha Pacific employees also get generous amounts of paid time off plus paid days off for state and federal holidays. There are annual tiered bonus incentives.
American Carpet One
Headquarters: Honolulu
Employees: 116
www.americancarpetone.com
An employee-owned company, American Carpet One offers longtime employees bonuses after 10 years of service and every five years thereafter. The bonuses range from 10 to 20 days, depending on length of service, and can be taken as cash, additional vacation days or a combination of the two. Adopt-a-Pet Day is held annually, when the company pays fees for shelter animals for employees.
Architects Hawaii Ltd.

Headquarters: Honolulu
Employees: 79
www.ahl.design
Flexible schedules and compressed work weeks are part of AHL's allure. On the fun side, holiday parties with lip-syncing competitions and family picnics are held annually, as well as May Day lei competitions, pumpkin carving and Eggstravaganza decorating contests. The office includes a sleep room, shower and full-scale kitchen. Yoga classes and chair massages are also offered.
Atlas Insurance Agency, Inc.

Headquarters: Honolulu
Employees: 108
www.atlasinsurance.com
The company that plays together stays together at Atlas. Perks include movie days, lunch celebrations, Halloween parties and an employee wellness program with a semi-monthly onsite farmers' market, guest chefs, a summer exercise boot camp and bi-monthly healthy food dishes provided to the staff. International potluck lunches are held with employees sponsoring different ethnic dishes.
Bowers + Kubota Consulting

Headquarters: Waipahu
Employees: 174
www.bowersandkubota.com
The company covers 100 percent of health insurance premiums for employees and their families, and offers a matching 401k and employee stock ownership plan. Employees earn awards for participating in health programs and get paid time off for volunteering at nonprofits or in the community. The company promotes diversity with 87 percent of its team either minority or women or both.
Castaway Construction & Restoration, LLC

[NEW]

Headquarters: Puunene, Maui
Employees: 65
www.castawayhawaii.com
The office likes to have fun with its "Hunger Games" – various games held every hour, with the winner getting to go home early. The company believes in employee appreciation days, when employees can golf or have a spa day with manicures or pedicures, plus beach and barbecue days. The company provides cash advances and loans to employees to cover emergency costs.
Crum & Forster

[NEW]

Headquarters: Morristown, N.J.
Employees: 65 Hawaii / 2,085 US
www.cfins.com
All offices worldwide close from Dec. 24 to Jan. 1. The insurance company offers a new EAP and a concierge service to help employees with dinner reservations, travel research, etc. There is a health advocate to help employees navigate wellness and insurance issues plus project fairs to encourage employees to think outside the box. Adoption assistance and reimbursement are also available.
Decision Research Corp.

[NEW]

Headquarters: Honolulu
Employees: 60 HI/ 82 US
www.decisionresearch.com
DRC fosters an environment of teamwork and appreciation through flexible scheduling to help employees work around family commitments. The company pays 100 percent of the premiums for all medical and health benefits offered to employees. Microsoft certification training is available and celebrations include holiday parties, frequent summer parties and birthday Thursdays.
Finance Factors Ltd.

Headquarters: Honolulu
Employees: 127
www.financefactors.com
Finance Factors holds a Benefelooza benefits fair with vendors taking part as well as offering massages, food and nutrition demonstrations, prizes and gifts for employees. Employee Mahalo After Hour celebrations are frequent and there is paid time off to participate on nonprofit boards. Profit sharing is available to all employees with the annual award ranging from 4 to 6 percent.
Goose's Edge, Inc.
Headquarters: Waikoloa, Hawaii Island
Employees: 54
www.goosesedge.com
Goose's Edge is a family-owned, convenience-store business that treats its employees like ohana. The company pays 100 percent of employees' medical premiums and offers monthly sales competitions and other bonuses. Each year, the owners set aside $50,000 for monthly awards and bonuses, with the biggest bonuses reserved for yearly top performers.
Hawaii Dental Service

Headquarters: Honolulu
Employees: 99
www.hawaiidentalservice.com
HDS has Fun Health and Wellness Team events such as Dance Challenges (Dance Dance Revolution on Xbox) for prizes and hosts "Taste of HDS" potluck events to which employees bring unique dishes representing their cultural influences. Classes offered include Yoga, Zumba, Bootcamp, Tabata, Core/Strength Training and Body Power. There are quarterly complimentary massages.
Hawaii National Bank

Headquarters: Honolulu
Employees: 178
www.hawaiinational.com
The company banks on keeping employees happy by celebrating national food days and offering yoga and tai chi classes as a chance to stay fit and work off calories. National Doughnut Day, National Root Beer Float Day and National Ice Cream Day are among the celebrations. Individuals with leadership potential can participate in the executive MBA program at UH, about a $45,000 value.
Hawaii News Now
Headquarters: Honolulu
Employees: 144
www.hawaiinewsnow.com
Hawaii News Now offers formal training in news writing, operating the technical equipment and sales. The company also offers flexible hours to accommodate school events, doctors visits and more. HNN encourages employees to be active in the community and provides opportunities to participate in community service.
Hickam Communities LLC

Headquarters: Honolulu
Employees: 90
www.hickamcommunities.com
Start the work with a daily morning stretch for all employees and get reimbursed for gym memberships. Hickam Communities offers longevity rewards, staff outings and team-building events, as well as quarterly and annual recognition for outstanding service. All employees are eligible for quarterly bonuses as well as flexible scheduling to accommodate their families.
Honolulu HomeLoans

Headquarters: Honolulu
Employees: 65
www.honhl.com
Honolulu HomeLoans offers flexible work hours and the chance to work remotely or bring children to the office. Employee medical insurance premiums are covered 100 percent and the company offers monthly awards for the top-producing loan officers, monthly staff luncheons and annual holiday parties.
Imua Family Services

Headquarters: Honolulu
Employees: 55
www.imuafamilyservices.org
Imua Family Services offers a generous amount of paid time off and holidays, with flexible scheduling and an annual staff retreat. National speakers are brought to Maui for staff professional development, and health benefits include 12 visits a year for chiropractic, acupuncture and massage. There is an Active and Fit program, with a year of membership to a participating gym for $100.
Island Insurance

Headquarters: Honolulu
Employees: 181
www.islandinsurance.com
Benefits include substantial discounts on personal auto, homeowners and dwelling fire insurance; healthful, subsidized lunches; and Half Staff Days at regular pay that give employees time for relaxation and family.
Kiewit

Headquarters: Omaha, Nebraska
Employees: 183 HI/ 4,783 US
www.kiewit.com
Kiewit has developed a Leadership Succession Program that gives employees the opportunity for one-on-one coaching by their supervisors, plus an online Talent Navigator system, on which employees can track and customize their individual needs and goals. Flexible hours and paid child care are offered either regularly or during busy seasons. Employees can become owners and all employees take part in profit sharing.
Maui Family Support Services, Inc.

Headquarters: Wailuku, Maui
Employees: 75
www.mfss.org
To help employees who want to eat more fruits and vegetables and promote healthy living, Maui Family Support Services has office delivery from Kula Produce. A family-centered workplace with flexible scheduling, the company covers the costs for its teachers and teachers aides to obtain their Child Development Associate credentials.
Nordic PCL Construction, Inc.

Headquarters: Denver
Employees: 134 HI / 1,665 US
www.pcl.com
PCL lets all employees purchase shares and earn company profits through dividend payments, and those who travel on business accumulate frequent flyer miles and hotel points for personal use. PCL is ranked No. 60 on Fortune magazine's 100 Best Companies to Work For list. There is a stretch and flex program each morning and a full-size shuffle board in the office.
Pacific Biodiesel Technologies

Headquarters: Kahului, Maui
Employees: 79 HI / 80 US
www.biodiesel.com
The company is intent on reducing its carbon footprint and helping its employees do the same. Employees receive discounts on biodiesel for their personal vehicles and also have their health care premiums covered 100 percent. Showers are provided for employees who choose to surf or work out.
Pacxa

Headquarters: Honolulu
Employees: 88
www.pacxa.com
A flexible schedule with substantial discounts on personal auto, homeowners and fire insurance are given to employees. Sales competitions and bonuses are offered and Pacxa has an employee committee that plans events for the staff to promote a fun work environment. Employees retiring from the company are awarded up to $2,500.
Pearl Hawaii Federal Credit Union

Headquarters: Waipahu
Employees: 69
www.phfcu.com
All Pearl employees get free paid parking and a retirement plan with employer matching contributions and profit sharing. It also offers a generous medical premium payment by the company for family medical, with employees paying less than 10 percent of the total premium. Its social-events committee gets $15,000 per year to fund staff events such as bowling, movies and parties.
Skyline Eco-Adventures

Headquarters: Pukalani, Maui
Employees: 90
www.zipline.com
Skyline offers a monthly $100 bonus to the employee who gets the most positive online reviews and pays up to $75 twice a year to employees participating in active events such as running, biking, swimming or surf competitions. Employee health insurance premiums are covered 100 percent. Activities such as skeet shooting, sunset sailing and paintball are held up to four times a year.
The Howard Hughes Corp.

Headquarters: Dallas
Employees: 73 HI/ 2,000 US
www.wardvillage.com
HHC supplies employees with surfboards, paddleboards, bikes and free storage as well as discounted gym memberships and multiple pau hana outings. The company also has UFit and UMatter programs for motivation. UFit uses FitBits and encourages friendly competition, while UMatter rewards good work with points that can be used to buy things or gift cards, or donated to charity.
T-Mobile Hawaii

Headquarters: Honolulu
Employees: 129
www.t-mobile.com
Employees enjoy generous discounts on phone, data and text plans and/or free devices. They also receive monthly cash bonuses for being the top salesperson and cash incentives for referrals. There is sales-management training and, for fun, holiday parties and frequent pizza lunches. Monthly team-building exercises are held for store employees and managers.