Best Places to Work 2017
Every boss wants employees who put in extra effort to help the company succeed. That's what the 72 organizations on this year's Best Places to Work list enjoy.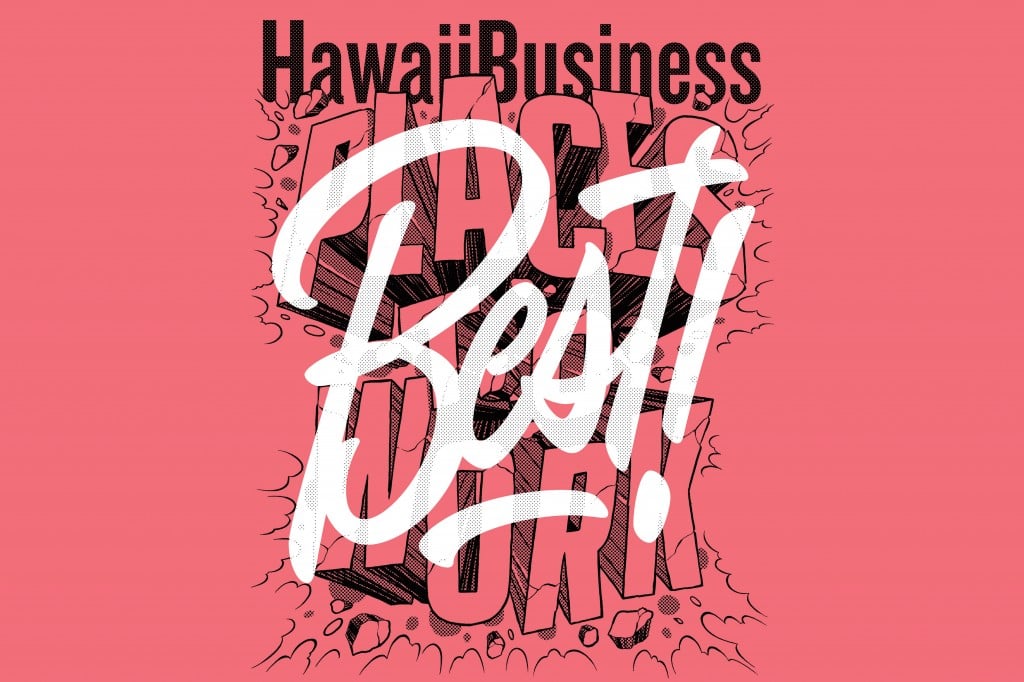 TOP 3 SMALL COMPANIES
(15 TO 49 HAWAII EMPLOYEES)
No. 1 – AXA Advisors, LLC

[NEW]

Headquarters: New York
Employees: 27 HI / 22,000 US
www.us.axa.com
This life insurance and investment firm offers employees who meet their goals with perks ranging from company-branded merchandise to trips. It has monthly team-building activities at barbecues and beach days, offers flexible schedules to take care of family matters, pays for employee and family member health club memberships, and provides elder-care-assistance programs.
No. 2 – Express Employment Professionals

Headquarters: Oklahoma City
Employees: 17 HI
www.expresspros.com/honoluluhi
The company's commitment to team building includes a weekend retreat at Camp Erdman, showing movies during the work day and foot golf. The employee of the month gets a gift card and a half day off. During the transformation challenge, employees who lose the most weight or gain the most muscle win gift cards. Once a year, a food drive supports local nonprofits.
No. 3 – Wealth Strategy Partners

Headquarters: Honolulu
Employees: 39 HI / 1,000 US
www.thewsp.com
This financial service company hosts an annual retreat in Hawaii, Nevada or California where employees participate in team building, learn from industry experts and relax. Employees love the culture of teamwork and self-directed hours. The company offers nine paid holidays each year and, after an employee's first year, the employee is eligible for 15 days of paid time off.
SMALL COMPANIES
(Listed Alphabetically)
Aerotek

[NEW]
Headquarters: Hanover, Maryland
Employees: 20 HI / 5,000 US
www.aerotek.com
Bonuses are paid quarterly and yearly to employees of this staffing agency and have included all-expense paid trips to Miami or Cancun. The company also invites employees to beach house rentals, beach barbecues, breakouts in Waikiki and booze cruises. Aerotek pays for employee parking in downtown Honolulu. Salaried employees have the benefit of receiving their pay commissions weekly.
Ala Moana Dental Care
Headquarters: Honolulu
Employees: 40 HI
www.alamoanadentalcare.com
Employees enjoy three-day work weeks and 100 percent employer-paid medical, vision and dental insurance premiums. Each quarter, the staff is treated to an all-office dinner and two top-performing employees receive gift bags and $100 each. The company completed a meditation challenge in which all employees submitted reports on how meditation affects them personally and professionally. Each participant received $50.
Brett Hill Construction, Inc.

Headquarters: Honolulu
Employees: 27 HI
www.bretthillcompanies.com
Each morning, employees can enjoy fresh fruit and smoothies provided by the company. Employees who exercise before work or during lunch can use the company shower facility. The company pays 100 percent of its employees' medical, dental and vision premiums. Bonuses go to employees who bring in new clients or come in under budget on projects.
Ceramic Tile Plus and Exclusively Yours Design

[NEW]

Headquarters: Kahului
Employees: 37 HI
www.ceramictileplus.com
Employees enjoy flexible schedules, birthday bonuses and appreciation lunches. Each year, employees choose a different group to raise money for in the community; last Christmas, they raised money for 20 homeless children through a car-wash fundraiser. The company further gave back to the community by donating new tile and granite counters for the remodel of a shelter called Women Helping Women.
Coffman Engineers, Inc.

Headquarters: Seattle
Employees: 38 HI / 405 US
www.coffman.com
Employees get a free daily breakfast of yogurt, fruit, toast and cereal. Wellness activities include: "The Biggest Winner" weight loss challenge and a wellness fair that includes chair massages, stress relief activities and healthy lunches. During Spirit Week, employees dress based on themes such as crazy socks and sports day. The company also supports employees serving on nonprofit boards during work hours.
Contract Furnishers of Hawaii Inc. dba Office Pavilion Hawaii

[NEW]

Headquarters: Honolulu
Employees: 43 HI
www.officepavilionhawaii.com
Work-life balance is important at this company, and employees are encouraged to put their families first. That means flexible hours or working from home. Healthy living is promoted through on-site vaccinations and a company-paid personal fitness trainer during work hours. Employees can also choose from four different health care plans and optional AFLAC supplemental insurance.
CW Associates, CPAs

Headquarters: Honolulu
Employees: 45 HI
www.cwassociatescpas.com
Technology helps this accounting firm create a portable work environment that encourages family-friendly and flexible schedules. Employees are active in many ways, including as board or committee members with the Aloha United Way, Easter Seals, Goodwill, USS Missouri Memorial, Salvation Army and Hawaii Society of CPAs. Office snacks such as fruits, vegetables, cheese, hummus and granola bars are always provided.
EnviroServices & Training Center, LLC

Headquarters: Honolulu
Employees: 35 HI
www.gotoetc.com
The company shows appreciation to employees in many ways: gift cards at Thanksgiving, massages, refreshments at Christmas and New Year's, Popcorn Fridays, and ice cream and cupcake celebrations. There's a ping pong table, an electronic dart board, an arcade game, a big screen TV and a treadmill. The company pays part of employees' fitness center memberships and provides tuition assistance for full-time employees taking job-related courses.
Gourmet Events Hawaii

Headquarters: Honolulu
Employees: 40 HI
www.gourmeteventshawaii.com
At Gourmet Events, when employees have a "win," they ring a bell and others join in with party noisemakers to celebrate. They also have "fun breaks" with beach balls and hula hoops. Every Monday, 10-minute neck and shoulder massages are offered to the staff. The company even provided a weekend staycation with employees and spouses last year.
Grove Farm

Headquarters: Lihue
Employees: 15 HI
www.grovefarm.com
The "Grove Farm Fitness Club" meets Fridays for group or independent workouts. Afterward, the company sponsors lunch. Grove Farm also arranges for yoga instructors at the office as needed. The company places bulk orders with farmers to bring fresh produce to the office, and employees can use a free booth at the company's community swap meets.
The Hawaii Group

Headquarters: Honolulu
Employees: 42 HI
www.thehawaiigroup.com
Employees, not executives, choose the employee of the quarter, who receives cash, gift cards, a day off or a weekend at the CEO's beach house. Employees can leave work to attend school functions and sporting events, and the company lets parents bring their children to the office after school so they can do homework. Employees get their birthdays off.
Hawaii Information Service

Headquarters: Honolulu
Employees: 16 HI
www.hawaiiinformation.com
The "Lunch Bunch Club" offers lunches prepared by the staff and shared with everyone at this real estate data analysis and marketing company. On "Super Casual" Fridays, employees can wear T-shirts, shorts and slippers to work. Employees with unused sick leave get cash at year's end. Those who didn't use any sick leave are cashed out at 1.5 times their salary.
Hawaii Mortgage Experts

Headquarters: Honolulu
Employees: 38 HI
www.hawaiimortgageexperts.com
Employees are thankful the company allows flexible schedules. They also like the holiday parties where they can unwind from their hard work. The top three contestants of the NFL "Pick 'em Pool" receive prizes such as a two-night stay at Turtle Bay, an Apple Watch, a Roy's gift card and more. Office members also frequently participate in friendly blackjack games.
Infiniti of Honolulu

Headquarters: Honolulu
Employees: 40 HI
www.infinitiofhonolulu.com
One perk of working at this car dealership is free car washes. Employees with new vehicles get free oil changes and safety checks. During store meetings, the company provides lunch, and employees get a paid day off on their birthdays. Once a month, the store recognizes the top sales person, service technician and service advisor.
Integrated Security Technologies, Inc.

Headquarters: Waipahu
Employees: 18 HI
www.istechs.net
The company offers employees and their dependents 100 percent paid medical premiums. Employees of the month get a paid day off of work and, each summer, the company holds a fun fitness challenge. Employees can bring their dogs to work. When customers write a positive email or letter about an employee, that person receives a gift card.
Integration Technologies, Inc.

Headquarters: Honolulu
Employees: 22 HI
www.intech-hawaii.com
Employees fill out surveys online that managers use to create a better workplace. Each month, the two employees who receive the most kudos from clients for IT support get $150 Amazon gift cards. Employees receive paid time off for community service. As an office joke, if you leave your computer unsecured, a colleague will change your background to My Little Pony.
National Kidney Foundation of Hawaii

Headquarters: Honolulu
Employees: 22 HI
www.kidneyhi.org
This nonprofit lets employees work from home or bring their kids to the office. Families are also invited to corporate events. Employees can take advantage of classes on nutrition and disease self-management, and receive free health screenings. To be more sustainable, the office recycles print cartridges and is going paperless.
Northwestern Mutual – Hawaii Group

[NEW]

Headquarters: Milwaukee
Employees: 16 HI / 6,880 US
www.hawaii.nm.com
Employees who bring in 50 new clients during a calendar year go on a fully paid ski/snowboard trip with their significant others. Master's degrees being pursued by employees in fields such as finance are paid for by Northwestern Mutual. In the common area of the office, there is a small basketball hoop for employees to engage in friendly competition.
Okahara and Associates, Inc.
Headquarters: Hilo
Employees: 28 HI
www.okahara.com
During holiday parties and barbecues, this engineering firm covers all expenses including travel and accommodations. If a hurricane, tsunami or other disaster looms, the company gives employees paid time off to prepare. Employees can bring their kids to the office if needed. The staff volunteers at local functions to educate students about careers in science, technology, engineering and math.
Pacific Administrators, Inc.

Headquarters: Honolulu
Employees: 48 HI
www.pacadmin.com
Each employee at this benefits-administration company has a comfortable functional workstation with 50 square feet of work area. The company's "Biggest Loser Competition" provides cash incentives for the top three finishers. A quiet room has five rocker recliners and massage chairs. During quarterly movie days at Ward, the company buys the tickets. Employees work 35-hour weeks, but pay is competitive with 40-hour weeks.
PATCH

Headquarters: Honolulu
Employees: 36 HI
www.patchhawaii.org
At the child-care-resource agency, managers get a budget to do team-building activities such as ziplining, massages, sports events and restaurant meals. Some meetings include sign-language dance lessons and yoga. Employees started a weight loss club and a significant cash prize is given to the employee who loses the largest percentage of body fat in 10 weeks.
Servpac, Inc.

Headquarters: Honolulu
Employees: 20 HI
www.servpac.com
The telecommunications company has a stocked fridge with free fruits, breakfast foods and drinks. Once a week, the company buys the staff lunch during training sessions. The office has a ping pong table, dart board and jump rope that employees use to challenge each other. All employees get Fitbits, too. Employees with electric cars can use the company charging station for free.
Simply Organized, LLC
Headquarters: Honolulu
Employees: 15 HI
www.simplyorganized.com
At the mid-year celebration, team members with multiple years of service are recognized and presented with koa pen sets, koa bowls, koa clocks, watches, widescreen televisions or other gifts. There is also a year-end celebration for all team members and families. The Kokua Maikai Award recognizes outstanding customer service, with prizes up to $250. Last year, during inventory, chair massages were offered.
Spire Hawaii LLP

Headquarters: Honolulu
Employees: 15 HI
www.spirehawaii.com
After their first year, employees at this CPA firm are eligible for unlimited paid time off. Employees also enjoy flexible hours and can work remotely. The firm encourages employees to participate in the local YMCA chapter, and provides nonprofits with pro bono bookkeeping and general business counseling.
WATG

[NEW]

Headquarters: Irvine
Employees: 27 HI/190 US
www.watg.com
All employees who have been at this design firm for two years or more are owners, with profit-sharing benefits, and the ability to vote on the board of directors. The "Fortis" program rewards two young designers per office each year, with concentrated mentorship, lectures and $3,000 for inspirational travel. Money from WATG's relief fund is donated to employees affected by natural disasters.
The Wedding Ring Shop

Headquarters: Honolulu
Employees: 22 HI
www.weddingringshop.com
Last year, the company's "Magic Bus Trip" took employees to different locations on Oahu via tour bus. Last year, the annual dinner was held at La Mariana Sailing Club and the theme was "Nights of Old Hawaii"; everyone dressed in vintage aloha wear. Employees who receive a great customer service review can get up to $500 in cash or gift cards.
Yogi Kwong Engineers, LLC

Headquarters: Honolulu
Employees: 28 HI
www.yogikwong.com
The company pays for employee outings like beach barbecues and golfing. The company pays for 100 percent of health care premiums for employee and their families. Employees can use company vehicles for personal reasons and tuition is paid for those who enroll in post-graduate geotechnical engineering programs. The firm also pays for employees' memberships in professional organizations.
2017 BEST PLACES TO WORK LIST
SPECIAL RECOGNITIONS
MOST FAMILY FRIENDLY
SMALL EMPLOYER
No.1 – PATCH
No.2 – Aerotek
No.3 – Integrated Security Technologies, Inc.
MEDIUM EMPLOYER
No.1 – Hawaii Diagnostic Radiology Services
No.2 – Island Insurance
No.3 – Bowers + Kubota Consulting
LARGE EMPLOYER
No.1 – Bank of Hawaii
No.2 – First Hawaiian Bank
No.3 – Servco Pacific Inc
HEALTHIEST COMPANIES
SMALL EMPLOYER
No.1 – Integrated Security Technologies, Inc.
No.2 – Coffman Engineers, Inc.
No.3 – CW Associates, CPAs
MEDIUM EMPLOYER
No.1 – Island Insurance
No.2 – Kiewit
No.3 – Bowers + Kubota Consulting
LARGE EMPLOYER
No.1 – Hawaii State Federal Credit Union
No.2 – American Savings Bank
No.3 – First Insurance Company of Hawaii, Ltd.