Bigger and Better
IBEW Local 1186 Building undergoes much-needed expansion. Projected completion of this $35 Million expansion is in the Spring of 2022.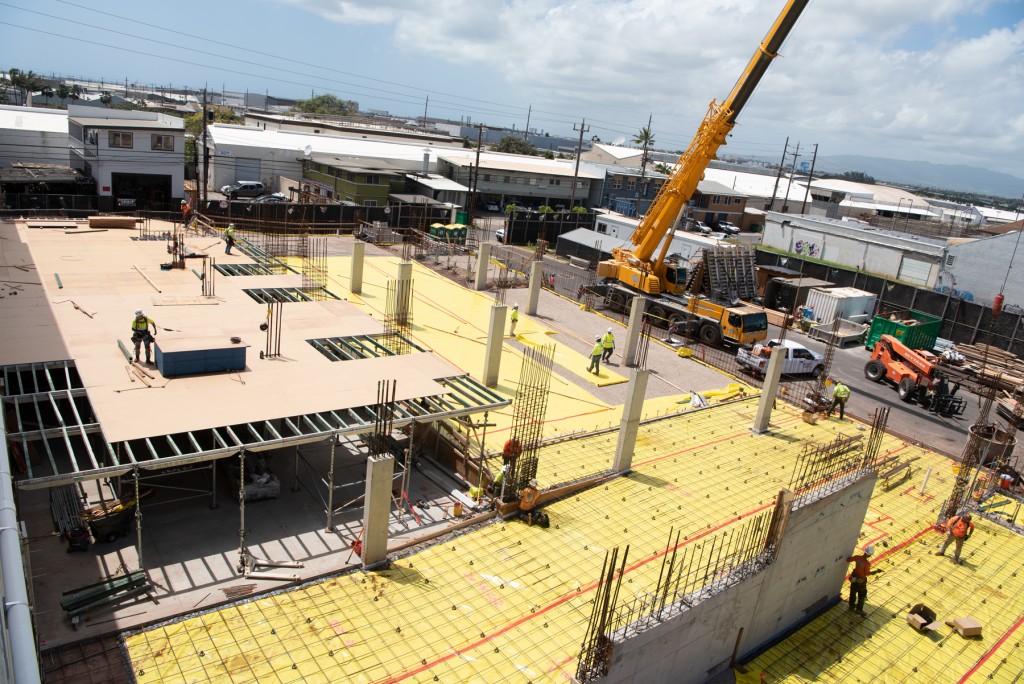 The "Akito Blackie Fujikawa" Building, more commonly known as the IBEW Local 1186 Building, is a mainstay four-story, gray colored building in the heart of Kalihi, sitting between Dillingham Boulevard and N. Nimitz Highway. In the early 90's, the existing building was expanded when membership at IBEW Local 1186 was at 2,200.
Today, three decades later, membership for IBEW Local 1186 has grown to 3,600, and as the membership has grown, so have the needs for the members — including a larger staff, as well as additional training to keep up with the most up to date technology.
The Hawaii Electricians Pension Fund (HEPF) is funding a campus expansion which is currently in its first phase of construction. Projected completion of this $35 Million expansion is in the Spring of 2022. The finished project will be a new five-story Pension building constructed on the existing parking lot, which will include 3 ½ floors of parking, one floor for the Administration Office staff (trust funds, credit union and compliance department included), and the last floor will be the new home of the union office.
In the second phase of this expansion project, the existing four-story building will then be renovated and house our training department, which is projected to be completed sometime in late 2022. "When all is said and done, we will have a new state-of-the-art building automation and renewable energy structure, complete with a battery backup system and generator," said Damien Kim (Business Manager/Financial Secretary-IBEW Local 1186).
Said Kim, "The HEPF hired WhiteStar to be our QPAM to oversee Architects Hawaii and Nordic PLC who is the General Contractor. Central Pacific Bank will be the main lender, funding around 75% of the project."
Hopefully, as the union's workforce growth increases, this new expansion will help to keep up with changing times. Said Kim, "Unions are still growing today especially in the field of electricity, and we have many training opportunities to keep our members up-to-date with the latest technology."
IBEW Local 1186
Lighting your path to the future
1935 Hau Street, 4th Floor, Honolulu, HI 96819
808-847-5341 | ibew1186.org