Bike Revolution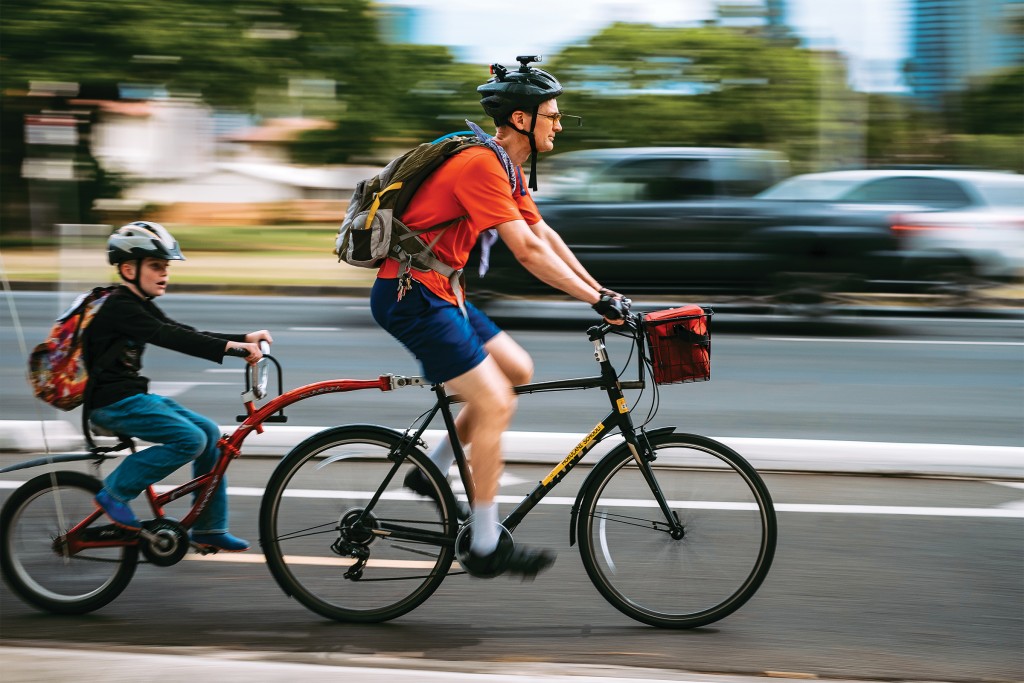 These cyclists buck conventional commutes in favor of bikes. Their varied stories may inspire you to try it too.
A Bicycle Built for Two
Tennessee Idol is as seasoned a bike commuter as they come. He's been making the ride from downtown Honolulu to Manoa since 2010, when he was 1 year old.
To be fair, it's probably more accurate to call his father, Travis Idol, associate professor of Tropical Forestry and Agroforestry at UH, the bike commuter. Idol's been carting Tennessee along since the boy was just a wee thing, first snug in an attachable baby seat, and now via a handy tandem attachment. Neon safety flag waving sprightly at their rear – Idol puts a real emphasis on visibility – the Idol caravan makes the 3-mile journey most weekdays, rain or shine. Tennessee's rig even comes complete with his own handlebars and pedals so he can help his dad when he wants to. Which, Idol says with a laugh, is "not enough, I can tell you that!"
For Idol and his wife, the commitment to biking emerged from a desire to conserve energy. "Climate change has been an issue and a concern of mine for a while, and we've both been environmentally focused as far as our personal decisions. I figured out how to make it work," he says. That meant some serious life decisions – like buying a place in town – but also small adjustments: having a car on hand for the rare times work requires going outside of biking range, bringing extra clothes and scouting well-maintained routes beforehand.
Once Tennessee was old enough to fit in an attachable child seat, he joined his dad. Idol's first concern is, of course, safety. "Just like you're driving defensively, you have to ride defensively," he says. "You always have to understand the situation you're in. You have to anticipate what the cars are doing and also what they can see." Go at a comfortable pace, stay visible, be aware – the rules, it turns out, aren't much different than they are for motorists.
"It's just a different way to think about commuting."
Park and Ride
Over in Kaneohe, James Larson spends weekends riding his own bike and teaching his 4-year-old son to ride his. When it comes to getting around from his office at Honolulu Hale, however, he plays it a little differently.
"I have my own bike, but it's not convenient for me to stow it in my car. I'd get grease on myself if I tried to load it up; I have two kids in the back so the back doesn't fold down." Instead, he's found a compromise: the year-old Biki system, which the Biki team says provides more rides to locals than tourists. Each day, Larson drops off his kids, parks his car at Alii Place, hops on a Biki and pedals two blocks to work. He uses the flexible Biki Free Spirit Plan, which grants the user 300 minutes of rides for $20. No changing out of his dress pants and dress shoes, no worrying about locking up, no maintenance required.
Lunch and meeting times are more convenient, since the bike cuts down on travel time – a lot. He's not relegated to Chinatown for lunch, since the radius of possibilities is much wider, and stopping by Kaiser clinic on Pensacola Street or doing other errands ends up being much faster. "To have a bike for short bursts, where I don't have to otherwise be responsible for it, having a place where I can always park it and it's always locked up, and not having to keep a lock with me – it's very convenient," says Larson.
The Safe Side
When leisure cyclist Keopu Reelitz (who often bikes to Maunalua Bay from her Punahou apartment, for kicks) started biking 10 years ago in Arizona, it was for health and necessity. "I was in law school and I actually needed to lose a lot of weight. I started dieting healthily and integrating exercise healthily." She's never had a driver's license as an adult, due to a visual impairment, so adding biking to her school, and later work, commute was a logical step.
Since then, cycling has been a constant in Reelitz's life. As a commuter to her job downtown with the state, she saves money on parking, gas and car maintenance (her family sticks to just one lightly used vehicle), but it's also her constant go-to for fitness and fun. Even getting into an accident with an unyielding car in Arizona didn't sour her on the benefits of cycling. After all, "I always tell people: The inconsiderate motorists are always going to be inconsiderate whether you're a bicyclist, a pedestrian or a motorist."
What she does do is put safety first, trust her instincts and fit her schedule around what's best for her. She doesn't ride after dark, instead opting for rides ("ride-sharing is awesome!"), or being driven on days she knows she'll have to stay late. She tries to consolidate her meetings, aka fancy dress times, so she can commit to biking days without having to pack heels or a skirt. "People just think you have to do it all the time or never. I don't even do it all the time!" she exclaims. "Sometimes you just really can't." Oh, and she always has a helmet.
Any cheap helmet will probably do, but otherwise, Reelitz prefers investing in her gear, like with a pricey lighter carbon fiber bike that helps her get up hills. "If I commuted every single day, I would switch out my commuter pedals to clip-ins. They're so much better, because you can pull up, using both your quads and your hamstrings, which is better for your muscles – especially if you have to tackle a hill."
On the Move
The idea of biking around New York City "terrified me," says Nicolette Tennis. When she got a gig at Bishop Museum and moved home to Hawaii sans car, however, she faced a choice: An hourlong bus commute from her home in McCully – or find another way. Honolulu's relatively less hectic vibe gave her hope for a bike commute, and the fact that it cut down on travel time by almost half? Sold.
Plus, biking eliminates the need for a workout session later. Tennis, who has a job that often keeps her sedentary, welcomes the daily exercise on her commute, which is relatively easy: down the King Street bike path, then along Chinatown's bus- and bike-only Hotel Street. Things get trickier in Kalihi, where the streets and infrastructure aren't as bike-friendly. Still, says, Tennis: "I enjoy it. It's definitely a nice way to start out and end your day and it actually wakes me up and gets my blood going. I feel like my body and my mind start working a little bit quicker than when I'm on the bus."
She has it lucky at work, with a shower on-site, but she rarely uses it, instead opting for an extra change of clothes and scheduling in a few minutes of time to freshen up and cool down. Like the other commuters, Tennis, who has two knee injuries from dancing, works with what's comfortable for her schedule, sentiment and body. "On rainy days I use the bus, and for days like today. I did some hiking yesterday so my knee really bothers me."
You won't find her racing in her bike anytime soon, and she's not about to stock up on tons of new equipment, but Tennis plans to continue biking – even when she gets a car. "It keeps me active," she says.
Stop Traffic
Germaine Salim has witnessed big improvements in bicyclist and motorist relationships in the two years since the King Street bike path opened. "I've seen so much change, which really gives me hope," she says with a smile. "I definitely see people now who are looking both ways at intersections and driveways – and it really makes me happy. I feel like we're looking out for each other."
Germaine hails from Australia, so driving on the "wrong" side of the road in Honolulu's traffic maelstrom was too intimidating to stomach. Her answer: bike everywhere, even when she moved from Waikiki to Kaimuki (a couple of gnarly hills farther from work downtown) and even after she gave birth to her now-almost-2-year-old. Her commute kit involves a water bottle and holder, a helmet and a convertible saddlebag that clips onto her bike's back rack. In it, she stuffs her lunch, laptop and clothes for the day – she keeps heels in the office – and makes the trek in comfy workout attire. "This," she says of the nifty bag, "was a game changer for me."
For Salim, the right route makes all the difference. A couple of streets down from a busy thoroughfare like King Street could be a calm residential road that will do wonders for your stress levels and comfort. With her son starting day care in Waikiki this summer, she'll take a slightly modified route there with him in the baby seat, and then on to downtown. And, if she ever needs them, she know there are helpful resources. "Sometimes if plans change or if I am going farther than my 5-mile radius of comfort, I will use some combination of bike and bus, or Biki and bus."
It's all about restructuring how one thinks about a system in which cars are king, and searching for alternatives – for both bicyclists and pedestrians. "If you can make room for diversity and include them in infrastructure, if we can make physical room for more vulnerable modes of transportation, then that's amazing," says Salim. "I think we have to, right?"
Biking Tips
Deter Thieves
"If you leave (your bike) overnight, you leave it open to vandalism or theft more than you would during the day," says Idol. Using a sturdy lock is a must, but there are other tweaks you can make, too: Front wheels and bike seats are big targets, so consider replacing the wheel and seat quick-releases with a standard bolt.
Use Your Resources
The bus and ride-hailing services like Lyft are great supplements for bikers. "If I bike to work and it starts pouring rain, I can take the bus home, which is really convenient," says Salim. "Those bike racks on the bus are rarely full." On the maintenance side, check out cycling advocate Cycle Manoa: Volunteers can get free bicycle mechanic mentorship and cheap parts in exchange for their time.
Always Be Safe
"If you have to get off your bike, get off your bike," says Reelitz. Feeling comfortable is always key, so walk your bike on the sidewalk if you need to (remember there are areas in Honolulu where biking on sidewalks is illegal, including downtown and Waikiki). Stay alert and visible at all times, and be aware of what others are doing (or are about to do), like turning into a driveway, crossing a street or opening a car door.
Be Prepared
Plan your route so you know what to expect – potholes included. In Hawaii, there's always a chance a clear day could end in a downpour. "Make sure you always have a ziplock or a plastic baggie for your phone," advises Reelitz. Pack extra work clothes so you're looking fresh throughout the day (or stow some at work). And, "baby wipes are your friends!"