Brewed and Bottled in Hawaii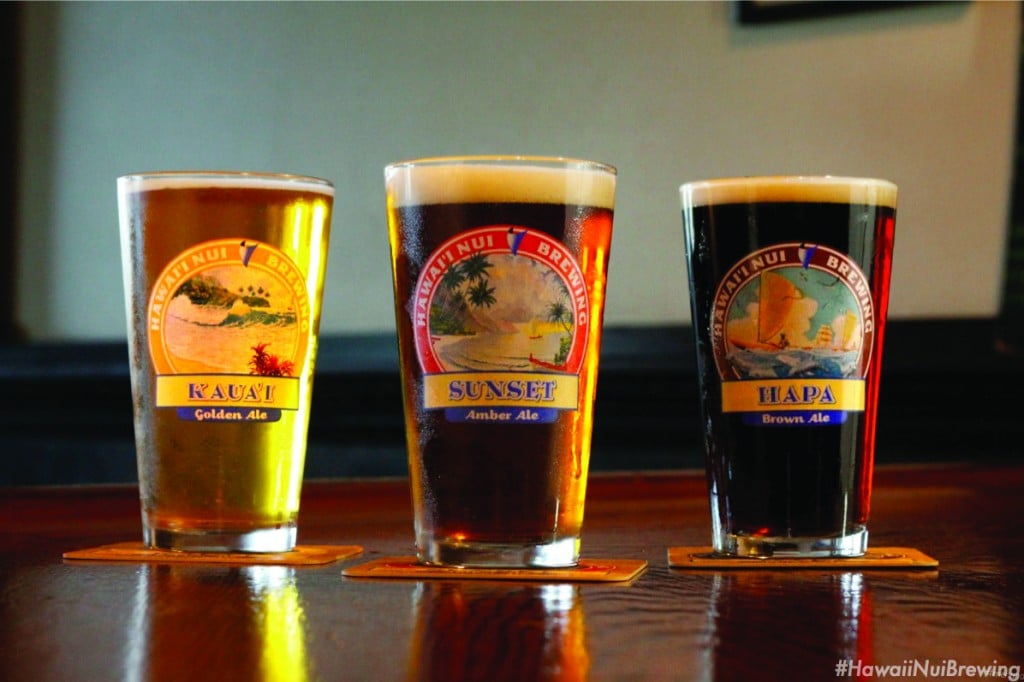 Owning and running a brewery or brewpub is a lot of people's idea of a fantasy job. The reality is there are casualties spread across the Hawaiian Islands. Companies that recently failed include Alii Brewing, Pacific Breach Brewing, Aloha Beer Co., Brew Moon, Hawaiian Islands Brewing and Keoki Brewing Co. But there are success stories, too: Hawaii's eight operational craft breweries contributed $120 million to the state economy last year, according to the Brewers Association, a nationwide organization. Here are some winning recipes.
---
100-Percent Maui Made: Maui Brewing Co.
There's a lot of hammering in the background as Hawaii Business talks by phone with Garret Marreo, the founder and owner of Maui Brewing Co.
"I'm looking at our biggest tank; it's two and a half times larger than the one in Lahaina," he says, speaking from the construction site of Maui Brewing's new facility at the Maui Research and Technology Park in Kihei. The 5.3-acre dirt lot was being transformed into a brewery and tasting room, scheduled to open this month, and a brewpub slated to open next fall.
The facility is equipped with a 50-barrel system to create Maui Brewing's four signature beers and its limited releases, and a 25-barrel system for specialty beers. The equipment will double what the brewery can produce at its current location in Lahaina, with the capacity to do even more.
The Kihei brewery will allow Maui Brewing to keep up with demand and "create jobs and support the local community," Marreo says, adding that the company currently has 72 employees and will add another 80 once the Kihei facilities are fully operational. "(This) shows how far we've come by staying true to our commitment."
The 36-year-old is fiercely proud of the brewery's entirely on-island production, even though he says it costs twice as much for him to operate a brewery in Hawaii than it would on the mainland. Marreo says Maui Brewing partners with local farmers for specialty ingredients such as honey and sugar cane, donates spent grain to local chicken and cattle ranchers, whose meat is later served at its brewpub. The brewery also distributes its beer in recyclable aluminum cans made and filled at its Lahaina facility.
A decade ago, the San Diego native ditched his suits, ties and desk job as an investment consultant, and, with his wife, Melanie, also a refugee from the finance industry, moved to West Maui. In 2005, they founded Maui Brewing Co. The venture required their personal investment, including money from refinancing their home, but their business experience helped them navigate the challenges. "We felt better prepared in guiding a new company," he says.
In its nine years, Maui Brewing has gone from producing 400 barrels a year at a single brewpub, to expanding to a second location in Lahaina in 2007 and, last year, producing more than 20,000 barrels of Maui-made beer. Eighty percent of Maui Brewing's beer stays in the Islands and, in August, it became the official craft beer of Hawaiian Airlines. The beer is distributed in 11 states, as far east as Massachusetts. Maui Brewing also launched a partnership with San Diego-based Stone Brewing Co. to cultivate a wider distribution throughout Hawaii.
"We are truly Hawaii's largest craft brewery," he says.
Reviving a Big Island Brewery: Mehana and Hawaii Nui Brewing Cos.
Among the owners of America's 2,700 small craft breweries, Paul DeMare has one of the most unusual stories. The native of Cooperstown, New York, is a semi-retired radiation oncologist in Honolulu. He was going through a stack of newspapers after a trip to the mainland in April when he ran across a story about the bankruptcy of a Hilo brewery, Hawaii Nui Brewing Co.
In 2009, Hawaii Nui had merged with another Hawaii Island brewery, Mehana Brewing Co., which maintained both labels, but lost revenue each year since. DeMare was familiar with the brewery's location and the "salt-of-the-earth community" of Hilo, having consulted there in addition to his longtime Honolulu-based practice. As he was slowly exiting from his oncology practice, the article piqued his interest. He met with Andy Baker, a former Hawaii Nui principal and, roughly seven months later, in November 2013, he owned a Hawaii craft brewery.
"I wanted to save the business and be proud to own it," says DeMare, adding that his family and friends were "surprised, but happy, too."
DeMare, who rents a house in Hilo and spends roughly three days each week at the brewery, is the sole investor and owner of Hawaii Nui. "I was willing to take risks on my own personal money and I didn't want to put other people's money at risk," he says.
He has a streamlined vision for the Hilo brewery, including making it profitable again and increasing its brand recognition throughout the Islands. "The other group that was managing the brewery previously couldn't agree on what day of the week it was," he says.
Unlike other craft-brewery owners, DeMare admits he doesn't have brewing or financial expertise. That's why he retained brewmaster Richard Greene and brought in former Olympia Brewing controller Ron Weeps as a financial consultant and Darren Akiona for sales and marketing.
The biggest change has been switching from bottles to 12-ounce cans. "It's more sustainable. The cans are made in Kapolei," says DeMare. "It's cheaper to move them from Oahu to Hilo, rather than glass bottles." Both Hawaii Nui and Mehana also sell beer in 19.2-ounce cans – the "imperial pint" – which are made in Texas.
This month marks one year since DeMare took over. The brewery isn't profitable yet, but, DeMare predicts, it will be by early next year. The Hawaii Nui brand continues to gain traction on Oahu, where it's historically been more popular, while Mehana is building a bigger following on Hawaii Island. DeMare's favorite? The Hawaii Nui Hapa Brown Ale. "It's a beer to sit and enjoy."
From Home Brewed to Kakaako Brewed: Honolulu Beerworks
While several Neighbor Island craft brewers have enjoyed success, many of Oahu's beer entrepreneurs have struggled. In the past year, three ventures – Aloha Beer, Hawaiian Islands and Pacific Breach – have opened and closed.
Oahu's poor record didn't dissuade Geoff Seideman. He started as a homebrewer and then was Aloha Beer's assistant brewmaster. What he really wanted to do was start his own brewery. After searching for a space for two years, he opened Honolulu Beerworks this April on Cooke Street in Kakaako. Seideman and his wife, Charmayne, who is the general manager, financed the brewery with help from family, friends and an SBA loan. Thanks to his construction background, Seideman built out the 3,200-square-foot space over eight months, and transformed the 800-square-foot alley into a beer garden. Excluding the Gordon Biersch national chain of brewpubs, Honolulu Beerworks is currently Oahu's only brewery.
It already has a reputation for its selection. It debuted with nine beers on draft and local veteran brewmaster Dave Campbell crafts rotating limited releases. "I wanted to create an environment where people come together, sit, talk story, enjoy the beer and see the guys (making it)," Seideman says.
His idea seems to be working. "We get a big cross section of people," he says, "from hipsters to blue-collar workers in the area to beer enthusiasts asking what's coming up next." Publicity has mostly been word of mouth, he adds.
After six months in business, Honolulu Beerworks is already expanding. The brewery is adding three tanks, which will double its production, plus extra outdoor seating in a second alley. The brewery now has 26 employees. The next milestone is to distribute the Honolulu Beerworks label in cans or bottles to Oahu bars, restaurants and hotels. Right now, beer lovers can purchase 64-ounce growlers filled with their favorite craft beer for $28 and take them home or to a potluck. At press time, Honolulu Beerworks had sold more than 500 growlers.
Like Maui Brewing founder Marrero, Seideman says he's proud to make quality, made-in-Hawaii beer. "People want to know where their stuff is made," he says. "I can tell them that story."
Remember, Honor, Cheers: The Brewseum
One conversation with Glen Tomlinson and you feel his enthusiasm and dedication. In 1991, on the 50th anniversary of the Pearl Harbor attack, Tomlinson and his wife, Janet, founded Home of the Brave Tours. The pair takes military buffs and tourists to historic World War II sites on Oahu and finishes at tour headquarters in Kakaako, where intimately curated memorabilia tell the stories of men and women during the war. "It's a living, breathing museum," says Tomlinson.
The treasured relics and vivid war stories helped lead to the Brewseum, which opened next door to the tour headquarters in July. Like the name mash-up implies, it's part pub, part museum. The 900-square-foot space combines Tomlinson's love of military history with his two sons' passion for craft beer.
"My son Duke was going to school in Fort Collins, Colo., where craft beer is king," says Tomlinson. "He said, 'Dad, I want to get in the beer business.' He even did a senior thesis on the industry."
Duke moved back home to Oahu and is running the Brewseum, along with his brother, Baron "Bear," who worked at Ska Brewing Co. in Durango, Colo., and sister Brittany, who is now the bar's director of hospitality. Tomlinson, 53, who funded the Brewseum with his savings and Home of the Brave profits, is no stranger to startups. In the mid-'90s, he founded Koa Surf Classics, where he made and sold koa-wood surfboards and longboards for years.
The Tomlinsons' goal is to sell beer they brew themselves. The bar is already licensed as a brewpub; Tomlinson says he's purchasing a one-barrel system this month and expects to start brewing on the premises within six months.
The Brewseum already has its own label, Home of the Brave Brewing. Jeff Doyle, a brewer with Fort Collins-based Odells Brewing Co., helped the family craft its Pilot Pale Ale and its Remember Pearl Harbor Dark Lager, available at the Brewseum and sold in six-packs at Oahu's military exchanges. Currently, the beers are brewed and bottled by Sprecher Brewing Co. in Wisconsin, using the Tomlinson recipe. The Brewseum also has six mainland craft beers on draft and serves up hot pretzels with mustard dip, popcorn and cheese puffs.
Tomlinson's ultimate goal is to build more brewseums, even expanding to the mainland. "We have such a great market with the military," he says. "Everything we've done is to remember, honor, salute."
Hawaii's Old Guard: Kona Brewing Co.
If you walk into many Hawaii bars and ask for a local beer, you'll probably be offered a glass of draft or a bottle from Kona Brewing. The 20-year-old company is the most visible Hawaii beer.
Kona Brewing was founded in 1994 by a father and son, Cameron Healy and Spoon Khalsa, of Portland, Ore. In the 1990s, the Pacific Northwest craft-brewery scene was already booming; the two wanted to develop a similar premium, locally sourced brew industry in Hawaii.
Today, the Hawaii Island brewery is the state's largest beer maker with at least some production based in Hawaii. It has long outgrown its craft-brewery beginnings: In 2012, the company produced 220,000 barrels of beer, which, by industry standards, makes it a "regional brewery." Kona Brewing products are distributed in 40 states and nine countries, thanks to its 2010 merger with Craft Brew Alliance, an independent, publicly traded craft-brewing company. In addition to Kona Brewery, its portfolio includes West Coast breweries Redhook Ale Brewery and Widmer Brothers Brewing, and also a Chicago-based brewery, Goose Island Beer Co. In 2012, the alliance launched a gluten-free beer brand, Omission Beer.
"The brand needed to grow, and we had great partners on the mainland," says Mattson Davis, Kona's Hawaii restaurant operations managing director and chairman of the six-member Kona advisory board. Davis says one of the biggest benefits of this growth is Kona Brewing's access to the Anheuser-Busch distribution network, arguably the most advanced distribution system in the country.
The company still uses the original Kailua-Kona brewery to produce its in-state draft beer; there are 200 Hawaii-based Kona employees. "More than 10,000 barrels are made and stay in Hawaii," says Davis. The rest is made on the mainland. Three years into Kona's existence, the company consciously moved its production.
"We're not a manufacturing state," he says. "Canning wasn't where it is today. It was the best thing for Hawaii." Kona beer is brewed and bottled in Oregon, Washington, New Hampshire and, as of this summer, in Memphis.
Davis, who has been with Kona Brewing for 17 years, acknowledges the brewery's changes as part of a publicly traded company, but says the growth has also given Kona Brewing more opportunities.
"We have more to be generous with, more to be responsible with," he says, referring to Kona Brewing's community involvement and it's commitment to sustainability. "Our voice is heard louder."
For the past 20 years, Kona Brewing has been a key organizer and fundraiser during the annual Kona Brewers Festival. The company also participates in several local fundraising campaigns and sports events, including the Kokua Festival, Sierra Club's Blue Water Campaign, the Molokai World Championships and the Ironman Triathlon World Championship. "I live here, too," Davis says. "It's my community."
Kona Brewing says it has also minimized the carbon footprint at its East Honolulu pub and its Hawaii Island locations. It's also one of those rare companies with a full-time sustainability coordinator, whose job is to help the company and its employees minimize waste, conserve water and electricity, and build community partnerships.
For Davis, growth is necessary, and so is maintaining the company's original vision, its community ties and the brewery's quality. "Beer is about a brand. Beer is about consistency."
---
Soaring Popularity
U.S. craft-beer sales increased 17 percent in 2013 over the previous year, according to the Brewers Association, a national organization of breweries and homebrewers.