Brighter Future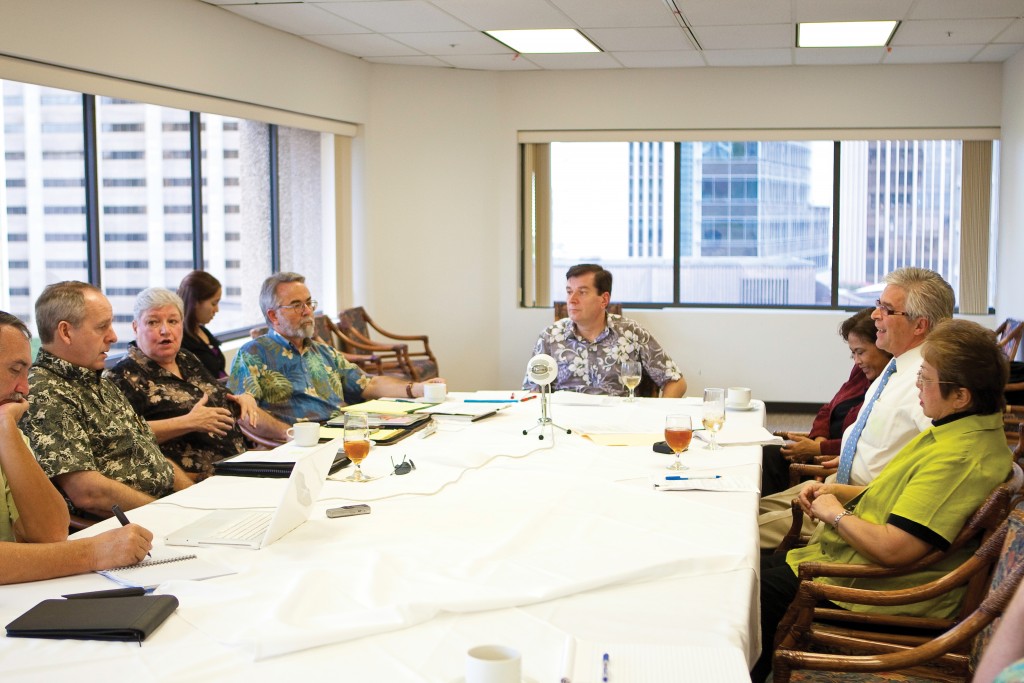 Participants, in the order they begin speaking:
Steve Petranik: Moderator and editor of Hawaii Business.
Candy Suiso: Teacher at Waianae High School and program director of Searider Productions.
Bruce Coppa: COO of Communications Pacific and chairman of the education committee for the Chamber of Commerce of Hawaii.
Ruth Silberstein: Principal of Palolo Elementary School and Hawaii's 2008 National Distinguished Principal.
David Carey: President and CEO of Outrigger Enterprises Group and a member of the executive committee of the Hawaii Business Roundtable.
Joan Husted: Retired teacher and retired executive director of Hawaii State Teachers Association.
Robert Witt: Executive director of the Hawaii Association of Independent Schools and a collaborator with public education in Hawaii.
Petranik: Let's start with a topic being discussed by the Legislature: Who should be the ultimate authority for Hawaii's public schools? The three former, living governors advocate a school board appointed by the governor to replace the elected school board. Gov. Lingle suggests no school board, with the governor directly appointing the schools superintendent. Candy?
Suiso: An appointed superintendent and appointed school board would give the schools more accountability. Look at who is accountable now: The Board of Education, legislators, the DOE and our union. If we had an appointed superintendent and appointed board, we would know exactly who to point to.
Coppa: Appointed board. I have always found members of the elected board spend too much time worrying about the next election. It's time for a change.
Silberstein: An appointed board is needed to move Hawaii forward on education, or half appointed, half elected, but the board should have an appointed teacher representative, a principal, a student. People who are in the trenches.
Carey: The DOE is a $2 billion (a year) organization, which includes keeping up physical plants, and experienced businesspeople would be very helpful. So I favor an appointed school board because many talented executives with community awareness would accept appointment by the governor, but would not run for office.
The Hawaii Tourism Authority's board has a lot of prescribed constituencies. That works well when you start but it becomes very hard over time to fill specific constituencies. So I would create constituencies as guidelines, as opposed to prescriptions, so that you could get the best people available when appointments are made.
Husted: I favor an elected board mainly because you do not take the vote away from the people. The most efficient form of government is a dictatorship, but you can't take the vote away, so how can we deal with the issues? I suggest that we suspend the elected board and let the governor appoint an education czar, who gets six years to fix whatever the perceived problems are within the DOE. After six years, recreate the board.
Witt: I am for an appointed board. I believe that our public schools are in crisis and the current elected board is not getting the job done. I do not know if I am ready to propose an appointed board forever, but I would agree with Joan's proposal that we need some sort of crisis management solution for about six years. David pointed out that this is a $2 billion industry with 250 schools. Any organization that size needs good leadership. I think the people in Hawaii understand that this is an urgent situation that needs an unusual solution.
Husted: We should also pass a constitutional amendment that says the state Legislature must provide lump sum funding for the DOE. (Others agree.) We just had a great example of why we need that. A bill moving legislatively dictates that two additional deputy superintendents have to be employed by the DOE and that makes absolutely no sense. The Legislature mandated a skin-care program that required that all schools make sure that kids did not get skin cancer and required the schools to write a report once a year on what they are doing to achieve this. To me that is the height of micromanaging and unless you can get those legislators out of the game, nobody is going to succeed.
Silberstein: Mandates take away from instruction. We are being mandated in so many ways that have nothing to do with education. You want to talk about skin care, let the Health Department handle it. Don't shove everything to the school without support.
Petranik: Ruth, you run a school. Do you want a lump sum that you would have more control over?
Silberstein: I don't mind having more control provided it is not over things that have nothing to do with education. Don't ask me to handle food services. Our hands are now tied with the budget. For example, I cannot save money this year and carry it over to pay for a teacher I need next year.
Carey: There is a business of running and fixing buildings and budgets. Somebody has got to keep the books, make sure the halls get cleaned and the air conditioners get repaired, but that is not related to instruction and is a separate skill.
Petranik: Do you want that administrator at the school or somewhere else?
Carey: It probably depends on the efficiencies and the size. If you have a fully developed high school and a large campus, it might make sense to have that person onsite. Or if the district is small, put it at the district.
Petranik: How should we evaluate principals?
Coppa: Student performance. They should get rewarded for good outcomes.
Petranik: And fired if they don't deliver?
Coppa: It's like our business; we won't just fire someone. We will bring you in and say, "You're not performing in these areas, this needs to be picked up." We go from that process, so if the goals are not met, then you're gone.
Petranik: Would the process account for certain schools having more poverty-income or special-needs students?
Coppa: That is part of the student-weighted formula, considering whether English is a second language. At Princess Kaiulani Elementary School in Kalihi, they will tell you it is very tough. Teachers will try to get the students to learn English, and when students go home, they fall back to their culture and practices. You have to take those things into account in evaluation. Every school cannot be the same.
Carey: Pay for performance only works well when both sides understand the measurements and they are fair. The longitudinal measurement of academic performance has not yet come to pass in public schools. That's longitudinal by student, regardless of where they go, regardless of what grade they are in.
Witt: If we evaluate principals like Ruth, we have to ensure they have time to coach their teachers, given all their administrative duties. I have visited many public schools. There is simply not enough support staff. The principal knows best what the school needs to do over the next three to five years, so the principal should sit down with somebody, maybe the Board of Education, and develop five to 10 institutional goals. Then she should be evaluated each year on her progress or every five years, which would encourage principals to see a cycle of improvement as that long.
Husted: Model O was a performance-based salary schedule that we negotiated with the state in 1997, then could not get them to implement it. Model O included the School Bonus System, the idea that a school is a team. It is not just principal and teachers, but custodians, cafeteria workers, school secretary and clerks who all make up a team that moves a school along. Model O said, "If you meet your benchmarks, then everybody in the school got a bonus."
Coppa: That is how we evaluate and give bonuses in private business.
Carey: There needs to be a sea change attitudinally in state government. In private business, if you do nine out of 10 things well, you get a bonus and a pat on the back, and you made a mistake, well fine. In a lot of state agencies, if you make that 10th mistake, then, "Oh my God! Someone has made a mistake. We need to set up a process so that mistake will never get made again." If you roll that over time, people figure out, "I am not going to do anything that is going to cause the system to go after me." Soon no one is willing to take a risk.
Witt: We need risk-taking, creative principals. The evaluation should allow two or three goals that are fail-able. We do not have research and development in education. So the R&D really relies upon the principal who experiments, pilots new programs, fails now and then, but makes the effort. We do not have that kind of mind set in our state and therefore Ruth might try some things but not tell anybody.
Coppa: It's what Candy did. She stepped out of the box and achieved something great.
Witt: Candy was so far away from downtown (laughter).
Suiso: There a lot of exciting, innovative principals in the DOE. They just do not have the time to do the innovative stuff.
Carey: The business processes at the central office are Byzantine. The largest employer in the state has a manual personnel system. It has a financial traffic system but cannot track stuff for a month and a half and it does not get solved until the end of the year. When you have a hiring process that cannot get people paid until weeks after they start work, something is wrong. There is just a whole list of stuff that gets in the way of good teaching and good school management.
Silberstein: As a principal, and I think I speak on behalf of many principals, we look forward to a performance contract, but only if the correct supports are given to each school.
Petranik: Should the principal's powers include the power to hire and fire teachers?
Silberstein: I think so, and the power to retain good teachers. We trained them. But I have to give them up because they are on probation. At Palolo, we were restructuring for two years. When we trained these teachers they were excellent and they helped us to pull out of restructuring. I had to give them up because of that probie status and start from scratch.
Petranik: How do we get the best from our teachers?
Suiso: Support them in the classroom. The principal is the key. I have worked under four different principals and each of them have supported our program and helped create our success. You talk to media teachers: The No. 1 reason they cannot start a media program or they fail is because they do not have a supportive administrator. Teachers should be supported in the classroom with resources. New teachers who come out of college or the Mainland should be supported with housing allowances. They have very little and do not get their first paycheck until two months later.
Carey: If I did that I'd go to jail.
Suiso: And they do not get paid much. If they were supported with housing, even food, and a support system within the community, that would really help them to stay. Communities are ready to support them, but do not get involved because the principals and teachers are too overwhelmed to ask.
Petranik: What else prevents teachers from doing their best?
Suiso: Teachers do not have enough time in their day; they work from 8 to 3. School days should go from 8 to 8. Now, all teachers do is teach. They do not get a break. The good teachers – we have good and bad – spend every day working with kids and there is no time for preparation or collaboration with each other. In an extended school day, there is more time for planning and preparation.
Witt: Baby boomer teachers like Joan and I shut the door and taught in our classrooms, but did not collaborate. But the young people coming into our schools today want to work in teams.
Carey: Punahou has redefined the educational delivery for younger kids. In the middle school, they have pods of 92 kids with all subjects and all four teachers in the pods cooperating.
Coppa: Candy and I saw a school with pods in Los Angeles.
Suiso: They all coordinate. They talk to each other and so the kids spend a whole semester working on an intense project. The English and Social Studies teachers are in the same class and share the same students, so when the bell rings they do not move.
Carey: When they work collaboratively, the peer pressure for individual performance rises.
Coppa: If you were not performing, do you know who called the parent?
Suiso: The student. You got fired from your group.
Witt: If we want students to be project-based and collaborative, adults in the schools have to model that behavior. (We need to show) teachers working in teams; collaborating; taking risks; evaluating each other; pushing each other.
Suiso: Make sure in these settings, the teachers have needed resources and are trained so that they can train their students how to work in groups. We saw students saying, "Leave me alone. I just want to do my work," and three or four of them worked together in front of the computer or in a group. The teachers just make sure that they are doing their work and meeting their deadline.
Silberstein: A lot of the instructional aspects that you just mentioned are in place now or starting especially at restructured schools. At Palolo, students have to be engaged; we're into critical thinking, we're into avid education discovery and a lot of teaming is taking place among our staff. It was not easy for the two years that we worked at this change; it was very hard on my teachers. But today, I am proud of the teachers at Palolo School. It is no longer "my classroom," it is "our school."
Petranik: How did you motivate teachers through that difficult, two-year process?
Silberstein: We were fortunate that for two years of restructuring to have Edison Alliance (a private company hired by the DOE). They turned us inside out. The attitude of every teacher had to change, the work ethic and atmosphere in the classroom had to change. Gone were kiddy posters. Now it is educational charts. The way we spoke to the students, the way we prepared the data analysis monthly, changing instructions throughout the weeks, formative assessments besides the HSA (Hawaii State Assessment annual tests). Now, we test our students every month. We look together at the results and ask, "Where are the weak areas?" or say, "These are the best practices." A lot of collaboration.
Witt: Any culture, whether it is a hotel or a school or a magazine, does not like to change. People do not like to change. Somebody had to give Palolo's teachers permission to behave differently and that usually comes from a transformative leader like Ruth or a team of leaders.
Petranik: Was there resistance?
Silberstein: Oh, there was. It was so painful. Tears, anger, the arrows at me. I had to keep focused no matter what and treat them with the respect that is due to every educator. It was very painful for everyone.
Petranik: Can changes in the system save money that can be spent in the classroom?
Carey: If you re-engineer the central office, there is a lot of money that could be put in the classroom. The Office of Human Resources uses a manual system. In manual systems you need lots of people, lots of files, lots of space. In a computerized system, you do not. But you have to invest in technology. If, over time, you re-engineer the business processes, I believe there is a whole lot of money to be saved.
Coppa: There are pools we fill up once a week because they leak; you patch, but in three months you are re-patching, so you should invest in fixing the pool.
Carey: The other piece, which is more controversial, is the efficient use of facilities based on the number of students requiring them. Some schools are underutilized and some do not have enough space, yet it is a difficult community process to rebalance those assets.
Coppa: Private developers would invest if they could use part of that facility when schools aren't.
Carey: That capital investment may be a win-win for the community. Look at Jefferson School in Waikiki. Waikiki has some of the most valuable land in the world in utilization per square foot. There are schools in East Honolulu where there are not enough kids anymore. On the Leeward Coast, there are lots of kids and not enough classrooms. Laws have to be passed at the Legislature and the counties to allow this restructuring.
Husted: But we are seeing some response in two (Big Island) communities: Laupahoehoe was going to close but is turning into a charter. Keanae Elementary was closed but may become a charter because communities want small schools their kids can walk to.
Witt: How can you do more with less? We have less money on the private side now, too, and so we all have to be creative. Candy's Searider Productions is project-based. You can get a lot done with teams of students in project-based learning. You need fewer teachers, because they are on the side coaching, than if the teacher is in the front of the room, and you get into the class-size argument. I bet Candy does not even think about class size. She will take as many kids as she can into her lab because they work in teams and I guarantee you they do not go home at 3 o'clock. They stay until 10.
Suiso: Yes.