Building Personal Bridges Around the Pacific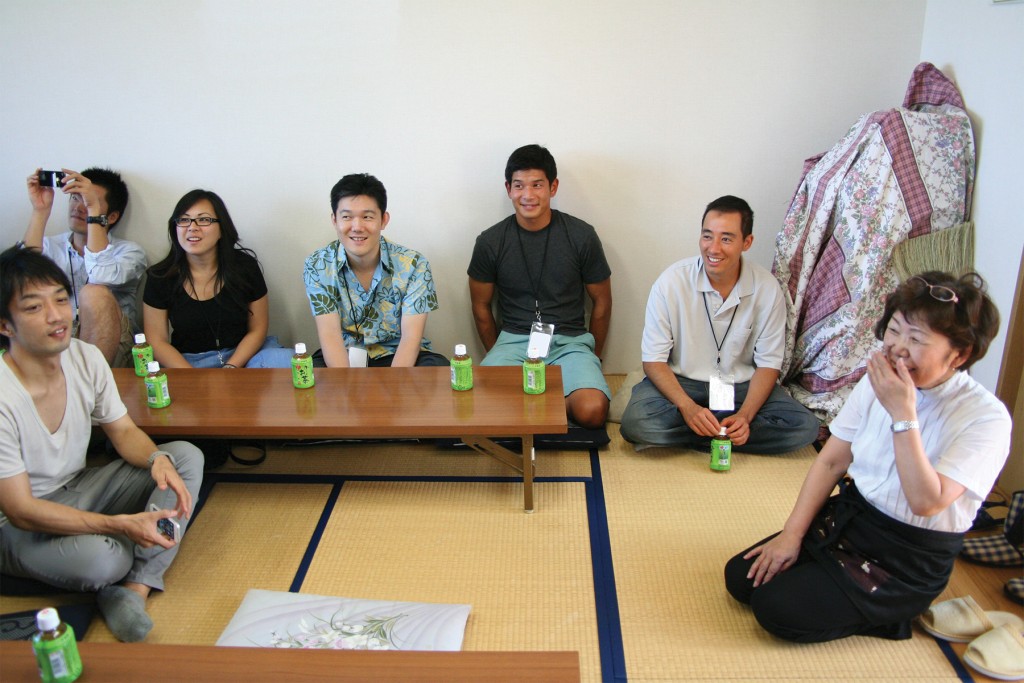 Before the young business leaders from Hawaii started their intensive three-day journey to Japan, they did not get an ordinary pep talk or briefing. Instead, Glenn Furuya, founder of Leadership Works, talked to them about "Leading from the Heart."
To be a good leader, Furuya explained, "You must lead yourself to happiness first." Being happy and fulfilled revolved around three areas: relationships and love, creativity and meaningful work, and turning human suffering into triumph. Over the next few days, he said to the young leaders, seek examples of omotenashi, or service for others. In Japan, they found many.
During that trip last August, the young leaders group from the Hawaii Asia Pacific Association (HAPA) met inspiring people who were thrust into leadership roles on March 11, 2011, when a powerful earthquake and tsunami struck Japan.
One of those people was Hideko Oikawa, the CEO of Oikawa Denim. The young leaders sat on the floor of her combination home and jeans factory, and listened intently as Oikawa, speaking through an interpreter, told how the waters came rushing onshore that day, receded and came back again with devastating effect. Her home and business had moved to their current location on top of a hill a year earlier, so she was fortunate. Others were not as lucky.
Survivors came to her for help and she did not turn them away. Her home was crowded with 150 refugees until July 24, four months after the tsunami.
HAPA's goal is to connect people like Oikawa with people in Hawaii. The organization's 55 members represent a broad spectrum of Hawaii's senior business leaders. Warren Haruki, executive chairman of HAPA and president and CEO of Grove Farm, says the group was created in 2004 with the aim of supporting Hawaii business and community leaders who would travel throughout the Asia Pacific area, understand emerging regional trends and build cross-cultural relationships.
HAPA's Young Leaders program was launched in 2012, spearheaded by Duane Kurisu, chairman of aio group, the parent company of Hawaii Business. In that first year, a group from Japan visited Hawaii for an intensive course that included cultural learning. A group from Korea visited Hawaii in July 2013 and, in August 2013, the Hawaii group went to Japan.
The Hawaii group met the Japanese group in Tokyo – some of them had met each other before, but, for many, it was a first-time encounter. Hawaii was represented by individuals identified by HAPA members as emerging leaders, and many came from Top 250 companies such as Bank of Hawaii, Servco Pacific, Hawaiian Telcom and The Queen's Health Systems. The Japanese group included a corporate officer at Pokemon, software entrepreneurs, an architect and a leader of a nonprofit helping the world's poor.
On the second day, the combined Hawaii-Japan group of 20 people traveled via bullet train to Sendai, the area hardest hit by the tsunami. They met with Tomohiro Takei, president of Makoto, which he said is "like an incubator … (where) we're building an ecosystem for startups."
The physical space was similar to co-working spaces in Kakaako. The 50 diverse businesses that Makoto works
with include a luxury strawberry farm whose strawberries retail for roughly US $10 each, a hair salon and a restaurant management company. Takei was also working with the local government to create an enterprise zone in Sendai. "The disaster area will become a paradise for entrepreneurs," he predicted.
The group rode a bus to the city of Kesennuma and, even though it was more than two years after the earthquake, tsunami and subsequent fires, damage remained visible: foundations laid bare, bridges toppled and a ship still aground in the middle of the city.
That was the day the group heard Hideko Oikawa's story. Afterward, they went to a rebuilt guesthouse – a small triumph standing near other homes that remained broken. The tsunami had flooded up to the third floor of the original house, but the owner of the house was not hurt. Her husband, a fisherman, was stranded at sea for three days. When they were finally reunited, they decided they would rebuild and open their home for all visitors.
Local fishermen took the Hawaii-Japan group to see a scallop and oyster farm. Once thriving, the stock had been destroyed in the tsunami, but the group's visit came as the first new crop of farm-raised scallops were reaching maturity.
The next day, the group heard another account of omotenashi. Fumiko Osaka told them how she helped save three elderly people from drowning, and almost died herself. To this day, she does not know who rescued her. Though Osaka survived, her future remains unclear, as does that of many of her neighbors: She lives in temporary housing, is learning English and is continuing her education in an effort to find new opportunities.
On their visit, members of the group wanted to make a contribution, so they weeded the ground under camellia trees, whose nuts produce an oil that is the main ingredient in a specialty hand cream.
Back in Tokyo for their final day together, the combined Hawaii-Japan groups gathered in a recording studio and sang "Sukiyaki" and "Imagine" by John Lennon, and made plans to stay in touch with each other.