18 Great Places for Business Lunches and Pau Hana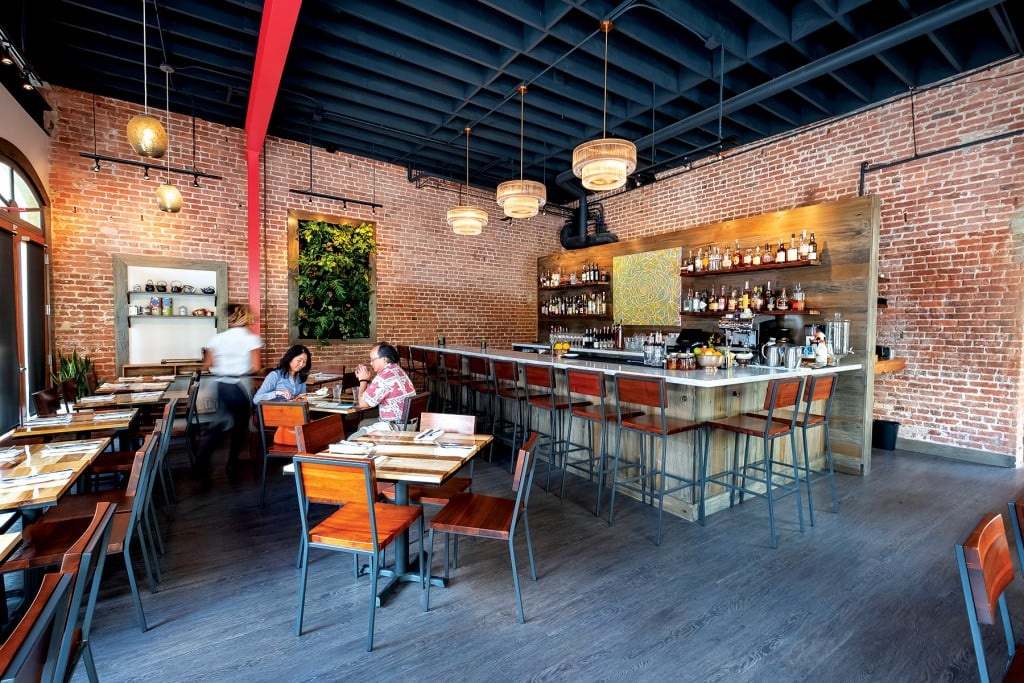 LET'S DO LUNCH
Interviews, meetings and even tense negotiations all go down easier when paired with a great meal or a stiff drink. Here are 10 restaurants for all business occasions. If you'd rather just have a drink or two after work, click here for eight great pau hana places.
1You want to keep it friendly: Artizen by MW
The casual open seating at Artizen by MW is perfect for informal meetings – grab a table or put two together. If you have a big group, head there early before the lunch crowd peaks (they run out of some popular items later on). The grab-and-go lunch menu offers local comfort foods – the bento box is an office favorite – and the mochi crusted monchong is great for any meetup. 250 S. Hotel St., 524-0499, artizenbymw.com.
2You need space for spreadsheets: Bethel Union
No matter what time of day we stop by Bethel Union, we've never found it to be crowded – and that's great when you're discussing important work over bites of twisty Union Fries. Long tables can easily be pushed together to accommodate large groups, and there's an outdoor patio for more private one-on-ones. Order the pappardelle and take your time – lunch is served from 11 a.m. to 3 p.m. weekdays. 1115 Bethel St., 524-0447, bethelunion.com.
3They're traditional: Livestock Tavern
It's understated, quiet and classy, with never-miss new American dishes, including lobster roll, hamburger, chopped salad, roasted salmon and lamb shank pasta. Livestock is best for a one-on-one or foursome, especially if you sit at the more private banquette to the left as you enter. It's popular with local business/banking clientele but isn't a power showroom. 49 N. Hotel St., 537-2577, livestocktavern.com.
4You want to keep it small but chic: Fête
Head for Fête when looking for a chic lunch that makes a statement with fresh sustainable new American food in a hip Chinatown bistro. Easy for parties of two to four to snag a table and chat. The bustle can get loud at the height of meal times so we try to hit the sweet spot for a late lunch, early dinner. Grilled pulpo with fingerling potato salad hits the spot. And the vegetarian quinoa burger – cheddar cheese, caramelized onions and roasted garlic aioli – will satisfy even the keenest carnivores. 2 N. Hotel St., 369-1390, fetehawaii.com.
5You're craving a leisurely lunch: Mariposa
There's a reason Neiman Marcus' full-service restaurant has won Best Business Lunch in HONOLULU Magazine's Hale Aina awards five times in the last six years. Open, airy and featuring a lanai with an ocean view, Mariposa offers you a reason to forget morning traffic and that tense 10 a.m. meeting the moment that first warm popover slides onto your plate. Feel free to have seconds (we sometimes shamefully accept thirds) before ordering the lobster club featuring thick chunks of shellfish, arare-crusted salmon or the sesame seared 'ahi salad on Mari's greens from Central O'ahu. Neiman Marcus, third floor, Ala Moana Center, 1450 Ala Moana Blvd., 951-3420, neimanmarcus.com/restaurants
6Your lunch partner will want to Instagram: Pai Honolulu
Tucked away in the lobby of Harbor Court, Pai Honolulu offers a quiet respite from the crowded lunch spots of Chinatown. With indoor or outdoor seating, you have the option of spreading out with spreadsheets or sharing small plates with a co-worker. Pai's lunch menu offers a variety of thoughtfully plated dishes for every kind of sophisticated diner – all under $20 – from a seasonal soup in a house-baked sourdough bread bowl to a 90-day dry-aged beef burger that can be upgraded with foie gras and winter truffles. The bar serves cocktails, beer and wine, too. Harbor Court, 55 Merchant St., Suite 110, 744-2531, paihonolulu.com.
7You're not just associates, you're friends: The Pig & The Lady
You don't ask dates for a criminal background check and you don't bite into the decadently messy but addictive Pho French Dip Banh Mi in front of a stranger. Slurping Mama Le's heart-satisfying pho is also not the neatest activity and, chances are, you'll be doing it while semi-shouting over the bustling crowd that packs in the moment this award-winning restaurant opens at 11 a.m. So, enjoy the elbow-to-elbow camaraderie and energy with a longtime colleague or client. That way, he or she will be more likely to get on board if that late brainstorming lunch rolls into an early pau hana next door at Smith & Kings. 83 N. King St., 585-8255, thepigandthelady.com.
8You don't mind sharing: Rangoon Burmese Kitchen
When you aim to please a crowd, want an array of vegetarian options and room for larger groups, this newer spot Downtown has the right menu. Get the tea leaf salad: a refreshing, leafy, spicy, citrusy, salty, crunchy, nutty dish. Or order family-style to sample a variety of salads as well as curry, soups and stews that comfort with their coconut creaminess. We loved the Burmese sour leaf but would probably avoid tussling with the head-on prawns for a business lunch. 1131 Nuuanu Ave., 367-0645, rangoon-burmese-kitchen.business.site.
9You're thinking of your whole self: Water Drop Vegetarian House
For a Buddhist-run cafeteria with a spartan mix-and-match menu, this lunch-only vegetarian café seems to draw as many Downtown executives as spiritual seekers. Healthy, quiet, clean, it's a place to meet a clear-minded, self-actualizing, possibly vegan client who doesn't need alcohol or coffee and doesn't mind bussing their tray. The menu changes daily; for a splurge, try the potstickers on Tuesdays and Thursdays. 801 Alakea St., 545-3455, facebook.com/WaterDropVegetarianHouse.
10You need to make a big first or 14th impression: Senia
With expertly plated dishes, even at lunch, Senia can't help but impress. It offers a $35 prix fixe lunch menu with three courses – yes, including dessert. Options include beef tartare with a Maui onion soubise, a hefty porchetta sandwich or the popular 'ahi burger with a Napa cabbage slaw. You still get that curated Senia experience, but the pacing is a lot faster to accommodate the lunch crowd. You can also linger for longer meetings. This is a great place to entertain clients, conduct small-group meetings or celebrate a promotion. Bonus: The bar is open at lunch. 75 N. King St., 200-5412, restaurantsenia.com.
━━
POWER PAU HANA
When discussions go better with a beer, try the pau hana specials at these eight bars and restaurants while the sun goes down.
1Bar 35
The relaxed vibe and outdoor seating has made this a staple on the Downtown pau hana scene. Happy hour is actually happy hours, stretching from 4 to 9 p.m. Tuesday through Friday, with 25 percent off any two thin-crust pizzas, a serving of spicy edamame, EuroFries with dipping sauces and the popular triple-cheese crostini topped with bacon crumbles. To chase it all, three-olive martinis are $3.75 and Hangar 1 martinis are $5 during happy hour. 35 N. Hotel St., 537-3535, bar35hawaii.com.
2Bevy
If you get to Bevy between 4 and 7 p.m., you can take advantage of its happy hour deals: $1.50 oysters (a must), $2 off small plates and can beer, $6 cocktail of the day and $6 sparkling wine. We're fans of the smoked salmon spread with taro chips (Sam & Chips, $9 during happy hour) and house-made hummus (Things That Make You Hummm, $8 during happy hour). 675 Auahi St., 594-7445, bevyhawaii.com.
3Hukilau
When work wraps early on a weekday or that afternoon meeting might go better with an adult beverage, Hukilau Honolulu in Executive Centre fills the bill. The tempting cheap eats include a kalua pig quesadilla, sweet potato fries and old-school shoyu hot dogs. Drink specials feature a mix of $5 special cocktails, wine over pour (basically two glasses for $10) and $10 pitchers. Tucked at the foot of the escalator by Longs Drugs and Ross Dress for Less, there are always open tables and a game or four on the big-screen TVs. 1088 Bishop St. LL13, 523-3460, dahukilau.com.
4Encore Saloon
It's no wonder Encore tops our office's pau hana list. With communal picnic table seating on the patio, rotating alcoholic slushies and some of the best nachos and $3 fish tacos on the island, we always end up there for goodbyes, hellos and birthdays. The friendly staff never punishes us for lingering or getting a little rowdy – it's just a good time. Don't leave without ordering a side of esquites-style Mexican street corn. 10 N. Hotel St., 367-1656, encoresaloon.com.
5Moku Kitchen
Happy hour only lasts from 3 to 5:30 p.m. daily, but it's worth ditching work a little early. Grab a seat outside to chat and people watch as you order one – or two – of every half-off small plate on the menu. It's the best way to try the lobster deviled eggs, usually $18 at lunch. Moku Kitchen also offers deals on its 36 beers on tap, house wines by the glass and handcrafted cocktails. Move quickly, then sit in front of your packed table and enjoy the live music. 660 Ala Moana Blvd., 591-6658, mokukitchen.com.
6Yakitori Hachibei
When this Chinatown yakitori spot opened in 2017, the owners said happy hour would only be available for a limited time. Fortunately, it's still around more than a year later. But the "limited time" signage is still there, so go soon to try its 5@5 menu, which features a variety of dishes and drinks for $5. Get fried calamari, ahi poke and chicken liver pâté served on baguette slices. Five-dollar drinks include highballs, Japanese beers and chūhai made with freshly pressed lemons. Happy hour runs from 5 to 6 p.m. daily, so you don't have time to waste. 20 N. Hotel St., 369-0088, hachibei.com.
7MW Restaurant
What started as just a way to fill the gap between lunch and dinner service at MW Restaurant has quickly become its own thing. From 2 to 5 p.m., $5 small plates offer a stellar selection of seasonal dishes featuring local ingredients: ahi poke mandoo with Hāmākua eryngi mushrooms, crispy butterfish skin salad, Ho Farms fried okra and kim chee pork lettuce wraps. Don't forget to end with dessert. Even at full price, pastry chef Michelle Karr-Ueoka's creations are always worth it. 1538 Kapi'olani Blvd., 955-6505, mwrestaurant.com.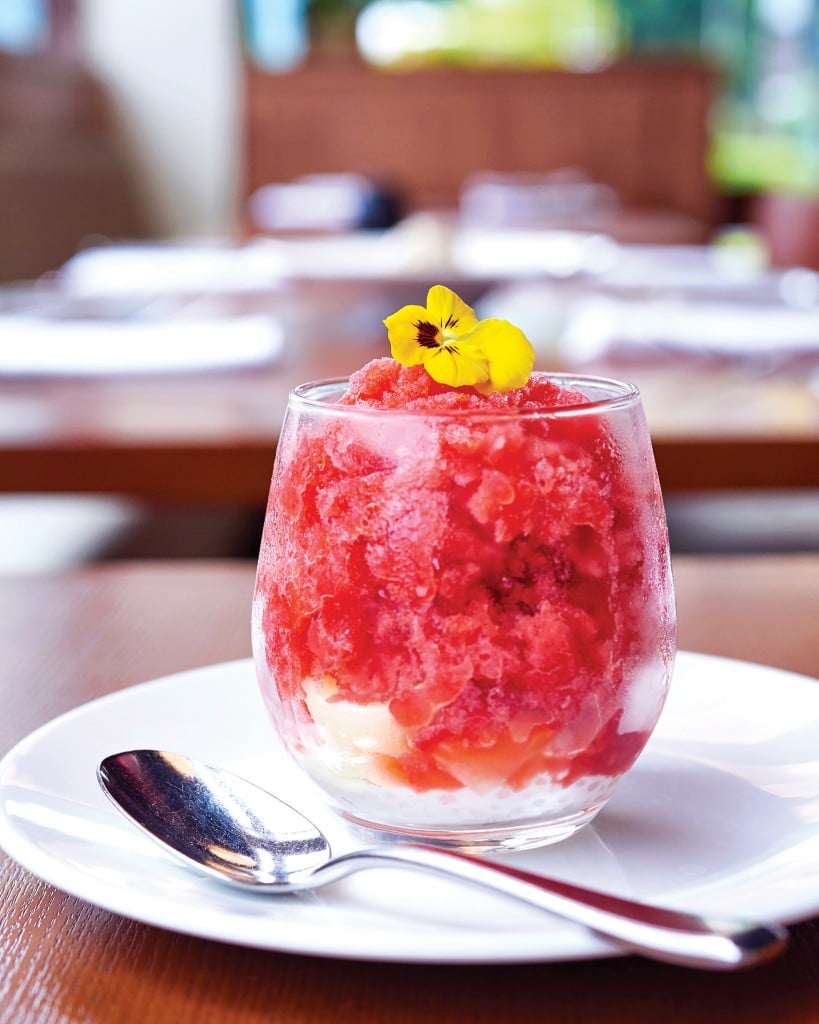 8Square Barrels
Step into Square Barrels after work and it will probably be packed with co-workers celebrating birthdays, friends commiserating about their long days and everything in between. The cozy restaurant boasts a happy hour menu with great deals: $2 off appetizers and cocktails, $1 beer faucets and more. Poutine, with french fries doused in a tasty gravy and cheese curds, is always a great seller. But make sure you wait before biting into the fried caprese bites to avoid steam injuries when the juicy, deep-fried tomato breaks open. Expect bigger crowds for trivia night at 6:30 p.m. on Tuesdays and comedy night at 7 p.m. on Thursdays. 1001 Bishop St., Suite 108, 524-2747, squarebarrels.com.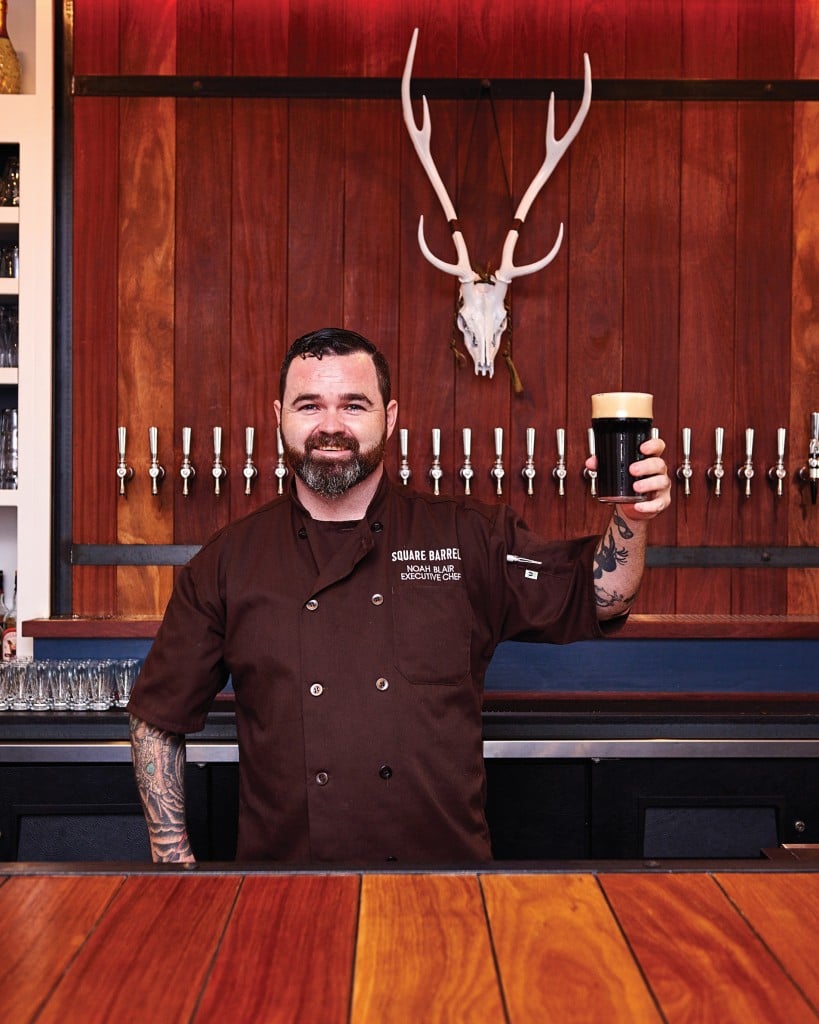 ━━
MAP IT OUT: