Can the University of Hawaii make millions off its research?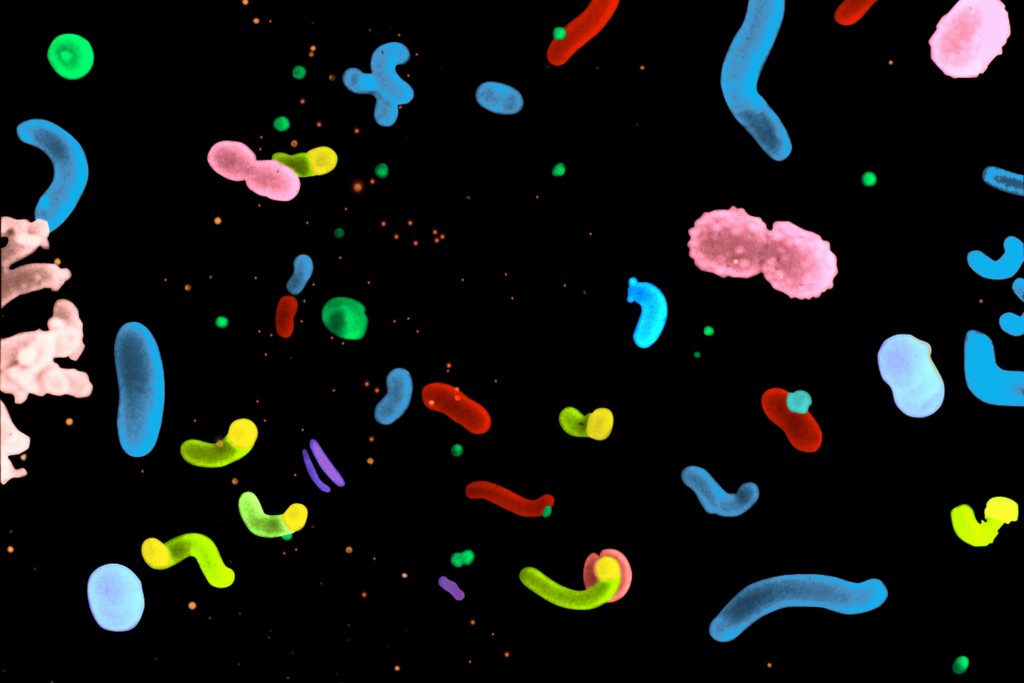 These bacteria are a key part of UH's plan to double the money it collects from federal grants over the coming decade
"Micro-organisms dominate this planet," says David Karl, director of C-MORE, the UH-based Center for Microbial Oceanography, Research and Education. "Even though we don't notice it, because we can't see them, we can see their activities: They produce the oxygen in the atmosphere, they consume pollutants and organic matter, and they recycle nutrients, like nitrogen, phosphorus and carbon." They are everywhere, including the clear, deep-ocean waters that surround Hawaii. And, as Karl puts it, as much as 99 percent of the genetic diversity on the planet is microbial.
But it's only in the last two decades, with remarkable advances in genetics, that we've been able to grapple with that diversity. "If you look at what we like to think of as a tree of diversity," Karl says, "plants and humans are on the same limb. We're the same as corn. We share 99 percent of our genes with monkeys. Whereas, although bacteria may all look alike, they might only share one percent of their genes, they're so radically different from one another. And in any drop of seawater, there's a million microbes."
C-MORE is a consortium of UH, MIT and four other institutions that studies what the diversity and abundance of ocean microbes mean for the planet. One crucial question is what effect will climate change or the acidification of the ocean have on the organisms that, after all, produce half the oxygen on the planet.
The center has been a windfall for the research community at UH. It was created through a $40 million, 10-year National Science Foundation grant as one of only 17 NSF Science and Technology Centers in the country. The researchers affiliated with the center include four members of the National Academy of Sciences – more members than in the rest of Hawaii combined – and the principal investigators in C-MORE's Hawaii labs have attracted millions of dollars in federal and foundation grants. A percentage of that grant money pays the mortgage on the $22.5 million, LEED-certified, C-MORE Hale on the Manoa campus, and fills its labs with scientific equipment, such as gas spectrometers, high-speed processors and, especially, the increasingly sophisticated tools of modern genetics.
Innovation Initiative
C-MORE is also a poster child for the university's ambitious Hawaii Innovation Initiative. HI2 has been one of the signature projects of outgoing university president M.R.C. Greenwood. Its main goal is to double the value of federal grants coming into the university, from about $500 million in 2012 to more than $1 billion by 2022, about half of which is specifically for research. (The rest is for job training and workforce development.) More broadly, HI2 is about expanding Hawaii's innovation economy. That might sound like the diversification plans of countless organizations (HI-BEAM, HiSciTech, et al), but HI2 is different. While most of those other plans have focused on building Hawaii's private high-tech sector, HI2 works on the premise that scientific research is a viable economic enterprise in itself. The university is already, by far, the largest high-tech employer in the state, and Greenwood and her administration believe that expanding the university's research enterprise is the best way to grow the state's innovation economy.
Peter Quigley, associate VP for academic affairs and executive director of HI2, points out that UH can't do this by itself. Success, he says, will require the support of the state Legislature and the business community, which means UH must reach out to those groups. Quigley uses the example of the University of California, San Diego, and its innovative CONNECT program, a public/private partnership that helped the community understand how important the university was to the local economy. "Now," Quigley says, "everybody is reading off the same page. Everybody knows that they're in it together."
Quigley sees other important parallels between San Diego and Hawaii. "They've got a big naval base, like we do. Early on, before they started this focus on innovation and research, they were dependent on tourism and the military, like we are. And, even though they're in California, they were viewed as remote and out-of-the-way and probably a little bit anemic in terms of their future for economic might. And then along comes the university 30 years ago, it partnered with the private sector, partnered with the mayor of San Diego, and began to recruit first-class researchers and recruit companies."
The effort appears to be a success. San Diego is now a biotech hub, and several major research-intensive corporations have operations there. HI2 supporters envision something similar here, with UH's research enterprise serving as the primary catalyst for growth.
What are the strategies for growing a university's research enterprise? One approach is to select existing strengths and build research institutions around them. Another approach is to poach academic superstars – and their programs and funding – from other universities. You can also expand existing research programs with more support or better facilities. Or, you can identify and invest in a suite of technologies and skills that help all kinds of research. UH has decided to do "all of the above."
Research Institutes
C-MORE was built around existing strengths. Even before he founded the research center, Karl was an acclaimed oceanographer and, of course, Hawaii's location is ideal for an oceanographic research institution. Finally, the university's long history of ocean research – along with decades of support from the late Sen. Daniel Inouye – meant UH already had useful resources, including a fleet of oceangoing research ships and submersibles. Given those resources – plus the prestige of collaborating with organizations such as MIT and the Monterey Bay Aquarium – it's not surprising C-MORE has been successful.
Other successful research institutes at UH include the Joint Institute for Marine and Atmospheric Research, the Hawaii Institute for Geophysics and Planetology, the Hawaii Institute for Marine Biology and the Hawaii Undersea Research Lab. Their focus on research, rather than teaching, is why UH is already successful at raising federal funds – 51st in the country out of 689 universities and colleges.
In fact, UH doubled its federal grants over each of the past two decades. But doubling them again, in an era of generally declining federal support, will require focusing on areas of research that tend to attract funding. It will probably also require more collaboration and shared resources.
The UH Cancer Center in Kakaako is a prime example. One of 67 National Institute of Health-designated cancer centers in the country, this research institute is a partnership between UH and local hospitals. "Because this is a cancer center," says director Michele Carbone, "our job is to find new ways to prevent and treat cancer; so, by definition, we need to work with cancer patients. As you know, UH does not have a hospital; therefore, we formed a consortium with Queen's, Hawaii Pacific Health and Kuakini."
That partnership has worked well in hard times, Carbone says. "The goal was to join forces at a time in which the economy is not as it was in the past. By joining forces, we can afford what each one of us would have had a hard time doing alone." For example, he says, collectively they can afford the clinical trials and high-tech equipment that are sine qua non in cancer research. Singly, they couldn't. Similarly, by sharing resources, the partner organizations can hire staff that none of them could afford alone. Carbone cites pathologists.
"Pathology costs are expensive," he says, "and we didn't really have enough money either here or at Queen's to afford a world-class research pathologist. There are not enough cancer patients at either institution to justify a fulltime person to do that. And yet, we were able to recruite Dr. Amy Powers, an assistant professor at Harvard. And the reason we were able to bring Dr. Powers here was that we joined forces. So, we pay her salary together. … But she would not have come here if we didn't offer her the possibility to work in the clinic, and she wouldn't have gone to the hospital if she didn't have the possibility to work in academics. So, you can see how, out of this, everybody benefits."
Superstars
Probably the most important way UH expects to jump-start its research enterprise is to hire academic superstars. Carbone was one – the type of researcher and administrator you can build a whole program around. HI2 envisions hiring as many as 50 of these research powerhouses over the next decade. The university touts Ed DeLong, a microbiologist and National Academy fellow from MIT, as the first of its HI2 hires. DeLong probably deserves an asterisk, though. As an MIT researcher, DeLong was a co-founder of C-MORE, and has been a longtime colleague of Karl. Moreover, he doesn't move to UH until 2014. Even so, he's a big catch for the university because he has a track record of attracting funds.
The question, of course, is whether UH can afford 49 more researchers like DeLong. That turns out to be a complicated issue. Top researchers typically demand higher salaries and require expensive facilities to do their work, which means HI2 will come with quite a tab. On the other hand, researchers are expected to raise most of that money themselves. That sets them apart from faculty who primarily teach. But it also makes it difficult to figure out what it will actually cost to hire 50 academic superstars.
The answer may be: Not as much as you might think. Carbone gives the hypothetical example of a typical researcher with a salary of $100,000 and two $250,000 NIH grants. If the researcher works on one grant 50 percent of the time, and the other 25 percent of the time, 75 percent of his salary is paid through those NIH grants. That means UH only pays $25,000 of the $100,000 salary. But that's not the end of the equation.
"On top of the $500,000 in grants, which cover so-called 'direct costs,' " Carbone says, "the university gets what's called 'indirect costs,' which, for the Cancer Center, is 50 percent on top of any grant. That means NIH pays an additional 50 percent to the institution that hosts you to pay for the electricity, to pay for the insurance, etc." In our not-atypical scenario of a researcher with grants totaling $500,000, that means an additional $250,000 in revenue for the university. "That's how the Cancer Center makes money," Carbone says. "That's how the institution lives. Then, the investigator takes the $250,000 of each grant and he or she spends that money to do their own research." Carbone notes that, even if a researcher's salary were $200,000, the university would only pay $50,000 of that, still netting $200,000.
He compares that to a non-research faculty person making half the salary. "That faculty would cost the university the full $100,000. So the faculty who makes $100,000 costs more than the faculty at $200,000. That's how you have to measure salaries: How much are you really costing? Of course, it's not just about money, but that's one way you can measure."
All those numbers are different for superstars. Karl points out that the average UH researcher only gets about half his pay from the university. "But I bring in much more overhead money than I get in state general funds for my salary," he says. "And that's all I get from the state: half my salary. So, I'm making money for somebody. I don't know who. Maybe if you talked to other people, they'd say, 'No, we're spending money on you for electricity and for this and that.' I haven't done a total economic model, but in my career I've brought $100 million to this university. I certainly haven't gotten paid $100 million."
Yet, though some research institutions make money, universities as a whole don't make money on research. "Teaching dollars subsidize research, not the other way around," says Bill Ditto, the new dean of the College of Natural Sciences and a major research warhorse himself. "We don't make money on research; no university does. If you check with The Chronicle of Higher Education, roughly speaking, for every dollar you bring in for research, you spend $1.08 to $1.30 to do it." So, it's still not clear whether the university's plan to hire 50 superstars makes money or loses it.
Challenges
Hiring superstars also has the potential of creating tension within the existing research community at UH. "This has been misunderstood," says Greenwood. "We have talked about building and getting the kinds of individuals who can do this kind of research. That has been misinterpreted as only importing people from the outside, but that was certainly never the intention. The intention is to invest in people – in some cases, in people who are already here, and in other cases, yes, looking at, for example, fields where we really need the expertise in order to be able to compete internationally. We don't have a good department of X, and we need to build that."
Greenwood also acknowledges that "research" includes a lot more than the types of science covered by HI2. "I often point out that probably the single most important piece of research and trend-setting work done in the United States in the last century was in women's studies. You tell me: Was there anything more significant in society than the changed role of women?" She tells a similar story about Head Start, which she points out only exists because NIH-funded research on the impact early childhood education had on brain development. But the bulk of federal funding, and thus the emphasis of HI2, is on the hard sciences. That inevitably breeds some tension between programs and faculty.
Some of those faculty are skeptical about the university's ability to attract and hire 50 people of the caliber of Ed DeLong. "It's a marvelous idea," says David Duffy, leader of the Pacific Cooperative Studies Unit. "But, when I did the numbers, it's almost impossible to do. You'd have to attract sort of mid-career people. They have large labs. They're sort of like machines. They've usually got a lab manager, a bunch of post-docs and grad students, and whatever they're doing, they can't just shut down. They've got to arrive here the next day and go right to work. UH doesn't have the space and it's also not very good at helping set up labs. It can take months. These guys would have to ship their stuff, come in and turn on the lights and go back to work. UH doesn't operate at that speed."
Duffy also points out that the salaries of National Academy-caliber researchers would have to be on the order of $250,000 a year, and that the start-up costs of such a hire – equipment, staffing, etc. – would probably be around $1 million. Multiply by 50 people, and you're looking at an investment of at least $50 million over 10 years. "The thing is: you'd have to get the Legislature to fund it, but they'd have to take it on faith that this is going to work. But, if they put in $50 milllion, they're not going to get that $50 million back immediately. Or they may get it all back from one person and none from the rest. So, it's a crapshoot."
Yet Duffy is an example of a faculty member who's both a cash cow for the university and a one-man economic development program for the state. Through his Pacific Cooperative Studies Unit, he presides over programs like the Plant Extinction Prevention Program, the Hawaii Invasive Species Council and the Koolau Mountain Watershed Project. In effect, he's the university's unofficial dean of conservation.
"I sort of told myself that what I want to do is see how much money I can bring in over five years, how many people I can hire. I told myself I would stop at $50 million, but it just kept going. In 15 years, I've brought in over $150 million. Last year was $15 million; we started slow and built up. The other thing was: Can we provide jobs in rural areas to manage things like watersheds? We now have 344 people. I joke that we teach them here and then we give them jobs when they get out. So, almost half of them are former UH students from across the system, including community colleges. Twenty percent are Native Hawaiians."
Research Climate
The fact that research faculty usually bring in most of their own money isn't entirely a good thing – at least not without rethinking some of the basic tenets of university life. One key challenge is figuring out how to provide faculty with the right incentives. As Michele Carbone notes, to meet HI2's goals, the university may need to provide researchers with different incentives than teachers.
"Research is a different entity than teaching," Carbone says. "So, if you're a good teacher today, more likely than not, you're going to be a good teacher 10 years from now. But research works in a different way. Research and technology move continuously. Some people can stay at the top for a long time, but many people cannot." So, for a research institution to thrive, it has to have a mechanism to get rid of people whose research can no longer raise funds, people who can no longer pull their weight.
"Different institutions do different things," Carbone says. "Many research institutions don't give tenure at all. They just give five-year contracts. Say you go to Cedar-Sinai, a large hospital and research institution in California, you'll get a three-year contract or a five-year contract, and, at the end of your contract, if you're doing well, they renew your contract, if not, you go. That allows them to keep a revolving door of people coming in and going out.
"Other institutions use other mechanisms. For example, at the University of Pittsburgh, tenured faculty who cannot support 75 percent of their salary every year get a 20 percent cut of their salary. You understand that if you get your salary cut 20 percent, after three years, you're making less than half what you were making. That creates an incentive for those not bringing in resources to go somewhere else." Carbone also notes that the University of Pittsburgh allows researchers to keep 10 percent of the money they raise, which not only inflates the salaries of successful researchers, it also makes it difficult for them to ever leave.
The Cancer Center – and most of UH's research institutes – will need to develop similar incentives if it wants to stay ahead of the competition.
Tech Transfer
Yet another challenge is UH's Office of Technology Transfer and Economic Development. OTTED's job is to find companies willing to develop and commercialize the basic research done at the university. Tech transfer programs like OTTED stem from the Bayh-Dole Act, passed in 1980, which allows universities to license and sell technology created through federally funded research. But many people, both at the university and within the Hawaii business community, believe UH does a poor job of commercializing research done by its faculty. In fact, HITex, one of the principal, if still tentative, components of HI2, is meant to replace OTTED and reinvigorate the university's tech transfer program.
But not everyone agrees that OTTED is at fault. Jonathan Roberts, senior licensing associate and, in the absence of a director, the unofficial COO at OTTED, says part of the problem is that UH research excels in areas that simply don't produce many patents. Fields like marine biology, astronomy and ocean sciences, for example, will never produce many commercial products. In 2010, Roberts produced a table showing each department's number of disclosures – potentially patentable discoveries – over the previous five years, and compared that number with benchmark numbers furnished by the Association of University Technology Managers, based on the amount of federal funds received. The numbers are eye opening. Researchers at SOEST, which raised $681 million in federal funds, only filed 39 disclosures, as compared to 272 for the benchmark. JABSOM, the university's young medical school, raised $289 million in federal funds, while generating 63 disclosers, half the 115 benchmark. And the Department of Biology raised $141 million, while generated no disclosures at all.
There are reasons for this anemic showing, Roberts says. For example, a big chunk of the federal grants going to SOEST were simply to cover ship operations – a laudable goal, but hardly one that will produce many patents. JABSOM, he points out, was founded as a teaching college, and has only recently begun to emphasize research. And, perversely, the Department of Biology's low numbers are largely because of the success of Dave Duffy and his Pacific Cooperative Studies Unit.
"He researches things like the impact of global warming on wildlife populations, basic science in botany and biology," Roberts says. "Stuff that's in the news and obviously important to society. He's advancing the frontiers of knowledge. He's got a research institute that employs a whole bunch of people. It's a wonderful thing; but it's never going to generate a whole bunch of intellectual property."
Engineering
One bright spot for OTTED is the College of Engineering, which generated 146 disclosures, versus just 25 for the benchmark. But Roberts points out this is largely because of one extraordinarily productive researcher: James Holm-Kennedy. This highlights the uncertainty of tech transfer. Over the years, Holm-Kennedy has generated dozens of patents for the university, including one for a device that can sequence a human genome for less than $1,000; that patent was recently licensed to a tech firm and could generate enough income for the university to run OTTED for years to come. But Holm-Kennedy is the exception, and that's normal for a university's tech transfer operation.
"The problem," Roberts says, "is that tech transfer has been oversold." Many, for example, believe the university should be able to use the tech transfer process as a way to midwife a private tech sector into existence. Roberts doesn't buy it. "Even if a huge enterprise should start up here, based on some locally developed technology, you know that it's going to move to California. It's just impossible to establish something like that in the most remote inhabited area in the world. The first licensee that we had, New Genesis, operated here for five years and moved to California. Look what happened to Verifone. They started up here and they manufactured here. But then the manufacturing moved to Malaysia and the corporate headquarters moved to the mainland. That's always going to happen. If you go to somewhere like North Dakota, it's the same deal. Yes, a firm might start in North Dakota, but it's going to move to Chicago."
Katharine Ku, director of the tech transfer program at Stanford University, widely viewed as one of the best in the country, agrees with Roberts. "It's worse than a statistical game," she says. "We've seen about 9,200 inventions over 43 years, but we've only had three that we consider big hits: Cohen-Boyer (recombinant DNA), functional antibodies (an HIV diagnostic) and Google. In fact, for most universities, tech transfer is an expense center because you have to spend a lot of at-risk money."
Still, tech transfer, when it works, can be a powerful tool for research institutes. "I'll give you an example," says Carbone of the Cancer Center. "Another cancer center that's a little bit bigger than ours – I won't say the name – had an income of $72 million from grant funding, and they have a little over 100 researchers. Compare that with us: We brought in about $30 million from about 32 researchers. So, you can see our researchers are doing better than their researchers. …"
"But, when you look at the amount of money that other cancer center made through patents, they made $200 million. The amount we made from patents was zero. So, there you see a tremendous opportunity for us to grow."
Still another problem for HI2 is how it manages its federal overhead. That percentage isn't set in stone; it varies from university to university, and even from department to department. The federal government periodically audits the university to determine indirect costs, based on how much the university actually invests in the research enterprise. And David Karl points out, "We have an embarrassingly low overhead rate for a public university: 32 percent. The University of Washington at Seattle, for example, has indirect costs of 60 percent. Private universities are 70 percent to 75 percent."
The reason the University of Hawaii's rate is so low is simply because they don't invest in research, Karl says. "Our overhead rate has dropped since I've come out here, because the federal government periodically comes out here and says, 'Well, you haven't been making any investments.' It's a vicious circle. Unless you invest, you'll never be able to recover more money. We're leaving money on the table."
Reasons for Optimism
Many don't accept the premise that there's a dichotomy between research and teaching. "That's the old model," says Bill Ditto. "To be honest, that's where we've dumbed down so many of our universities. We have this idea that teaching is punishment, and the reward for success is that you're bringing in a lot of money. Neither of which is true. The best researchers are the best teachers."
Like Ditto, Peter Quigley sees research as an intrinsic part of modern education. "That's why a Stanford or a UCSD is impressive," he says. "It's where knowledge gets taught; but it's also where knowledge gets made. And students who get to go to places like that, who see actual problems solved, actual discoveries made, are people who are touched forever."
Ditto also believes in the power of a few good people. So, even if UH can't attract 50 of the best and brightest, HI2 could still succeed. "You'll get the occasional superstar or experienced person," he says, "and then you get a whole lot of talented young people, and you change the world with them. … I think we're very much at the cusp of a real renaissance at the University of Hawaii, and I want to be a part of that."
That's not just idle talk. Ditto has already built two major research programs from scratch. At Georgia Tech, he helped create the Department of Biomedical Engineering, which he says grew from three faculty members, no students and no staff, to one of the most successful programs in the country, with 280 graduate students, 900 undergraduates and something like 60 faculty. His approach also worked at the University of Florida, where he also created a Department of Biomedical Engineering. "At Florida," he says, "we ended up being the richest department on campus and, again, I started with no faculty, no alumni and only two staff members. That was tough. Now, it has a $20 million endowment, a $100 million building and it's thriving."
Ditto attributes this success to focusing on the quality of the research rather than the money, a strategy he thinks applies to UH as well. "It works," he says. "It's pretty standard and it's old-school. You get creative people who attract more creative people. And they all have the right values, which means they value teaching, they value creative research. As I tell people here, it's not about money. If you're chasing money, we don't want you. Money should be chasing your ideas. That's our value system, and that attracts the very best."
---
Extra Mural Grants, including Federal funds, to the UH System
Funding is for research, job training and workforce development. UH hopes to increase extra mural funding to $1 billion a year by 2022.
Source: University of Hawaii