Student Media at UH Compete in a Facebook/Spotify World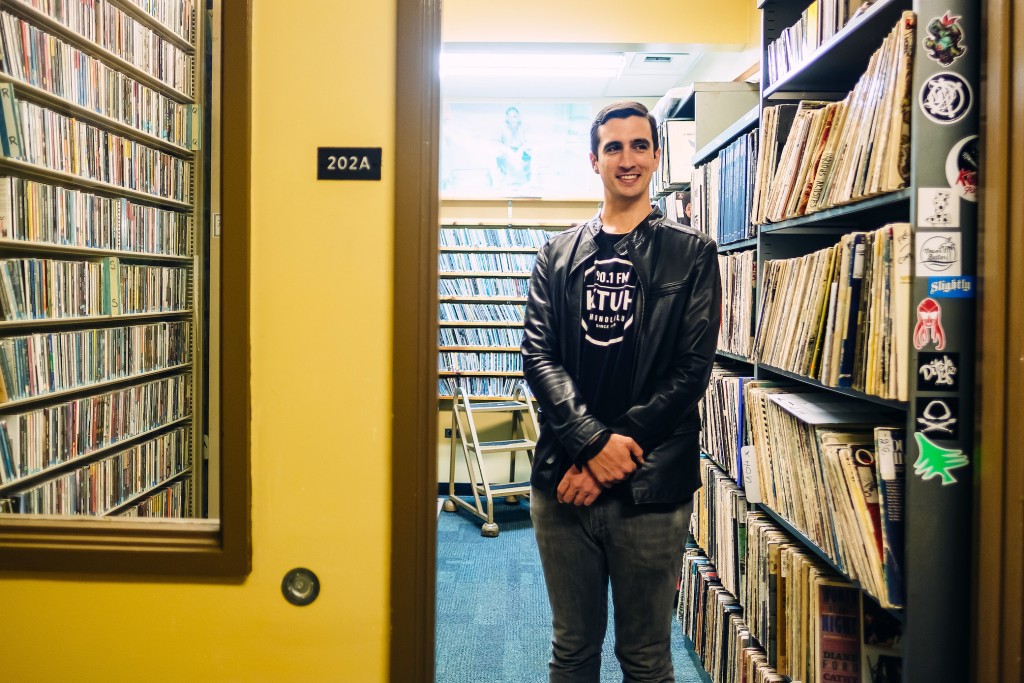 Staff at the student newspaper and radio station at Manoa work hard to stay relevant
Hemenway Hall is crumbling.
The building's concrete has rust stains from flaking metal attached to it, making the staircase railings and bathroom stalls feel less than secure. The college radio station is upstairs, with worn carpets and a faint smell of old cigarettes. Around back is the student newspaper, behind heavy glass doors that feel locked at first tug. The inside, gray in the daytime, is lit by ambient light bouncing in through the windows. Even the bare desks make clear the limited extent of the organization's funding – but the faces behind them shine.
The media producers at UH Manoa are mostly volunteers, like at many colleges across the country. These platforms used to be more rarified, when talent had to be proven to be read or heard. But in today's wild west of click-bait hungry consumers, any and all content creators are welcome online. Vetting is done in the field, if at all. So how does university media – with a code of ethics and a tiny budget – compete with literally everyone else to be heard?
"We live in the tweet generation, not the beat generation," says Tzana Saldania, the slight, bright-eyed 20 year-old opinions editor at Ka Leo O Hawaii, the student paper. A reluctant leader in light of her other success – she has 70,000 followers from the Batman blog she started at age 12 – Saldania has settled in. She came to the paper at the urging of a high school teacher, realizing immediately on arrival, "Oh, they need help."
Saldania wants to take the paper in a more multimedia direction. Its online presence is already starting to feature "videos that are Buzzfeed-like, like Punk'd," she says, but because it's a news organization, she recognizes the need to be careful about its reputation. Still, coming from a video editing background, she sees considerable value in that media. "I think every editor has a different opinion," she says, "but I'm sure that they all kind of agree that, you know, print is dead."
Then, there's Dave Wilkie. A wiry, bespectacled man in his mid-30s, Wilkie started volunteering with the college radio station, KTUH, almost two decades ago. "I did the graveyard shift for a year," he says. Since his beginning as a wee-hours volunteer DJ, Wilkie has moved up to become the accounts director and, most recently, the web director. He learned web design just to work on a team to upgrade the station's dated website. "It was a usability nightmare," he says. "It works like a single page application now. It has the look and feel of a mobile app."
While Ka Leo is in competition with pop news sites like Buzzfeed and Bustle, KTUH is up against music streaming services like Spotify and Pandora. Aside from the new website being more user friendly, the biggest improvement is a semblance of on-demand capability, which consumers today take for granted. Visitors can now pick through show playlists up to one week past, which may soon increase to two – the current limit imposed by the nonprofit licensing group, SoundExchange, and digital streaming license law.
How to stay relevant in such a dense sea of content? According to Saldania, university accreditation and a code of ethics are what separates them from the online noise. "This is, I think, what's important about having an editor," she says. Anybody can post online, but not everybody has somebody checking their validity, she argues. "My job is to check before it posts."
Then there's the misconception that young people lack patience. Despite her push for more of a flashy online focus – utilizing tools like Facebook, Twitter and video clips – Saldania believes in the value of old-school storytelling. "I think that people kind of underestimate young people's ability to engage with reading," she says. "It should be a news organization's responsibility to encourage that."
Wilkie's objections to online competitors are more tactile in origin. He believes streaming services like Pandora lack the same access as his own two hands. "I know from digging relentlessly as a DJ over about two decades there's stuff that doesn't make it onto Spotify, or even Bandcamp," he says. "Maybe it only exists on vinyl." For him, automated curation will never compare to the experience he's gained over the years, making his own playlists, finding the gems.
Saldania seems to agree. When asked about the future of journalism, she has no doubt the tried and true methods of learning it will still prevail. "Someone who can bridge the layperson with something super technical and boring is how news has to be in the future," she says. "And you don't get to be good at that unless you learn it from somewhere. That's the benefit of these college newspapers."
The biggest challenge for university media creators in the modern world is a simple one: having creators. When a platform is as accessible as a free blog or YouTube account, there's little draw for a formal sign-up with a school. The DJs at KTUH all donate their time and writers with Ka Leo get paid a negligible amount per article. Plus, they're asked to make a commitment – a lot to ask of busy students already maxed out with their class schedules, part-time jobs and busy digital lives.
Saldania's one wish would be to have a full staff. Between good stories and good writers, she says the latter are more precious – they'll make the former. "Even if there were talented people, this wouldn't be the first place they go," she says. She wishes more people cared about the paper, which is precisely why she decided to stick around and pick up the slack. "It's something my mom says: 'You can't just be on it, you've gotta be all over it,' " she says, laughing.
Wilkie's full-time day job as a software developer doesn't keep him from giving UH his time, either. In his case, it's genuine passion. "Making mixed tapes is one of the most fun things ever," he says. Asking him about his process leads down a rabbit hole of animated descriptions.
Both UH media devotees believe there's inherent value in what they do, that their work can't be replaced despite changing times, and that it will never be obsolete.
"That's the thing with algorithms that try to cater to everybody," Wilkie says. "They're tested toward the mean." Then, looking serious, he adds, "Are you an average person?"
He lowers his glasses. "Are you average people?"