Four Things Local Businesses Should Know About Excelling in Today's Changing World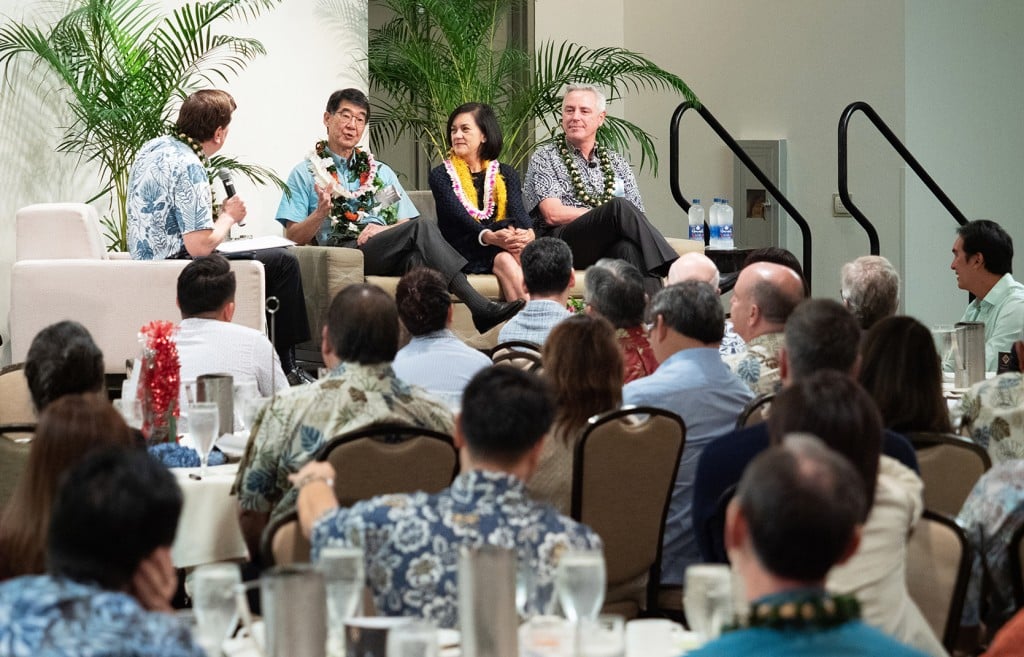 If there's one thing that businesses can count on, it's that change is inevitable.
"I think if you just look around, this is a rapidly changing world, and it can be either fascinating or terrifying, but either way it grabs your attention," said Mark Fukunaga, chairman and CEO of Servco Pacific, at Hawaii Business magazine's final C-Suite Speaker Series event of the year on Thursday morning.
"Unlike in the past, I think people not only are aware of change but really are watching it closely because it means a lot to all of our careers and lives."
Fukunaga, who is Hawaii Business' 2018 CEO of the Year, was part of a panel that discussed ways local businesses can innovate to excel in today's changing world. Other panelists included Jenai Wall, chairman and CEO of Foodland Super Market, and Matt Cox, chairman and CEO of Matson. About 280 people attended the event, which took place at Pomaikai Ballrooms.
Here are four takeaways:
All employees can contribute to innovation. At Foodland, an employee receives $100 if the company tests his or her idea, Wall said. If the idea is implemented, the employee will receive a percentage of the sales during the first year or a percentage of the cost savings. One example was when an employee created a device that allowed him to compact the trash in the company's garbage bins – to "mash trash." That resulted in fewer trash pickups, so the devices were made for all of the stores. By making contributions like these, employees feel connected to their companies because they've made a difference, Wall said.
Retaining employees involves a multipronged approach. That approach starts by offering competitive salaries, Fukunaga said. Another part, he added, is making sure employees' work is interesting, especially for Millennial and Generation Z workers: "Is my time at Servco a period of growth or is it just to get a paycheck?"
All eyes are on leadership when it comes to defining and changing an organization's culture, Cox said. Leaders should model their company's rules and cultural aspirations, and they can reinforce the culture with recognition for small and large successes. He says technology can be used to help build the company culture but there is no substitute for "face time" – the CEO and other top executives meeting in person with employees, answering questions and explaining policies.
Be patient. Innovations doesn't always yield success right away. Fukunaga said Servco began selling Toyota cars in 1958. At the time, they were considered underpowered and overpriced cars, and in 1962 the company only sold two – one, Fukunaga said, was to his mother. A few years later, things started to turn around. "The interesting thing is that … sometimes the world changes around you," he said. "In this case, the world changed to embrace small economical fuel-efficient cars, and Toyota all of a sudden became a huge hit."
━━
This Servco Pacific video tribute to Mark Fukunaga was shown at the event: