2018 CEO of the Year:
Mark Fukunaga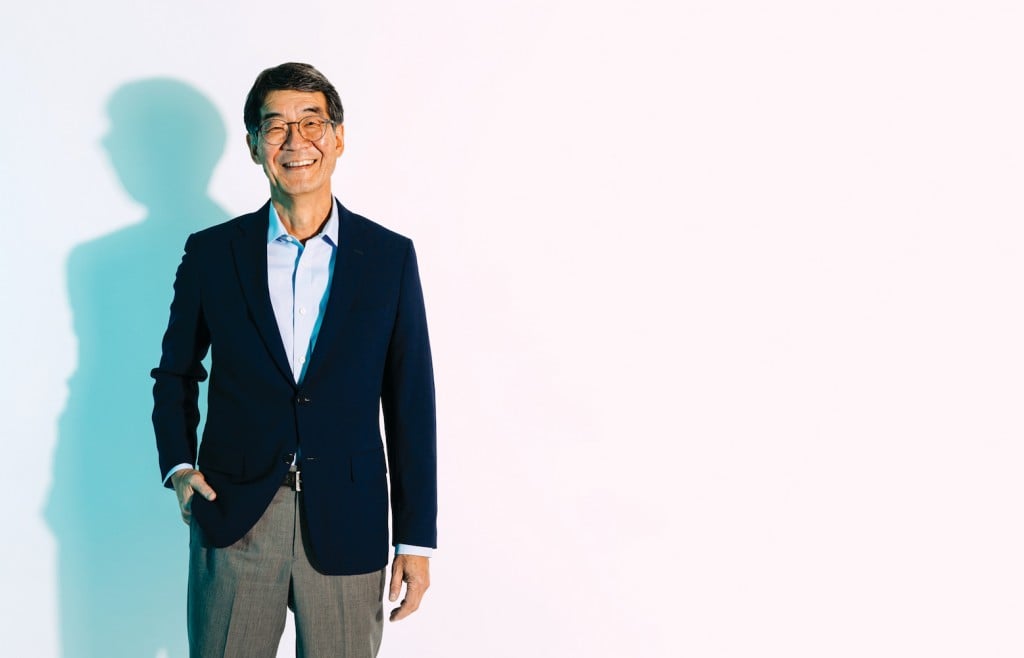 The CEO of Servco Pacific grew the family business by selling off sideline companies, focusing on core competencies and excelling on both customer service and employee satisfaction, all while constantly reinventing the company.
When he returned home for what he expected to be five years of helping the family business, one of Mark Fukunaga's first jobs was cleaning rotten food out of faulty refrigerators. The year was 1988 and the 32-year-old New York attorney came back to Hawaii just as Servco was in the midst of a crisis with a GE refrigerator recall. It was an unlikely start in the family business for a man who Hawaii Business has named 2018's CEO of the Year.
"We were really busy trying to save people's food, and sending them replacement refrigerators, and bringing in the ones that had problems," Fukunaga remembers.
He quickly moved rotting food into dumpsters and learned how to weld new compressors onto the backs of refrigerators –and how fresh lemon juice squeezed into water miraculously kills bad odors.
"The fresh lemon juice actually works. It's amazing." But he learned something else about supporting a company started in 1919 by his grandfather, Peter Fukunaga. He discovered that solving problems, and turning upset customers into fans was not just an exercise in filial duty, but something he profoundly enjoyed.
Back then, "I told my dad I'd work with him for five years, and then, who knows," Fukunaga says. "The '90s were a pretty busy time for us. Dad died unexpectedly, and my uncle followed 11 months later, and my cousin, Eric, and I stepped into our fathers' shoes and just had a lot to do. We were too busy to be reflective."
ALL IN THE OHANA
Mark Fukunaga comes by his entrepreneurial spirit honestly. His grandfather worked for a Hawaii Island plantation as "the dynamite guy," blasting tunnels through rock to create irrigation systems. The pay must have been good, says Fukunaga, because with his savings his grandfather moved to Oahu to finish his education–in his 20s –at Iolani School, after teaching himself English. Then he launched the company in 1919.
Mark's father and uncle were equally entrepreneurial, expanding the company to Guam and other Pacific islands starting in the mid−1970s.
Those five years have turned into 30 years and Fukunaga is now chairman and CEO of Servco Pacific Inc. and CEO of Servco Pacific Capital. Under his leadership, Servco Pacific Inc. has grown into the state's largest privately owned company, employing more than 2,000 people and heading into 2019 with anticipated revenues of $2 billion. "When we took over in 1994, the company had $340 million in revenues. Around 2012, we hit $1 billion in revenues, which was a big deal for us. It took us more than 90 years to hit $1 billion, and then less than 10 more years to hit $2 billion."
The retail business that started with a $25 investment by Mark's grandfather is now a global entity that includes one of the largest automotive dealership groups in this country and one of the largest in Australia. Servco is best known for its Toyota dealerships, but it also has Hawaii dealerships for Lexus, Subaru and Chevrolet. It also sells home appliances, tires, school and office furniture, and industrial equipment.
Servco is also a 50 percent shareholder of the Fender Musical Instruments Corp. and Fukunaga is a co-chair. Fender guitars have been favored by rock stars and other famous musicians for more than half a century, and are also played by Fukunaga –though badly, he admits.
Despite relentless growth, the company cherishes its local roots and above all values customer needs and satisfaction. Hawaii Business produced its first Best Place to Work list in 2005 –and Servco has been on it for each of the past 14 years.
For all of those reasons and more, Mark Fukunaga has been chosen CEO of the Year for 2018 by Hawaii Business magazine.
Fukunaga and Servco have embraced a company philosophy that enables rapid action to respond to today's disruptive retail environment.
"You can't ever rest. It's really important to be intellectually curious and look at a lot of stuff out there with a healthy dose of curiosity, paranoia and a willingness to change," Fukunaga says. "You have to look at a lot of things happening in digital –in terms of how people live and how they interact with the community, and as a member of the community how you engage with them. That's particularly important in a disrupted time."
As if to punctuate that point, Servco recently launched a car-sharing pilot program called Hui that already has 70 vehicles in 25 locations in Honolulu and plans to expand rapidly.
"We always laugh that Mark is always going 100 miles per hour or more, and we all have to keep up with him," says Jenai Sullivan Wall, chairperson and CEO of Foodland Super Market Ltd., and a member of the Servco board for 20 years.
"He's a big-picture thinker. It's like he has the fastest car and he's driving ahead of us and we're hanging onto the bumper and happy to be along for the ride."
That's not to say the board doesn't play a pivotal role in the Servco universe. Big decisions – such as the move into Australia 11 years ago – go to the board for open give-and-take discussions.
"We are also a sounding board for things he wants to do," Wall says. "I don't think Mark would ever go against the direction of the board. We have lively discussions, and when we leave the room we always feel we're in alignment."
Rick Ching, Servco's president and COO, remembers the day back in 1999 when he and Fukunaga were on a long conference call finalizing the deal to sell Servco Financial Corp., a smaller enterprise the company decided to spin off to focus on core competencies.
"We started at 9 or 10 in the morning," remembers Ching, "and went all the way to the next morning. It was an incredible call. We said we're not hanging up until we get this deal hammered out. We realized that the people in New York were sitting in the office in their trench coats literally because we worked through dinner and breakfast."
The story speaks to Fukunaga's determination and energy. "He's tireless," says Ching. "Most people physically could not do what he does. If he thinks it's important to fly to Japan or Australia to sit across the table from someone and have a one-hour meeting face to face, he'll do it. He'll jump on a plane and do it."
Despite his lofty position, Fukunaga has an easygoing style, a habit of asking employees, "So are you having fun?" –and a tradition of offering rewards for accomplishments that create a "people first" working environment. Ching noticed long ago how Fukunaga likes to sit down at company gatherings and talk story with various groups of employees –listening to their experiences and answering their questions.
Servco board member Warren Luke, chairman and CEO of Hawaii National Bank, is impressed with Fukunaga's ability to operate on both a personal level with employees and at the highest tier of business. "To take this company from a locally owned business to an international conglomerate takes a lot of work, and a good feel for people," says Luke.
"In today's world, companies have to really be ready for change –to be able to look at the past but to really understand what's happening in the world. And Mark has done very well with that. He puts himself in a lot of situations he could learn from, and really bends over backward for employees and the family."
Even before changes are on anyone else's horizon, Fukunaga gathers facts about new trends or ideas to present to the board, Luke says, "so the company is in the forefront of new technology, and yet he still remembers things that his father told him. I really like that."
Fukunaga speaks eloquently of the deeply rooted values he's grown up with –and never rests on past accomplishments.
"Even though we're about to be 100 years old," he says, "every business has to reinvent itself. No business stays the same. In our case I think every generation of leadership kind of reinvents the company. Eric, my grandfather, launched it. He was an incredible entrepreneur who started out as a dishwasher at Parker Ranch. Our dads really grew the company in much broader ways geographically outside of Hawaii, and then (cousin) Eric and I refocused.
"All the phases make sense, but in the '90s and beyond, given the type of competition that came to Hawaii, you really had to focus in and decide what you were exceptionally good at, and where it gave you an edge. It took us 10 years, but (starting in the 1990s), we went from 42 businesses down to three."
That dramatic change came in the wake of the sudden death of Mark's father, George Fukunaga, from a heart attack in 1993, and then Mark's uncle 11 months later, from cancer.
The younger Fukunaga recalls sitting with his father for lunch during a visit to Servco's operations in Guam. As Mark watched across the table, the elder Fukunaga slowly closed his eyes, as if in thought.
"He didn't open his eyes again. He literally went to sleep at the table. We rushed him to the hospital but they couldn't save him."
Soon after, Mark Fukunaga was thrust into the company's leadership, along with his cousin, Eric Fukunaga, his uncle's son.
"The two of us were just trying to figure out what the heck we were going to do next. And that evolved into exiting a lot of the businesses we were in while figuring out what we were going to stay in and how we were going to improve them."
What made the moment especially challenging was the state's growing integration into the national economy and the influx into Hawaii of large competitors.
Fukunaga says neither he nor his cousin were prepared to lead, and neither knew if they'd even recognize whether they were good at it. Fukunaga has a BA from Pomona College and a law degree from the University of Chicago; he worked for Cleary Steen & Hamilton, one of New York's largest and most prestigious law firms, but his early background in business was nominal. However, his time as a volunteer in college for a suicide prevention hotline provided experience in calming emotional callers.
"Every business has to reinvent itself. No business stays the same." – Mark Fukunaga
Thirty years on he is still learning and continues to ask board members for their hard-nosed evaluations
of his leadership.
"He'll visit individual directors and ask for critiques of his performance," says Servco board member Walter Dods, retired chairman of First Hawaiian Bank. "He takes criticism well. He's a very humble guy and soft-spoken. But you should listen to every word he says. He really knows what he's talking about."
As the cousins took charge in 1993 and 1994, they came to recognize that selling everything from washing machines and marine supplies and running movie theaters put them at a disadvantage in terms of scale. It meant they would be unlikely to easily compete against larger companies that could invest more in marketing and technology. As well, remembers Fukunaga, "we had a finance company and we knew interstate banking was coming. As a small lending company we didn't have the scale to do a lot of things."
So the core competencies became automobiles, appliance sales and insurance –although the latter has recently been sold, too. With a long and close partnership with Toyota, automobile dealerships were the most important component. And as Mark and Eric looked at new opportunities in the early 2000s, it was a Toyota executive who suggested Australia as an ideal place to expand because of its culture, which is similar to that of the Islands.
"Australia was a casual, friendly, open community," says Fukunaga, "a community that relies a lot on trust and a handshake, as well as having values of hard work, but also humor, to make it fun."
Servco opened its first Australia dealership in down-town Brisbane in 2007; soon Servco was opening one or more a year. Now there are 19 across the country.
"My grandfather used to say businesses can either grow or die," says Fukunaga. "There's no middle ground. You can't stay as you are. It's a form of decline because everyone else has grown."
With that same rationale, Fukunaga is ramping up the digital information base for both the Servco leadership team and the board.
"Last year we had a digital summit in Silicon Valley," recounts Ching. "The Servco executive committee and board of directors went away for a week to think about what does this all mean for our businesses. And we heard some very provocative discussions from experts in all fields. It's changing so fast, particularly automotive, and we were able tohave some dialogue with experts about what does it mean for Servco and the future of our industry. We're repeating that again this year."
Dods applauds Fukunaga's strategic thinking as well as his forward approach to evaluating trends and making accommodations.
"You have to be willing to experiment. You can't close your eyes to what's happening in the world and think your business will go on." – Mark Fukunaga
"We definitely see change coming in a big way, and we're doing our best to be on the right side of that," Dods says. "We study this, and Mark's very visionary in this area, so we look at car-sharing, driverless cars and what that does to sales in the future. We spend a lot of time on artificial intelligence, and all of this with Mark opening doors so we can be educated."
This year's retreat was planned for Seattle, Dods says, so Servco's executives and directors could be introduced to area innovators. And Fukunaga recently added two women from Silicon Valley to the board to bring their expertise into play.That's typical of Mark, says Dods. "He's looking for skill sets he doesn't have. Frankly, he's an outstanding CEO. He's out there. He's very cerebral and he definitely thinks outside the box, and also long-range."
Recently the company also opened a venture capital and private equity firm, Servco Pacific Capital, based in San Francisco to both invest in new technology and extend their own products.Currently the focus is on partnerships with Fender, Harley-Davidson, Hui and Hydrogen, along with Servco Auto Australia.
The Servco dealerships continue to be highly successful, taking advantage of fuel-efficient cars, electric cars and car-sharing, and Fukunaga has tested car-sharing systems in Vancouver and other cities to learn about their functionality and ease.
"You have to be willing to experiment. You can't close your eyes to what's happening in the world and think your business will go on. You just need a lot of data points because patterns start to emerge.
"And you really have to look at some of the hotbeds. Silicon Valley is the obvious. But Vancouver is the car-sharing capital of North America. There are 4,200 car-share vehicles and 2.5 million users in Vancouver provided by four different companies.
"Pittsburgh and Carnegie-Mellon are hotbeds for autonomous research. And Australia is doing some interesting things in car-sharing too. One of our Australian board members is a technologist so we're looking at things happening there. In Sydney and Melbourne they have pretty robust car-sharing led by a company called GoGet. There's a very large parking operator providing car-sharing services with up to a million subscribers. And Toyota has Singapore experimenting with autonomous taxis. There's just a lot happening."
ALL IN THE OHANA (cont'd)
Later, Mark and Eric Fukunaga reinvented the company, expanded to Australia and took a 50 percent stake in the Fender guitar company. Mark Fukunaga loves the instrument and says he's been taking lessons for years. It's common knowledge that he hangs out with Bono at Fender board meetings, which Walter Dods says "gives him a cool factor."
Fukunaga often muses about next steps. "It's hard to imagine a future in a disruptive time," he says. "I think Apple has proven that sometimes you just have to guess and experiment and prototype and see what works. Not everyone can really imagine what they want to have in the future or what's possible. So sometimes you put it out there to see how folks engage with it, and you learn lessons from that, and refine it, and hopefully increase interest."
Moving forward with innovation here, Servco's partner is Toyota Connected, whose idea was to use Hawaii as a car-sharing laboratory. "We joined forces about a year and a half ago," says Fukunaga, "and they said, 'This is great. Hawaii is a great test market for car-sharing using smartphone technology to make it really easy.'
"We have a history going back to 1958 of working with Toyota on new innovations. It was the year the first models were exported successfully to the U.S. Our technicians helped with the prototypes on those vehicles. We're also doing the hydrogen filling stations that generate hydrogen on-site, and in July opened one that's publicly available. Anybody with a hydrogen fuel cell vehicle can use it."
That would include Fukunaga himself, who recently acquired a hydrogen fuel cell car, one of the handful of Toyota Mirais in the state. It's the latest of five vehicles he owns, but the only one that's new, he says.
"With hydrogen it's a bit of a chicken and egg technology," Fukunaga continues. "It makes a lot of sense and the only byproduct is water. It's an easy fill –five minutes –and over 300 miles per tank and no worries about range. But there's not yet a hydrogen fuel infrastructure. So to make it feasible for Hawaii, we have to provide a station in Hawaii. But I think others are looking at that too, including the state."
As the head of what, at heart, is still a family business, Fukunaga also balances the need to constantly evolve, while including the rest of the family. In prior generations there had been family friction, according to a board source, but not now.
Board members like Luke, Wall and Dods are impressed by the finesse Fukunaga exhibits in keeping the family informed, and the respect with which he does it."He has gone out of his way to treat each member of the family with the utmost respect and bring them inside the tent," Dods says. "He spends time meeting with the next gen to make sure they understand the company and groom those who might want to come inside the company. I've never seen anybody spend the time and energy he does with a multitude of family members."
Wall has similar sentiments: "This is a family business in so many ways, and he has done a tremendous job keeping his family informed and engaged and supportive about the direction the company is moving in.
"Moving the business forward is challenging enough in and of itself, and for Mark to be able to do that the way he does and keep the family engaged and excited about it is quite remarkable."