My Wish is to Create a Business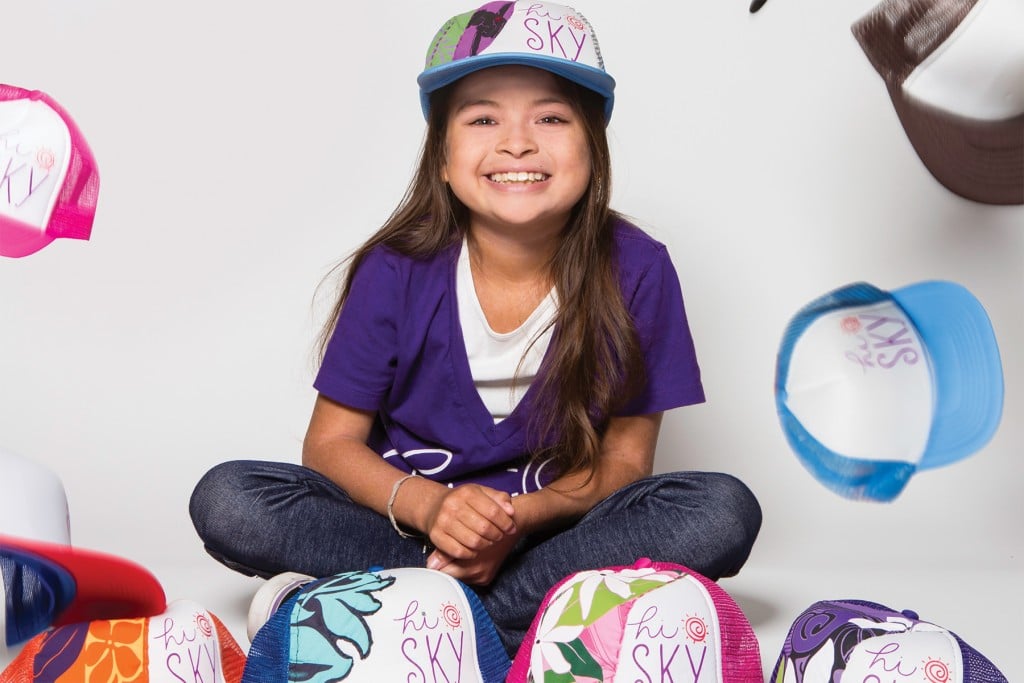 12-year-old struggling with serious illness named Entrepreneur of the Year
Skylar Soares' accomplishments are remarkable considering the 12-year-old entrepreneur created her business while contending with three life-threatening medical conditions.
Make-a-Wish Hawaii helped Skylar realize her dream: designing a fashionable hat line, HiSky, that teaches others about the importance of sun safety.
"I really like seeing how happy people are getting their hats because they can teach more people about sun safety," she says. The awareness "spreads faster than the hats do."
"Skylar's wish was wonderfully unique and very personal," says Siana Hunt, CEO of Make-a-Wish Hawaii. "We have a lot of children who ask for a Disney experience, but only a handful who ask to give back, thinking beyond themselves to want something for others."
In 2009, Skylar was diagnosed with a rare autoimmune disease known as HLH, followed by a diagnosis of Job syndrome. Skylar's most recently diagnosed condition, lupus, requires her to wear a hat at all times to protect her skin from ultraviolet rays.
Make-a-Wish partnered with Maryknoll School to host a surprise assembly on World Wish Day, April 29, to lift the school's no-hat policy and give all students sun hats that match their uniforms. Now, Skylar is no longer the only student in class wearing a hat and enjoys spending recesses delivering HiSky hat orders to supportive classmates and teachers.
After Make-a-Wish helped with the launch, Skylar took over as HiSky CEO and is focused on expanding her brand and business career. "I should be in the Guinness Book of World Records, 'Youngest CEO!'" Skylar exclaims.
Skylar was recently selected as the 2013 Small Business Hawaii Entrepreneur of the Year. "We have never had a winner this young," says Sam Slom, president of Smart Business Hawaii. "Skylar has such an awesome story and has accomplished something so great in such a short time."
What's next? Skylar is in the process of adding new products to her HiSky brand, including sun-safe umbrellas, long-sleeve rash guards and portable mini-bottles of sunscreen.
---
Skylar Among Those Honored
Skylar and others will be recognized at the 6th annual SBH Business All-Stars Awards Banquet on Sept. 20 at the Waialae Country Club, from 5:30 p.m. to 8 p.m. A four-piece ensemble from the new Hawaii Symphony Orchestra will premiere at the event. For reservations, call Darlyn Evangelista at 396-1724. The winners are:
AWARDS
WINNERS
Lex Brodie Business Person of the Year
John Carpenter

 

of Island Slipper Company
Jean Fukuda Civic Leadership Award
Vicky Cayetano

 

of United Laundry Services, Inc.
SBH Entrepreneur of the Year
Skylar Soares

 

of HiSky
Business Boosters
Ryan Ozawa

 

and

 

Burt Lum

 

of ByteMarks Cafe
Business All-Stars
Signe Godfrey

 

of Olsten Personnel Services

Clark Hatch of Clark Hatch Fitness Center

Mark Storfer of Hilo Hattie

Lifetime Business Achievement Award
John Henry Felix

 

of HMAA
George Mason Outstanding Business Reporting Award
Steve Petranik, editor of

 

Hawaii Business