China is the Land of Opportunity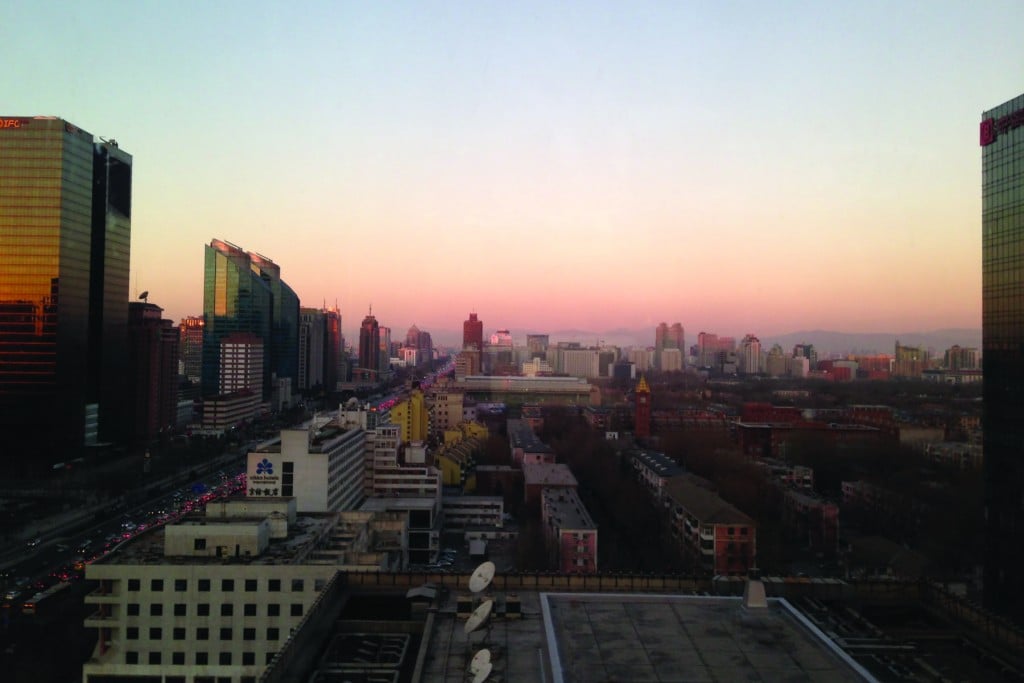 Hawaii-born Russell Leu loves working in China, though he recognizes living there offers challenges.
The Hawaii attorney wears a top quality, high-tech, air-filter mask on the street on days with heavy air pollution, and has a phone app that tells him Beijing's air quality each day, but he has never regretted his decision to go to China a decade ago.
It's a story many people from Hawaii tell: the fabulous career and personal opportunities that China offers, balanced against the pollution and other challenges of life there.
"Living and working in China is like sitting in a front-row seat," says Leu, an Iolani graduate. "You are sitting on the edge of the world watching and participating in a new global model being built. You're participating in this once-in-a-lifetime experience where the business paradigm has changed all because of the China factor."
Like other Hawaii residents, Leu found a business niche in a country exploding with economic expansion and new opportunities. Working with international clients going global, he helps them license their technology in China, protect their intellectual property and set up their investment structure in the world's most populous country. He says he recently signed as a client one of China's largest state-owned enterprises, which is also one of the largest companies in the world.
At the same time, he's an associate dean at Beijing Foreign Studies University – one of Beijing's major law schools – helping students develop into global lawyers, who often seek training at U.S. law schools and will bring their skills back to China.
"I am just a local guy who by happenchance made it out here 10 years ago," says Leu. "I'm humbled and awed at getting these kinds of opportunities. I am living my bucket list 10 years ahead of others."
Up to 110,000 Americans live in China, according to recent estimates, many in their 20s and 30s and lured by the chance to work in a growth economy.
"I had been representing banks and I could see back in 2000 that there was going to be a big crash in the industry," explains Leu of his Hawaii law practice before heading to China. "I said, 'I don't want to be around.' The practice had changed and was less collegial, and I wanted to get out of the rat race. I rolled the dice on it and went to China."
When author and newspaperman Horace Greeley used the expansionist phrase "Go West, young man" in 1865, he was imagining the wide-open spaces of the American West as the best place to launch a career. Today, that advice could mean going west to China – also potentially lucrative and challenging, but in different ways.
"You're going to have challenges in any emerging country. But in a country changing so rapidly it's incredibly interesting to be a part of that change," says Brenda Foster, who served as president of the American Chamber of Commerce in Shanghai from 2005 to 2013.
Foster is now an executive-in-residence at the Shidler College of Business at UH-Manoa, assisting in international programs.
Despite chronic health problems, Foster and her husband, attorney and UH law professor Lawrence Foster, have no regrets about spending eight years in China. Where else would she have negotiated for 50 camels so an American business group could visit a remote northern province?
"To be able to be there and contribute in even a very small way to make a better society, I would absolutely do it again," she says.
Lawrence Foster agrees. "China represents opportunities for us in Hawaii, both job and educational opportunities," says Foster, who taught part-time and worked as an international lawyer for a Shanghai law firm. "You get to see up-front and personal the business in action. (We did) a lot of real estate development, mergers and acquisition work.
"A lot of young Americans are saying, 'I don't know what I want to do, so I'll go to China and teach English and learn Chinese on the side,' " Lawrence Foster says. "I just heard of someone who went there in the '80s as a language teacher and now is a big CEO. He's been there for 30 years and never came home."
The Fosters have been fascinated with China ever since their undergraduate college years, when China was closed to most foreigners and they spent a year in Taiwan studying Chinese language and literature. After prestigious careers and further years of language study, they both spoke fluent Mandarin and finally had the opportunity to work in China proper in 2005.
Despite the health problems they suffered there, they say they'd go back in a heartbeat except they've both hit China's mandatory retirement age: 55 for women and 60 for men.
Greg Stolt, who grew up in Mililani and earned an MBA from Shidler, works in sports marketing for the National Basketball Association in Beijing. Coming to China was a great career move, he says. At the same time, he says, he has multiple air filters in the apartment he shares with his wife, Akiko, and they both wear masks on the street. On bad air days, they stay inside.
"The bad air is a critical issue that does have us questioning if living in Beijing is worth the wonderful life experience that we are gaining in China," he said by email.
The Stolts have lived in Beijing for a year and a half, and plan on staying another two and a half years. Before moving to Beijing, he worked in the NBA's New York headquarters supporting activities in India and China.
"I have always had an affinity for Asia and, when in New York, I traveled quite frequently to China for various projects and events. The opportunity came up where the NBA was looking for staff to relocate to China and I jumped on it."
Stolt says China is the NBA's most important international market.
"Living and working in China offers me an opportunity to be on the ground, learn the ins and outs of doing business, cultural quirks, how things operate and where future opportunities may lie," he says. "China will be a key market for our operations forever and, following my time in China, I will have gained perspective on the market that will be a 'value add' to future business as well as my career. … I would not have had this type of exposure in New York."
Niki Shishido feels the same enthusiasm for China. Last year, she came home after spending seven years in Beijing working for Hawaii's Department of Business, Economic Development and Tourism. If her family didn't need her, she'd still be in China.
"It was such a life-changing experience," says Shishido, currently the community relations coordinator for the Pacific and Asian Affairs Council. But, she adds, "China's not for everyone. I would really recommend, even before going in as a teacher, to study there or do a short program, either for language or a study tour. If you're stuck teaching there under a year's contract, you don't want to be miserable."
Shishido went to China almost by accident. She had been studying German language but spent a college semester abroad in Hong Kong because it was cheaper than Germany, even though she knew nothing about Hong Kong.
"It was such a wake-up call for me," she admits. "Hong Kong is such a bustling city and left a great impression on me."
That was in 2002 and, by the time she graduated, Shishido was hooked on Asia. A year later, she arranged to teach English in China – "that was the easiest way I saw of getting back" – and spent a year teaching at an international high school in Shanghai. An internship followed with the U.S. Commercial Service in Guangzhou that led to the job with DBEDT, which focused on marketing study in Hawaii to Chinese students.
Russell Leu says teaching in China can be a good career move. "I met a young Hawaii graduate who is in education," he says. "She is teaching at an English high school in China and is a counselor. If she works there for two years and then works as a counselor in an international school for another three years, she could return to the U.S. and have opportunities at the great U.S. educational institutions. Why? Because the Chinese students are now going global to good schools in the U.S. and she understands their needs and the culture."
Derek Brow spent two years in Beijing earning a master's degree in Chinese law and is now a law student at the William S. Richardson School of Law at UH-Manoa, focusing on Chinese business law. He hopes to make China part of his future.
"I have a real passion for Chinese business law and want to work for a company that has connections with China," he says. "I want to learn more about the business sector."
Brow's first foray into China came four years ago, when he applied to work as a translator. "A lot of companies were looking for translators for basic English," he says. At the same time, he was going to language school in Beijing studying Mandarin, and his teachers suggested he also apply to a two-year master's-degree program.
"Whether you're interested in international business or law, the way to get a foot in the door is actually to move there," says Brow. "Before that, I suggest doing a lot of research on the country, both the historical and modern background, and meet people who have worked in China or lived abroad. Once you have researched all that, go for it! Experiencing it firsthand is the best thing."
Tiffany N. Yajima agrees. Her first job was in China and that's where she met her Spanish-born husband, Marc Sabate. Since college, she and Sabate have spent eight years in Shanghai, and Yajima says it taught her how to maneuver in the worlds of business, law and government relations.
She now works as an attorney in government affairs for the Honolulu law firm of Ashford & Wriston, but the skills she learned in China serve her well in her work with the state Legislature.
"China is so fast-paced," says Yajima. "It's always changing and you're always going to be exposed to something new. That's what I enjoy and why I also enjoy working with the Legislature, because of its fast pace."
Yajima first visited China in 1996, during a trip sponsored by Punahou School's Wo Center, then spent a semester abroad in 1999 while at Vassar College and went back in 2001 right after graduation, this time as a researcher for an American law firm opening a Shanghai office. She stayed a total of eight years, taking a break to attend UH law school.
Yajima and Sabate stayed in China through 2011, with Yajima serving as a communications officer for the American Chamber of Commerce and her husband working as a consultant for Spanish firms wishing to import products to China. They lived through SARS, bird flu and food scares, but avoided the worst air pollution.
"The pollution in Shanghai wasn't so bad then," she says, "but it is an issue now." Even so, she and her husband would go back, and may even consider living there again when their son is older.
"There are no succinct words to explain how passionately I feel about living and working in China," says Yajima, whose mother, Loretta Yajima, founder of the Hawaii Children's Discovery Center in Kakaako, now travels to China four or five times a year as a consultant for a series of similar children's centers in China.
"It offers so much to the visitor and the expat," says the younger Yajima. "It's so important to spend some time internationally and I think China is a great place to do that."
Learn About China
Two agencies in Hawaii help students learn about China and conduct study tours there:
The nonprofit Pacific and Asian Affairs Council has a core program that engages high school students around topics relevant to Asia-Pacific. Every summer, 15 to 20 Hawaii high school students are selected for a two-week study tour of China, Japan, Korea or Vietnam. Partial or full scholarships are available to public high school students: paachawaii.org.
Confucius Institute at UH-Manoa sponsors a three-week summer camp at UH-Manoa for both middle and high school students with one year of Mandarin lessons.tinyurl.com/kemevja.
---
Know Before You Go
China may have the world's most dynamic economy, but it may also be the world's most polluted country. Bad air is only part of the problem.
Tainted water and food are huge issues. The Chinese Ministry of Land and Resources says a survey of 4,778 groundwater sites across China found almost 60 percent were of poor or extremely poor quality because of pollutants. Tests found that one-sixth of all Chinese farmland contains unacceptable levels of mercury, arsenic and other pollutants, which makes foreigners leery of Chinese-grown food.
American companies are struggling to persuade employees to relocate to Beijing because of the pollution. Some expatriates already there are so concerned that they're sending their families back home, and then living outside of China themselves every few months.
"This January was the worst I've seen in 10 years (in Beijing)," Russell Leu said on a recent visit home to Hawaii. "There's no wind to move (the air pollution) away, and there are tons of cars which have contributed. When it's really bad, you should always wear a mask. … You can buy air purifiers all over the city, and buy masks. And it's easy to get out of the large cities and find places where there is no pollution."
Brenda Foster spent eight years there and would love to go back, "but I would not take young children.
"I would never expose a young child to the kind of pollution out there. Once that particulate matter gets into your lungs, it doesn't leave, and it could be cancer-causing down the line. Did we worry about our health? Yes. I had constant sinus infections while I was there and the doctor said the only way I was going to get rid of them was to get out – to go and sit in the fresh air and the sun."
Everyone we talked to for this story mentioned both the opportunities in China and the pollution. Foster and her husband often wore masks on the street, though they lived in Shanghai, where the air is cleaner than in Beijing. They also ran air filters in their apartment, drank bottled water and ate imported meat and vegetables.
The Fosters didn't go outside without consulting apps on their phones that carried air-pollution readings. They had two: the official Chinese version and an American one, both offering an estimate of particulate matter in the air.
The Chinese version generally rated the air quality much better, says Brenda Foster. For instance, the Chinese reading might say the air quality is 184, while the American reading would put it at 200.
In the U.S., federal regulations put the limit for safe air quality at about 25. "When Los Angeles was at its worst, it would be 45," Foster says.
"There were times, primarily in Beijing, where we couldn't see the building across the street because the air was so bad," she says.
---
Hawaii's Pioneer in China
Hawaii's Dean Ho first went to Shanghai in 1985, just as Deng Xiaoping was turning China away from strict communism into a more capitalist-style economy. Ho is still there 29 years later, a respected and well-connected businessman, and frequently a mentor to young people arriving from Hawaii.
"From my observation, Hawaii kids are particularly well-suited to work in China," because of Hawaii's ethnic mix and Asian-style culture, he says. "They're accustomed to dealing with different ethnic groups."
His advice to those considering a career move to China: First, acquire a strong knowledge of Mandarin and get experience working in the U.S. That experience, he says, makes you more attractive to Chinese companies.
Ho is the youngest son of the late Hawaii businessman, developer and newspaper owner Chinn Ho and the uncle of Bank of Hawaii CEO Peter Ho. He was originally encouraged by his father to create a business foothold in China as it was opening its doors to Western visitors and development.
His vast experience in China means the media often ask him to comment on China's business climate for foreigners.
Ho says it's tougher today for young people to get a foothold in China than when he first went to Shanghai in 1985. "Employers are not as enthusiastic about hiring American help as before," he says. "The competition comes from the educated Chinese students who went to the U.S. for their educations and are returning to China. China is a very attractive place for a native speaker.
"When I first went to China in the 1980s, the idea for the kids from China was to find a job in America, because that's where the opportunity was." But a series of events changed that perspective. He says the main developments were General Motors moving production to Shanghai in 1997, followed by Volkswagen; China joining the World Trade Organization in 2001; and the 2007-09 recession. Today, Chinese natives see the best opportunities at home, not overseas.
Ho is a graduate of Punahou School. He has a B.A. in economics from U.C. Berkeley and a B.S. in hotel administration from Cornell University. He also attended Harvard Business School's Advanced Management Program.
Based in Shanghai, Ho is a business consultant both for Chinese and foreign companies. He started by consulting with a U.S. company involved in China's automotive industry, and has since helped form more than 40 joint manufacturing ventures.
"You end up in places you didn't expect to find yourself," he says philosophically. "It [China] happened by chance. I happened with my father to start a business that didn't do so well and I said, 'Let's see if I can salvage this thing.' That's how I ended up in Shanghai."
He says the transformation of China was "like watching a great movie!" and he played a significant role.
"From 1985 to 1990, most of the automotive companies were coming in, particularly large automotive companies that made components for the name brands. In order to come in, they had to find a Chinese partner. We helped facilitate that. … I didn't have any competition because nobody else knew about it."
Ho comes back to Hawaii three or four times a year for several weeks each visit. Nowadays, he says, it's a chance to get away from the pollution in Shanghai. He's even considering moving home permanently because of the environmental issues.
"I wear a mask when it gets bad," he says. "Bad there would be unbearable here! The population would rise and revolt."
Ho's own children were educated briefly in China and then in Hawaii, with his family living in Hawaii, and Ho traveling back and forth.
On the horizon, Ho sees a boom in Chinese investment in America. "I think that's the next huge wave," he says.
---
Interested in Working in China?
Start Your Due Diligence Here
(Note: For long URLs, we created shortcuts)
The U.S. Embassy website provides a quick course on how to begin, get a visa, stay safe, understand cultural cues and much more. Ten pages of recommendations and warnings are aimed at those who want to teach in China, but are must reading for anyone thinking of working there.

bit.ly/1pYA86Y
Many websites offer opportunities to teach in China. One site that law professor Larry Foster recommends and considers reputable is this one, run by the Council on International Education Exchange:

bit.ly/1hllfCF. If you look at other sites or other schools, make sure they have histories of good service and provide in-country support.
Many other jobs are available through a staffing agency recommended by Justin Simcock, who was a consular officer at the U.S. Consulate in Shanghai. The agency is Atlas China Staffing Solutions: atlas-china.com. On the site, applicants can record an 8-minute video of themselves for Chinese companies. Applicants pay nothing, because Chinese companies who want to hire foreigners pay the site.
Other job sites include the American Chambers of Commerce in Beijing and in Shanghai.
Magazines with websites that serve foreigners can help in the hunt for housing, jobs, events, restaurants and other services. They include: The Beijinger, City Weekend Beijing, City Weekend, Shanghai, Smart Beijing and Smart Shanghai.