Coal: Needed Backup Power for O'ahu or Dirty Fuel that Deserves to Die?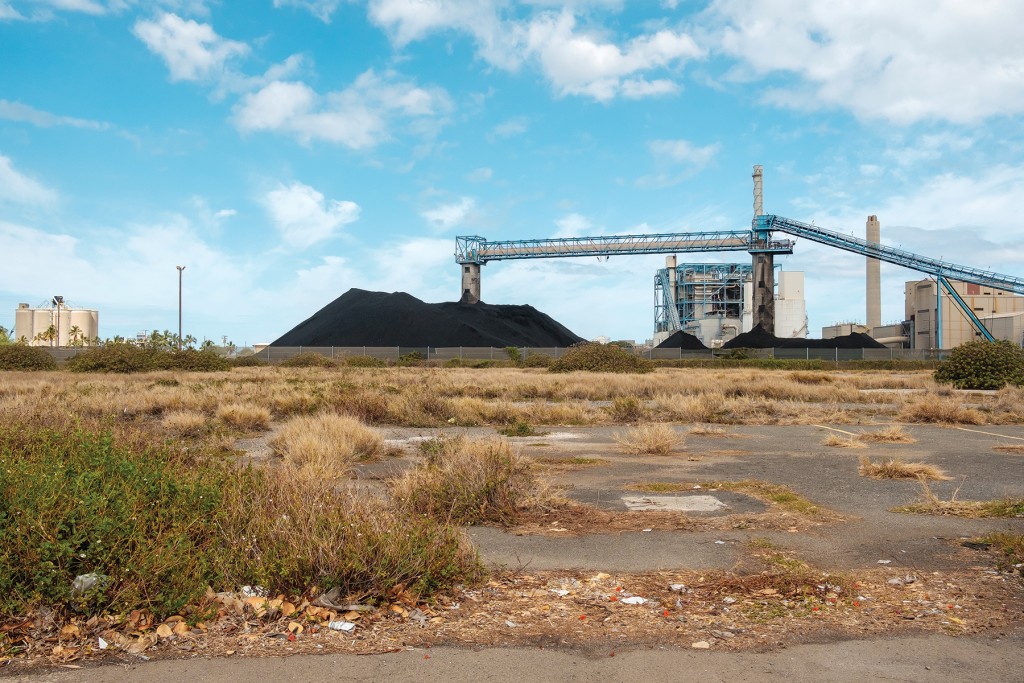 It's hard to miss the AES Hawaii facility
on Kaomi Loop in Campbell Industrial Park.
The power plant and its mountain of coal are just a few miles from popular Kapolei shopping centers and residential areas. It is the only coal-burning generator left in the state, and the largest single source of power on Hawaiian Electric's O'ahu system. Last year it produced almost 20% of the island's electricity – and is slated to close down in just three years.
An effort failed at this year's state Legislature to make sure the AES facility is the last coal-generated power plant in Hawai'i. HB 563 was passed by two House committees but never got a vote in the full House or Senate. The bill would have prohibited "air permits for coal burning electricity generation facilities (and) the approval of new power purchase agreements for electricity generated (from coal)." In other words, all Hawai'i electric utilities and their contractors would have been prohibited from using power plants that run exclusively on coal after the AES site retires in 2022.
Twenty counties have bans in place or scheduled to take effect against using coal to generate electricity, and HB 563 would have made Hawai'i the first U.S. state with such a prohibition. Coal is the target because it generates more greenhouse gases than any other electricity source. The AES plant emitted over 1.4 million tons of carbon dioxide in 2017, according to data submitted to federal EPA's Greenhouse Gas Reporting Program.
Both Hawaiian Electric and AES opposed the bill because it would limit their generation options. In their testimonies, the companies said coal is currently the cheapest way to create grid electricity on O'ahu and a key source of firm power – available whenever needed – as opposed to the variable energy generated by solar panels and windmills. Despite the companies' opposition, HECO corporate relations manager Shannon Putnam and VP of corporate relations Jim Kelly agree the days of fossil fuel power in Hawai'i and on their systems are numbered. They say the utility has no active plans to enter into another coal contract after the Kapolei site is retired.
HECO's goal is to obtain 30% of O'ahu's electricity from clean sources by 2022, and fill the 180 megawatt gap left by AES coal without significantly increasing the system's dependence on other fossil fuels. The utility has nine renewable energy projects in the works, which when completed will generate almost twice the amount of electricity AES coal currently provides. There is still a lot of work to be done: 22% of the island's electricity came from sustainable sources last year while about 60% was produced by oil.
Coal's Virtue is Price
Advances in technology have brought the cost of renewables like solar and wind to an all-time low, but Kelly says the price and grid modernization process might not be stable enough for HECO to say definitively that it would no longer use coal power. Coal is the cheapest source of power on O'ahu's system, at about 5 cents per kilowatt hour, according to the 2018 Hawaii Public Utilities Commission annual report. On average, the next cheapest option, oil, is 6 cents more; solar, the cheapest renewable energy, is 4 cents more than that.
"There is going to be a cost impact when coal goes away, but we're hoping that it will be minimal and that we can replace it with cleaner and more competitively priced options," Kelly says.
HECO says its grid always needs to provide enough electricity to meet customers' needs. When there is too little supply and the system is overextended, the risk of routine brownouts – dimmer lights and sometimes damaged appliances – increases dramatically.
So HECO says another part of the post-AES strategy is to reduce the demand for electricity by users, specifically big users, and especially during peak times of electricity use. But that is easier said than done in a place where tourism is the No. 1 industry. Kelly says the biggest consumers of power are hotels, but "they're not going to tell their customers, 'Hey, no running the air conditioner between 6 and 8 p.m.' "
HECO wants to enroll more large corporate clients into its "fast demand response" program, which will allow the utility to remotely reduce the electricity used by its clients' equipment in exchange for bill credits.
Henry Curtis, executive director of Life of the Land, an environmental nonprofit, favors a ban on coal use across Hawai'i and supported HB 563, but felt it did not go far enough.
Curtis says that proposed law failed to address the loopholes in the original state commitment to 100% renewable electricity by 2045. Under the existing guidelines, facilities that burn fossil fuels and renewable fuels are "considered to generate renewable electrical energy." That means HECO's new Schofield Generating Station, which runs on a combination of biofuels and conventional fuels like coal and oil, is technically a renewable energy site.
"The bottom line is that climate change was going to happen in our grandchildren's time, then our children's time, and now is happening right now," Life of the Land's Curtis says.
Melissa Miyashiro, chief of staff and policy lead at Blue Planet Foundation, says the foundation has similar concerns but saw the House bill as an important step forward. "In a state that has been a nationwide leader in clean energy targets and climate policy, prohibiting the use of the most polluting fossil fuel should be a no-brainer." She hopes the bill will be revived at next year's Legislature.
She says the foundation was surprised by HECO's and AES' desire to "preserve the flexibility to use coal after 2022," because both companies committed to "no new coal" in the 2008 Hawaii Clean Energy Initiative.
One of the more interesting points in the companies' statements focused on natural disasters such as hurricanes, which pose an increasingly dire threat to the Islands. HECO and AES say they would be able to bring the system back online much faster if coal reserves were available.
Irony and Other Solutions
Miyashiro points out the irony of that situation: The only reason Hawai'i needs to prepare for increasingly severe weather events is because of the climate change caused by greenhouse gases from coal and other fossil fuel sources, she says. She also says there is no evidence that coal power is a good way to recover from a hurricane and cited the aftermath of Category 4 Hurricane Maria, which devastated Puerto Rico in 2017. "The one coal generation facility on (Puerto Rico) did not come back online until nearly five months after the hurricane hit.
"If we do have a catastrophic hurricane, the more difficult problem facing utilities will be miles and miles of downed power lines and damaged substations. To recover quickly in this scenario, we'd be far better off with a highly decentralized system based on microgrids, batteries and solar panels."
Putnam and Kelly emphasized HECO's commitment to providing greener alternatives to coal. However, they also believe that aggressively pursuing renewable electricity without a viable backup plan is simply not an option for O'ahu's only electric company. As Kelly put it, "It's our job to keep the lights on," no matter what it takes.
Hawaii Business Magazine reached out to AES Hawaii and its parent company by phone several times. They did not respond.