Corporate Anniversaries 2020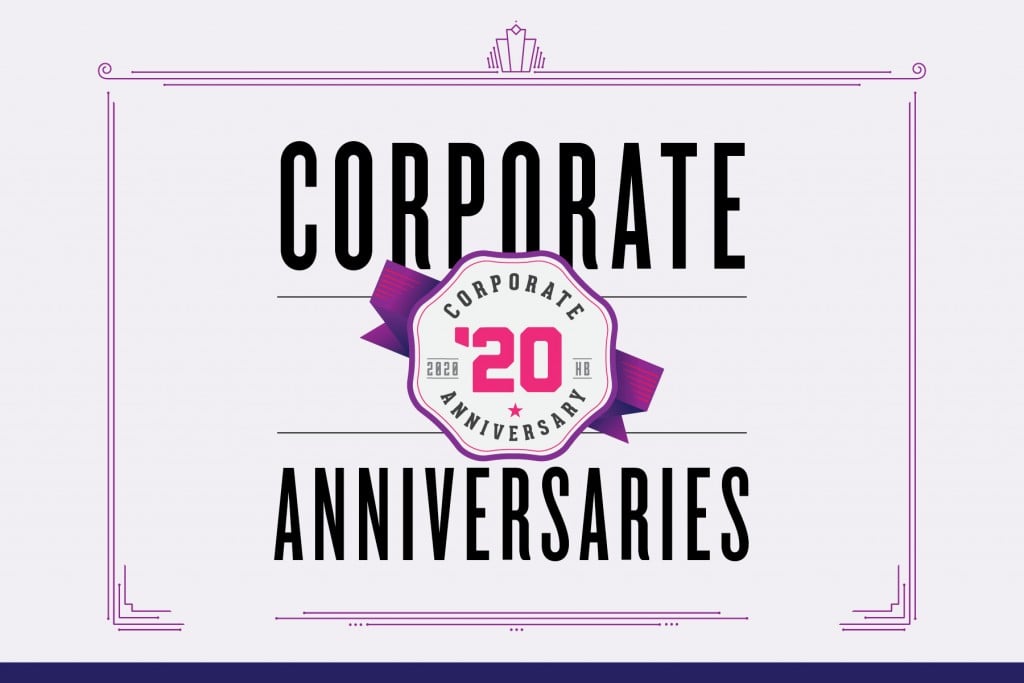 What does it take to succeed in Hawai'i?
Here are stories from local companies that are celebrating important milestones. Each has its own unique recipe for achievement and accomplishment.
House of Finance, Inc.
House of Finance, Inc. offers an experience that stands apart from the traditional—and often stressful—home buying and mortgage process. At the company's headquarters, family photos adorn the walls and desk tops, pot luck lunches are accompanied by conversation, and a sense of familiarity greets clients, hardly the ambiance expected from one of the top mortgage lenders in Hawai'i. While stepping into House of Finance feels like being welcomed into a family member's home for Sunday dinner, the experienced staff consistently demonstrates an unparalleled mastery in mortgage lending. The company's success is clear as it celebrates 25 years of helping families reach their dreams of home ownership.
Because the staff specializes in mortgage loans exclusively, they are trained to anticipate roadblocks or challenges, to keep clients' concerns at bay, and to focus on the excitement of home buying. Working with the House of Finance feels like working with family instead of a daunting corporate bank.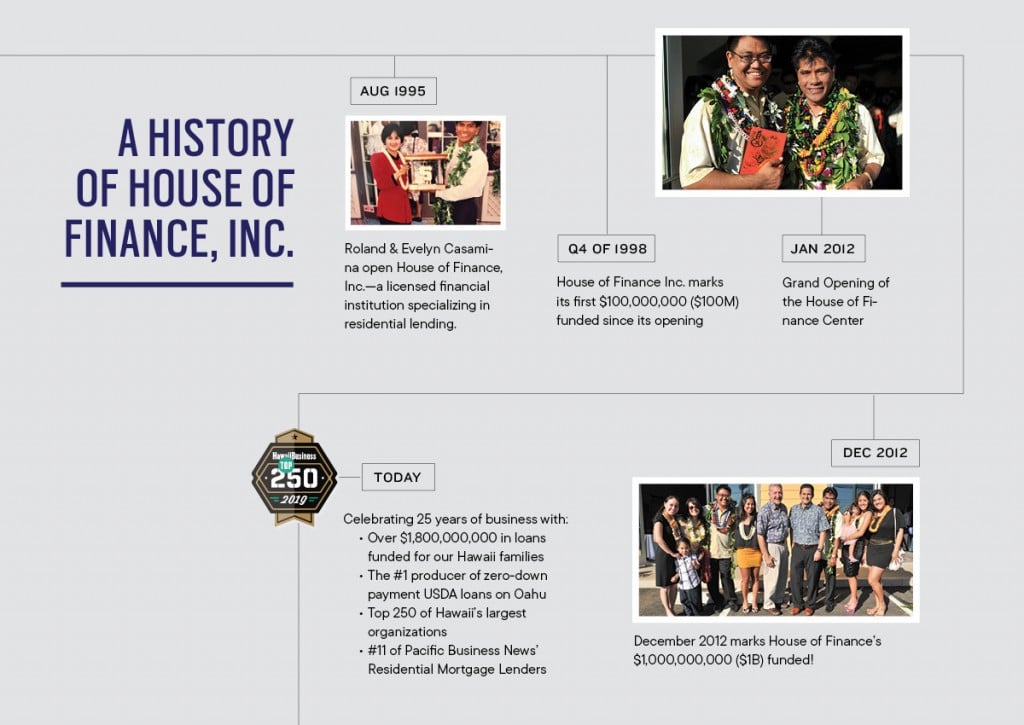 House of Finance is family and community centric—their role is to help families buy homes. As a Farrington High School alum & distinguished Hall of Honor alumni of the University of Hawai'i at Mānoa Shidler College of Business, House of Finance founder and CEO, Roland Casamina, consistently gives back to the community. He established The Roland Casamina and House of Finance, Inc. Endowed Scholarship at Shidler College of Business to provide tuition support for undergraduate business students with leadership potential and a passion for community service. Casamina was instrumental in founding the Filipino Community Center and currently serves as President Emeritus.
The lean and efficient team at House of Finance avoids excess overhead and passes the cost-savings to clients. With one branch and 13 employees, House of Finance, Inc. demonstrates an expertise in efficiency, out-funding many mid-sized banks with over a dozen branches and hundreds of employees. House of Finance is a family-run operation: Roland Casamina serves as CEO and President, his wife, Evelyn Casamina, is the co-owner, his son, Matthew Casamina, COO, and his daughter, Clarice Casamina, is Vice President. Employees are just like extended family.
Over the years, many clients return for the same two reasons: the ease in navigating what is traditionally an overwhelming process and the expertise and efficiency the House of Finance team delivers to each customer. When reflecting on 25 years in business in Hawaii, the House of Finance Family thanks their extended family– the dedicated staff and Hawaii's families for putting their trust in the House of Finance team.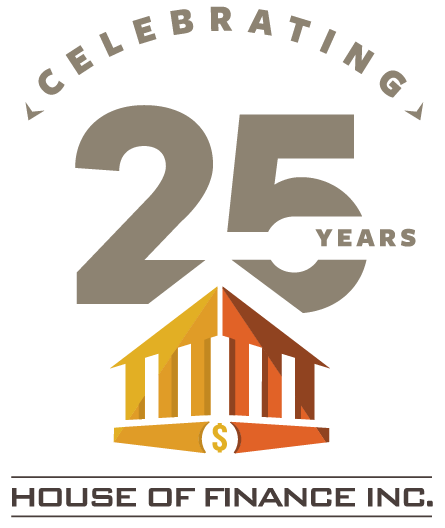 2300 N. King St., Honolulu, HI 96819
(808) 847-8493 | www.hofhawaii.com
McCabe, Hamilton & Renny, Co., Ltd
With roots dating back to the 1800s, McCabe, Hamilton & Renny, Co., Ltd. (MHR) is woven into the fabric of Hawai'i's past, present and future. The only independently owned stevedoring company in the state, MHR serves all the islands 24/7, closing only on Labor Day, Thanksgiving, Christmas and New Year's Day.
J.B. "Jack" Guard, Sr. worked his way up from company secretary to become manager and treasurer of MHR in 1931. Jack Guard retired in 1960 to become chairman of the board, overall dedicating fifty-nine years to MHR. Remembered for knowing every employee's first name, he made MHR the best stevedoring company to work for. A succession of exceptional superintendents, managers, and personnel followed, including Frank Wight and Charles A. "Fat" Guard, John Shaw, and Johnny Williams.
J.B. Guard's son, Robert "Tim" Guard, worked as a stevedore for MHR while in high school at Punahou and saw firsthand that the company is "built on the backbone of people, a long lineage of people that have made the company what it is today." A Vietnam vet who served a combat tour, he became general manager in 1984 and president in 1986. He was instrumental in modernizing the workforce and how stevedores practice their trade. He also dedicates his time and talents to supporting the community as Chairman of the Board of Directors and Executive Committee Chair of the U.S.S. Missouri Memorial Association, a Director Emeritus for the Outrigger Duke Kahanamoku Foundation, and he started the Hawai'i Youth Challenge Academy. "One of our commitments is to be invested in the community, not just to donate money but to participate," he said. The company also supports Sustainable Coastlines and the Sustainable Hawai'i Initiative.
After Tim Guard retired in October 2018, his son, Matt Guard, became the third generation of the Guard family in leadership at McCabe, Hamilton & Renny, Co., Ltd. Matt joined MHR in 1995 as a supervisor and transitioned to focus on computers, software, and accounting. In 2001 he left to pursue a career in the medical device field, but in 2016 he returned as a member of the board and joined the company full-time in April of that year. "We prioritize safety," Matt said, "And our success is built around a great team." In addition to Matt Guard, the leadership team includes CFO, Kim Hudson-Chock; VP of Operations, Kevin Cutter; VP of Honolulu Terminals, Camy Chin-Meun; VP of Equipment & Maintenance, Andrew Souza; VP of Personnel and Industrial Relations, Nalani Foreman; and VP of Business Development and Planning, Jimmy Zane. The company's relationship with Matson and other longtime customers coupled with its invaluable workforce of 415 employees has been key to its enduring success as it celebrates its 120th anniversary in 2020.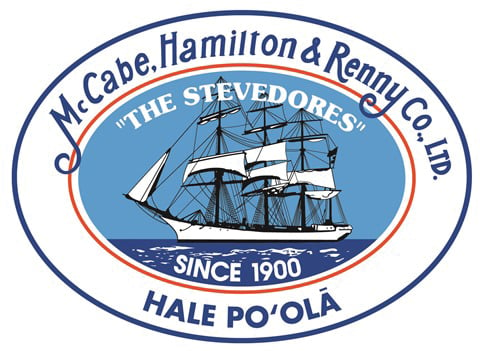 521 Ala Moana Blvd. # M-311, Honolulu, HI 96813
(808) 524-3255 | www.mhrhawaii.com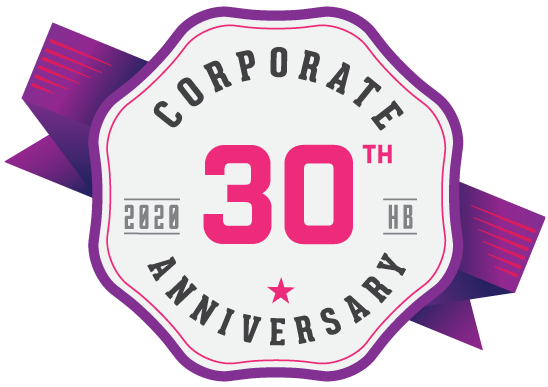 Prince Waikiki
Welcoming its first guests in 1990 in the spirit of sharing the true essence of gracious hospitality, Prince Waikiki continues to flourish in the dynamic tourism landscape of Oahu. Located in the heart of Honolulu's most vibrant and diverse neighborhoods, the all oceanfront hotel was the first of its kind to raise the bar of excellence in Waikiki in the early '90's.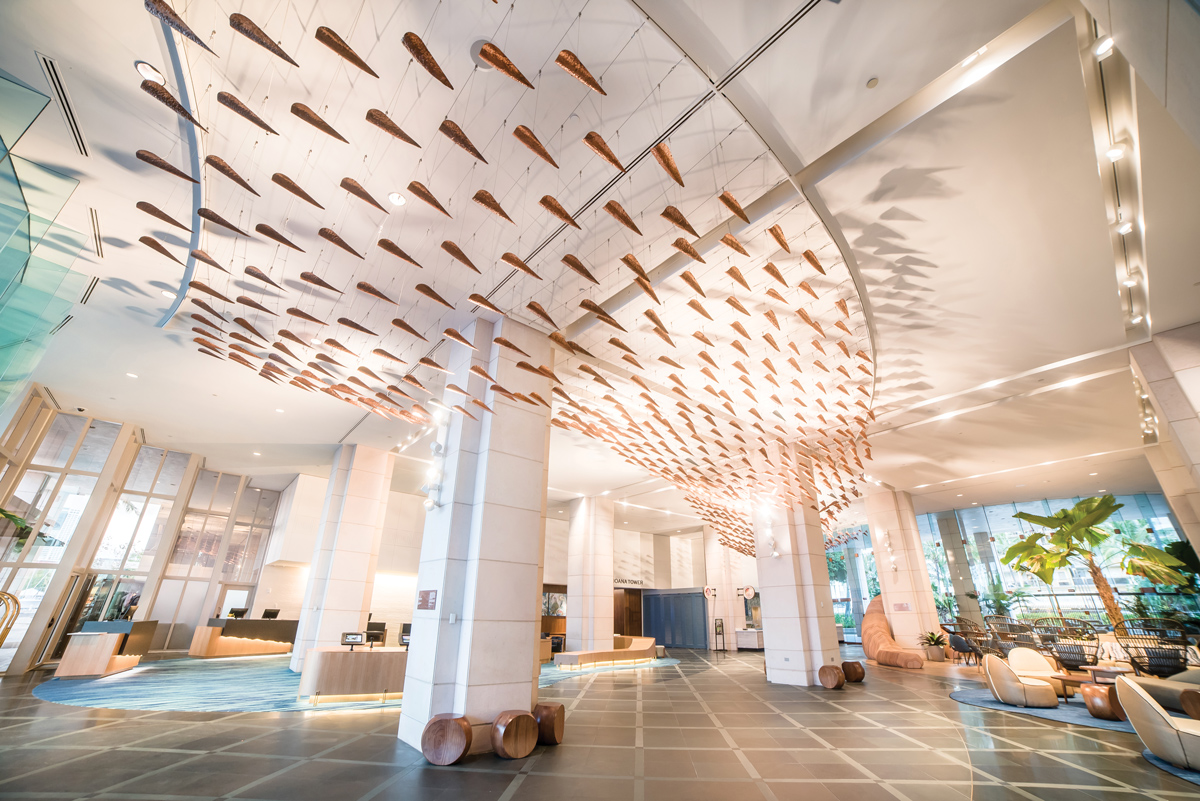 Photo courtesy of Prince Waikiki
Following a repositioning in 2017, the former Hawaii Prince Hotel Waikiki and Golf Club emerged as the Prince Waikiki with 563 remodeled guest rooms and suites, redefined dining options, a modernized lobby, a new infinity pool, and enhanced meeting spaces. With an innovative vision of providing authentic, personalized service and exceptional experiences, Prince Waikiki is poised to remain at the forefront of the industry and the top ranked hotel on Oahu by TripAdvisor.
In commemoration of 30 years, Prince Waikiki honors its past and reflects on its core value of Lokomaikaʻi – sharing with kindness from within. All Ambassadors embody this quality of providing genuine service from the heart. The many profound connections and memories made between loyal guests and Prince Waikiki's staff resonate with this purpose.
Reaffirming its dedication to the community and the environment, Prince Waikiki is celebrating its 30th anniversary with a commitment to sustainability for tomorrow's future through partnerships that touch the lives of Hawaii's youth.
Kisan Jo, President of Prince Resorts Hawaii, the operating entity of its three hotels on Oahu and the Island of Hawaii, attributes the continued success of Prince Waikiki to the passion of its Ambassadors and their authentic desire to serve, share, and live aloha. "Prince Waikiki is committed to provide extraordinary service that ensures the best guest experience," says Jo. "We are reimagining hospitality and energizing relationships with employees, partners and guests. We go beyond the expected."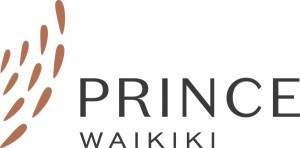 100 Holomoana Street, Honolulu, HI 96815
(808) 956-1111 | PrinceWaikiki.com