How Collaboration Creates New Ideas and Projects
Ideas on how the right blend of collaboration, mentorship, infrastructure and information sharing can turn Hawai'i into a more creative, innovative and prosperous place.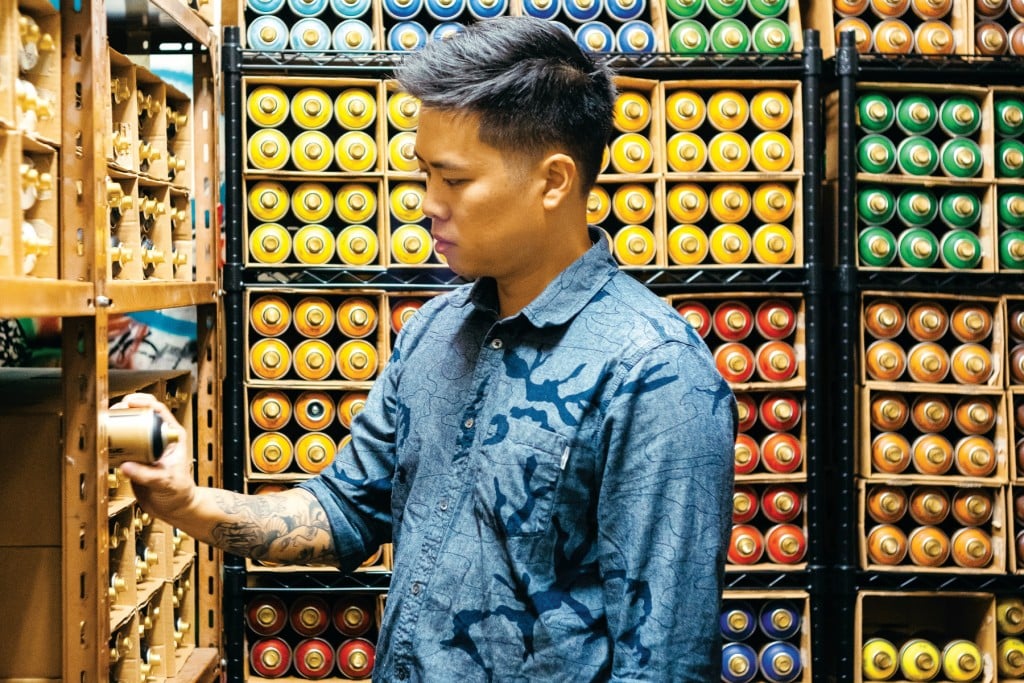 Where does innovation come from and how can creativity be fostered?
Matt Ridley, author of "How Innovation Works," offers some answers. "Innovation happens when people are free to think, experiment and speculate," he writes.
"It happens when people can trade with each other. It happens where people are relatively prosperous, not desperate. It is somewhat contagious. It needs investment."
But we wanted specifically to know how innovation and creativity can happen more often in Hawai'i, so Hawaii Business Magazine spoke with and listened to local artisans, art festival organizers, creative consultants, and even political leaders and businesspeople. We heard about how to foster creativity, and about the shared spaces, technological infrastructure and information sharing that might help Hawai'i become a more innovative place.
Don't Try It Alone
"When you have an idea for something, something that you want to make happen, whether a business or event or anything, you have to understand that you don't have all the skill sets necessary to do it alone," says Jasper Wong, founder of Pow! Wow!, an international mural arts festival that hosts events each year in Kaka'ako.
"It's important to look at your network and outside of that to see who would be willing to help, who you can sort of partner with to make something a reality," says Wong. "I've always done that. I'm able to recognize my own flaws and my own shortcomings, so I've always reached out to people."
For example, says Wong: "With our festivals, I'm not a person who is familiar with planning concerts. When we need to do one, I'm either reaching out to Philip (Pendleton) or Matty (Hazelgrove) at Bamp or someone who has vast experience.
"Early on, for the very first Pow! Wow! that we did in Hong Kong, I was reaching out to a lot of people for help," he says. "All of my collaborations have the same mindset."
Finding Good Collaborations
"Not everyone is easy to work with," says Wong. "You have to do your due diligence to figure out who is good to work with … keep your doors open but also scrutinize the people you're working with, meet them in person and see if you vibe with them.
"As you know more people and you become friends, it's easier to work with them," says Wong. But in addition to working with long-term partners, it's important to reach out to and collaborate with the next generation. "To be honest, I just don't have as much energy as I did in my 20s," says Wong, who turned 38 this year. "As I get older, I realize that there are a lot of entrepreneurs and artists, passionate individuals who could be the future."
Sustaining the Work
Wong says his work is sustained by a belief in the value of bringing people together to create.
"I don't get paid (for Pow! Wow!)," he says. "It's always been a passion project. It's a belief that art can have a big impact, that you can bring people together and build bridges both locally and internationally." Similarly, Wong doesn't receive payment for running Lana Lane Studios, an artist collective in Kaka'ako. "I manage and run that space, but I don't get paid to do that. I try to keep the cost low so artists can benefit from it.
"When you're able to bring a lot of people together and they're all like-minded and share similar passions, then these things can't fail because something amazing will happen no matter what," says Wong. "I just have to provide the space and the platform. All they need is that push and to be together. I'm never really worried about things failing."
Pandemic Trials and Triumphs
In May, Bishop Museum opened an exhibit curated by Wong that featured more than 160 Pow! Wow! artists. Though Wong has more than a decade of experience organizing exhibitions and festivals, he says that exhibit was his toughest yet.
"The hardest part was the fact that I had to plan it during a pandemic. There were lots of variables that I had no control over."
Some featured international artists couldn't come. There was an art supply and paint shortage. Shipping costs doubled. Some artists had to drop out after their materials and plane tickets had been purchased. Looming over all these concerns was uncertainty about the exhibit itself: Would the opening be compromised by safety concerns?
"At the end of the day, you can't account for all the issues that will arise. There are always going to be fires. It's less how you can plan and account for everything and more so how you're able to react to issues," says Wong. "We can plan all we want. It will take years, and even at the end it may not be smooth."
But the exhibit did succeed. Hundreds came for opening day, and Wong says it was one of the most meaningful events he's organized, in part because of the pandemic's unique circumstances.
"For a lot of the artists we worked with, the last time they traveled and were together with other people was in February (2020), just before the lockdowns happened," he says. "They haven't traveled or seen other artists for almost a year and a half. For a lot of them, it meant a lot to come together to paint and create. And it meant a lot to me too."
Collaboration and Colocation
An exhibit or art festival is a temporary gathering, but Wong also has experience creating permanent institutions. In 2012, he co-founded Lana Lane Studios with Kamea Hadar and Jeff Gress.
The Lana Lane collective offers low-rent studio space for artists. It's housed in a nondescript corrugated steel warehouse in Kaka'ako. (The large mural on the entrance would be a dead giveaway anywhere else, but not in this mural-filled neighborhood.) As you enter, you face a two-tier hodgepodge of studio spaces.
Each studio has its own aesthetic, in part because each was assembled with random materials from Re-use Hawai'i, a local nonprofit that deconstructs buildings to recover usable building material. The studios have also been remodeled over time by their tenants.
Current tenants include tattoo artist "Bad News Becca" Roach (@badnewsbecca); Matt and Roxy Ortiz, a husband-and-wife art duo who work under the name Wooden Wave (@wooden_wave); oil painter Patrick Mizumoto (@paintedpatrick); and Mei Day (@meidayhawaii), a floral design studio run by Paiko founder Tamara Rigney. Jack Soren, Mark Visaya, MelonJames and Gary Draws Fish share a space upstairs in The Helm Studio (@thehelm.studio).
Collaborations between tenants are frequent. Sometimes, it's informal help with one project. Other times, business partnerships are formed.
Around the Water Cooler
"I don't know if it was strategy or not, but they put the water cooler right by the bathroom," says Gavin Murai (@reckonshop), a graphic designer who began working out of Lana Lane in 2012. Conversations around the water cooler and spontaneous interactions throughout the warehouse can spark collaborations and partnerships.
Since 2015, Murai has been half of the team behind Formidably Impressed, a line of original hand-lettered letterpress greeting cards. Traditional offerings are supplemented by more contemporary takes on the greeting card: "gratz, lol" for recent grads, "TANKS EH!" for the ones you appreciate, and slightly profane greetings for customers tired of the same old Hallmark cards.
"We would be here until like 1 or 2 in the morning working on our own things in our own studios," says Cherish Fuller, the other half of the team, a letterpress printer and owner of Jiwa Jiwa Press (@jiwajiwapress).
In 2015, she needed a design for Mother's Day. "I wanted to take greeting cards to the next level, but I can't draw," says Fuller. "I had seen that Gavin did a lot of sign painting and murals, and I really liked his work."
She asked Murai to create a design, and their original collaboration melded their styles: Fuller's messages were crass and her colors bright while Murai's colors were muted and his designs serious.
The cards sold well at Mori Hawai'i, so Fuller asked Murai for a more permanent arrangement. Murai was noncommittal, but Fuller insisted.
"He was like no worries, like maybe we'll trade or figure something out," she says. "I was like, 'No, you're going to do this. I'm going to be busting out like 20 cards every season. It needs to be a legit thing,' so we just decided to partner instead."
"Fun Administrative Stuff"
Murai says talent is important in the art business, but it helps to return phone calls and perform other mundane tasks. Academic art education sometimes neglects the business side of art, he says. "They teach you the technical skills and all that, but they kind of leave out the fact that you need to eat.
"You have to have a perfect blend of being able to be aspirational and creative, but at the same time, be realistic," says Murai. "And open to critique," adds Fuller.
Murai says that at Lana Lane, he's able to help younger artists with the business side of making art: tracking time and invoicing and "all the fun administrative stuff." In exchange, he says, the younger artists help him with social media strategy.
The Magic Mix
"This is the best studio I've ever worked out of," says Fuller, who previously worked out of several art studios in Seattle and Portland. She says those studios were shut off, with minimal collaboration.
Those studios also lacked diversity of media, favoring painters and printmakers. Fuller says that having artists working in different media on-site is an asset. For example, Murai and Fuller sometimes work with photographer Chris Balidio (@bonfire_baelids) for product photography.
Often, the best ideas emerge naturally, born in conversation around the water cooler. "We're bouncing ideas and questions off each other all the time," says Fuller. "We have a really good set of artists in the studio."
"You have to have a perfect blend of being able to be aspirational and creative, but at the same time, be realistic,"

Gavin Murai, Graphic Designer
Innovation Economy
Access to space and mentorship are two key factors in fostering innovation, according to Georja Skinner, chief officer of the Creative Industries Division of the state Department of Business, Economic Development & Tourism.
"In order to have a thriving innovation and creative economy, you have to have workforce and talent development, you need spaces or infrastructure – including broadband in regional communities so we distribute this opportunity equally – and access to capital and mentorship," she says.
Creative Lab Hawai'i, a Creative Industries Division program, was founded in 2012. It focuses on immersive programs for creatives (similar to entrepreneur and startup accelerators), including playwrights, script writers, producers, web-series creators, musicians, animators, mobile app developers and fashion designers.
"It's an accelerator for media and music, now moving into visual arts," says Skinner. "The program develops the business skills and hones the craft of artists in those sectors to be able to compete in the global intellectual property marketplace."
In addition to interactive immersives and workshops, Creative Lab also hosts informational events, including free legal webinars. In June 2021, the lab held webinars on option agreements, work-for-hire agreements and collaboration agreements.
Over the years, Creative Lab participants said that they needed public spaces where they could collaborate: writing scripts, working on projects, practicing pitches. Skinner says that because most creatives in the state work day jobs and hustle their art on the side, few have access to dedicated space for their artistic projects.
So the Creative Industries Division partnered with the Hawaii Technology Development Corp. and issued a request for proposal to address this shortage of space and infrastructure. Bizgenics Foundation, a nonprofit, won the bid to design and build a pilot project to address the shortage of space and infrastructure for multimedia production. The result is Id8 Studios, a cutting-edge soundstage and production environment housed in the Entrepreneurs Sandbox in Kaka'ako.
Creative or Insane?
"Very few creators start with the target audience. They start with their own inner view of the world, and then they go and find an audience," says Steve Sue, a creative consultant and chairman of Bizgenics Foundation.
"I think you have to be a little bit insane to be an entrepreneur, and I include myself in that class of people. But that insanity, that fresh look at the world is what's needed. … To have the right fresh view, you have to have an immense amount of knowledge. You have to be extremely multidisciplinary and interdisciplinary to succeed in the space.
"Most people don't make it in innovation because they don't know what they don't know," Sue says. "Hawai'i actually suffers from that in significant ways because our frame of reference here is very tight. For example, we don't have a lot of industries here that the Mainland has."
In addition to the lack of industry exposure, Hawai'i creatives lack some of the resources and infrastructure needed to produce at a high level, says Sue.
In the book "Outliers," author Malcolm Gladwell argues that Bill Gates would not have achieved his phenomenal success as a software developer without having had access to large computers as a teenager, years before personal computers existed. This is obvious to the point of truism, and it illustrates the rationale behind projects like Id8 Studios, which seek to provide technological infrastructure that a lone individual cannot afford.
"Id8 is a tremendous opportunity for this state. … It's a pretty darn good starting point, and with a little bit of gear in here, this could really rock and roll, and it would really bring our people up to that full capacity creative level that would be every bit commensurate with anywhere else in the world, LA for example, or New York," says Sue.
"If we don't put in the gear, then we cut ourselves short." Industry moves fast, he says, and "our people will be literally second-class citizens because they didn't have the time on the xR stage or with the motion capture suits or whatever is the latest, greatest VR technology. But if we fund this well, we have every chance because our people here are proven creatives."
Information Wants to be Free
In the information age, resources are not always physical. Specialized knowledge can sometimes be more valuable than gold, but unlike gold, sharing it does not deplete one's own stock. This insight is behind one local effort to share best practices on technology adoption and use.
Michelle Cheung has a history of leveraging technology to create value. Before moving to Hawai'i, she worked as a software developer, data analyst and technical analyst for Citibank and has also worked for the Bank of Tokyo.
When she moved to Hawai'i in 2010, she worked for Locations, a local real estate company. As head of technology for a small firm, she saw that her efforts to integrate technology "actually had a lot of impact on the business," a marked shift from her roles in massive companies.
Cheung says this experience in helping a local business adopt cutting-edge technological solutions helped prepare her for her current role as director of the TRUE Initiative – Technology Readiness User Evaluation. TRUE is a nonprofit initiative of the Hawai'i Executive Collaborative.
"How do we help other organizations adopt technology so they can be more competitive, more sustainable, so that they can compete on a global scale rather than focusing on Hawai'i?" she asks. "That's my mission. And we can do that by showcasing the possibility of what technology can do through our use cases."
One use case is "AI for Call Centers," a case study of Central Pacific Bank's move to an Amazon Connect-powered call center.
"We were up and running in no time," says Paul Yonamine, CEO of Central Pacific Bank and co-chair with Island Holdings President Rob Nobriga of the TRUE Initiative. "We have dramatically increased customer satisfaction by minimizing wait time.
"We don't necessarily have a shortage on call center operators anymore because we're leveraging technology," he says. "That in turn is saving us a lot of money. I can have my operators spend more time, not just on incoming calls where they're trying to answer questions. They could spend more time on outgoing, outbound calls to try and promote our credit cards or checking accounts.
"Adrienne Chee, our CIO, worked with AWS to develop that solution," he says. Since then, Yonamine says that Chee has helped three other companies to implement the solution.
Late Adopters
Yonamine, who used to be president of IBM Japan, says Hawai'i is similar to Japan in its reluctance to embrace technology. "As advanced as Japan may appear, they were actually really late adopters of technology," he says. For example, "they're just embracing cloud technologies today."
When Yonamine took over as chair-man and CEO of Central Pacific Financial Corp., parent of Central Pacific Bank, he found the bank was still using Lotus Notes as its email client, and most software was on-premises. "We did not embrace a lot of cloud-based, software as a service (SaaS) type offerings," says Yonamine, whose tenure as CEO has involved numerous efforts to modernize and digitize the bank's operations. "Today, we're almost 100% on the cloud."
Yonamine visited the Entrepreneurs Sandbox before it opened in 2019 and met with Len Higashi, acting director of the Hawaii Technology Development Corp. Yonamine says he suggested the state agency and business community "use this facility to all come together and use existing technologies that already are proven and have a track record of ROI, and let's help other companies in Hawai'i use them."
Now, 11 local companies, including CPB, Servco, and Pacxa, rent space in the Sand-box. COVID-19 precluded large events in person, so TRUE hosted more than two dozen virtual events before the Sandbox reopened in June 2021.
Public-Private Partnerships
On June 23, 2021, TRUE organized a hybrid event at the Sandbox, with a few guests in-person and a live Zoom broad-cast. The event featured speeches by Yonamine; Gov. David Ige; Mike McCartney, director of the state Department of Business, Economic Development & Tourism; Edward Ontai, president of DataHouse Consulting; and Peter Dames, executive VP of Servco.
"People + Collaboration + Technology = Innovation," said McCartney. "People make things happen. … We're the competitive advantage." He went on to stress that the way collaboration is approached determines whether it succeeds. "Hawai'i has really good values. It's communication, it's common understanding and it's building trust."
Ige said participation in the digital economy is vital for Hawai'i, and the need for innovation was underscored by the pandemic. "We need to accelerate the pace of adoption because we've seen over and over again, if you're not in the digital economy, then you're really not in the economy," he said.
"Most people don't make it in innovation because they don't know what they don't know,"
Steve Sue, Chairman, Bizgenics Foundation
A to B, Not A to Z
Yonamine says to help the ALICE population, it's important to create more high-paying, tech-enabled jobs in Hawai'i. However, current efforts to foster technological innovation reflect unrealistic expectations, he says. ALICE stands for asset limited, income constrained (yet) employed.
"In the past, we've had many efforts to start up innovation centers, and it's been centered around startups. … I hope one day we'll have a lot of successful startups out of Hawai'i, but realistically, we have no venture capital," he says. And despite the quality of our universities, Yonamine says, we don't have an institution that can provide for us what Stanford provides to Silicon Valley.
"Hawai'i shouldn't be trying to reinvent the wheel," he says. "Let's just go out and learn how to use existing technologies and drive ROI not just for the private sector but for the public sector as well."
The key to sustaining innovation is to make it profitable, says Yonamine. Hawai'i, he says, has a lot of private and public sector organizations that suffer from inefficiency and redundancy because they underutilize technology. These organizations will commit to innovative projects when they see evidence of a return, he says.
"Naturally, people will come together with exciting ideas, especially if the people who are driving it have a proven track record," says Yonamine, crediting Peter Dames of Servco and Cheung with drawing organizations into the TRUE Initiative.
Yonamine says two types of companies should participate in TRUE:
Cutting-edge local companies that can share their knowledge.
Late adopters that may be reluctant because they were burned by technology in the past.
"You don't buy technology today like you used to buy it," Yonamine says, referring to the rise of software as a service providers that offer off-the-shelf business solutions. "Because you don't invest so much, you can try it and if it doesn't work, you just move on to the next thing.
"We're not just dreamers. We have a track record. But the key to keeping it sustainable is results."