Culinary Karma at Young's Fish Market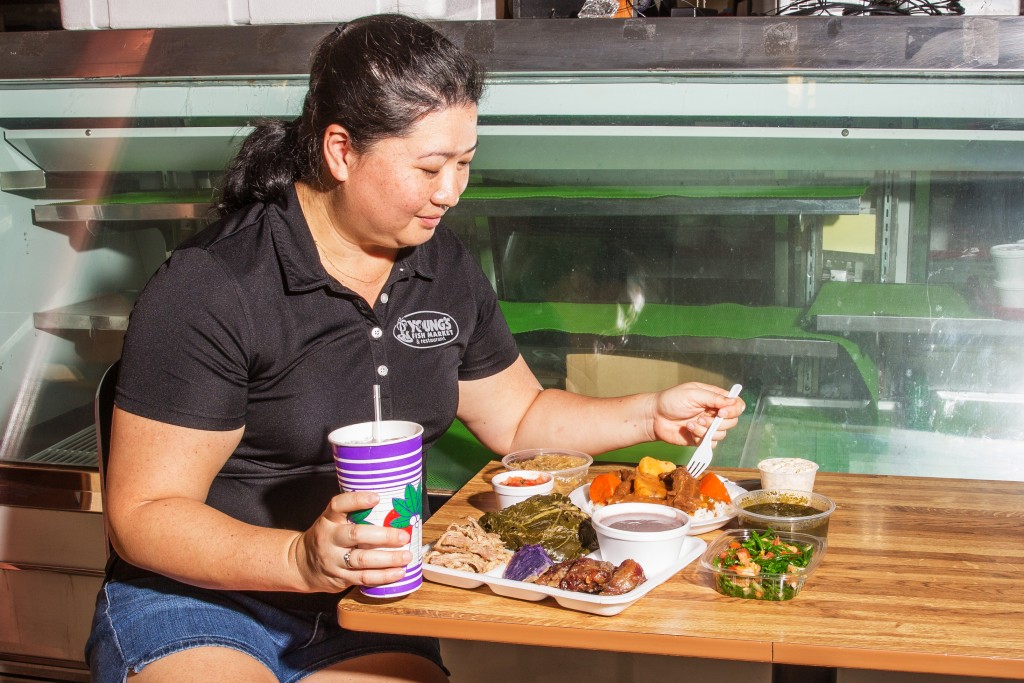 The third generation is taking the family business in new directions while preserving traditional favorites
Longtime Customer Sherman Tom enthusiastically sums up Young's Fish Market in four words: "The great culture of their business; the delicious food; wonderful customer service; and a definite value for your bucks.
"You can just feel the positive synergy of everyone – great karma," says Tom, president of an educational marketing company.
His daughter, Kimberly, agrees. "As long as I can remember, Dad has brought home laulau, lomi salmon, poi – the works – for dinner two to three times a month. He'd always say, 'Young's has the best laulau – lots of leaf!'
"And they serve the crispiest, juiciest roast pork ever. I remember texting Daniel, saying, 'This is the best roast pork I ever had – better than Chinatown!'"
The "Daniel" she's referring to is Daniel Young, 31, president and CEO of Young's Fish Market Inc. He and his sister, Andrea, 35, the GM, took over the 67-year-old family-run business when their father and the company's owner, Alan, had a heart attack and died while visiting Japan in 2013.
"Dad was on his way to semiretirement, and this was his first trip where he could start to relax," Daniel recalls sadly. "He had been training me on the back end of things – payroll, paying the bills – grooming me so he could hand it off eventually. But not so soon.
"Thankfully, we had a good staff at the store and good people supporting us in the background, such as accountants and lawyers.
"It was pretty stressful because it was so unexpected. For the first few days, we were scrambling around to keep operating."
Andrea, who was restaurant manager for the Waikiki Beach Marriott Resort & Spa, had to decide if she should leave her job to help the family business. "I came back here in 2014," she remembers. "I wanted to make sure the family legacy continued, but I also knew how hard Dad worked. I wasn't sure if I wanted the responsibility.
"In the end, I thought the family legacy was more important. And I knew Daniel could use the help."
Daniel's and Andrea's grandparents, Wilfred and Charlotte Young, founded Young's Fish Market in 1951 on Liliha Street, next to Jane's Fountain. Originally it only sold fish but added groceries and Chinese food to offset slow seasons, according to the family. Then a friend suggested cooking and selling Hawaiian food, so Young's evolved into the Hawaiian/Chinese/ fish eatery it is today.
The Liliha store stayed open until 2003. A second in the center now known as the Nuuanu Shopping Plaza ran from 1956 to 1983, and a third in the Kapalama Shopping Center opened in 1984, then moved in 2000 across Dillingham Boulevard to its current digs at City Square.
"I was always interested in food and cooking," Daniel explains. "I had started to take some business classes at UH in 2004, but then after my auntie passed away in 2005, I decided to work here full-time to help my dad."
Daniel and Andrea remember helping at the store during holidays and school breaks while they were children. And although it's too early to talk about a fourth generation taking over, it is on their minds.
"Nowadays it's hard to get businesses past the second or third generation because people don't want to do the work," says Andrea. "With technology, everything's switching around.
"We know we have to evolve with keeping the tradition, but still meeting the expectations of the upcoming generation. We're trying to maintain that fine line, where we're true to the products that our longtime customers love, while creating things that are relevant to the younger generation – like the quick-and-easy or a little-bit-of-everything."
The two say key recipes have remained the same since their grandparents' time, but they have added items such as a Hawaiian bento.
"We try to take care of our employees and make it a place that they'd like to stay long-term. We have quite a few who have been here more than 10 years, and a handful that have been here more than 15," says Daniel of the company's 24 workers.
The siblings have streamlined the menu while also expanding hours and their catering and "care packages," according to Andrea.
"Catering has really taken off," Daniel says. "It's a good 35 to 40 percent of our business.
"And customers going back to the Mainland or going up to visit can take with them on the plane or we can ship out through FedEx a frozen care package of their favorite dishes."
The two have lots of plans. "We're doing more social media, more special events to get our name out, and a good portion of our care package orders come through our website," Andrea notes.
"We're optimistic. We're looking at possibly expanding to an additional location. We'd like to renovate the front area, and maybe add live music."
EDITOR'S NOTE: The author of this article, Jackie M. Young, is not related to the family that operates this business.
YOUNG'S YEARNINGS:
Big Al's Hawaiian Bento:
Named after Daniel and Andrea's father, this recent addition is the perfect grab-and-go meal. "We wanted to make this a cheaper alternative that people could easily take with them," explains Daniel. "It includes a mini laulau, kalua pig, pipi kaula, sweet potato and rice."
Laulau:
"We're adjusting the availability of our different specialty laulau (beef, chicken, butterfish), as we're noticing a change in customers' tastes," says Andrea. "We used to offer them just once a week and now we're offering them twice a week. And we can hardly keep up with demand for the vegetarian laulau."
Beef Stew:
"This has become one of our top sellers," Daniel says. "The type and cut of meat that we use gives it a unique flavor and tenderness that you don't find with other stews. It's a simple dish – just beef, onion, celery, carrots and potatoes – but it reminds customers of their mom's or grandma's homemade stew on cold and rainy days."
YOUNG'S FISH MARKET INC.
City Square Shopping Center
1286 Kalani St., #101 Kalihi
(808) 841-4885
youngsfishmarket.com
Each month, LocalKineBiz tells the story behind a Hawaii small business. If you know a business we should cover, email localkinebiz@gmail.com.