Date Night is a Marital Necessity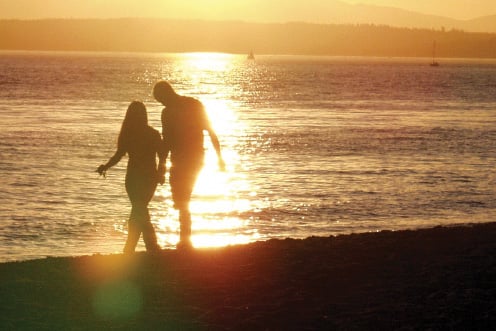 Helping people balance their work, home lives and down time.
President Obama calls it "Michelle Time" – the special time he sets aside every day to catch up and talk story with his wife, first lady Michelle Obama. Not long ago, they flew to New York City for a "date night," with the security detail in tow, of course, but away from kids and most of their work. It's all about keeping their relationship fresh by spending quality time together.
If the president can do it — and make it trendy — surely the rest of us can summon the effort.
Honolulu relationship counselor Renee Rokero believes it's a crucial refresher for every couple.
"A couple needs to make sure they're attending to the love relationship by going out with just the two of them or spending time alone at home," says Rokero. "It can be an event or an activity but it's more of the process of focusing their attentions on the other person. It doesn't have to be a lavish dinner but even something simple like a picnic at the beach where they can talk about feelings and emotions."
Like anything, we don't value what we don't spend time or energy on, says Rokero. "We've got all these external stressors — the kids, soccer, ballet, baseball — and we don't invest in our love relationship. If we want it to be balanced, we have to feed it every day — even for five minutes, 10 minutes, an hour.
"I tell my clients that if they want their marriages to be happy and healthy, they have to find a way to reconnect emotionally, mentally, physically and spiritually. When we make the conscious choice of being emotionally vulnerable with each other, emotional intimacy is the outcome and that's the super glue that holds us together."
Pediatrician Theresa Wee, married to Stephen Wee, a doctor of internal medicine, says their own brand of "date night" kept their marriage fresh, even with four children.
"It's nothing expensive, just a Chinese restaurant and the dollar movies, but you look forward to it all week," she says.
When the kids were young, the two physicians closed their office Wednesday afternoons for lunch together and a chance to catch up on conversation. "We would never talk of problems," says Theresa.
When the children were old enough to stay home alone, the Wees switched to Saturday night dates, but kept their time together inviolate. Even the children understood this was parent time.
Now, with the kids grown, they still have date nights.
"It keeps your marriage alive," she says.