Don't Let the Name "Microtunneling" Fool You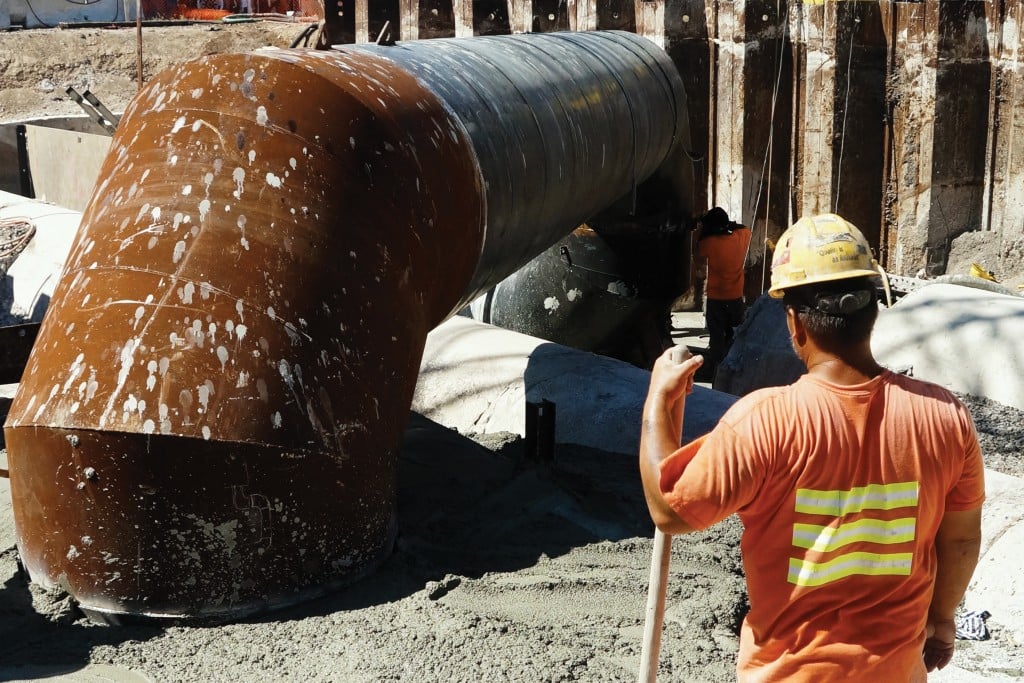 Windward
Oahu microtunneling sewer

project was completed

June 21, 2018

, the city

says

KIRK RANDLES LEFT his family's farm in South Wales more than 30 years ago to take his first tunneling job. "It was all hand digging. … So you had to actually physically go inside the pipe and jackhammer the soil, shovel it into a bucket. The bucket had to be pulled out and winched to the surface, emptied, and sent back down. That was a slow process. It was hard work. Hot, dusty, wet."

In the decades since, the 50-year-old has traveled the world digging huge holes but nowadays rarely gets dirty. Randles recently has been spending his shifts – 10 hours a day, six days a week – in an 8-by-8-foot metal container in Kailua, with one window covered by cardboard and the other by a plastic shade that he pulls up and down throughout the day to switch views between a computer screen in front of him and the noisily rumbling machine in the construction pit below him.

While conventional tunneling techniques still have a prominent place in underground engineering, many smaller, tighter and more intricate projects are turning to a computerized and mechanized system of digging dubbed microtunneling.

Two major municipal sewer line upgrades on Oahu this summer have featured microtunneling. One improves the Sand Island Treatment Plant, near downtown Honolulu, with a new $118 million force main being built by Frank Coluccio Construction Co. The other microtunneling project upgrades the gravity tunnel that carries wastewater from the Kaneohe Wastewater Pre-Treatment Facility to the Kailua Regional Wastewater Treatment Plant. The $175 million project is a joint venture between Southland Contracting and Mole Construction. (Update: The Windward project was completed, the city announced June 21, 2018.).

Microtunnels generally are smaller in radius and shorter in length than conventional tunnels. But the distinctive element of a microtunnel is not its size; it is the placement of the people working on the project. Microtunnels are dug remotely with machines pushing pipes into the ground and removing soil via a slurrying process combined with suction.

Randles, a tunnel-boring machine operator subcontracted by James W. Fowler Co., has dug microtunnels as small as 16 inches in diameter, in Oregon, where he carried the mini-machine to the site by hand. In Singapore, he worked on a tunnel 28 feet in diameter, but he and others generally use microtunneling technology today on pipes 10 feet wide or smaller, primarily because of the size of the machine needed to push larger pipes through soil. "Companies want the cheapest and easiest solutions," Randles says.

Yet tunneling also expresses one of our fundamental human urges, to hollow out the earth and gain dominion underground, writes John Lienhard, professor emeritus of mechanical engineering and history at the University of Houston. More than 2,500 years ago, he notes, Greeks created a 6-foot-square water supply tunnel, nearly a mile long, on the island of Samos. About 2,000 years ago, Romans had the wherewithal to connect two towns, about a mile apart, with a 30-foot-wide underground road. Wayne Lee, a professor of history at University of North Carolina, has documented human tunneling as far back as the 700s B.C., but also has written that this activity, originally conceptualized as mining, has been transformed for a diversity of needs, including a warfare
tactic for toppling walls around fortresses.
Utility installation is being transformed from "a fairly labor intensive and disruptive activity, on the surface, to being a very precise and very controlled operation, requiring a much smaller number of people."

— Michael Schwartz, Kaneohe-Kailua microtunneling project
Underground feats of engineering are becoming both more common and more monumental, including the Channel Tunnel, 24 miles of which were dug under the sea between France and the United Kingdom; the Large Electron-Positron Collider tunnel, near Geneva, in which a collection of nuclear scientists study particle acceleration; and the Laerdal Tunnel, between Oslo and Bergen in Norway, which is considered so long for drivers to be underground, 15 miles, that it features three rest-stop caves.
Those traveling between Leeward and Windward sides of Oahu are familiar with the Island's three major tunnels that cut through the Koolau range: the Nuuanu Pali Tunnels (Pali Highway), the John H. Wilson Tunnels (Likelike Highway) and the Tetsuo Harano Tunnels (H-3).
Yet underneath Oahu, a network of smaller tunnels filled with cables and cords and pipes serves even broader public interests, providing the nervous system upon which our society functions. These less-appreciated tunnels – many of which are microtunnels – transport power, water, natural gas, sewage, cable television, broadband and other services throughout the island.
This underground system can be reached and expanded in various ways. Tim Pearia, project manager for the Sand Island project, quips, "Everybody in town has a backhoe and is itching to dig something up." But, he also says, the costs of microtunneling are shrinking, due to technological advances, as the costs of traditional above-ground work rise, including the political, social and economic damage of disruptions to soundscapes, traffic flow and the environment. "People used to think microtunneling was too expensive, and we're not going to deal with it," he says. "But now, it's actually becoming pretty economical."
With fewer people underground and inside the tunnels, the microtunneling process also generally creates a safer environment for workers, says Michael Schwartz, resident engineer on the Kaneohe-Kailua project. Meanwhile, he adds, utility installation is being transformed from "a fairly labor intensive and disruptive activity, on the surface, to being a very precise and very controlled operation, requiring a much smaller number of people."
---
Learn More
VIDEO: Microtunneling in Hawaii
Kaneohe-Kailua microtunnel project: kkgravitytunnel.org
Sand Island microtunnel project: coluccio.com