Drones Unleashed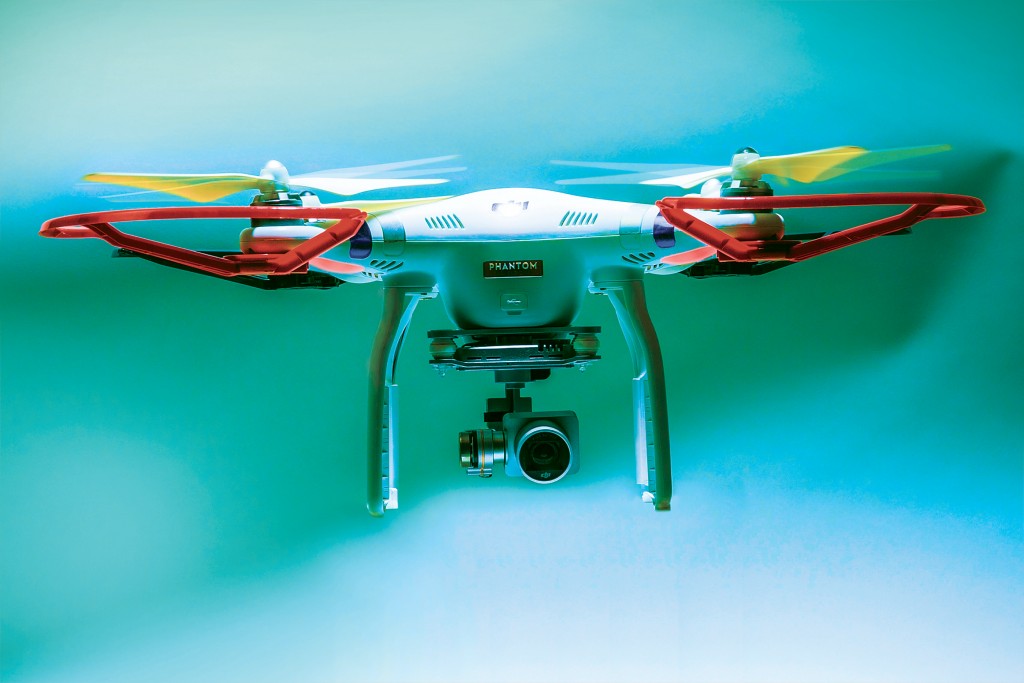 Tucked inside Battery Bill's store on Dillingham Boulevard is another store that looks like an oversize walk-in closet, but is, in fact, the epicenter of one of the state's fastest growing industries. Drone Services Hawaii LLC, open for less than two years, has seen a growing stream of customers who buy aerial drones, have theirs repaired or want to launch a business that uses drones. And, with looser FAA rules scheduled to take effect late this month, the drone business will soar to new heights.
"I don't think anyone could have envisioned how quickly this industry has exploded in popularity," says Mike Elliott, a retired Naval officer who owns Drone Services Hawaii. "We're already opening a second store on Maui and we've really outgrown this location, so we'll probably have to relocate in the near future. It's like Brodie said on 'Jaws': 'We need a bigger boat.' "
Drone technology was once reserved for the military but is now used locally in construction, architecture, agriculture and real estate. Hobbyists are the biggest users and the World Drone Racing Championships will be held at Kualoa Ranch Oct. 17-22, with more than $200,000 in prize money at stake for competitors from more than 30 countries, organizers say.
Local experts say they are still digesting "Part 107," the Federal Aviation Administration's 634-page report covering new rules for small, unmanned aircraft that was released in June. But, so far, they like what they see.
One big change: Users no longer need a pilot's license to commercially operate a drone – a huge obstacle in the past – but they do need to pass an FAA test and follow the federal agency's regulations. The test costs about $150.
"It is much easier to get a remote pilot certificate than a standard pilot certificate," says Ian Gregor, a spokesman for the FAA.
"The 107 exam is about general aviation knowledge, operating in airspace, knowing who to call, etc.," Elliott says. "Those are things many drone operators know nothing about and anyone who operates these needs to know how to read aeronautical charts and understand all the things a pilot does." Elliott calls the new, looser regulations "A big deal. I'm already hiring more drone operators and getting personnel on staff to run through the new regulations so they can maybe do some low-end jobs."
He says Part 107 will make it easier to use drones for simple "eye-in-the-sky purposes," such as real estate photography, roof inspections and checking farm fields. And everyday entrepreneurs worldwide are discovering more ways to use them to collect data, perform tasks and save money, lives and time. Currently, hobbyists are by far the biggest group of drone owners."We know that there are more drones registered than people," the FAA's Gregor says.
"That's because hobbyists can register an unlimited number of drones using their registration number."
THE SKY IS THE LIMIT

One of Hawaii's strongest proponents for commercial and government drone use is state Sen. Will Espero, who envisions Hawaii as a potential drone hub and industry leader. "The sky is the limit and Hawaii needs to get on board and be a leader," Espero says. "Think of all the uses. We need to secure the World Championships annually, but we can also use drones to spot sharks, for search and rescue, construction, real estate, farming, fishing, commercial apps, film production … It really is (a billion-dollar industry) that's just starting out.
"We need to get our engineering school on board and teach students to develop drone technology. We could be creative and have a commercial industry here where we could ship all over the world. It's not like the cost of shipping a car. This is doable." Espero suggests governments can use drones for surveying traffic and accident scenes and scanning for sharks. "If you save one life it's worth it," he says, "and wouldn't it make sense for traffic, instead of waiting for a helicopter to do a flyover, to get trained for drone use?"
Last year, Elliott donated a drone to Honolulu County's Office of Ocean Safety & Lifeguard Services after reading about shark attacks and sightings around Oahu, but is disappointed it hasn't been used. "They don't need a commercial license," Elliott says. "They can do it easily and I've volunteered to help set them up."
Capt. Kevin Allen of Ocean Safety says the concern is privacy: Drones can be flown over water, but aren't permitted over beaches. "If people see us flying them, they'll think it's OK for them to fly them on the beach," he says. "It's technology that could have a very good place with us, but regulations are a really big thing right now. If you go to a beach park and put it in the air, maybe looking for a swimmer, people on the beach are thinking it's an invasion of privacy.
"We have to see what we can use it for and consider all the factors. Maybe cliff rescues on the east side, cameras to see what's going down in a cave. But right now it's just one drone, so where would it best be used?"
Attorney Glenn Melchinger of Alston Hunt Floyd & Ing has studied drone use and can see why the state and county would be hesitant to use them, but wants officials to put more thought into the issue.
"It would be nice to have them articulate more specific reasons (for not using drones) given the gradual changes in regulations," he says. "If they are saying just privacy, it doesn't seem to quite fit the bill. It's not quite a complete answer."
Allen of Ocean Safety says another company suggested using drones at Hanauma Bay. Each snorkeler would get a bracelet that tracks that person's pulse; if the bracelet loses the pulse signal, a drone would automatically hover over the swimmer until lifeguards arrive.
"That would be a great lifesaving use. We just have to get clearance to use (the donated drone) and decide who runs it and where it will go."
OUT OF SIGHT

Hobbyists never needed a pilot's license, but they still need to register with the FAA, restrict themselves to certain areas, log flight time and contact the FAA before takeoff. Their drones can only fly out of sight when their controllers wear goggles, which is how the upcoming world championships will be conducted. Under Part 107, commercial drone pilots can't lose line of sight, so spotters are often used as well as a pilot and a camera controller.
Elliott says Part 107 is the FAA's first real step toward taming what he calls "The wild, wild West," where few companies complied with all FAA regulations. For instance, people without a pilot's license would take video footage with a drone, but claim they were not commercial operators because they only charged for editing the footage. "Yeah, right," says Elliott sarcastically.
He likes that there is one national set of regulations. "Drones need to be governed by one body like the FAA. You can't have rules for different home associations or cities." Elliott believes the illegal flyers will eventually fall to the wayside because they can't get insurance coverage and companies who hire them could be liable for damages.
Gregor said the FAA currently has more than two dozen cases nationwide against illegal operators. The heaviest fine for repeated violations is $1.9 million against SkyPan International, an aerial photography business."Our first preference when we find out somebody may be operating without authorization is to educate them about the rules and regulations," says the FAA's Gregor. "However, if we become aware of an exceptionally egregious operation, or somebody is a repeat offender, we can take enforcement action against them. An individual who violates the regulations can be fined $1,100 per violation. A business that violates regulations can be fined up to $27,500 per violation."
The Honolulu Board of Water Supply and Hawaiian Electric Co. are among about 10 companies and agencies in the state that have pre-Part 107 exemptions from the FAA so they could operate commercial drones. The low number is misleading, because other companies operating locally may have Mainland parent companies with exemptions.
Chris Baze is a drone enthusiast and the building information modeling manager for Hawaiian Dredging Construction Co. He says his company has used drones for surveying and is considering using them more. Elliott says his company recently finished shooting video for the 75th anniversary of the attack on Pearl Harbor and six employees were needed. His price for drone jobs starts at about $400.
The Howard Hughes Corp. has used Drone Systems Hawaii to help with architectural and construction work, and other companies have used the service for topography, surveying and checking solar panels. "Sometimes, architects just want to see what a view will look like from a particular point before the building goes up," Elliott says.
ILLEGAL USE

Baze and Elliott say illegal drone use has been a concern in the real estate industry. Realtors, looking for better ways to shoot footage of neighborhoods and homes, used drones so much last year that the National Board of Realtors warned its members they could lose their real estate licenses if caught using illegal footage, Elliott says. Baze says people abused the FAA regulations because of lack of enforcement.
"Enforcement only happens if someone complains about you," he says. "The vast majority of business is clearly illegal. I was in Ko Olina the other day and there was a drone being used within 5 miles of the small airport, which is illegal, and they were doing shots for a Realtor, also illegal. The laws haven't caught up with the technology."
John P. Purcell, Ph.D. and VP of business and technology lead for Monsanto Hawaii, says the company is always looking for ways to increase productivity and alleviate costs, but so far has not used drones. "Farmers today are increasingly turning to high-tech tools to help them farm in a more precise and data-driven fashion, and UAS are one of the many tools farmers are considering adding to their toolkits," he says. "The true value of UAS technology is the ability to provide farmers with real-time information to help them make better farming decisions toward having better harvests, making water and other resources go further, and protecting the soil."
Elliott believes drones will eventually be embraced by local farmers, just as they are on the Mainland. "They can check crops and land easier. Say you have 40 acres but can only water 10. This gives you up-to-the-minute information on which areas need water or fertilizer. There are even programs on the Mainland that connect drone information to computers on tractors so they can spread seeds or fertilizer most effectively."
---
THE RULES

Here are the main requirements to operate an unmanned small aircraft for commercial purposes under the FAA's new rules, called Part 107:
A PILOT MUST:
• Be at least 16
• Pass an initial aeronautical knowledge test at an FAA-approved test center
• Be vetted by the federal Transportation Safety Administration
• Keep aircraft in sight
• Not operate drone from a moving vehicle.
THE AIRCRAFT MUST:
• Be less than 55 pounds
• Be registered
• Stay at least 5 miles from airports
• Fly during daytime, at or below
100 mph and under 400 feet
• Yield to manned aircraft.
All of these rules are subject to waiver.
Source: Federal Aviation Administration
---
CAN A DRONE FLY OVER MY HOUSE?

The FAA requires drone users to follow local privacy laws and these restrictions from the Academy of Model Aeronautics:
• Don't operate on or fly over private property without first obtaining permission from the owner and tenant.
• Don't fly near or over assemblies of people without permission.
• Don't fly near or over sensitive infrastructure or property such as power stations, water treatment plants, prisons, heavily traveled roads, government facilities, etc. without making prior arrangements.