East Oahu Magazine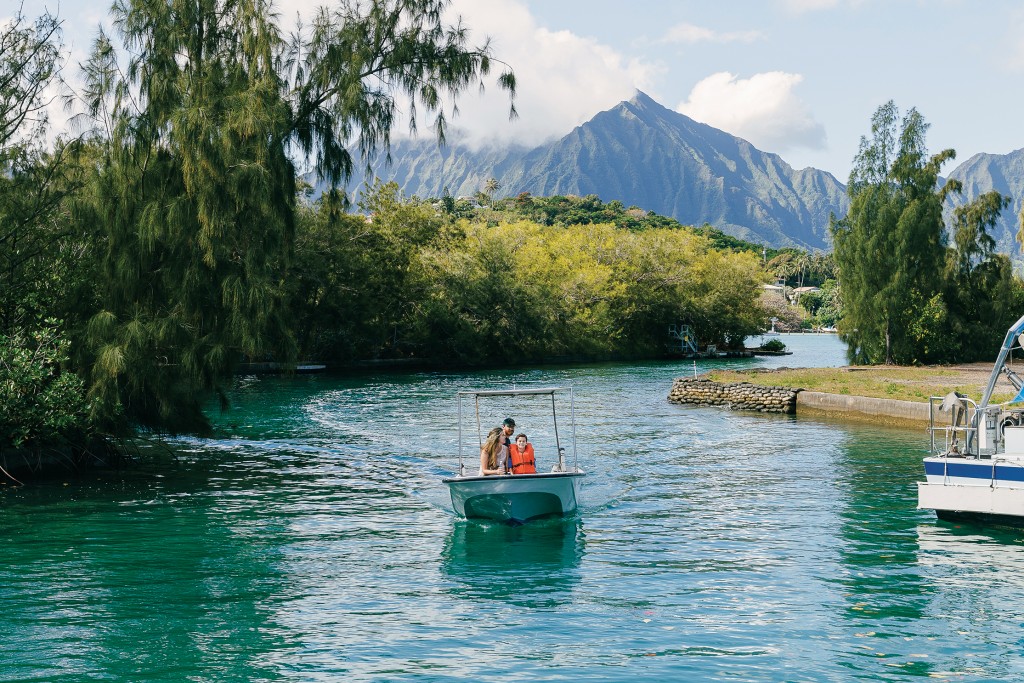 Contents
Company Profiles
Sunetric:
Renewable Energy Solutions
Windward Community College:
A Continuing Legacy of Education
Wilson HomeCare:
Engaging Environment for Seniors
Archipelago Hawaii:
Building for the Future
Good Samaritan Society
Pohai Nani:
Caring for Kupuna
UFC Gym Kailua:
State of the Art Workouts
Aloha,
Kailua Chamber of Commerce is honored to work with Hawaii Business on this issue of East Oahu Magazine.
The Kailua Chamber of Commerce inspires individual civic responsibility, encourages commerce and promotes the prosperity of Kailua. With over 180 members, small business owners, nonprofits and community members, we are honored to work across all sectors to make Kailua a thriving place for businesses, organizations and residents alike.
We continue to see impressive growth within Kailua's commerce. At the heart of fueling the economy are the small businesses that provide opportunities to connect with peers, residents, current and prospective clients and partners to ensure our Windward community is the best it can be. These connections bring people and organizations together to support one another and advance our collective interests.
Kailua is an excellent place to do business and an excellent community in which to live. We all strive to improve the quality of life in Kailua for everyone through our diverse and thriving business and retail base, the active stewardship of our residents and a burgeoning tourism trade.
The Kailua Chamber of Commerce appreciates the opportunity to partner with Hawaii Business magazine to share inspiring stories of successful businesses and the unique attributes of our Windward community, an integral part of East Oahu. Enjoy.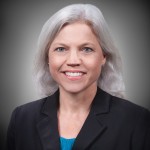 Catherine Sato, President
Kailua Chamber of Commerce,
Vice President & Market Manager
Preserving East Oahu
Just beyond the rush hour traffic on the Kalanianaole, Kahekili, and Kamehameha highways are some of East Oahu's answers to how we can live sustainably to preserve the island's natural resources and its history for future generations. From Hawaii Kai's fertile farmland to Windward Community College's rich course offerings, from harnessing the sun's energy to creating stewardship for the area's abundance of natural resources, the preservation of place and culture is happening on multiple levels, supported by both non-profit organizations and private enterprises.
East Honolulu Farmland
Located in the ahupuaa of Maunalua, Kamilo Nui Valley is the only Hawaii Kai valley where homes have not been developed. 87 acres encompass family-run nurseries and farms that grow a wide range of landscaping plants, from herbs to hibiscus. Established in the late 1960s, Nii R&S Nursery is run today by Richard Nii and his wife, Judy. In 2010 Nii R&S partnered with other valley business owners to establish a Kamilo Nui farmers alliance. By joining forces the alliance successfully negotiated a new 15-year lease with landowners Kamehameha Schools.
The Aloha Aina O Kamilo Nui farm is owned and run by a volunteer non-profit organization with the mission, as their website states, "to restore the Kamilo Nui Valley watershed as a sustainable, cultural and community-based model for agriculture land use and management, inspired in part by the Hawaiian traditional values of ahupuaa for the benefit of future generations." Spokeswoman Elizabeth Reilly, who has been involved with the organization since 2004, says, "These farms are a community asset. We are working toward master planning to take into account the flow of water from the ridge to the farm lots to the marina and to the bay."
A Continuing Legacy of Education
Since 1972 Windward Community College, located mauka of Kahekili Highway, has been inspiring students to excellence with a "special commitment to support the access and educational needs of Native Hawaiians [and] provide the Koolau region of Oahu and beyond with liberal arts, career and lifelong learning in a supportive and challenging environment." The college's five core values are in line with preserving and supporting the communities of East Oahu:
Ka lama ku o ka naauao. Creating meaningful curricula and diverse learning experiences.
Aohe hana nui ke alu ia. Working collaboratively and inclusively.
He punawai kahe wale ke aloha. Serving and supporting with aloha.
Kulia i ka nuu. Striving for excellence.
He alii ka aina, he kauwa ke kanaka. Caring for Hawaii and the planet.
The campus features the first Silver LEED certified library in the UH Manoa system. Repurposed 4×6 Douglas Fir planks from the original building's roof were recut to create the library's benches and its circulation desk. The college's Spanish Mission Revival architecture's red tiled roofs are striking against the Koolau Mountains that stand tall in the background, waterfalls cascading after frequent rainfall.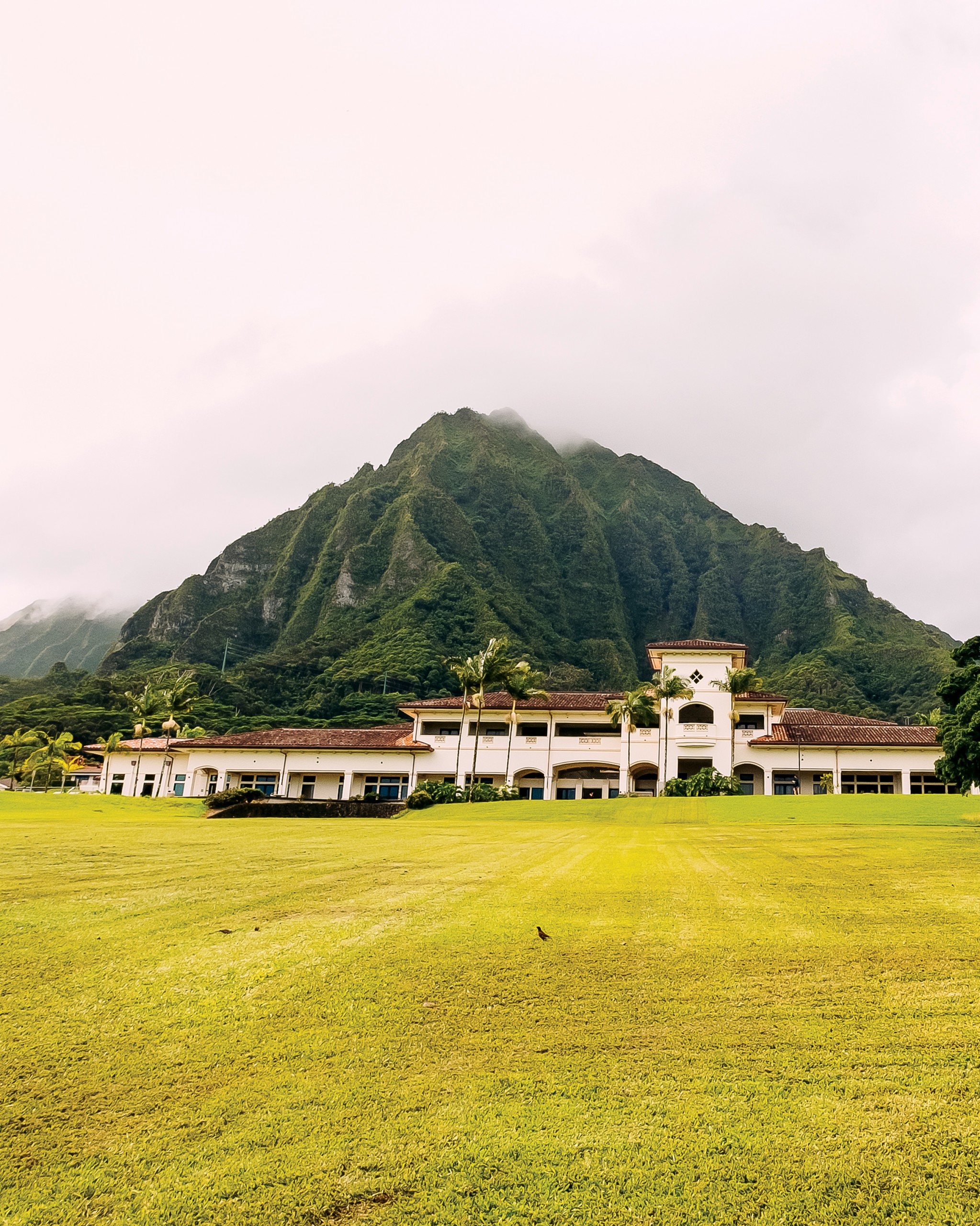 Chancellor Doug Dykstra shared that, "The fall semester of 2018 saw the largest incoming class of first time students to Windward Community College, mirroring UH Manoa's largest fall enrollment." 41% of those enrolled are Native Hawaiian students. The average age of the student population is 23-26. The Early College program brings college level classes to students at Castle and Kailua High Schools and the Senior Citizen Visitor Pass for learners who are 60+ makes continued learning available to students across a wide spectrum. WWCC also offers study abroad programs with opportunities for theater students in London and music students in New Zealand.
Windward Community College is well known for its 366-seat Paliku Theater. Continuing Ron Bright's legacy, the theater brings a Broadway show to windward audiences every fall as well as programming across the arts throughout the year. Windward Community College also boasts visual arts programs of note with its ceramics studio, Gallery Iolani, screen printing that utilizes all non-toxic materials and Hawaiian wood carving classes that use salvaged wood.
WINDWARD COMMUNITY COLLEGE
Drenched in emerald green, Windward Community College has the "ahh! factor" with an expanse of manicured lawns beneath banyans and the omnipresent Koolau peak Keahiakahoe. Students and visitors say the jewel of the Windward side evokes a welcome calm and peaceful vibe…inspiring students to excellence.
How we inspire:
80+ online and evening classes that fit into working adult schedules

Only Veterinary Technology AS degree in Hawaii leading to jobs in the veterinary medicine field

Agripharmatech certificate with an entrepreneurial focus on plant-based bioproduct research, design and manufacturing

Natural Sciences AS degree in Engineering, Computer, Biological or Physical sciences

Liberal Arts AA degree transferrable to 4-year universities

Music Performance certificates that nurture the next generation of Hawaiian musicians

Creative Media pathway to UH West Oahu: film, website & gaming

Hawaiian Studies AA degree with studies in language, art, woodcarving, voyaging and more!

Performing arts students practice their craft onstage and in award-winning performances at Palikū Theatre

Visual arts students work in premiere photography, design, ceramics and painting studios, and exhibit their works at Gallery Iolani

Six-week summer intensive Atelier drawing and oil painting workshop in Classical Realism

Unique noncredit programs in Ocean Recreation Safety, Certified Nurse's Aide and Leadership training
More than classes! We love our community and invite you to experience drama and musical performances at Paliku Theatre, fine art exhibits at Gallery Iolani, stargazing and fulldome shows at the Imaginarium, readings at Out Loud in the Library! and musical kanikapila. Join us for the artful hands-on Paliku Arts Festival and perennial favorite Windward Hoolaulea on the great lawn. We've got it all.
Learn more at: windward.hawaii.edu
Kawainui Marsh
Kawainui translates to "the great freshwater," a fitting name for the Kawainui-Hamakua Marsh Complex, the largest existing wetland in Hawaii. Located in what was formerly the center of the Koolau volcano, Kawainui became a lagoon by collecting freshwater from the Maunawili watershed. Hawaiian settlers used the 450-acre lagoon to farm fish and to plant loi kalo (taro fields). Alii inhabited the Kailua Bay shoreline and three large heiau were built, including Ulupo and Pahukini. By A.D. 1600, the Kailua ahupuaa was an aina momona (rich land) of political and religious importance. Western Contact saw the conversion of loi kalo to rice and eventually the lands around the marsh shifted to pasture use. Today, Kawainui is a wahi pana (storied place of cultural importance) and a wildlife sanctuary for migratory and water birds.
The Kawainui Marsh Trail spans 1.5 miles of the marsh from Kailua Road to Kawai Nui Neighborhood Park. It's popular with dog walkers, cyclists, families pushing strollers, walkers and joggers.
The community-based non-profit organization, Hikaalani, was founded in 2010 to preserve the places and practices that once defined Kailua as a land of abundance. Hikaalani organizes second Saturday community workdays at Ulupo Nui to preserve the site of ancestral importance and educate the public on its relevance today.
Building For The Future
With time comes change, rebuilding, and building smarter. Archipelago Hawaii's Tiare Pinto was born and raised in Kailua. Since 2007 Archipelago Hawaii has been designing whole homes, interiors, kitchens and baths in collaboration with architects, structural engineers, general contractors, and other specialists. Located in Kailua's Kapaa Industrial Park, the company reuses materials whenever possible. Archipelago designs living spaces to take advantage of natural ventilation over installing air conditioning. They select products free of off-gassing, products that use recycled content, LED lighting with sensors, and water sense fixtures. Pinto says, "There are so many ways to make a home more sustainable without breaking the bank today. I think sustainability has become mainstream and the pricing is reflecting that now."
Kailua-based Sunetric provides energy-efficient home and commercial solar systems to clients across the state of Hawaii. With an increased demand for renewable solutions to maintain power during grid outages, such as in a hurricane, Sunetric advises customers on solutions to meet their individual needs. In addition, their service department fulfills requests from customers whose original installation company is not available to extend the life of existing systems.
SUNETRIC
Founded in 2004, Kailua based Sunetric is a leading full-service renewable energy firm operating throughout Hawaii. Its parent company, RGS Energy, has 40 years of solar experience as America's Original Solar Company® and is the exclusive manufacturer for POWERHOUSETM, an innovative and visually stunning integrated solar shingle system.
The locally managed and operated Sunetric team is dedicated to top-notch service and providing innovative solutions, diligent hard work, and industry knowledge to the community. Sunetric is committed to help the state achieve its goal of 100% clean energy by 2045. With a current renewable portfolio standard at less than 30%, there is a lot of work to do. Fortunately, the Hawaiian Electric Company has recently expanded their renewable program options. The NEM+ program is great news for Sunetric's existing customers, as additional non-export capacity is available to their home or business without affecting their NEM status. Hawaii is leading the country when it comes to distributed energy resources and Sunetric has the qualified staff to assist clients determine the best available program (offered by the utility) for their needs.
The threat of a hurricane is always a concern for Sunetric employees and customers. More and more people are looking for renewable solutions to keep their homes powered during grid outages. Since Sunetric's first battery installation in 2006, their team has followed the advancements in chemistries and has the experience to choose the best storage solution for each individual customer.
Sunetric recently expanded their service department to fulfill requests from customers whose original installation company is no longer around or does not have capacity to service their system any longer. From small residential to large commercial, there is experience behind Sunetric's photovoltaic design, installation, and service. They have grown from their home in Kailua to now offering world-class solar expertise across the nation with the acquisition by RGS Energy. Considering more than 260 megawatts installed, PV installations completed for every branch of the military, 25,000+ happy customers across all industries, and the success of POWERHOUSETM, Sunetric is Hawaii's solar authority.
Contact Sunetric: www.sunetric.com or simply call 808-262-6600. Aloha!
Caring For Kupuna
For those who wish to age in place, Wilson Homecare provides nurse aide in-home health care to individuals, including companionship, meal preparation, medication reminders and light housekeeping. Skilled nursing home care is also available. In addition to homecare solutions, Wilson Homecare has a 22-resident home in the Aikahi neighborhood of Kailua for individuals in need of around-the-clock assistance.
For seniors aged 55+ another living option is Pohai Nani in Kaneohe. The land was purchased in the 1960s on what was formerly farmland. Pohai Nani offers a full spectrum of care from independent living for those 55+ to assisted living, skilled nursing, and rehab. Memory care will open in 2019. Sonja Guy, Director of Marketing, says, "The Kaneohe Bay and Koolau views draw residents to Pohai Nani from both the islands and the mainland."
WILSON HOMECARE
Our Mission
Wilson Care Group's mission is to provide quality, compassionate care to individuals who need assistance with their daily activities, whether for just a few hours each day or for personal care assistance around-the-clock. We provide dependable, compassionate care in your Hawaii home or in ours! Contact us to find out more about our home health care services or our senior living facility.
Our History
Shelley Wilson founded Wilson Homecare in 1996. She has personally guided its growth to become Hawaii's largest home care agency. Over the years, clients often asked Shelley about other long-term care options when home care services were no longer appropriate for their loved ones' care. In 2013, after years in planning and development, the doors to Wilson Senior Living in Kailua opened to welcome our first residents to this state-of-the-art adult residential care home.
Senior Living
When in-home care is no longer appropriate, come see Wilson Senior Living, our state-licensed Adult Residential Care Home (ARCH II), located in the Aikahi neighborhood of Kailua at 96 Kaneohe Bay Drive. Years in the planning, Wilson Senior Living Kailua is person-directed care designed around a social model which encourages residents to be as active as possible and to engage and interact with their fellow residents. It's about creating and maintaining purposeful lives for our seniors, with attention to both their individual personal care needs (bathing, dressing, grooming, medication management) and their daily essential needs (security, meals, exercise, transportation, and companionship). Professionally-staffed 24 hours per day, Wilson Senior Living Kailua offers a safe, dignified, and nurturing environment for our beloved kupuna.
To arrange a private presentation of Wilson Senior Living Kailua, please call 808-596-4486.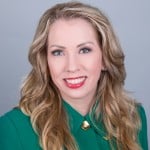 Shelley Wilson,
President, CEO
Wilson Care Group
www.WilsonCare.com
(808) 596-4486
GOOD SAMARITAN SOCIETY
POAHI NANI
Established in 1964, Good Samaritan Society Pohai Nani, is a not for profit retirement community. It offers a continuum of care for its residents, including independent living, assisted living, care homes, skilled nursing and rehab. The senior community consists of 184 high rise apartments, 15 cottages, four 5-bed care homes and a 44-bed nursing facility.
Not only is the location beautiful, but the quality of service and low staff turnover makes us one of kind. Many of our caring and compassionate employees have been assisting our residents for more than ten years and up to 45 years. We encourage a solution-oriented service program with our employees who are empowered to provide a positive experience for our residents.
Our Good Samaritan Society Pohai Nani campus is located on 16 acres of land surrounded by the Koolau Mountains and Kaneohe Bay. Shopping, medical services, golf courses and entertainment are available in the surrounding community. The Wellness Program, one of Pohai Nani's popular amenities, is offered to our residents as well as to the community. Other amenities include a computer room with internet access, art studio, craft room, beauty and barber shop, library, auditorium and walking paths surrounded by mature Hawaiian gardens.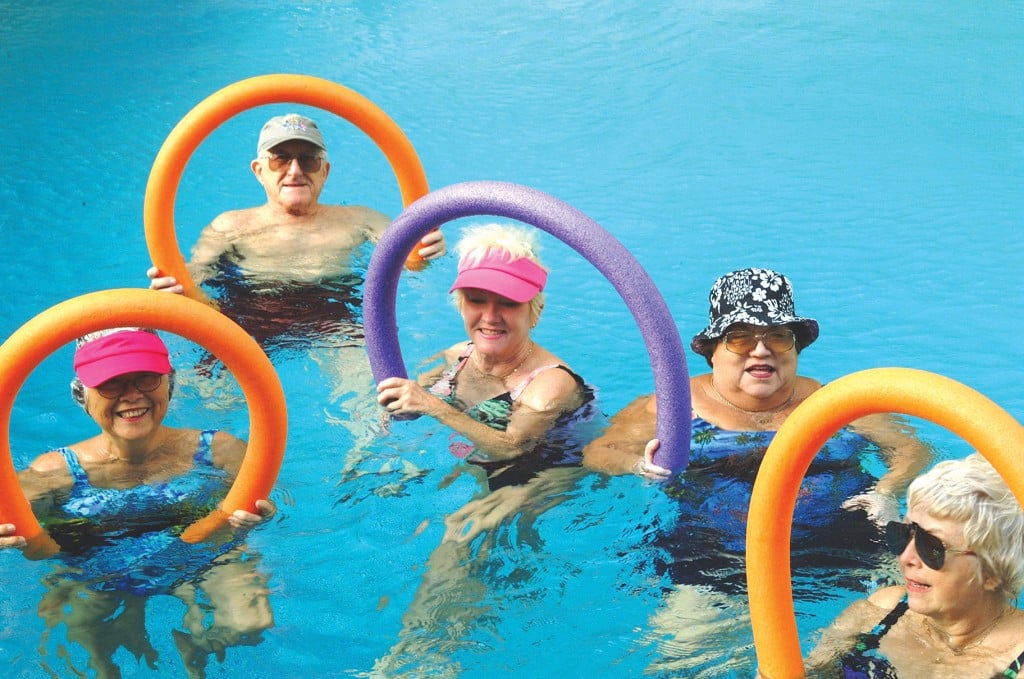 Pohai Nani is part of the Evangelical Good Samaritan Society who owns and/or manages 240 facilities in 24 states. If you've not had the opportunity to visit Pohai Nani and experience why people choose this community to retire at and would like further information, you can visit our website at: www.good-sam.com/pohainani or call to set up a tour with our Sales & Marketing team at: 808-236-7806.
Go Holo Holo
The variety of East Oahu businesses offer an abundance of opportunity for residents and visitors alike.

Waimanalo Wood
Waimanalo Wood is a full-service sawmill, lumberyard and woodworking shop that specializes in turning native Hawaiian hardwoods and downed trees into furniture and other useful wood creations. Their professional woodworkers create Norfolk Island pine biodegradable wooden caskets. All the wood used at Waimanalo Wood is 100% reclaimed including ironwood, Norfolk, kamani, mango, milo, ohia, koa, monkeypod and tamarind. Waimanalo Wood promotes sustainable resource management by keeping trees that are downed out of the landfill, instead transforming the wood into something useful. The company welcomes donations of felled trees for their lumberyard.
Hawaiian Island Creations
Brothers Stephen and Jimmy Tsukayama opened the first Hawaiian Island Creations surf shop in Kailua in 1971. Now with fourteen stores across three islands, the shops feature local and national brand surf wear, skateboards, signature T-shirts and accessories. For those not in the islands, HIC has an online store. HIC also partners with other companies to sponsor events like Ocean Sports and Fitness Day at Kalama Beach in Kailua and the HIC Pro, the Official Qualifier of the Vans Triple Crown of Surfing on the North Shore. 354 Hahani Street, Kailua.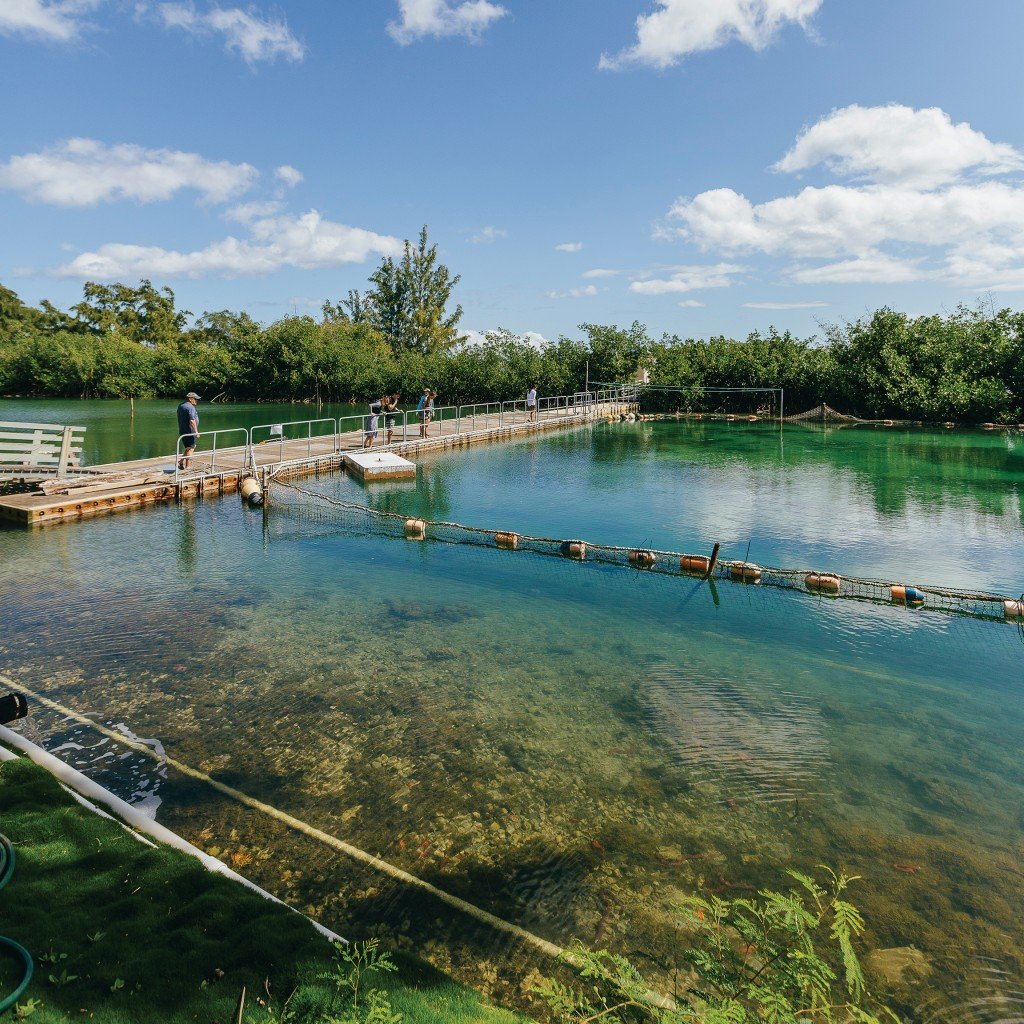 Coconut Island
Located in Kaneohe Bay, Coconut Island is also known as Moku O Loe. Once used as a base for local fisherman and shepherds, the 12-acre island was purchased by Christian Holmes, heir to the Fleischmann yeast fortune, for use as a tuna-packing factory. Holmes expanded the island to 28 acres by using material from the Kaneohe Sand Bar and built the fish ponds that are still in use today. He installed a movie theater, outdoor bars, a bowling alley, and a shooting gallery, imported a baby elephant, giraffes, monkeys and donkeys, animals that later became the basis of the Honolulu Zoo. After changing hands again, in 1965 Coconut Island became the Hawaii Institute for Marine Biology. Today, scientists perform research in the institute lagoons and labs. Walking tours are open to the public with prior reservation. School group visits and overnight camping can also be arranged. On the third Sunday of the month families are invited, first-come-first-served, to tour the island.
ARCHIPELAGO HAWAII
Archipelago Hawaii is located in Kailua, a place near and dear to the owner's hearts. Tiare Pinto & Roseann Freitas began their design journey together in 2005 at TCB Island Interiors in Tiare's garage in Lanikai doing Interior Design, slip covers and upholstery… Fast forward to 2018.
Today, Archipelago Hawaii creates personal sanctuaries for busy professionals who don't have time to take on the many details of a home project. By getting to know their clients Archipelago is able to provide a comprehensive design that reflects each homeowner's individual lifestyle. From new construction, major remodels, kitchen & bath design to furnishings, art and accessories, Archipelago Hawaii is a full-service design firm.
They are known for their award-winning designs, led by Tiare Noelani Pinto, CKD, Allied ASID. "My goal is to create a home that's not just beautiful, but makes my clients lives easier," says Tiare. This can be achieved in many ways; new furnishings, space planning, remodeling, building an addition, tearing down the existing home and creating a home that functions for the client's lifestyle. The team at Archipelago Hawaii assembles a complete package that allows homeowners to make decisions by using today's technology. "Many homeowners are unable to comprehend the design from a traditional set of blueprints. We utilize 3D technology, which gives our clients a better understanding of the plans and allows us to make changes as needed before the architectural plans are completed," according to Laurent Chouari, Design Engineer.
The services don't stop at the design. "We handle all the logistics of procuring & getting the decorative materials to Hawaii in a timely manner, coordinating with the contractor," says Roseann Freitas, V.P. Archipelago provides a detailed specification package and reviews the plans with the contractor to avoid any mistakes and oversights on the project. This creates a seamless process from inception to completion.
Archipelago is launching their new furniture line Archipelago Home; custom upholstery along with a broad offering of upholstery fabrics available for viewing in their design studio.
Archipelago Hawaii is your full-service Design Firm located in the Kapaa Industrial Park #2501, Kailua, HI.
www.archipelagohawaii.com
Manoa Chocolate
Since 2010, Manoa Chocolate has grown to become the largest producer of chocolate in the state. All Manoa Chocolate is made from sustainably sourced beans from Hawaiian farmers in Waiahole, Maunawili and Haiku in Windward Oahu and from Hamakua on the Big Island. If you grow your own cacao here, Manoa Chocolate states in their website FAQ that they may be interested in buying it from you. Manoa also sources sustainably farmed beans from cacao growers in off-island locations including Peru, Madagascar, and the Dominican Republic. The Kailua factory and tasting room offers free mini tours daily where visitors learn how chocolate is made and taste samples.
UFC Gym Kailua
Rain or shine, residents on the windward side can get their workout done on the second floor of the Lau Hala Shops, in the former Macy's. With a 20,000 square foot gym opening by the end of 2018, the enrollment center on the ground floor has been welcoming sign-ups since the summer. People seeking a full-service gym with amenities such as a kids' club and group fitness eagerly await opening day.
UFC KAILUA
UFC Gym Kailua offers cardio, state of the art equipment, group fitness classes, mma training, youth programs and more! Train different today and tap into your potential by fusing the multi-disciplined approach of mixed martial arts with state-of-the-art equipment and top-notch coaching, supported by a motivating community of fitness enthusiasts you won't find anywhere else. Regardless of your age or fitness level, we'll help you own your goals with strength, courage, and discipline. Come in today and see how we can help you to reach your goals! With 4 locations to serve you – Honolulu, Waikele, Mililani, and Kailua.
Visit us online: www.UFCGym.com or in person at any of our locations:
Kailua: 573 Kailua Rd #200, Kailua, HI 96734
Honolulu: 805 Pohukaina St, Honolulu, HI 96813
District Park Pools
Both Kaneohe District Park and Kailua District Park offer lap swim, aquatic classes, and free swim year-round at their respective swimming pools. Hours vary and can be confirmed by contacting the pools directly. Kailua District Park Pool, 21 South Kainalu Drive, Kailua, (808) 266-7661. Kaneohe District Park Pool, 45-660 Keaahala Road, Kaneohe, (808) 233-7311.
Hamakua Drive
Bike Lane
This year saw the construction of clearly marked bike lanes along Hamakua Drive between Keolu Drive and Kailua Road, providing safer bicycle access to and from residential Enchanted Lakes and the Keolu Drive neighborhood to Kailua Town. The project is a part of the Complete Streets Program with the goal of calming traffic without increasing travel times and increasing safety for bicyclists.
East Oahu Eats
From Aina Haina to Kaneohe, there's something to please every palate whether you're in the mood for shave ice, a cold brew, breakfast, lunch or dinner.
Over Easy
Since 2016, Over Easy has served brunch all day and lunch every day after 11 a.m. except Monday. Offering island fare like kalua pork hash and a classic fried chicken sandwich, there's something on the menu to everyone's liking, including keiki options. With indoor and outdoor seating on Kuulei Road, Over Easy is a fantastic eatery option.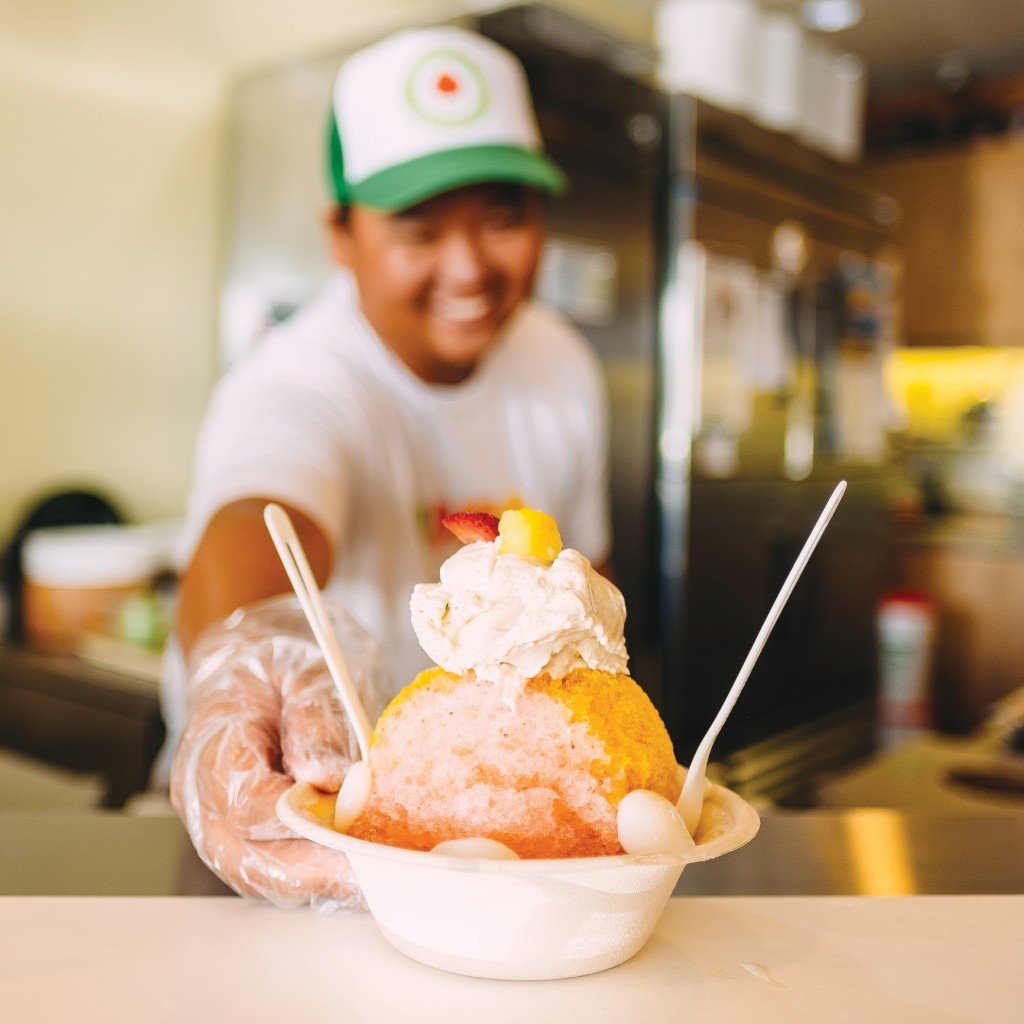 Uncle Clay's House of Pure Aloha
Tucked into Aina Haina Shopping Center you will find all natural, homemade, handcrafted delicious shave ice served in bowls and topped with original syrups made without any artificial flavors, colors, or sweeteners. Uncle Clay's sources ingredients that are Hawaii grown or Hawaii made for their ono treats that come in 3 sizes: tiny, small and regular.
Maui Brewing Company
What started in 2005 as a brewery and pub on the Valley Isle, Maui Brewing Company is opening its fourth restaurant in Kailua in December. By brewing all its handcrafted ales and lagers locally, the company supports 'made local.' By early 2019, the brewer's HQ on Maui will be 100% operating with energy generated by photovoltaic panels.
Nico's of Kailua
Nico's proudly supports sustainable fishing by serving locally grown food whenever possible. The Kailua location opened in April 2017, offering fresh fish and local fare at both lunch and dinner. Just need to pick up some poke to take to the beach? Nico's offers grab-and-go seafood.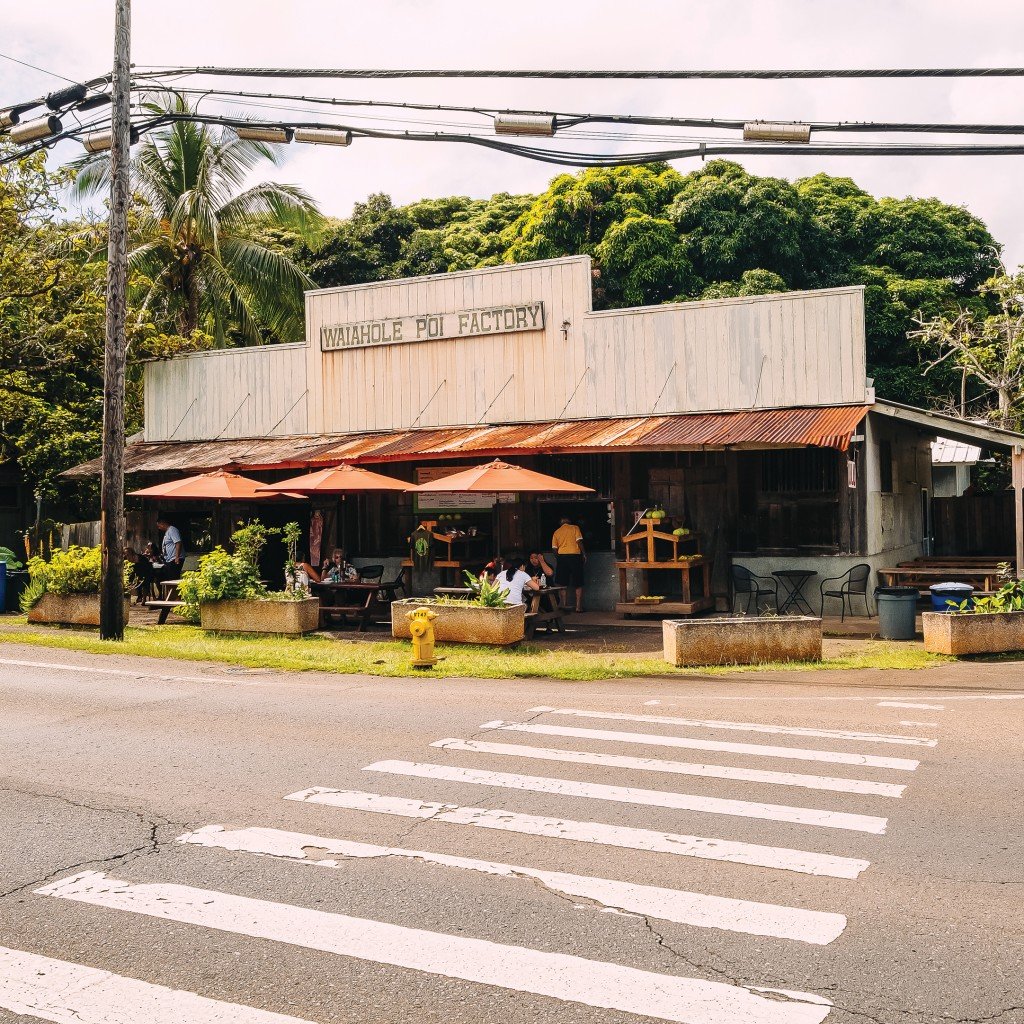 Waiahole Poi Factory
The Waiahole Poi Factory, located on Kamehameha Highway in Kaneohe, opened in 1905 as a poi factory but by the 1970s had transitioned to an art gallery. 2009 brought the return of hand-pounded poi and a menu where all dishes have roots in traditional Hawaiian luau fare. The poi factory's motto is "Hanai ike ai hanai ike aloha (To nourish with food, to nourish with love)." As stated on its website, "This mantra is at the heart of the Hawaiian belief that traditional food and locally sourced ingredients which support local farmers aren't simply for nourishment; they serve a deeper purpose in the spiritual connection to keep alive the culture and traditions of the Hawaiian people." Visitors can further learn about Hawaiian culture by signing up for the Hawaiian nose flute workshop where participants create and design a nose flute made of local bamboo and learn to play it.