Ekso Pro at Rehab Hospital enables wheelchair users to rise and walk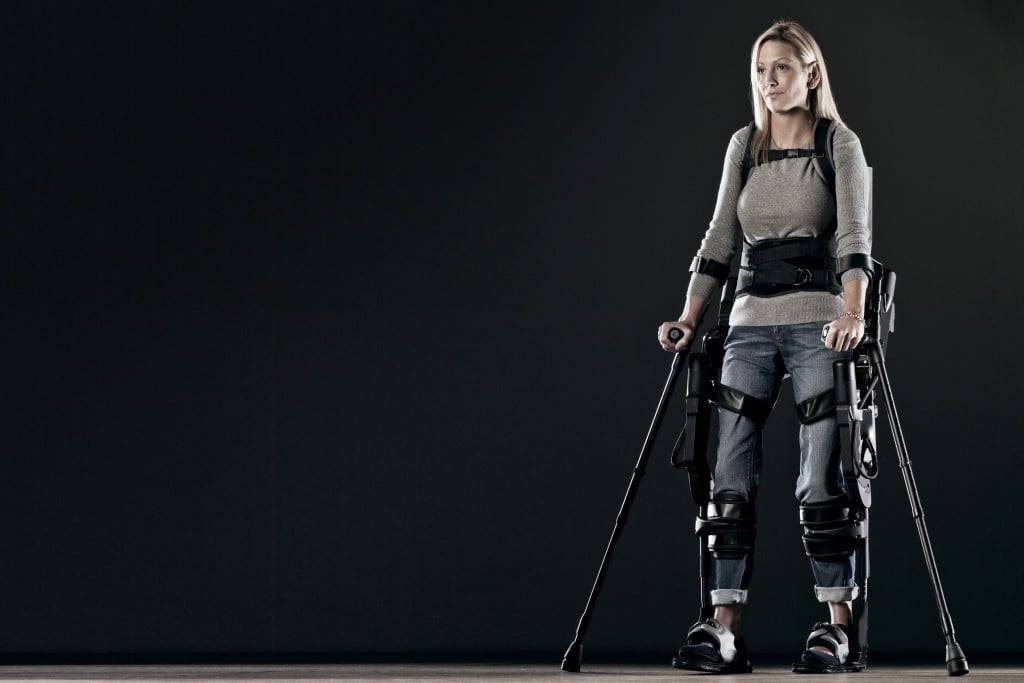 Problem: About 6 million Americans live with some form of paralysis. At Honolulu'sRehabilitation Hospital of the Pacific, the staff works each year with 5,500 patients recovering from strokes or injuries, including brain, spinal cord, orthopedic and sports injuries.
New Device: A robotic, battery-powered exoskeleton enables wheelchair-bound individuals to rise and walk upright. The Ekso Pro, built by Ekso Bionics, is part of a national trial being conducted with eight Hawaii patients at Rehab Hospital and nine other leading rehab centers. A personal version that patients can use at home is scheduled to be launched by 2013.
How it works: "The exoskeleton is a robot that you can put on like a suit in the morning," says Eythor Bender, CEO of Ekso Bionics. "You can take it home, like a prosthetic leg." As well as allowing a patient to stand upright and walk, Bender says, it also increases bone density, improves circulation, reduces bedsores and improves quality of life.
Flexible: Users activate their steps by triggering sensors on their arms and in the smart crutches. The sensors communicate with the device's computer, which flexes knees and moves the body forward. Bender says Ekso Pro adjusts to fit most people weighing 220 pounds or less, with a height of between 5 feet 2 inches and 6 feet 2 inches.  Upper body strength is important to operate the battery-powered device.
Why Hawaii: "We picked Hawaii because of the leadership here and the drive to make it work. This is the cream of the crop," Bender says about Rehab Hospital and its staff.
"We're trying to deliver cutting-edge resources to the people of Hawaii," says John Komeiji, chairman of the hospital's board of directors. "We're trying to rebuild peoples' lives."
Origin: Ekso technology was developed for use by the military to strengthen those in the field carrying heavy equipment and to prevent back injuries.
Cost: Ekso Pros used in the trial cost about $130,000. The makers expect the price to drop to $100,000, but it is not yet clear how medical insurers will cover it.
Know about a great innovation?
Send your idea to feedback@hawaiibusiness.com and type "Innovation" in the subject line.