Energy Excelerator Provides Boosts for Clean Energy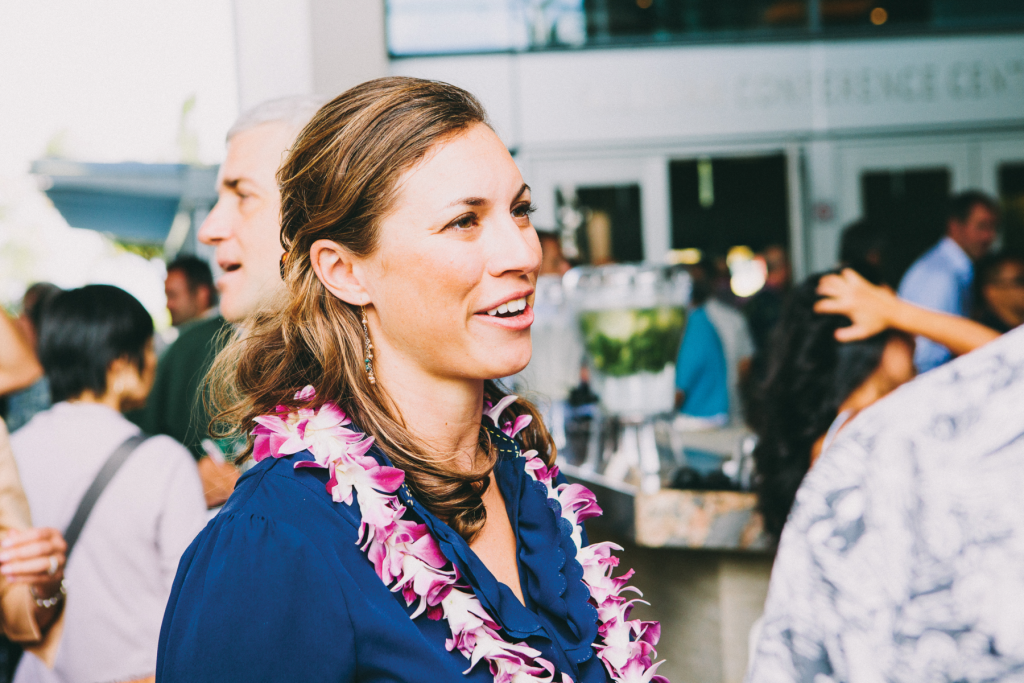 It's sometimes easy to believe the famous saying:
Build a better mousetrap and the world will beat a path to your door. But when the market is already full of mousetraps, and your R&D is better than your marketing, that knock on your door may never come.
Oceanit didn't wait. The Fort Street Mall-based engineering firm developed the InteliSocket, a clever device that helps customers manage the electricity used by their appliances. The company had some funding, but lacked the connections, capacity and know-how to commercialize it. Luckily for Oceanit and other clean-energy innovators, clean-tech incubation has arrived in Hawaii.
That incubator is a 501(c)3 called theEnergy Excelerator, which is funded by both government and private money. In 2013, its first year, the Excelerator supported Ibis Networks (the Oceanit spinoff that produces the InteliSocket) and seven other startups. With the Excelerator's support, Oceanit spun off Ibis Networks to help commercialize the InteliSocket, under the leadership of CEO Michael Pfeffer.
"Doing business in Hawaii is all about connections," Pfeffer says, "and the Energy Excelerator helped connect us to early-market adopters and synergistic software providers." The Excelerator also helped get Ibis in front of the owners of large buildings and the National Guard, as well as Silicon Valley angel investors. It helped Ibis set milestones that investors want to see, and to leverage the growth funds it provided into matching funds that then incentivized the first venture-capital investments in Ibis.
Senior manager Dawn Lippert says the Excelerator helps incubate businesses by going beyond financing. "We have a six-month program for seed-stage companies and a 12-month program for growth-stage companies that focus on mentorship, market research, go-to-market strategies and creating strategic partnerships. It takes a lot of moving parts to help an energy startup succeed," she says.
The 2014 crop of incubated companies includes nine seed-stage companies, each of which will receive $30,000 to $100,000 from the Excelerator, and six growth-stage companies, which will each receive up to $1 million. One change from last year: This time the selection committee specifically looked for complementary services.
"Ibis Networks and People Power are perfectly synergistic," Lippert says. Ibis focuses on the hardware used by large commercial customers, while People Power, part of the Energy Excelerator's 2014 cohort, focuses on residential applications, software and behavior modifications. "They need each other for rapid growth," she says.
Companies in the first cohort, which went through their support period in 2013, included kWh Analytics, which was founded by Punahou grad Richard Matsui, one of Forbes magazine's 30 Under 30, who is based in San Francisco. kWh Analytics provides data to the solar financing community – an "independent, statistically valid, Big Data view on how panels, inverters and systems perform," according to Matsui.
The data have many uses, but their prime use is to "make solar affordable for all by attacking solar's biggest problem: the high cost of capital," Matsui says. Investors can be more confident in deploying capital when they're more convinced of the diminished risk quantified by independent analytics, he says. Lower risk means cheaper financing, and that reduces the cost of future solar installations.
Late in 2013, clean-tech giant SolarCity announced the first sale of a bundled solar security, valued at $54 million. The assets are not home mortgages, but photovoltaic solar leases that SolarCity signed with homeowners, who got PV systems at no money down. Such financing deals are possible because of better data from a company like kWh.
Perhaps more important for Hawaii, though, kWh Analytics' data can help HECO and other utilities manage the intermittency of solar by giving them better predictive capacity for actual power generated by on-grid solar. This should allow more solar power to be reliably added to the grid.
For kWh, the Energy Excelerator was a launchpad. The company is now monitoring and providing data from roughly 10,000 solar installations, has received a prestigious SunShot award of $450,000 from the federal Department of Energy and is in the process of signing a joint research agreement with the National Renewable Energy Laboratory.
The Energy Excelerator received $30 million from the Navy, which will be used to support clean-energy startups over the next five years. In return, military representatives joined the Excelerator's selection committee and all the companies picked this year had to show their products or services could help the military cut its dependence on foreign oil and energy costs.
Lippert says this year's Excelerator cohort will receive more executive mentoring than last year's. "We used to have mentors who were technical or legal or investors," she says, but now "each company has a lead mentor who's built a company in a similar or related field. It's the difference between having someone on the outside telling you how it should be done, and having someone with some battle scars roll up their sleeves and help you do it."
Gene Wang, CEO of People Power – a growth-stage company in this year's cohort – is mentoring Oroeco, a seed-stage company. Oroeco is developing a web platform that helps align people's spending with their values. "I really like what Oroeco is doing," Wang says. "I hope to help them land an investor, and to help them develop a world-class product."
Wang helped the company by doing a deep dive through the user interface of Oroeco's beta product, and spent a lot of time with the Oroeco team to help it build a sustainable corporate culture. Wang's expertise with People Power really lies in mobile technology, and Wang helped guide the Oroeco entrepreneurs through the experience that users will go through. "Hopefully I'll also be able to give them some moral support that will get them through some times of trouble and help them along the long road that startups walk."
The Excelerator is creating a flexible co-working space for energy startups on the fifth floor of 1000 Bishop St. (one floor above the offices of Hawaii Business). The space will be a "hub for the clean-energy innovation community," according to Lauren Tonokawa, communications specialist for the Excelerator.
To win the Energy Excelerator's support, applicant companies had to demonstrate how their technology would be deployed in Hawaii and later expanded beyond. The nine seed-stage companies in the 2014 cohort represent early-stage technologies that, with few exceptions, are not at the point of commercialization. The six growth-stage companies generally have a product in testing phase and are looking for financing and connections that will help them grow.
Here are the startups that will be supported by the Energy Excelerator in 2014:
Transportation and Bioenergy
AutoWatts helps consumers pair the purchase of an electric vehicle with a photovoltaic system. Many potential EV and PV customers are intimidated by the process and paperwork, so AutoWatts simplifies them for consumers and gives auto dealers an extra revenue stream when they sell EVs. Car dealers may prefer selling regular cars because they earn less revenue over time on electric vehicles – EVs require less maintenance and no oil changes, and have much simpler architecture than cars with internal combustion engines. By helping replace these lost revenue streams, AutoWatts gives car dealers a greater incentive to sell EVs.
www.autowatts.com
TerViva has proprietary varieties of the Pongamia tree that thrive on marginal agricultural land and can supplement farmers' incomes. The non-GMO tree produces a nut high in oil and protein; the oil can become a biofuel and the leftover seedcake can feed cattle.
Naveen Sikka, founder and CEO of TerViva, says the yield and harvesting methods of the Pongamia make it a great fit for Hawaii. Its fruit can be harvested using nut-shaking equipment similar to what macadamia farms use, "and, in the early years, you can get mixed use of the land with cattle grazing and even intercropping," he says.
In early trials, the biofuel yield has been about 400 gallons per acre per year, or roughly eight times that of sunflower or camelina, Sikka says. The company is testing the technology in fields in Kunia and outside Haleiwa, as well as some fields outside Hilo. Targeted acreage in the next 12 months is about 350 total on the two islands.
Sikka says the Excelerator is a great facilitator for getting clean technologies to market. "Not all companies are ready on Day One for commercial financing, so the Energy Excelerator is in place to bridge that gap," he says. "We see the EE grant getting us to the point where future Pongamia orchards can be established in Hawaii with more traditional capital."
www.terviva.com
Energy Efficiency
BrightWind is a spinoff from Navatek Ltd., and aims to increase the profitability of wind farms by increasing efficiency with on-blade actuators. The actuators are added to traditional wind turbine blades to help turbines respond to changing wind and climate conditions to achieve maximum efficiency.
www.navatekltd.com
"Effortless Energy aims to make home-energy efficiency the no-brainer it ought to be," says founder and CEO Claire Tramm, a former McKinsey consultant.
The company is currently developing an "Effortless Upgrade" that costs customers nothing. It starts by sending an "energy genius" to a customer's home.
The genius assesses appliances, insulation, air sealing and air conditioning; if, for example, there is an opportunity to swap an old energy-hog refrigerator for a more efficient model, the company would pay the full cost. It files the needed paperwork for rebates with the local municipality or the state, then coordinates the installation with a qualified local contractor. The company plans to make money by sharing in the savings generated over time from the customer's utility bills.
The Effortless Upgrade is guaranteed to save customers money from day one while costing nothing up-front. And because the model is a service agreement and not a loan, it doesn't crowd out customers' ability to borrow or require them to take any of the energy-savings risk. The company is currently working with the state Public Utility Commission to collect payment for its efficiency service off customers' utility bills. The company hopes to expand its model to small businesses in the near future.
goeffortless.com.
Ibis Networks: Covered earlier.
www.ibisnetworks.com
Open Power Quality aims to be a catalyst for crowdsourcing power-quality data. Developed by UH professor Philip Johnson, the company aims to use devices in homes to monitor power fluxes and real-time events so grid operators have better data and can improve grid efficiency.
openpowerquality.org
Oroeco is developing a social platform so users can align their personal values with their everyday spending, investments and lifestyle. By linking to data from mint.com, Oroeco can track customers' spending on airfare, lodging, food and retail and estimate their personal carbon footprints. The company then gives specific recommendations to help them reduce their footprint and offers them the chance to buy carbon offsets.
www.oroeco.com
PeoplePower taps into the power of smartphones so homeowners can monitor and control their electric devices. The company sells smart-grid hardware and couples it with its mobile app. As a side benefit, residents can monitor their homes with live video streaming.
www.peoplepowerco.com
Pono Home: See story here.
ponohome.com
Pyro-E's proprietary technology harvests vehicular and industrial waste heat to improve energy efficiency. More than 60 percent of all energy used in the U.S. is lost as heat, says Dr. Kevin Lu, Pyro-E's founder and CEO. Recovering and reusing lost heat will save money and reduce carbon emissions. Pyro-E is working on developing a pilot project with a large industrial partner in Honolulu.
www.pyro-e.com
Smart Grid and Energy Storage
Amber Kinetics is developing a kinetic-energy storage system. The hardware is a grid-connected flywheel system that gets charged when excess power is available, and then mechanically discharged when needed – effectively serving as a low-cost battery. The company says three innovations make its rotor system more efficient than its predecessors: magnetic bearings, low-cost rotors and a high-efficiency motor generator.
amberkinetics.com
Ambri is deploying liquid-metal battery technology that was invented in the laboratory of Donald Sadoway at the Massachusetts Institute of Technology. Sadoway has studied "extreme electrochemical processes" for 40 years, according to the company, and, together with David Bradwell and Luis Ortiz, founded Ambri to bring the liquid-metal battery technology to market. The company has a manufacturing center in Massachusetts and is working on expanding the technology to Hawaii.
www.ambri.com
Ballast Energy CEO Bryan Ho was raised in Honolulu and understands the need for high-performance energy storage. He and co-founder Bryan Ng met in the graduate program of MIT's materials science department and developed a low-cost lithium-ion battery. For them, the Excelerator is more about connections than financing.
"The Energy Excelerator provides us with the opportunity to establish a relationship early, with the prime market for grid-tied energy storage, through mentorship activities and energy-specific development activities," Ho says.
"Hawaii is the perfect market because it's a relatively isolated grid, which makes the intermittency problem particularly painful. Grid storage is one of a few options available to deal with that problem, but definitely an important part of the mix of technical solutions."
ballastenergy.com
Shifted Energy, a Kanu Hawaii project, deploys smart-grid, interactive demand-response solutions to capitalize on wasted off-peak energy production. Olin Lagon, executive director of Kanu Hawaii and founder of Shifted Energy, says a lot of wind energy is produced at night, when demand is low and winds are often higher. That energy is wasted, but Shifted Energy's technology stores the energy in grid-tied water heaters. Shifted Energy has signed two contracts to field test the technology across several thousand homes.
shiftedenergy.com
Stem is trying to improve energy storage, which has long been called the holy grail of clean energy because it smooths out the intermittency of solar and wind. The cost of storage remains high, but the payoff to big users is huge. "Cost savings for end customers are the direct benefit," says Leesa Lee, senior director of marketing at Stem, "but, in the process of flattening energy spikes at customer locations, we also alleviate the burden on the grid."
Stem's battery technology allows customers to harvest excess energy when that energy is cheap and store it for later use and, in some cases, sell it to neighboring businesses during peak demand hours. Stem has contracts for energy storage at about 150 sites and recently announced Stem Zero, a no-money-down option that allows customers to pay the company back with a share of the energy savings. Lee says Stem recently closed a deal with General Electric to help scale its technology.
www.stem.com
The Author
Scott Cooney's company, Pono Home, is one of the 15 energy startups that are getting a boost from the Energy Excelerator in 2014. Hawaii Business asked Cooney to write this inside report on the Excelerator and the startups it's helping.
Pono Home is an interesting company that our readers should know about, but it wouldn't be appropriate for Cooney to write that story. Instead, we asked another writer to file that report:
Sustainability, One Home at a Time
BY ALDEN ALAYVILLA
We all want to live sustainably, so what better place to start than in our homes?
Scott Cooney, founder of a startup called Pono Home, can show you how. In fact, he and his colleagues will do the work for you. One of them will come to your home, ask how you're using energy, answer your questions and provide immediate fixes.
"We provide a ton of solutions on the spot to help people reduce their energy and water (use and costs)," Cooney says. "Instead of just auditing, we actually do. We bring in light bulbs, faucet aerators, shower heads, flow valves, flow restrictors – plenty of efficiency hardware – and we do a bunch of installations and help save people money."
Pono Home service began in August and the two- to three-hour service includes installations and costs $80. Cooney is so confident in the service that he guarantees "if people don't save $80 in the course of a year, they get their money back." In fact, he says, most people save the $80 in two to six months.
Cooney's background is in sustainability education and he teaches a sustainability course at UH's Shidler College of Business each fall.
"I created a business case for sustainability by educating people about it. What it means to be sustainable: cutting waste, cutting energy, cutting paper, cutting water use."
---
Origins
The Energy Excelerator has a startup story itself. It officially launched less than two years ago, but its roots go back to 1983, when a state charter helped found the Pacific International Center for High Technology Research (PICHTR), which operates as a 501(c)3 nonprofit. PICHTR's mission: catalyze development and deployment of sustainable energy and infrastructure technologies.
The energy startup program at PICHTR began in 2009, when it received $9 million in grants from the federal Department of Energy. The program leveraged that funding into more than $13 million in projects with 17 clean-energy companies, including Pacific Biodiesel, Sopogy, Referentia, HNu Energy and Kuehnle AgroSystems. The companies have already experienced some early successes, including pioneering the use of oil-refinery waste for algae cultivation and integrating real-time grid-visualization tools into utility control rooms to help operators manage renewable energy.
The companies also hit some roadblocks in bringing their technologies to market. So Dawn Lippert and Maurice Kaya from PICHTR crisscrossed the mainland researching different approaches to tech commercialization and interviewing dozens of clean-tech entrepreneurs. They created the Energy Excelerator in late 2012, with a focus on funding companies' go-to-market strategies (not just their technology scale-up), recruiting energy entrepreneurs as mentors, and supporting a mix of mainland and Hawaii-based companies to encourage peer-to-peer learning and network sharing.
Over the years, Lippert and Kaya have worked with 32 clean-energy companies. Those companies have generated almost $20 million in revenues and raised an additional $55 million in follow-on funding, Lippert says.
---
Hawaii's Advantage
Many economic-development agencies in the U.S. have created and subsidized clean-tech incubators like Hawaii's Energy Excelerator. Silicon Valley may get most of the clean-tech headlines, but Las Vegas, Austin, San Diego and other areas have made incubating a clean-tech industry a key part of their strategy for economic growth. However, Hawaii provides clean-tech companies with many advantages:
Electricity that costs more than three times the national average;
90-percent dependence on foreign oil for electricity and transportation, meaning high prices and high volatility;
An aggressive statewide energy policy of 70-percent clean energy by 2030;
Motivated customers, including the U.S. Pacific Command; and
A geographic gateway for U.S. companies into fast-growing Asian markets.