Ex Cons Make Great Employees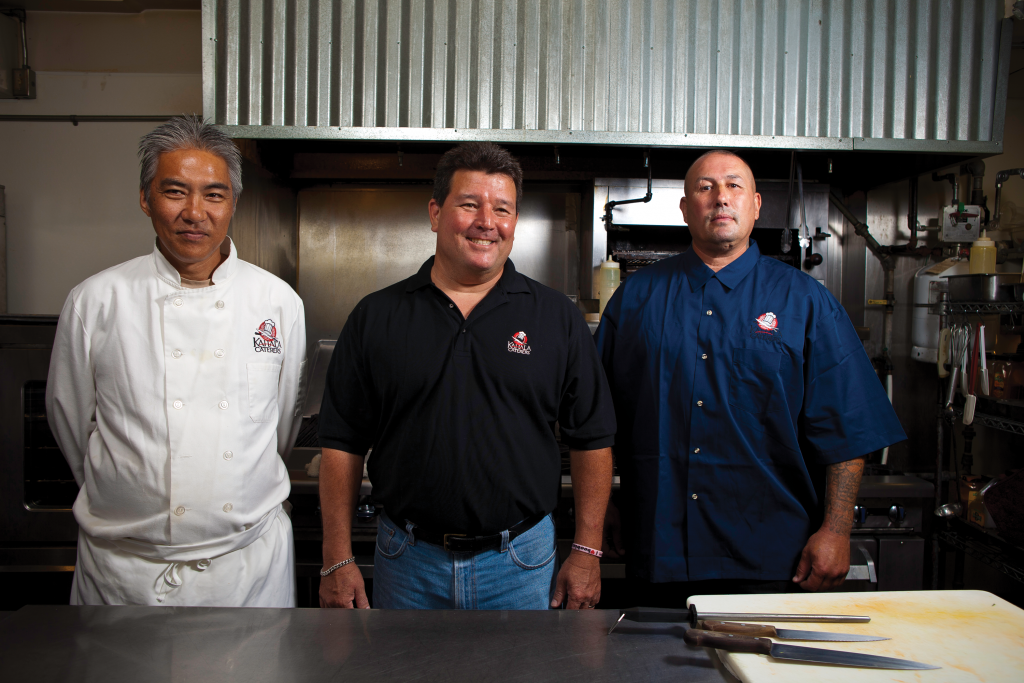 Kahala Caterers had difficulty recruiting dishwashers and general laborers for its chef staff a few years ago.
"People were coming in but weren't motivated," company president Winston Gample says. "They all just want to be executive chefs or the next TV star."
Then Gample and his chefs learned about the state's Laumaka Work Furlough Centerfor ex-criminals and met David Nunes. Nunez had spent 30 of his 50 years in prison or juvenile detention – the past decade for a bank robbery in California. He also looked the part.
"When David came in here, he looked scary. He has tattoos all over the place. He's a big guy and he didn't even smile," Gample recalls.
Gample had his doubts and fears. Nonetheless, he hired Nunez two and a half years ago and has been pleasantly surprised ever since.
"It's been unbelievable. Given his history, with most of his adult life in prison, he is by far my hardest-working, most respectable employee. I can trust him. He takes care of stuff."
Nunes started as a dishwasher and, through diligence and hard work, moved up from food prep to cooking to Gample's lead delivery-truck driver. "Now, when I'm looking to hire, I look first at Laumaka," Gample says. "These guys come in and are happy to just get a job. They work hard and appear to be really happy here. Our other employees are happy to have them, the dishes are always done, and they are just motivated. I don't understand it; you figure it would be the opposite, but, no."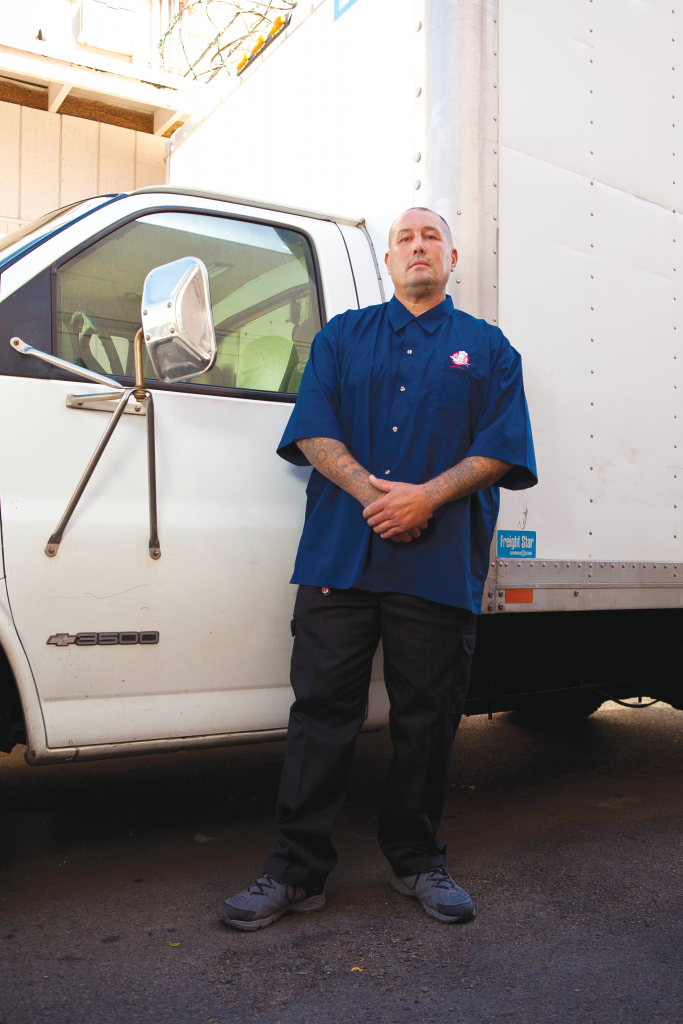 There is no sugar-coating this: Hiring a former criminal may scare you and your employees. It would be a lie to say there are no risks involved. But several local small businesses say they have come to depend on ex-cons for entry-level jobs and find they are usually dependable employees.
Sure, the tax incentives help, and business owners like to provide a second chance so men and women can stay out of prison. That benefits society as a whole. However, company executives say the main reason they hire ex-cons is they make good employees.
"The majority prove to be excellent workers," says Brian Benz, president of Team Clean Inc., a cleaning company that has been hiring ex-convicts since it began in 1992. "They find a place to be and are full, contributing workers."
Wayne Ogasawara, manager of Mililani Agricultural Park, had trouble finding farm laborers, so, last year, he hired a man who had spent 20 years in prison.
"He has just been a model worker," Ogasawara says. "I just can't believe how a man who has wasted 20 years of his life can be doing what he's doing now. He's punctual, listens to instructions – you'd be surprised how many young guys don't have any listening skill. Since then, I've taken on three more men out of the prison system and I've had nothing but good luck."
Benz talks about similar successes. "One worker who had a criminal background came to work for us and in time was promoted to middle-management within our organization," he says.
Over the years, Team Clean has hired many ex-cons. One has been with the company since it started 19 years ago; 50 to 60 others who have been with the company about 12 years came either from welfare or from former-inmate agencies such as WorkNet Inc.
WorkNet is a nonprofit funded by the state and Office of Hawaiian Affairs that helps prepare ex-offenders for jobs. The agency's employees contact inmates while they are still in prisons, so, by the time they are released, WorkNet knows them and their personal, financial and employment needs.
"The idea is to build a relationship with the inmates so that, when they come out, they have a familiar face," says WorkNet president Chas Williams. "Having that comfort level is extremely important with these individuals."
WorkNet also educates businesses about tax credits and government-financed bonding insurance, and finds candidates that match their employment needs.
The Laumaka Work Furlough Center offers housing and treatment programs to convicts for up to a year before they are fully released from confinement. While they are at Laumaka, they must be willing and able to work at least 30 hours a week, pay rent, use no drugs, alcohol or cell phones, and stay free of misconduct.
"Ninety-five percent of our residents have had substance-abuse history, so we require all residents to participate in two AA or NA (Alcoholics Anonymous or Narcotics Anonymous) support-group meetings as part of their stay requirements," says Laumaka's Rochelle Nieto, who handles transition counseling. Those who aren't former substance abusers must find other support groups.
"Part of the transition is to reconnect with family or friends," Nieto says. "It's not a requirement to participate in re-socialization, but it does prove to be more effective if they do."
Judge Steven Alm of the Circuit Court estimates about 8,200 people are currently on probation on Oahu. Alm began Hawaii's Opportunity Probation with Enforcement program(HOPE) in 2004 with the aim of reducing parole violations by monitoring parolees more closely and punishing rule violators. More than 1,700 people are now in HOPE.
Alm says HOPE and programs like it give employers an extra sense of security about hiring former criminals. "We can monitor ex-convicts and drug test them frequently so they're much less likely to use drugs. They're still going to meet with their probation officer to stay on the right track.
"I think a lot of business owners are just scared," Alm says. "They think they're going to steal from them, they're going to assault people. For business owners, it's just easier to say no." Nonetheless, there are a number of companies that regularly hire former convicts, he says.
Alm and Ogasawara of Mililani Agricultural Park have both been working to ensure that more ex-convicts are hired within the farming industry.
"I tell the offenders: If they do a good job out there, they will have a chance to learn. They'll learn the business, they'll learn to operate machinery and that's a real selling point," Alm says. "For those who do make it to better jobs and better futures, they are leading the path for others to follow."
Ogasawara agrees. "Whatever job they take afterwards, they're going to leave a better person," he says. "They're going to have job skills that all bosses look for: showing up on time, carrying out instructions, and getting along with others – in other words, teamwork. They have a big hammer over their heads, and they know how uncomfortable it is to be locked up, so they will walk that extra mile."
Benz of Team Clean believes that not all businesses will find these job candidates a good fit. "For our industry it fits, because we are a service industry. A lot of people don't notice us, so that gives people a lot of free space to evolve," he says.
"Service industries like us should consider hiring ex-cons because they are helping to better the future. If we have more people in society earning money, doing positive work for the community, that saves us from paying more taxes and money (on incarceration and security)."
"They are hard-working, motivated people," Gample says. "It's about finding the right person for the job. As a business owner looking to hire, go through the process, interview them, don't pay so much attention to how they look or their incarceration, because they perform above and beyond what is expected of them."
Gample talks fondly of Nunes, the first ex-con he hired at Kahala Caterers. Gample says Nunes did everything that was asked of him and much more, yet his appearance was still off-putting.
"I finally had to sit down with him and say, 'David, you need to smile once in a while. You're scaring people.' This job was just really important to him. He has come a long way."
[Editor's note: A previous version of this story misspelled David Nunes' name. His age was also incorrectly identified. Hawaii Business regrets the error.]
"This Job is My Lifeline"
James Kimura spent just about every day for six months job hunting while living at the Laumaka Work Furlough Center after his release from prison.
"I applied to about 30 jobs," Kimura says. "All the labor jobs I found were from the newspaper and suggestions from the case managers at Laumaka."
He eventually got hired by Winston Gample at Kahala Caterers.
"He had hired some prior ex-convicts, so that's how I got my foot in the door," Kimura says.
"I love the opportunity to learn new things. I started off as a dishwasher and have been a cook now for three months. I've learned to be self-sufficient and to live on my own. I hope to stay here and work for them.
"They've helped me out a lot. If I never had this job I think I would be down the same road as I was. I have no family help to get me back on my feet, so this job is basically my lifeline."
Incentives for Hiring Ex-Cons
The Federal Bonding Program provides fidelity bonds to companies that hire ex-convicts and other hard-to-place people. The free insurance compensates the companies for employee dishonesty during the first six months of employment.
Additional bonding can be purchased through an insuring company that provides the bonds for the government.
Another federal program, the Work Opportunity Tax Credit, lets businesses reduce their federal income tax liability when they hire ex-convicts. In Hawaii, about 500 WOTC applications are certified each quarter through the state Department of Labor. The annual tax credits range from $1,200 to $9,000.
For more information, contact the Workforce Development Division at 586-8820,www.doleta.gov or www.bonds4jobs.com.
Good Odds
Programs like WorkNet are judged on their recidivism rate – how many ex-cons return to prison after being released. There are many reasons they end up back in prison, including new crimes, parole violations or failure to land a job.
Whatever measure is used, WorkNet says, its recidivism is about 9 percent. The average recidivism rate for all Hawaii inmates is more than 50 percent.
Know the Law
Hawaii's Fair Employment Practices Act governs what you can ask a job applicant.
You cannot ask about a person's criminal background on a job application or in an interview. Once an employment offer is made, then you can check into a person's conviction record and – if warranted – rescind the offer.
To look up a criminal record through the Criminal Justice Data Center, go to www.state.hi.us/hcjdc. Cost is $10 to $15 per person checked.
Most Common Jobs
WorkNet says most ex-cons are hired in the construction or service industries, and most of the jobs are entry level or semi-skilled.
Construction: Traditionally, the construction industry has employed about 60 percent of WorkNet's graduates. They have worked as general laborers, painters, masons or carpenters, and electrical or steel workers.
Service Industry: Construction hiring has slowed, so as many as 70 percent of the current WorkNet graduates end up in the service industry. They often have been hired as janitorial or laundry workers, window cleaners, prep cooks and dishwashers, delivery drivers and warehouse workers.
White collar: About 5 percent of WorkNet grads end up in white-collar work, including office and administration work, and in healthcare.
Local agencies that help ex-cons
Laumaka Work Furlough Center
832-581
WorkNet
521-7770
www.worknetinc.org
Community Assistance Center
Job referrals
537-2917
www.cachawaii.org
Network Enterprises
Job training and support.
521-7774
www.networkenterprises.org
Oahu Work Links
Job referrals; also, the results of pre-interviews can be forwarded to companies.
843-0733
www1.honolulu.gov/dcs/owib
Department of Vocational Rehabilitation
Works with deaf, blind and institutionalized inmates.
586-9744
www.hawaiivr.org
Honolulu Community Action Program
Living assistance
521-4531
www.hcapweb.org